Located at the top of Izu peninsula, the cities of Mishima, Izunokuni, and Numazu are great for a quick getaway from the Tokyo area. With plenty of family activities and beautiful scenery, they are lovely places to visit during any season.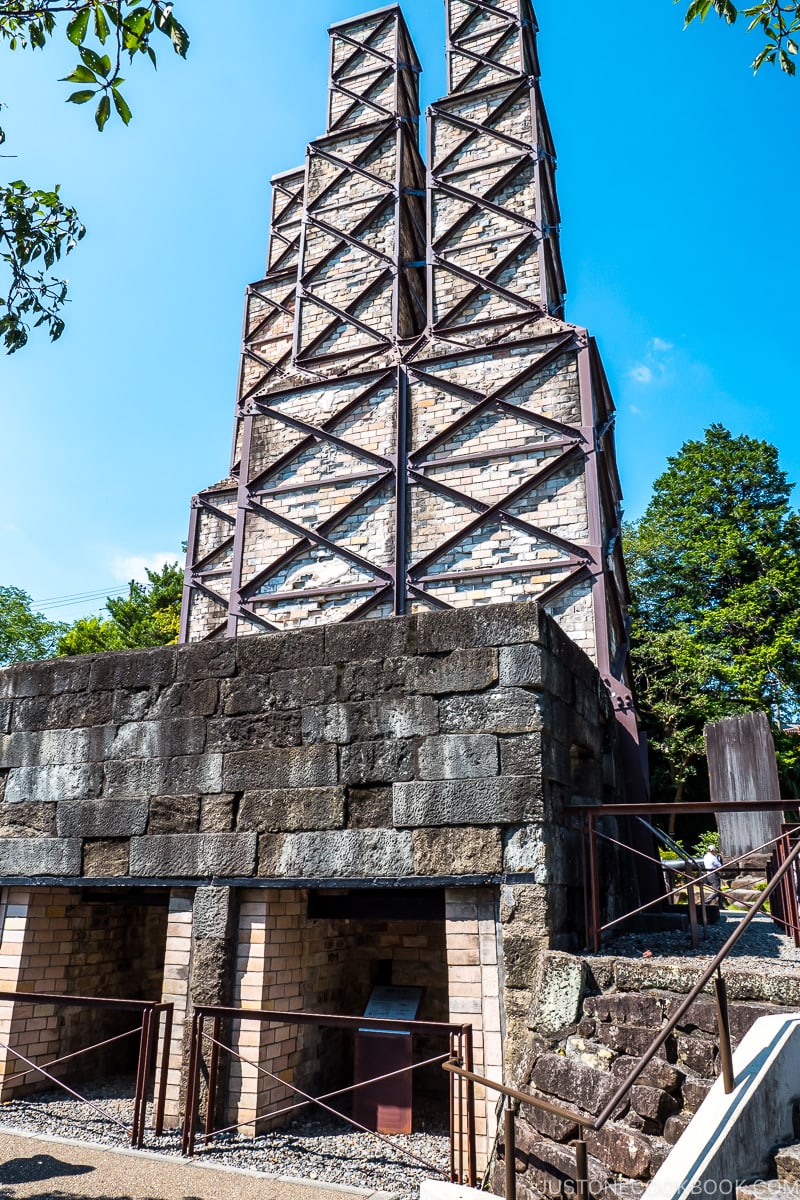 Izu peninsula in Shizuoka Prefecture is known for its scenic beauty and hot springs resorts. Located just an hour southwest of Tokyo, it's an ideal escape from the crowds of the capitol for a day trip or a long weekend. Join us as we explore the area in the towns of Mishima, Izunokuni, and Numazu.
Where is Mishima, Izunokuni, and Numazu in Izu
Mishima, Izunokuni, and Numazu are located in close proximity to each other at the top of Izu peninsula. Mishima can be reached by bullet train from Tokyo Station in less than 1 hour. Numazu is just 5 min train ride away from Mishima and Izu-Nagaoka Station is 20 min train away. We do highly recommend renting a car if you plan on exploring Izu peninsula as public transportation may not be as convenient.
Mishima Skywalk
Our first stop is Mishima Skywalk, the longest pedestrian suspension bridge in Japan at 1312 ft (400m). Visitors can reach Mishima Skywalk in 25 min by bus or by car from Mishima Station. The bridge itself doesn't really lead to another destination, but rather a number of attractions such as Forest Adventure, zip line, rock climbing wall, and a cafe.
The walk across the long suspension bridge was a thrill. It is narrow with just enough room for pedestrians to pass each other heading the opposite direction. Luckily for us it wasn't a windy day so the bridge didn't sway much. From the bridge, visitors can take in the view of Mt. Fuji, Suruga Bay, and the nearby mountain scenery.
We spent a bit of time on the other side of the bridge. Our kids insisted to try the 33 feet (10 m) tall rock climbing wall called cliff hanger. We also wanted to try Forest Adventure and zip line but it was drizzling hard so we decided to skip.
Mishima Taisha 三嶋大社
The next stop in Mishima is Mishima Taisha, the most important shrine in the Izu area with over 1,200 years of history. It is the first shrine built in the Izu area and the existing shrine buildings date back to 1866. The previous buildings were destroyed in an earthquake around 1854. The shrine buildings were reconstructed using the rare zelkova wood and features intricate carvings.
Mishima Taisha's fame is tied to the first shogun Minamoto no Yoritomo (1147 -1199), who was said to have prayed there before conquering in his battles.
On the shrine ground, there is a museum with artifacts related to the rich history of the shrine as well as a sweet shop. The sweets were awarded national recognition in the mid-90s for it's yomogimochi with red bean. It's a great place to enjoy tea and treats.
Nirayama Reverberatory Furnace 韮山反射炉
Head south towards Izunokuni and Nirayama Reverberatory Furnace. These furnaces were built during the Edo period and recognized as UNESCO World Heritage as part of Sites of Japan's Meiji Industrial Revolution: Iron and Steel, Shipbuilding and Coal Mining. These sites contributed to the adoption of western technology and industrialization in Japan from the mid-19th century through early 20th century. Other sites we've visited that are also on the list include Sengan-en in Kagoshima and Glover House in Nagasaki.
Visitors first enter the museum explaining the historical significance of Nirayama Reverberatory Furnace, as well as a theater that shows a short film.
After the museum, visitors can view the restored furnaces on the outside. There are signage around the furnace explaining the various gates and how it functioned.
Nirayama Reverberatory Furnace was built in 1857, for making iron canons and other materials for Japan to strengthen its defense against the West. There were several furnaces built around that time in Japan but most of them were destroyed or decayed over time. The furnaces in Nirayama are in the best preserved condition.
There's a gift shop and tea field near the furnaces. Visitors can sign up for tea leaves picking during harvest season and try local specialty food and drinks.
Fireworks at Izunokuni 伊豆の国市
One of the festivities we look forward to the most in Japan are summer fireworks. They happen throughout Japan during the summer and while the largest ones are incredible to watch, many local firework displays are just as fun and enjoyable. Also, since they are less crowded, it's easier to snag a good seat.
For the fireworks at Izunokuni, most of the prime locations by the river were reserved with people securing their spot with picnic sheets. At night, the festivities start with food stands offering all the classic Japanese street food.
Izunokuni's fireworks festival was an incredible show with fireworks blasting and synced to different music for 30 min. With a smaller group of spectators, we were able to observe and enjoy the fireworks up close. Of all the fireworks we've seen in Japan, it was by far our favorite!
Izunokuni Panorama Park in Izu
After a good night's rest, take in the views of Izu at Izunokuni Panorama Park. The park features a ropeway that carries visitors to the top of Mount Katsuragi 1,500 feet (452 m), offering views of Mt. Fuji, Suruga Bay, and Izu peninsula.
At the top of Mount Katsuragi, there's a Sky Garden surrounded by a variety of flora. The garden has several walking paths, a shrine (Katsuragi Shrine), various view stops, a kids playground, and a cafe.
The view from the top of Mount Katsuragi is spectacular and allows visitors to admire the encompassing ocean and mountain sceneries.
Even though the ropeway is relatively new, Katsuragi Shrine 葛城神社 has been around almost 1,000 years.
Another spiritual spot is the 100 Jizo Statues at the Sky Garden, which are around 800 years old.
At the end of the walk, stop by the cafe and enjoy some grilled odango!
Seafood in Numazu, Izu 沼津
To round off the trip, stop by Numazu for some amazing seafood. Numazu is right on Suruga Bay and is home to the Numazu Fish Market where tourists can view fish auctions and enjoy fabulous seafood. Nearby the fish market, streets are lined with restaurants and seafood shops. In particular, Numazu is known for dried horse mackerels and many seasonal fresh fish.
Uogashi Maruten 魚河岸丸天
One of the most popular seafood restaurants in Numazu is Uoagashi Maruten. The restaurant is known for quality seafood at affordable prices.
There are two Uogashi Maruten on the same street, and plenty of customers wait for their table even on a weekday. There are many dishes on the menu but their popular dish are seafood bowls that cost 1,560 yen ($15 USD).
The bowls were very good, much better than what we have tried in Otaru's Sankaku Market. The seafood was super fresh and plentiful, and they didn't stuff the bowl with rice.
We had a great time exploring the upper area of Izu and look forward to touring the rest of the peninsula.
Many Japanese small towns are not well known but they are often charming and offer a more relaxing, intimate and down-to-earth expedition than the popular locations. We highly recommend exploring historical small towns and experiencing fabulous local foods and hospitality!
Here are some other off the beaten path locations we love in Japan..