Tour the Air Base Museum, ride roller coasters at Hamanako Pal Pal, and eat the famous gyoza and unagi pie in this Hamamatsu Travel Guide.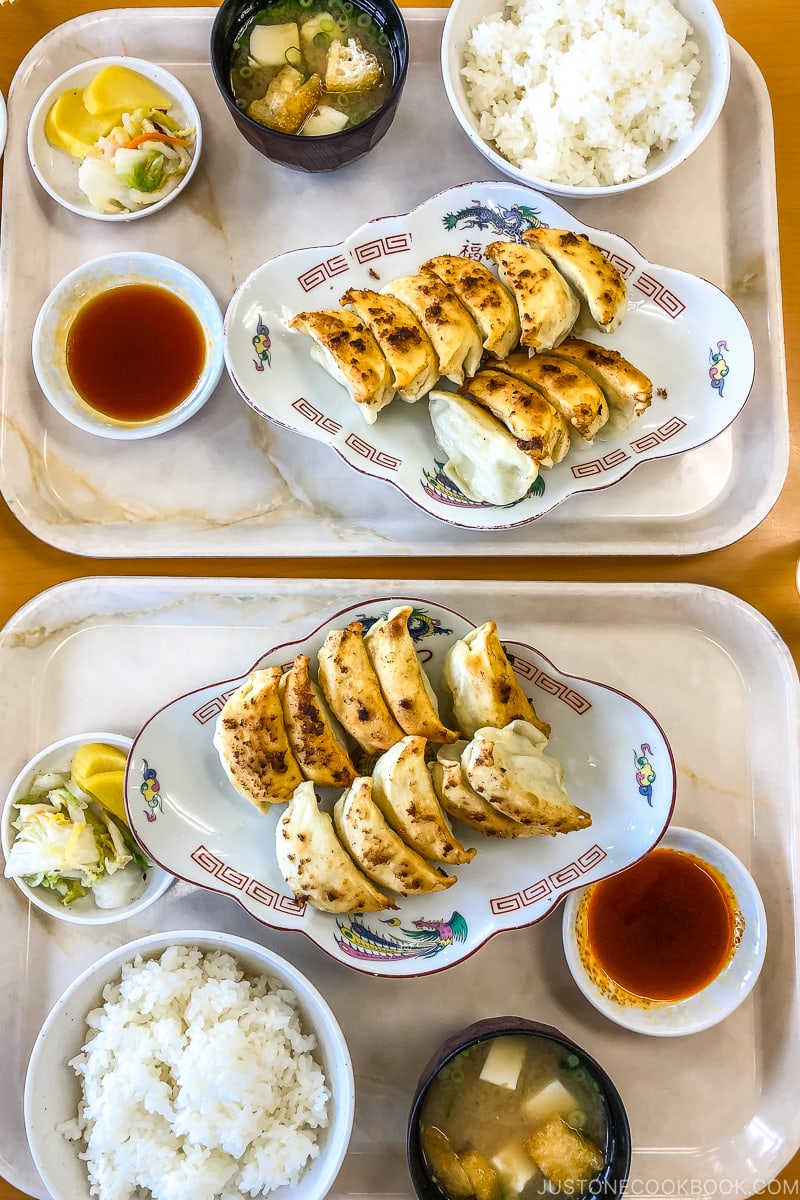 During our trip to Hamamatsu, besides visiting Hamamatsu Castle and eating unagi, we tried to make it a fun outing for the kids as well. To keep them entertained, we tasted the famous gyoza, checked out fighter jets at the air base museum, and learned how the popular unagi pie snack is made.
Hamamatsu Gyoza
Gyoza, the crispy pan-fried dumplings in the shape of moon crescent, is one of Japan's most famous foods. You can find gyoza on the menu of almost every ramen shop, diner, and izakaya all over the country. Historically, Utsunomiya near Nikko was the king of gyoza consumption in Japan. In the recent years, Hamamatsu has managed to overtake and won the title. There are over 300 restaurants that serves tasty dumplings in the city and we tried it at the very popular gyoza shop Fukumitsu.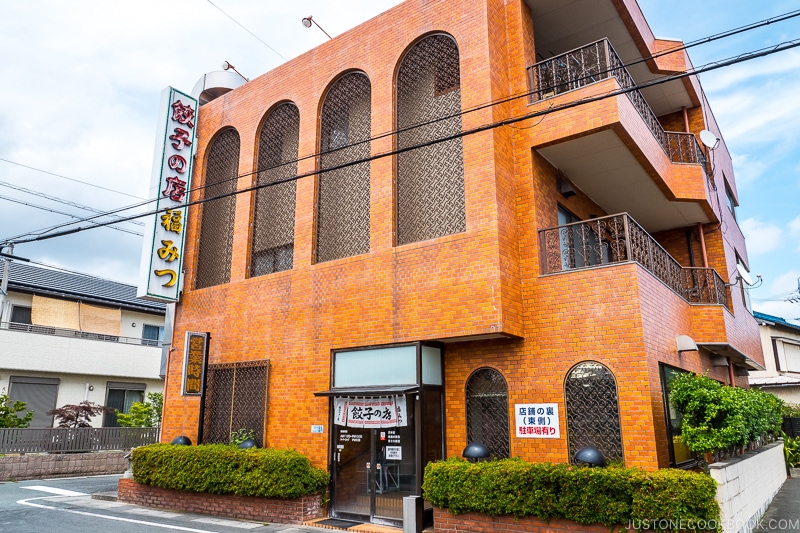 The menu at Fukumitsu is really simple, you can order gyoza in incremental of five, or get a meal set that comes with ten, fifteen, or twenty gyozas. We were so excited as our family absolutely adore gyoza.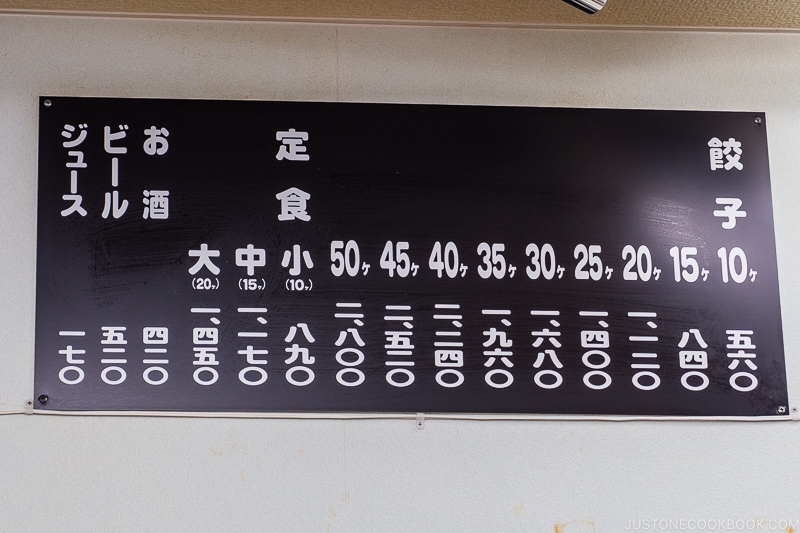 Shortly after ordering, our freshly fried gyoza arrived at the table. They are a bit different from the "classic" Hamamatsu gyoza, which is cooked in a circular shape and served with bean sprouts. Instead, the meal set is served with soup, pickled cabbage, and takuan.
We took our first bite into the dumplings but were left puzzled instantly. Is this a vegetarian gyoza? Where is the meat? Little did we know, cabbage and onions are the main features of Hamamatsu gyoza, comprising 80% of the filling. The cabbage imparts a natural sweetness which gives the gyoza its distinct flavor and character.
Since the gyozas were so light, we were able to eat a ton without feeling too full. However, to be completely honest, our entire family prefers the meatier gyozas. The veggie-forward gyoza were good but we felt like it's missing the texture.
Airpark JASDF Hamamatsu Air Base Museum – 航空自衛隊 浜松広報館
One of our favorite spots in Hamamatsu is located in the southeast corner of Hamamatsu Air Base, and it is the Airpark JASDF Hamamatsu Air Base Museum. This free museum is home to an impressive collection of retired fighter jets, helicopters, and planes.
The exhibitions at the museum are divided into two buildings. The first is the exhibition museum, and it is spread over three floors and the information covers all aspects of the Air Self Defense Force. Visitors can see how the JASDF planes were developed, equipment used, and missions flown.
The second building is the exhibition hanger and there are many retired planes and helicopters on display, all in excellent condition. Visitors are allowed to climb in and experience the cockpit for many of the planes.
Since the museum is next to an active air base, we got to watch the jets take off!
Unagi Pie Factory – うなぎパイ本舗 うなぎパイファクトリ
Lake Hamana is known for freshwater eels, so it's not a surprise that one of the best known snacks in Hamamatsu is Unagi Pie from Shunkado.
The unagi pie factory was educational yet a lot of fun! We were greeted with a few oversized replica pies that are perfect for picture taking. You can observe how unagi pies are made and learn about the history of the company. The self-guided tour is free and all visitors get a free unagi pie as souvenir.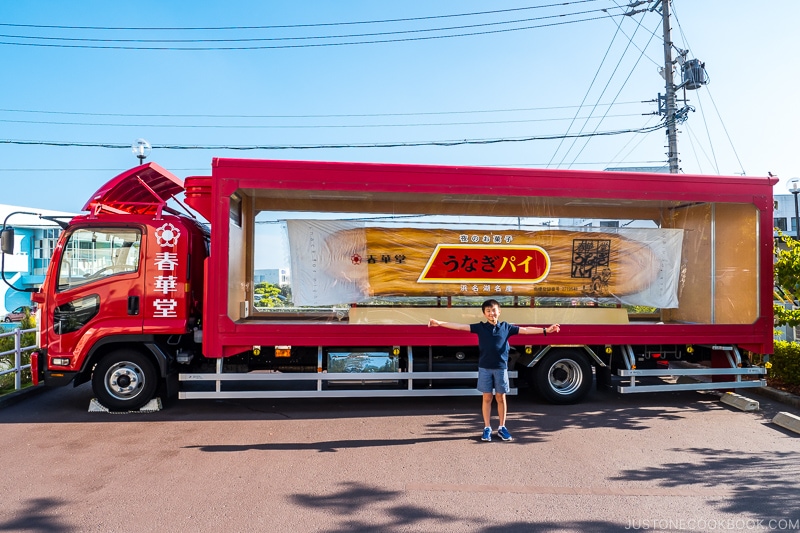 If you are curious, unagi pie does contain a bit of eel but it tastes nothing like an grilled eel. The pie is more like a savory and crispy biscuit with a hint of garlic.
Shunkado emphasizes on using simple quality ingredients in creating their product. Visitors can see how the pies are baked and brushed with butter through glass windows on the first floor.
From the second floor window, visitors can see the packing lines. It was impeccably clean!
Like many factories that are open for touring, there was a gift shop available for visitors to buy various types of unagi pie to bring home as gift to friends and family.
Hamanako Pal Pal – 浜名湖パルパル
On the eastern shore Lake Hamana is an amusement park called Hamanako Pal Pal. It has over 30 rides, ranging from thrilling coasters to children-friendly attractions. Our family loves riding roller coasters so we couldn't resist making a stop.
Unlike the parks in the US, many Japanese amusement parks offer both day passes and individual ticket for each ride. Since we only wanted to ride the thrilling Mega Coaster, we were able to purchase tickets to ride it specifically.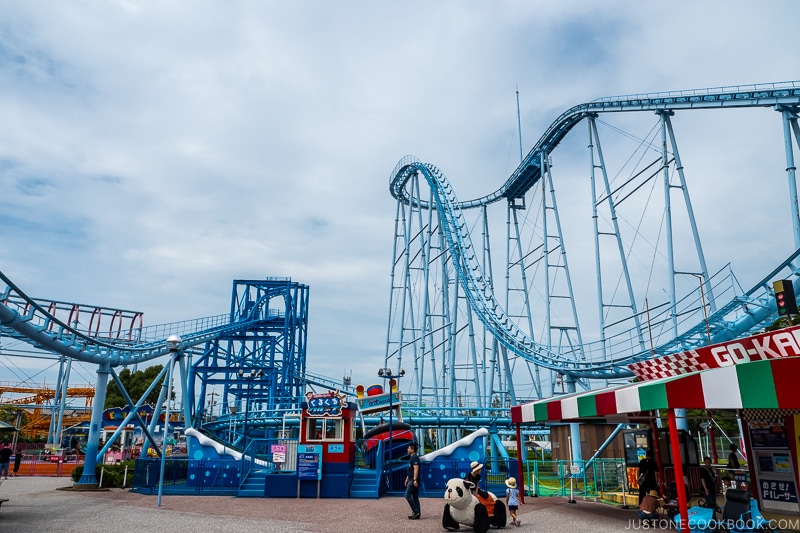 In addition to the Mega Coaster, our children also enjoyed water rides in the hot weather.
Lake Hamana 浜名湖
Besides Hamanako Pal Pal, there are plenty to do around Lake Hamana. Visitors can rent boats for lake excursions, visit Kanzan-ji Temple, or take Kanzanji Ropeway across the lake to Hamanako Orgel Museum (music box).
Kanzanji Onsen
Last but not the least, there are many onsen hotels around the Kanzanji-Temple area. Many hotels offer beautiful lake view while soaking in relaxing onsen. The onsen here was discovered relatively recent in the 1950s, but it's centrally located to many of Lake Hamana's attractions.
Our family had a really fun time exploring Hamamatsu, tasting its famous unagi and gyoza. Our children were happy since they got to ride roller coasters and checked out the JASDF Air Base Museum, and we got to relax in onsen and enjoyed the beautiful view of Lake Hamana.
Hamamatsu is a quick 2 hour bullet train ride from Tokyo so consider exploring the city on your next visit to Japan!