Looking for inspiration to shake up your pasta dinner? These popular Japanese pasta recipes are going to be your new favorites. Fast, simple, and full of umami, they are hard to beat. 
Can any food compete with pasta when it comes to speed, ease, comfort, and sheer deliciousness? But if you're tired of the same old tomato and cheese sauce, it's time to give Japanese pasta – known as Wafu Pasta (和風パスタ) – a try.
A quick history of Japanese pasta:
Italian Pasta was introduced to Japan during the Meiji period when the country opened its border to international trades. Started out as high-end dishes available only at hotels and fancy restaurants, pasta only became widespread in the post-World War II period.
In the 1980s, Japan experienced a surge of Italian cuisine boom, and pasta grew to be one of the popular standard meals for Japanese. If you visit Japan today, you will find a large number of Italian style cafes or specialty shops that serve up a variety of pasta dishes.
While you can find classic Italian-style pasta dishes like bolognese and carbonara in Japan, there are many imaginative recipes that incorporate Japanese flavors. This fusion pasta is considered a major part of 'Yoshoku' – Western-influenced Japanese cuisine. Regardless of the styles of pasta, you can expect some serious satisfaction and full depth of flavors!
---
10 Popular Japanese Pasta Recipes You'll Love
Here we have rounded up a collection of our favorite Japanese-style pasta recipes that will expand your weeknight staples. Why you'll love them:
Fast and simple. Take not more than 30 minutes to make!
Easily adaptable. Yes, you can switch out the proteins and vegetables with what you have on hand.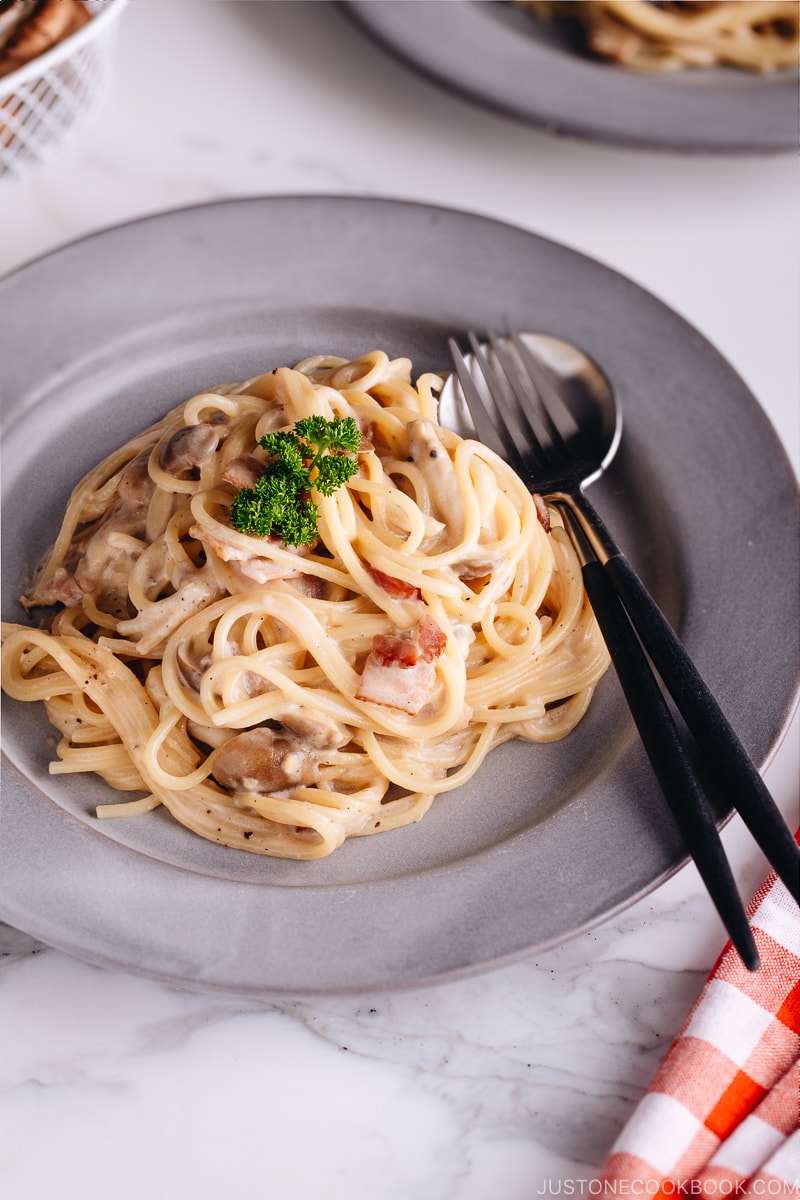 Shiitake mushrooms and shimeji mushrooms are added to give new life to this western-inspired pasta. For extra umami, just a dash of soy sauce will do the trick! Feel free to leave out the bacon, and add a spoonful of nutritional yeast for a vegetarian version.
♥ 'It was easy to make and very tasty indeed., we replaced bacon with seafood and some vegetables (baby spinach and broccoli). My family enjoyed this dish very much and this recipe is for keeps. We will of course be doing this dish again.' – Ravi
Spaghetti with ketchup may get some serious objections, especially to our Italian friends. This pasta actually has a long history that reflects the openness of Japanese food culture. You need to try it to understand its popularity.
♥ 'This is surprisingly delicious. I've had it several times and I must say the first time I didn't realize it contained ketchup. (Maybe I was still jetlagged!). Children and some grown men are crazy for 'Ketchup Spaghetti'. The grown men includes my husband.' – Kitty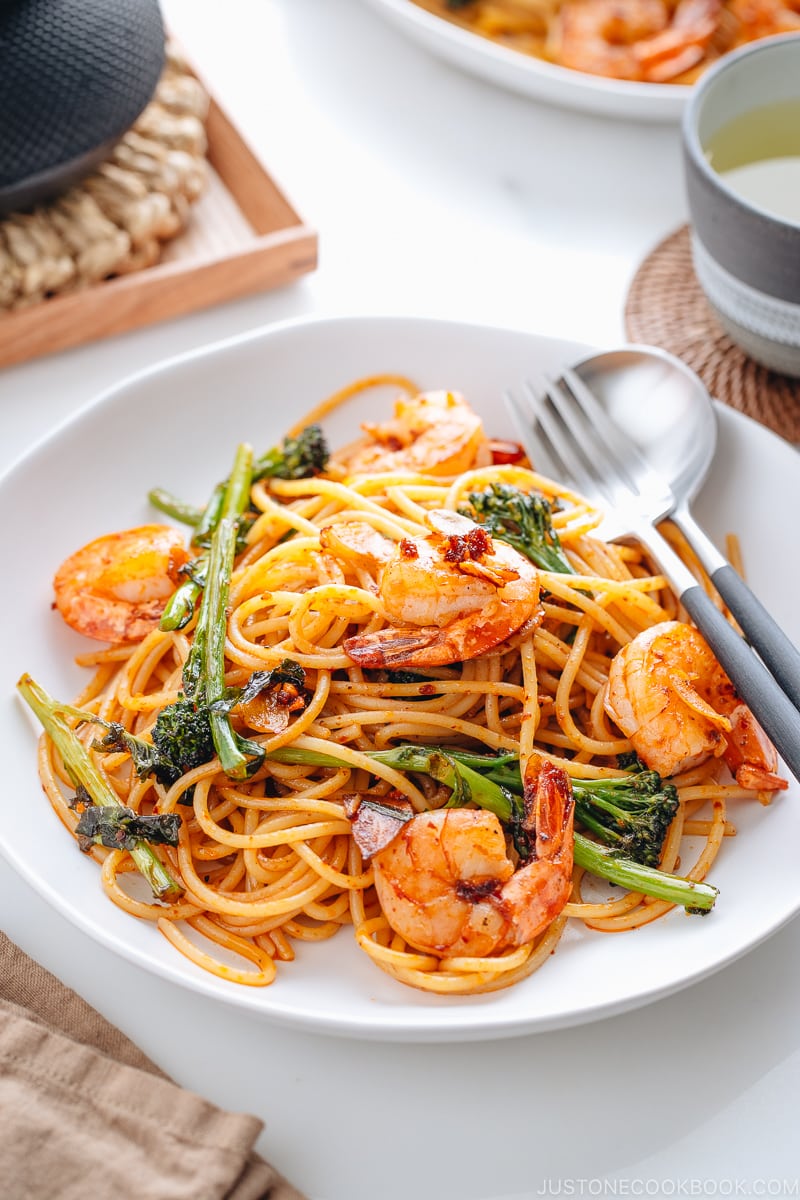 Seasoned with butter, dashi soy sauce, and garlic chili oil, this is an easy pasta dish everyone will love! Ready in 15 minutes.
♥ 'My husband is on a low-carb lifestyle so I used the Healthy Noodle (from Costco) and regular broccoli with tofu (didn't have shrimp) and it was absolutely delicious!! I ordered the chili paste from Amazon specifically for this dish, but I'll be using it in many dishes from now on.' – Laina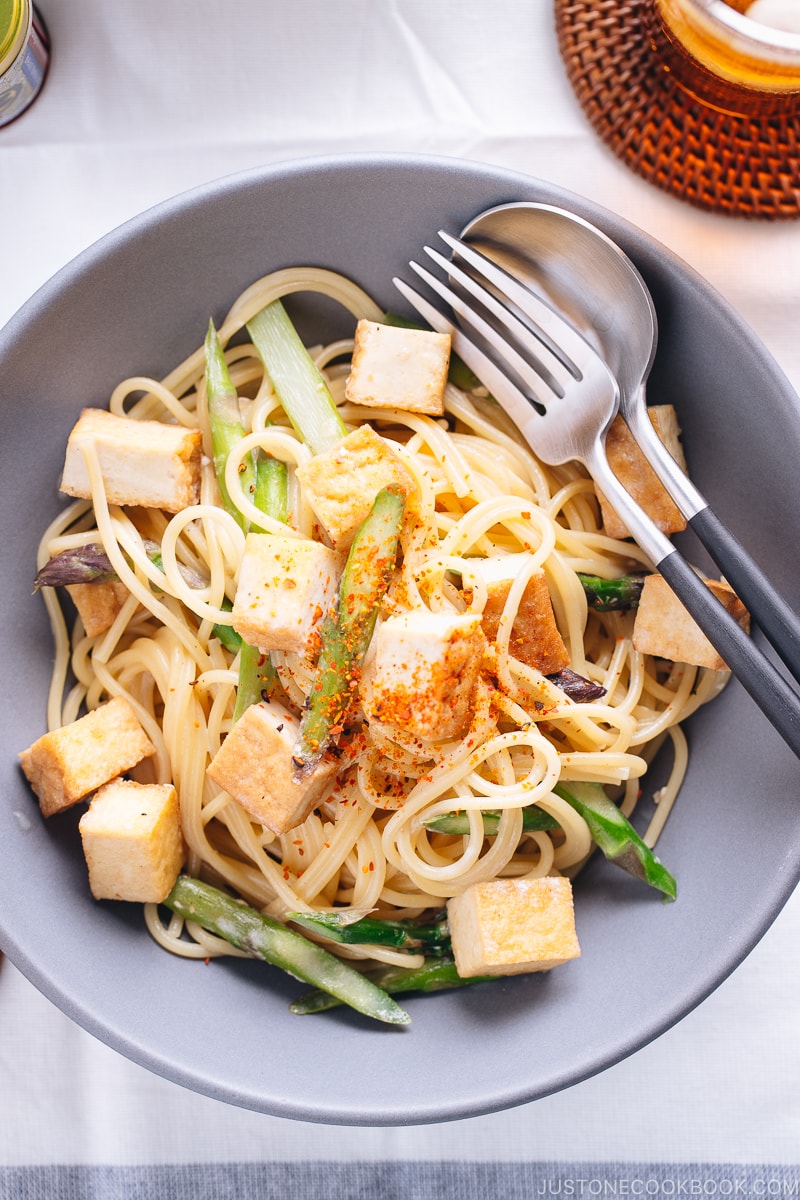 This pasta translates to a wholesome, plant-based, and delightful weeknight dinner.
♥ 'This recipe is magic. We've had increasing difficulty with pasta dishes because dairy is bad for my partner's digestive system. So many pasta sauces/recipes use either tomato or cheese (or both!), and we'd been having trouble finding any other options. Magic, I tell you. Turned out the first time, solved all our longstanding issues with pasta sauce. My partner loved it (I did too for that matter), and we had everything I needed just lying around the house.' – DC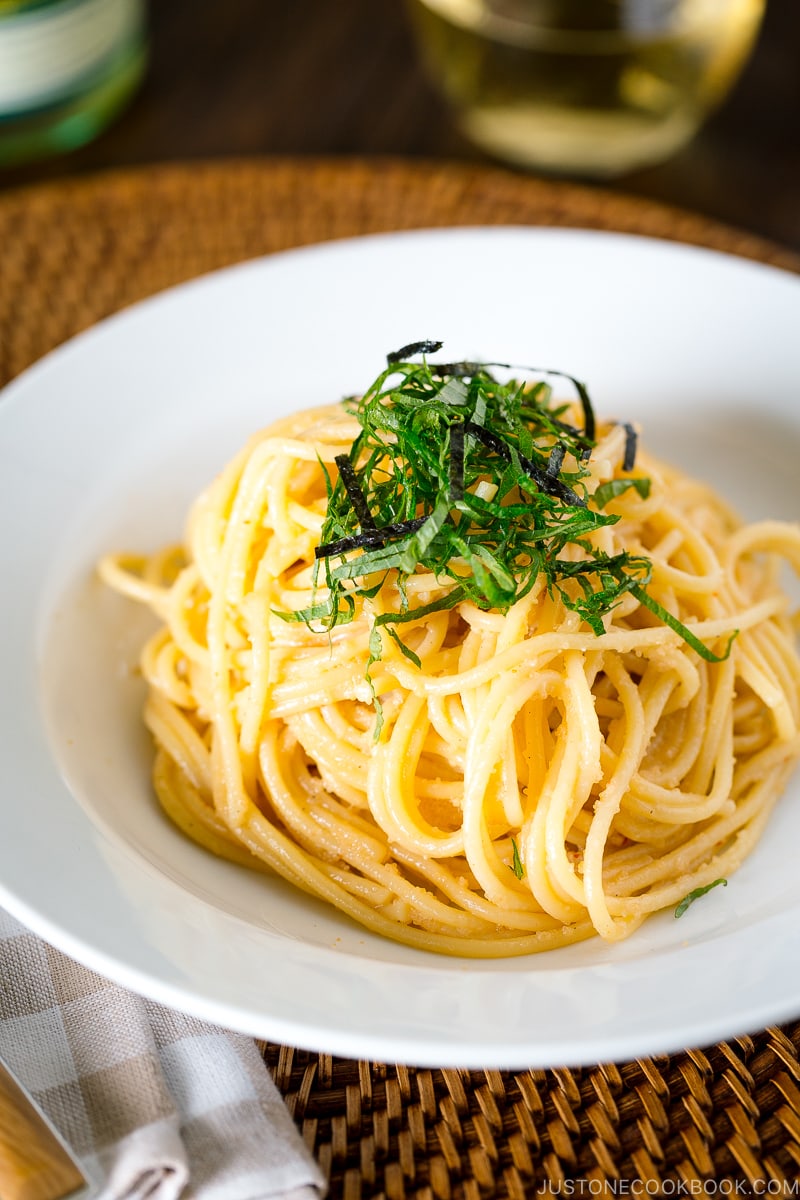 Mentaiko pasta is very popular in Japan for goods reasons! The noodles are coated in a buttery cream sauce and salty-spicy fish roe. Top with a fistful of nori and julienned shiso leaves, it makes an elegant and refined dish.
♥ 'It was great. Thank you. Substituted Mentaiko with haddock roe from the fishmonger with salt and cayenne pepper, worked decently well.' – 及川
A Japanese take on the classic Spaghetti Aglio, Olio, the dish is simple yet so good. Toss the al dente noodles with plenty of garlic-and-chili-infused olive oil, and add in some chopped shiso leaves for a special touch. You can find shiso leaves from Japanese grocery stores, or grow them in your backyard. This aromatic herb comes in handy for many delicious Japanese dishes.
'Easy to make, light on the tummy and full of flavor. So yummy! '- Yui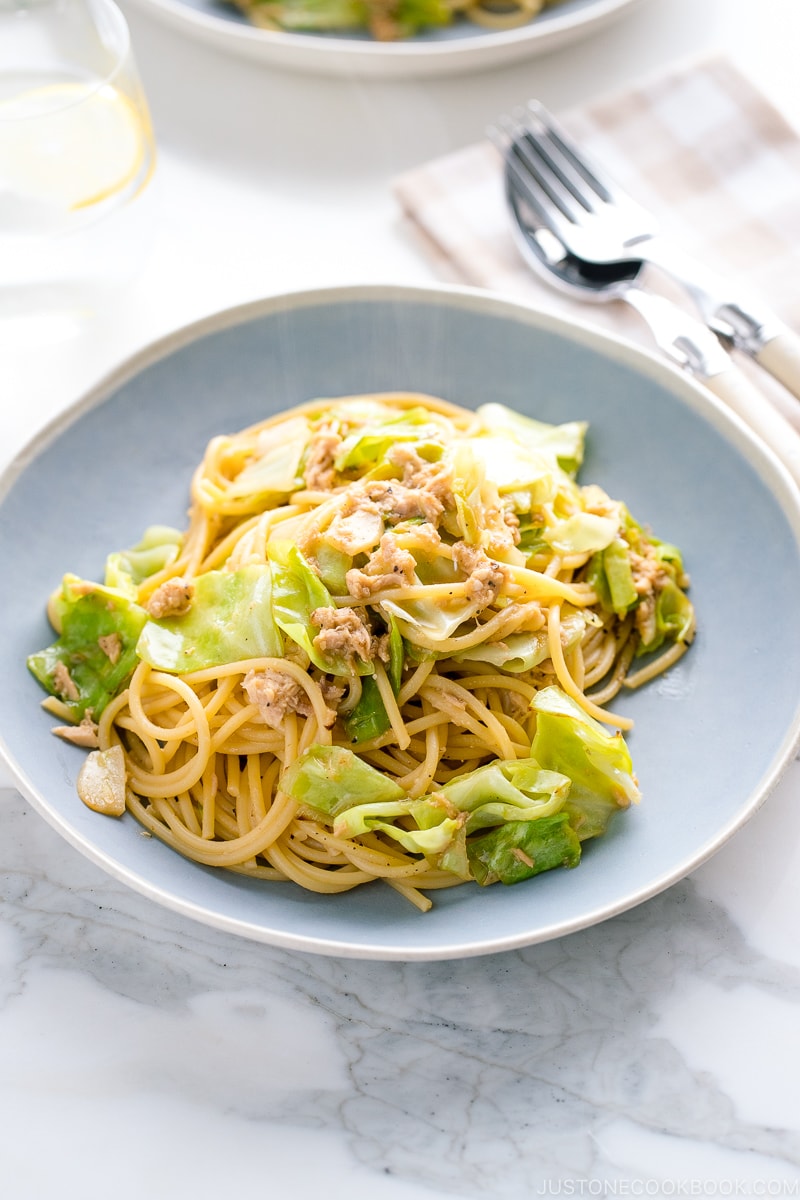 This is another favorite pantry-led pasta. All you need is canned fish, pasta, cabbage, and basic Japanese seasonings to turn it into a full-blown meal.
♥ 'I was initially dubious about a tuna and cabbage pasta but my three-year-old inhaled hers! That butter miso… goes down a treat!' – Rebecca C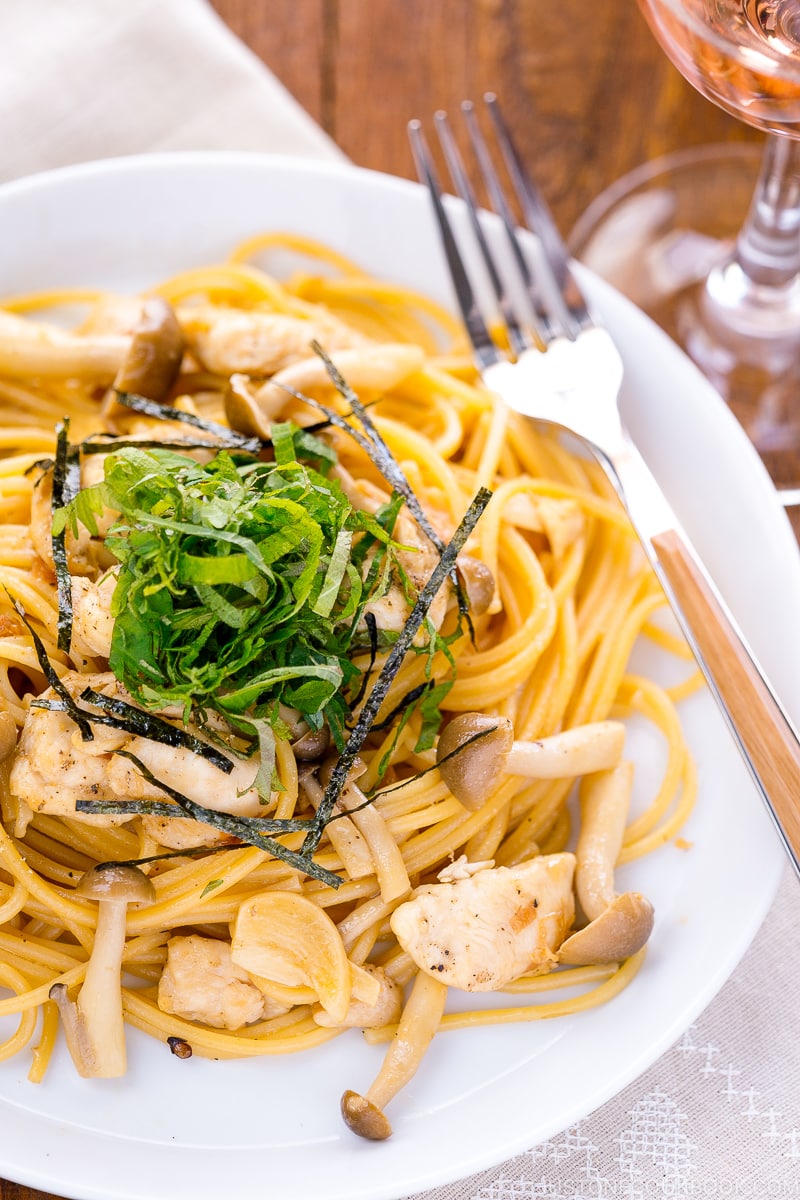 The combo of ume (Japanese salted plum) and shiso lends a truly unique Japanese character to this simple pasta. To bulk it up, I added chicken and shimeji mushrooms. You can switch the chicken with lobster, salmon, scallop, or leave it out for a vegan pasta.
♥ 'I just made this last night and it was super yummy! Thanks for the tasty recipe!' – Kennedy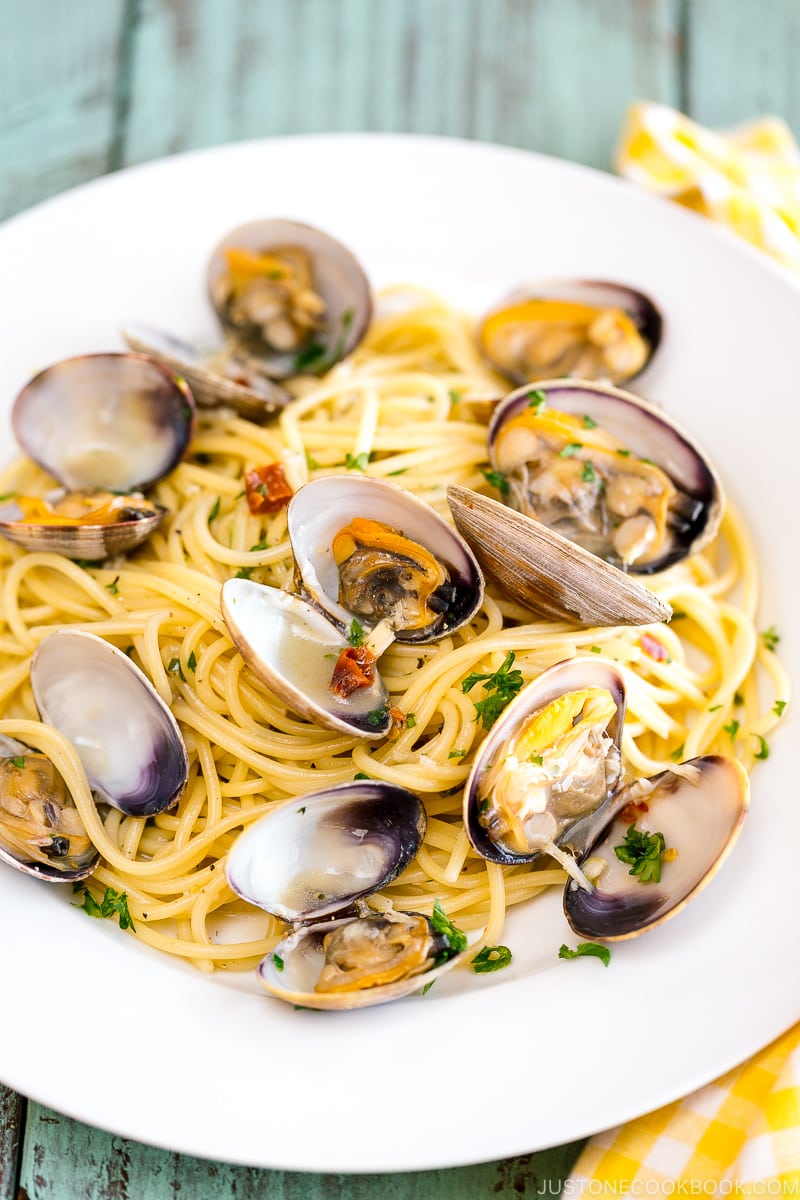 Infused with garlic, briny clams, white wine, and chili flakes, this clam pasta is very popular in Japan. It will remind you of a trip to the ocean.
♥ 'Thanks for such an easy but yummy recipe. I made it twice n my kids love it!' – Wendy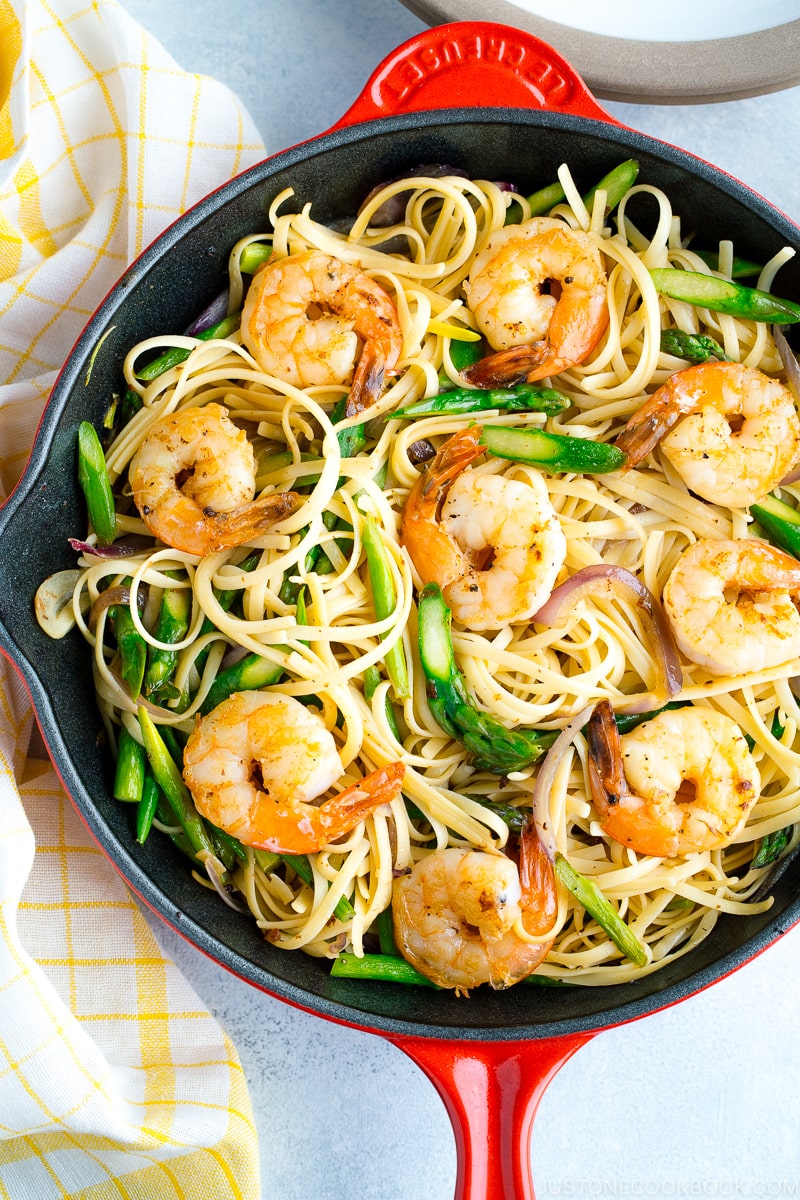 Seasoned with soy sauce and flavorful dashi broth, this Japanese-style Pasta with Shrimp and Asparagus is light yet satisfying. Not a fan of asparagus? Try sweet peas, snap peas, mustard greens, watercress, artichoke, or collard greens!
♥ 'Absolute FAVORITE!!! The Japanese Dashi really brought out the flavor and made this outstanding. Fresh, spicy with the chili flakes and with a deep depth from the asparagus and shrimp. Such a wonderful recipe.' – Don P
---
What to Serve with Japanese-style Pasta?