Print Recipe
Jump To Recipe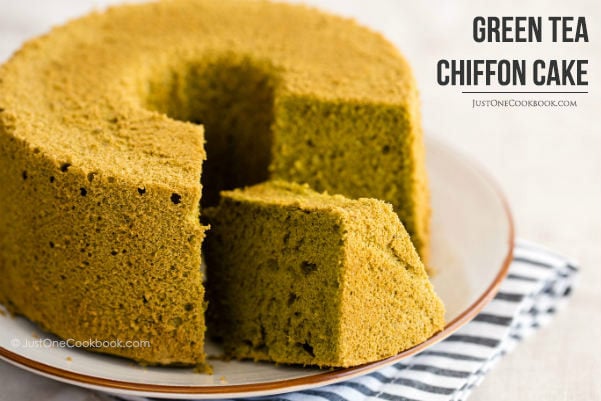 Making chiffon cake was one of my dream after I started to bake more often starting last year (thanks to your encouragement!).  I always thought it was going to be difficult to make a chiffon cake; however, after lengthy experiments with my Castella recipe (finally success!) this green tea chiffon cake was a piece of cake.  Yes, I just say that. 😉
Of course this green tea lady has to make Green Tea Chiffon Cake first before trying other flavors, right?
The green tea chiffon cake came out fluffy, light and moist!  It turned out just like the green tea chiffon cake that I've tried in Japan and dreamed of making myself.
If you are new to chiffon cake, it is a very light sponge cake made with vegetable oil, eggs, sugar, flour, and whatever the flavor you want to add.  You beat egg whites and fold them into the oil-based cake batter so that the cake will get fluffy texture.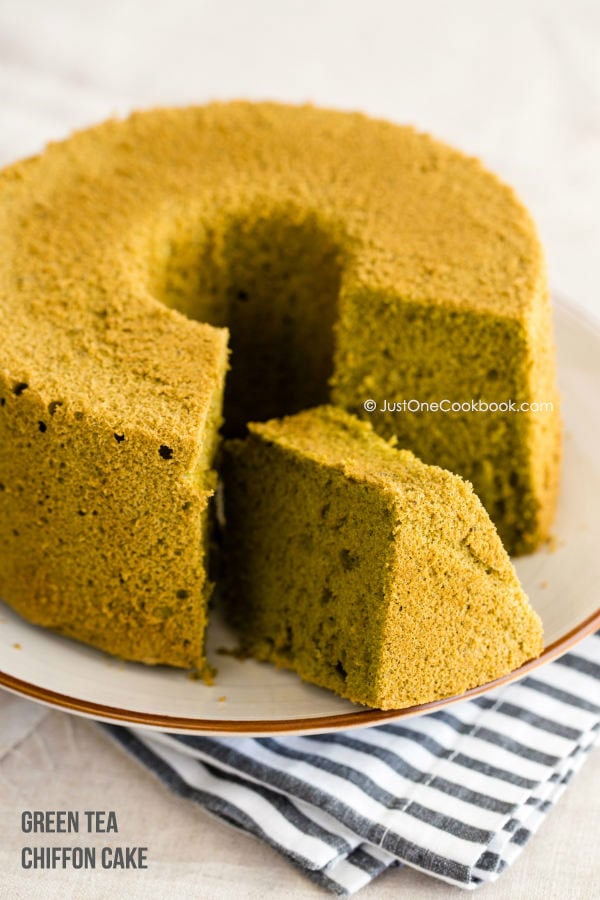 You only use 3 tablespoon of oil for this recipe and it is so light that if no one was looking, I would probably ate the entire 17 cm (about 7 inch) cake all by myself!
When it comes to chiffon cakes, I like them very simple.  No sweet frosting necessary (so that I can eat more than 1 slice).  Especially if you use very good quality matcha (green tea powder), you want to be able to taste the subtle matcha flavor.
If you are a fan of not-so-sweet desserts, this is for you!  Knowing how easy it is to make chiffon cakes now, I am going to try making other flavors soon.  What would be your favorite flavor?
Make sure you use the correct chiffon cake pan.  The best types are the aluminum ones with a removable base (Do not use non-stick bakeware for chiffon cake – it will not work).  Do not grease the mold because the cake needs to cling on the sides and center of the pan for support as it rises or it will collapse.
I bought 17-cm and 20-cm aluminum chiffon cake pans while I was in Japan because I wanted to follow Japanese chiffon cake recipes .  If you are interested in the same pan and know someone in Japan who can receive the package for you, you can purchase one from this Japanese store.  They are great!
Or, you can order this 17-cm aluminum chiffon cake pan or this cute colored chiffon cake pan online from Nihon Ichiban which ships internationally!
Now here's the video on How To Make Green Tea Chiffon Cake on my YouTube Channel! Enjoy!
Don't want to miss a recipe? Sign up for the FREE Just One Cookbook newsletter delivered to your inbox! And stay in touch on Facebook, Google+, Pinterest, and Instagram for all the latest updates. Thank you so much for reading, and till next time!
Green Tea Chiffon Cake
Serves:
Makes one 17-cm (about 7 inch) cake
Ingredients
3 large egg yolks
85 g (3 oz, or ½ cup and take away 1 Tbsp.) sugar
3 Tbsp. (40 ml) vegetable oil
4 Tbsp. (60 ml) water
75 g (2.6 oz, or about ⅔ cup) cake flour (or make your own - see below)
1 heaping Tbsp. (about 10 g, or 0.4 oz) matcha (green tea powder)
1 tsp. baking powder
3 large egg whites
Equipment you will need:
Instructions
Preheat oven to 340F (170C).
In a large bowl, whisk egg yolks and add ⅓ of the sugar. Then add oil and water and whisk all together till combined.

Sift cake flour, matcha, and baking powder together and add to the egg yolk mixture in 3 separate times. Whisk until totally incorporated and make sure there are no lumps.

Using a stand mixer, whip the egg whites on medium low speed (speed 4) till opaque and foamy and bubbly.

Add ⅓ of the remaining sugar and continue whipping. After 30 seconds or so, increase the stand mixer speed to high (speed 10) and add the remaining sugar slowly in small increments. It takes about 2 minutes (since you changed the speed to speed 10) until stiff peaks form.

To check on stiff peaks, pull up your whisk and see if you can make strong 'peak' that stays still without bending down.

Add ⅓ of the beaten egg whites into the flour mixture using spatula until the mixture is homogeneous.

Fold in the rest of the egg whites in 2-3 increments and mix gently but quickly until the mixture is homogeneous.

Pour the mixture into the ungreased 17cm chiffon cake pan. Tap the pan a few times on the kitchen countertop to release the air bubbles.

Bake for 30 minutes or until a toothpick inserted comes out clean.

The cake must be cooled upside down; stick the pan on a tall heavy bottle, leave until cake is completely cool before removing it from the pan.

Use a thin sharp knife or thin offset spatula and run it around the cake.

Place the serving plate on top and flip over. The cake will pop out easily. Enjoy!

Notes
*All-purpose flour and cake flour do not perform the same. Cake flour is more delicate, and if you use all-purpose flour instead of cake flour, the texture will be dense and tough. If you can't find cake flour, use this substitution:
Take one level cup of all-purpose flour, remove 2 Tbsp, and then add 2 Tbsp of corn starch back in. (1 cup AP flour - 2 Tbsp AP flour + 2 Tbsp corn starch = 1 cup cake flour). Be sure to sift the flour 3-4 times to distribute the corn starch well.
Tips for beating egg whites:
-- Make sure your beaters and mixing bowl are clean and dry. A speck of oil or egg yolk on either one can minimize the volume of the beaten egg whites.
-- Avoid plastic bowls -- even clean ones may hold oily residue that can affect the beating quality of the egg whites.
-- Use a bowl that's wide enough to keep the beaters from being buried in the egg whites.
-- Do not overbeat or underbeat egg whites -- your cake may fall. Egg whites should be stiff but not dry.
To purchase a 17-cm (about 7") chiffon cake pan, check out
this chiffon cake pan
or
this one
).
Recipe adapted from
Chiffon Cake Book by Junko Fukuda