From creamy salmon potato gratin to kabocha gratin to savory curry doria, these Japanese casseroles are the coziest recipes you'll ever need! They are versatile, easily make-ahead, and ideal for any occasion. 
Casseroles are the ultimate comfort food, especially when there is a chill in the air. In Japan, casseroles are a big thing too!
Filled with all kinds of delicious things from vegetables to savory meat sauce, and topped with a golden topping that bakes up like a fluffy dream, casseroles are the type of food that everyone in the family devours. These homey Japanese-western dishes are not only a favorite among the home cooks, but they are also popular menus in Yoshoku restaurants and cafes in Japan.
The two popular Japanese casserole dishes are Gratin (グラタン) and Doria (ドリア), a Japanese invention of rice gratin. They can be prepped ahead of time and are perfect for weeknight dinners. We love that they are impressively enough to be served at the holiday tables too.
Here, we've gathered our favorite Japanese casserole recipes that are worthy to feed a crowd. Enjoy!

Cozy Japanese Casserole Recipes

So amazingly rich, creamy, and buttery, this Macaroni Gratin with homemade white sauce is true comfort food. It includes shrimp, sweet onion, and mushrooms, but you can do some easy swaps for what you have in your kitchen. The golden, crunchy panko topping makes everything better!
For the vegetarian/ vegan version, try it with squash or sweet potato.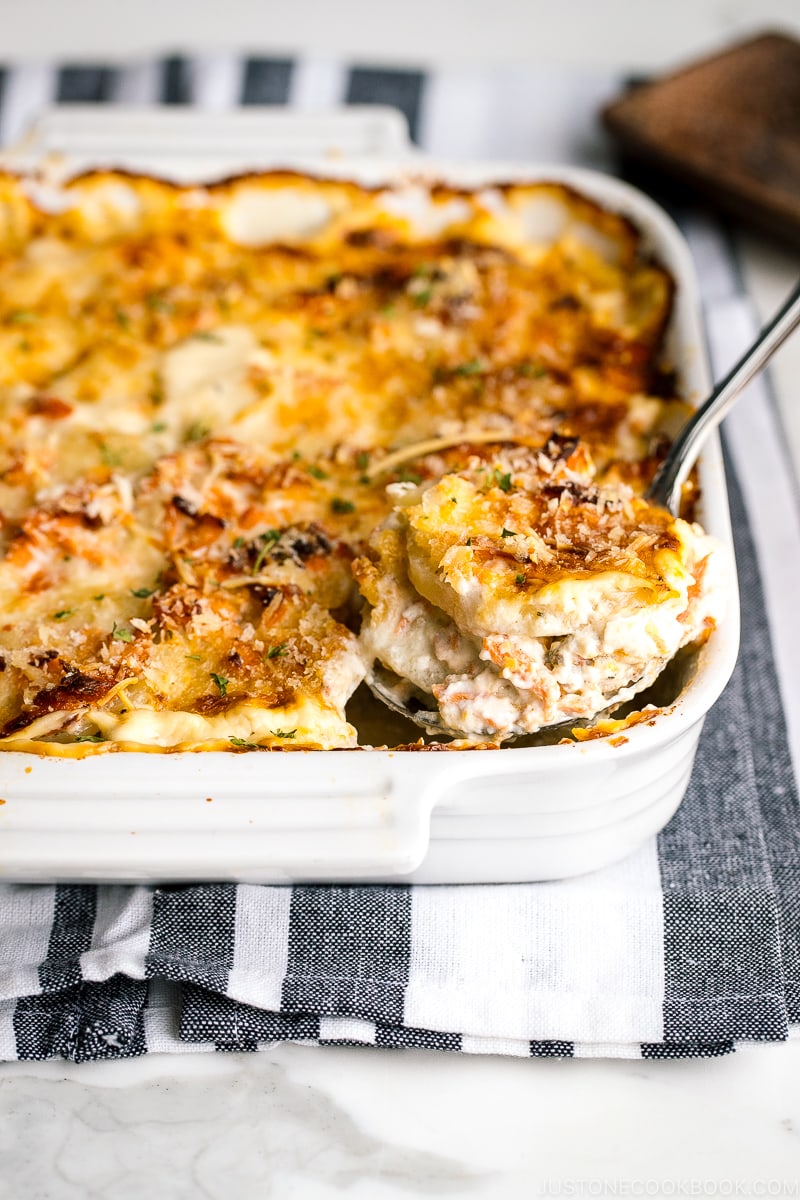 This Creamy Salmon Potato Gratin takes the classic comfort food up a notch with a few simple upgrades: all-purpose salmon flakes and crunchy panko-crusted topping. It's homey yet thoroughly indulgent.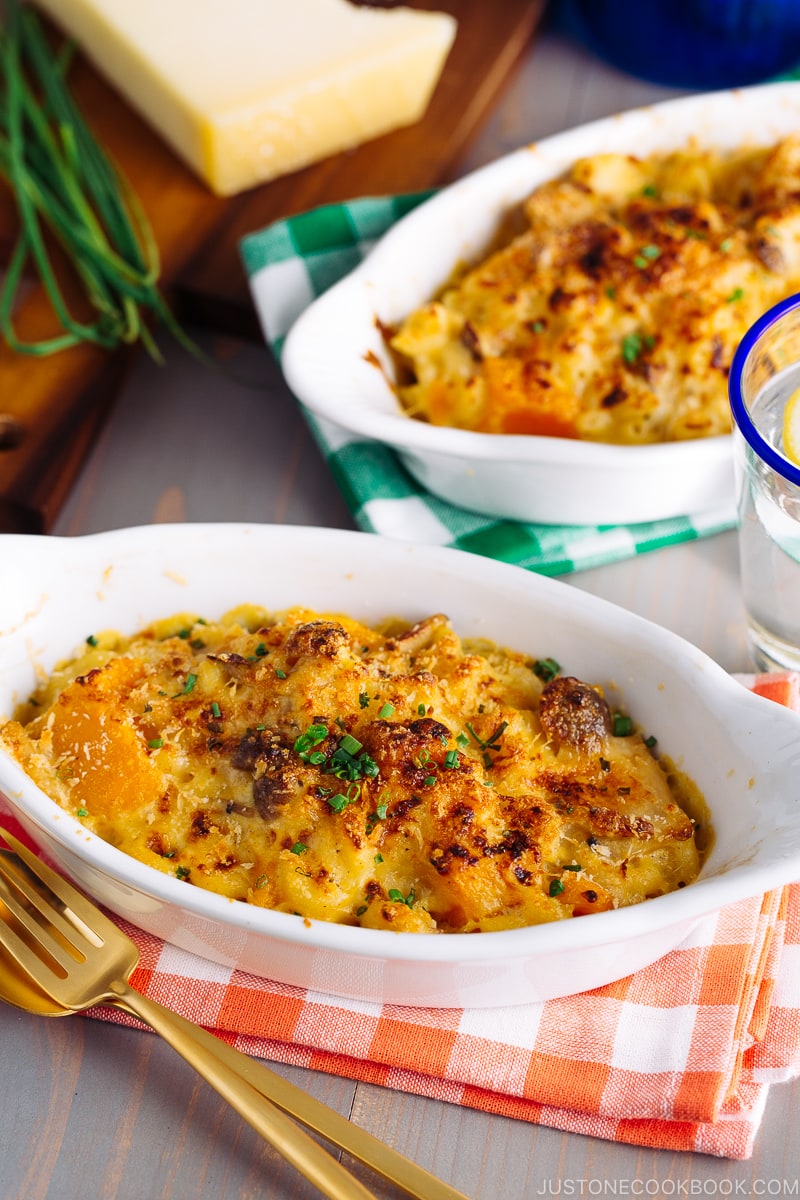 This vegetarian-friendly casserole recipe makes an excellent side or a complete meal on its own. You'll love the creamy texture and sweetness of Kabocha. The bright vivid orange flesh also gives the gratin an extra holiday touch.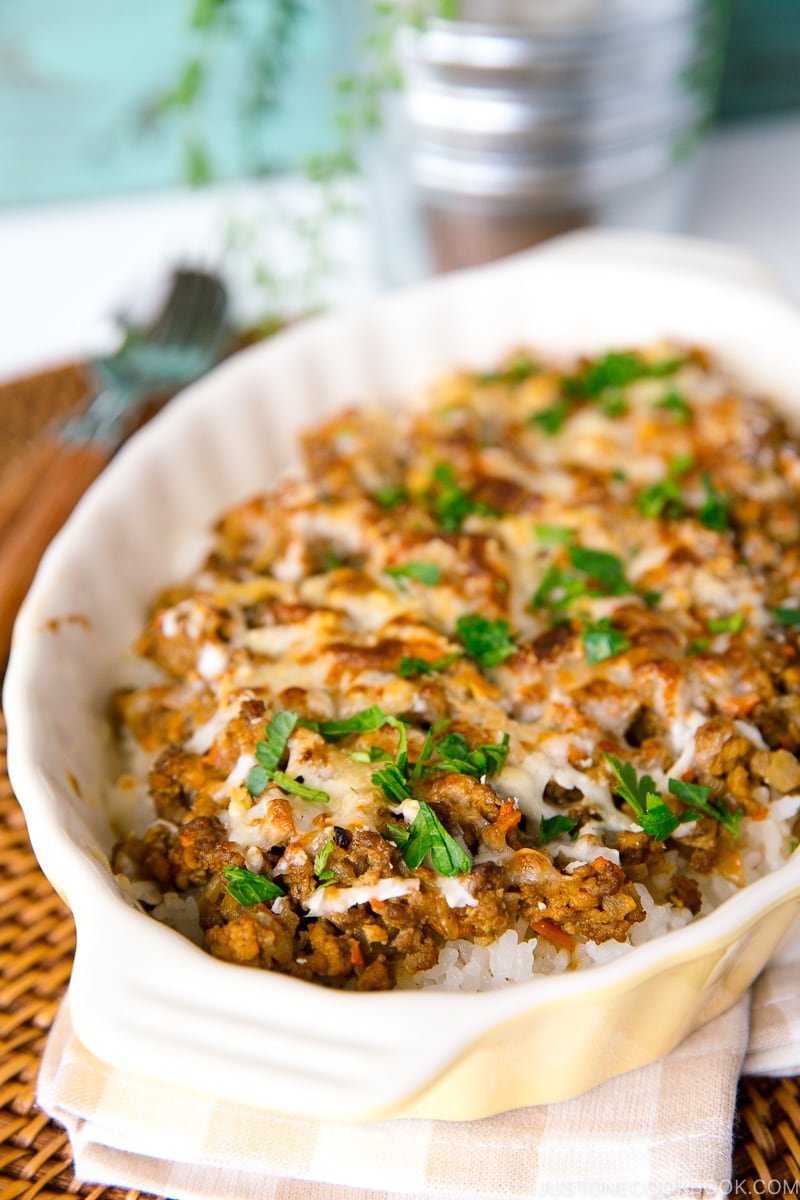 Japanese rice gratin topped with flavorful curry meat sauce and cheese and baked into perfection in a casserole. It screams comfort food! If you have some leftover rice in the freezer, you can assemble the rice casserole even quicker. Swap the meat with minced mushroom and tofu (or jackfruit) for a vegetarian option.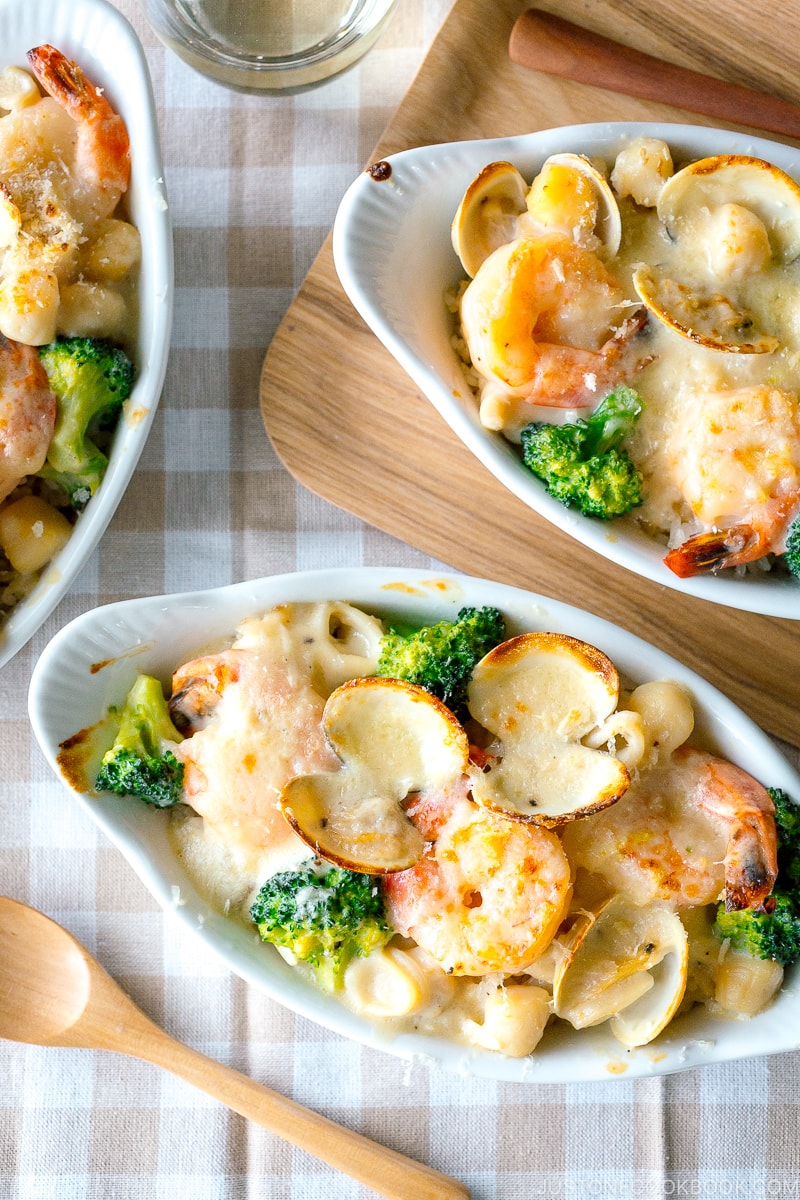 Another impressive yet simple Japanese rice gratin dish topped with your choice of seafood and cheese. Use frozen seafood for minimal prepping.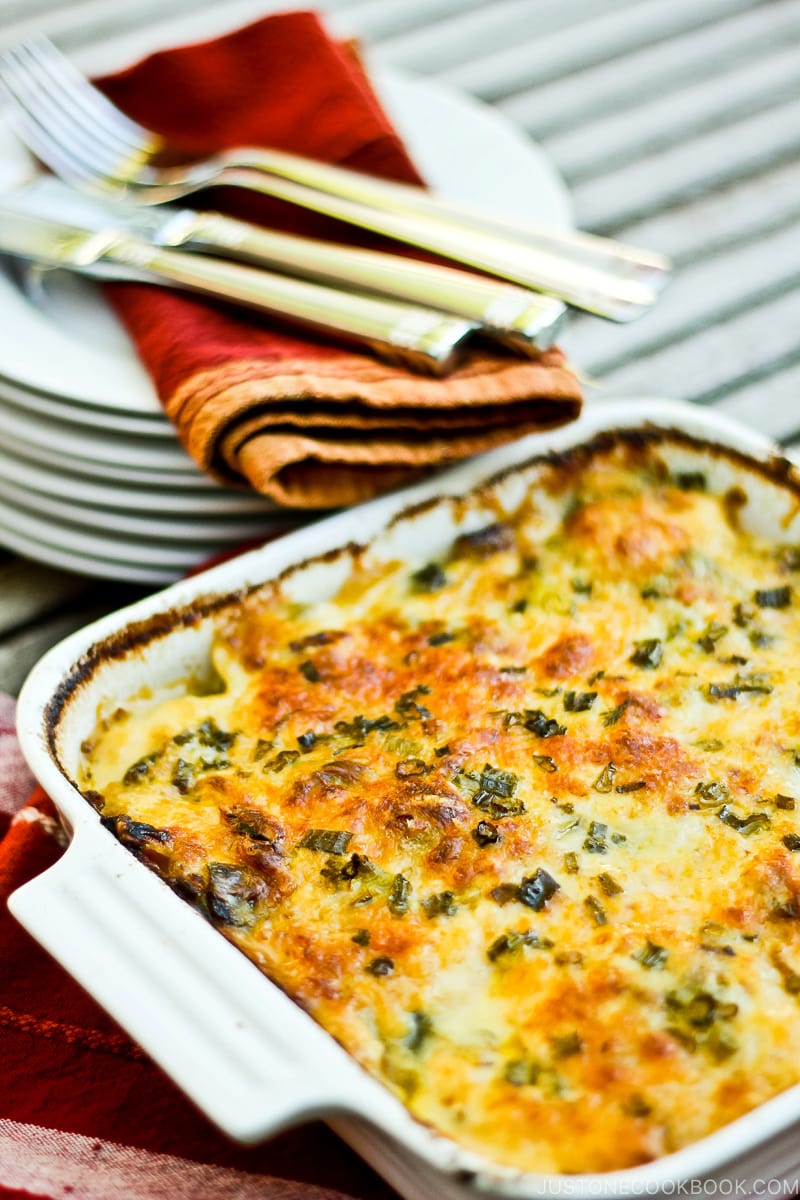 This simple casserole is loaded with creamy sliced potatoes and savory leeks, and mounds of shredded cheese. Bake until the top is glossy and deeply golden brown. Feel free to make extra for leftovers!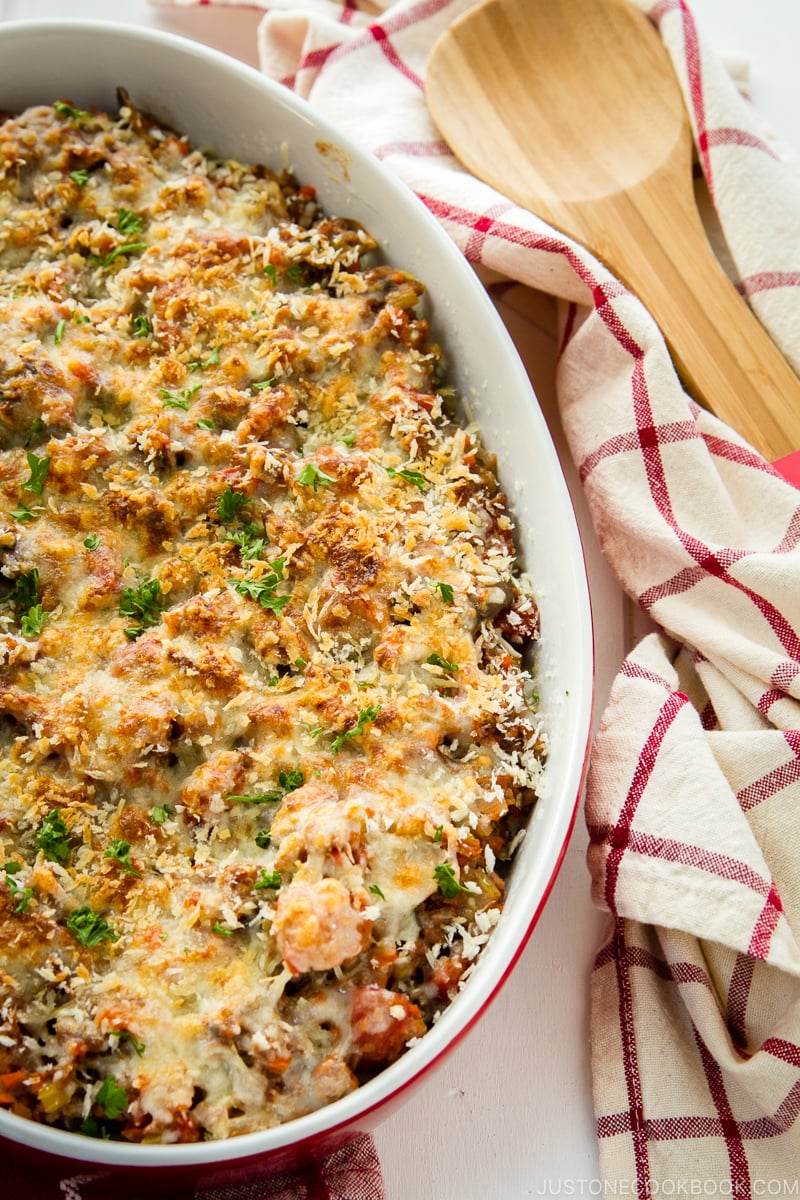 Savory meat sauce over steamed rice, covered with melted cheese, and baked in the oven, this is a comfort dish from childhood to many Japanese. If you happened to cook a big batch of ground beef for taco, definitely save some for this casserole recipe.

More Cozy Japanese Recipes You'll Love: