Weeknight Meal Ideas: Easy Japanese recipes for a quick, reliable dinner you can make for the family at the end of a long day.
What do you make on those nights when you're tired but still just want something nourishing & healthy for the family? If you love a quick dinner like I do on most days, here are some family-friendly Japanese recipes that are tasty yet easy-to-follow.
These recipes are perfect for weeknight meals as they can be prepped in less than 1 hour! They are my go-to rotations, so I hope they will help you plan your meals as well.
15 Easy Japanese Recipes for Weeknight Meals
When comes to a weeknight meal, we can always count on fried rice for a fool-proof dinner. Bursting with flavor, this classic Fried Rice recipe with ham, egg, and green onion is a delicious one-pan meal that you can whip up under 20 minutes.
This easy homemade Teriyaki Salmon is cooked in soy sauce, sake, and mirin. If you buy salmon as a whole fish, you can fillet it the Japanese way. It helps to cook faster and absorb the flavors quickly. Not a seafood fan? Try Chicken Teriyaki or Beef Teriyaki.
Fat, chewy udon noodles stir-fried with vegetables and your choice of protein, this Yaki Udon is a keeper for the noodle lovers. It's a great meal to use up your leftover too.
Pasta is always a good call for a weeknight meal. Seasoned with soy sauce and flavorful dashi broth, this Japanese-style wafu pasta with shrimp and asparagus is a delicious option than the usual tomato-based pasta.
Loaded with plenty of vegetables and your choice of protein, this Stir fry Vegetables (Yasai Itame) makes a well-rounded weeknight meal. Not only everything comes together in less than 30 minutes, but it's also a great way to use up any leftovers.
A really popular Japanese Yoshoku (Japanese fusion) recipe, Omurice is one of my children's favorite meals. The rice is pan-fried with ketchup and chicken, then wrapped in a thin layer of egg. When there is leftover rice, it's a perfect single-plate meal to prepare the next day.
This Salmon in Foil recipe is packed with Omega-3 Fatty Acids from the fish and healthy nutrients from the vegetables. A healthy yet flavorful dinner dish that we all need to power through a busy week. It's incredibly easy and versatile to make too.
Enjoyed chilled or at room temperature, this Soba Noodle Salad makes a healthy choice when you are looking for a quick, light meal.
Oyakodon is one of the easy dishes I learned at the home-making class in middle school. If you have older children at home, this would be a fun dish to teach them. It's a classic Donbori dish, where the beaten egg and chicken pieces are simmered in sweet soy dashi sauce and served over white rice.
Gyudon (Beef Bowl) is comfort food for the Japanese. Simple ingredients such as onion, sliced beef, and eggs, are tossed into a hot frying pan for a quick cook. In 15 minutes, you'd get to serve some delicious rice bowl for dinner.
When you feel like you're stuck in the usual dinner rut, this Baked Tonkatsu (Japanese pork cutlet) will shake things up a little. The best part is you don't need to deep fry the meat to achieve the crispy crust and tender, juicy texture. You can also try Crispy Baked Chicken or Crispy Salmon in replace of pork.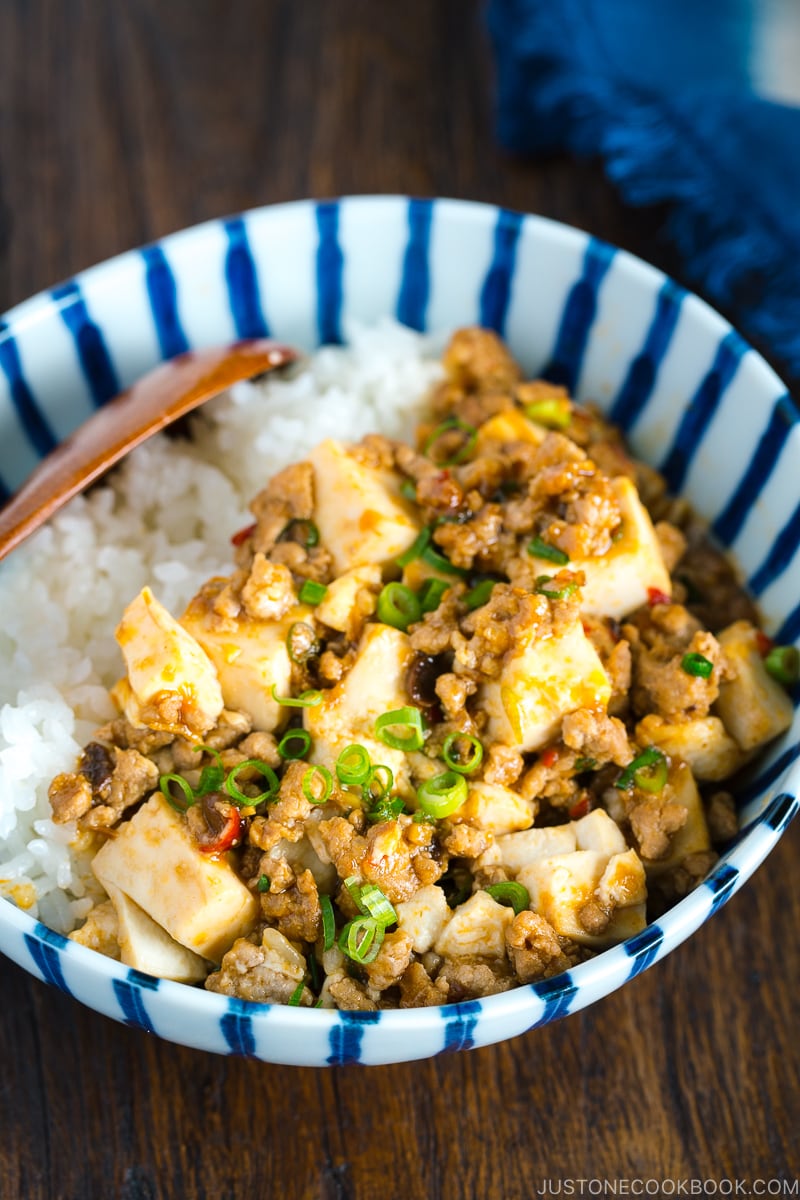 Craving for some spicy food on the weeknight? This Japanese-version of Mapo Tofu is a lot milder than the Sichuan-style mapo tofu, yet it is flavorful enough that even both adults & children can enjoy it.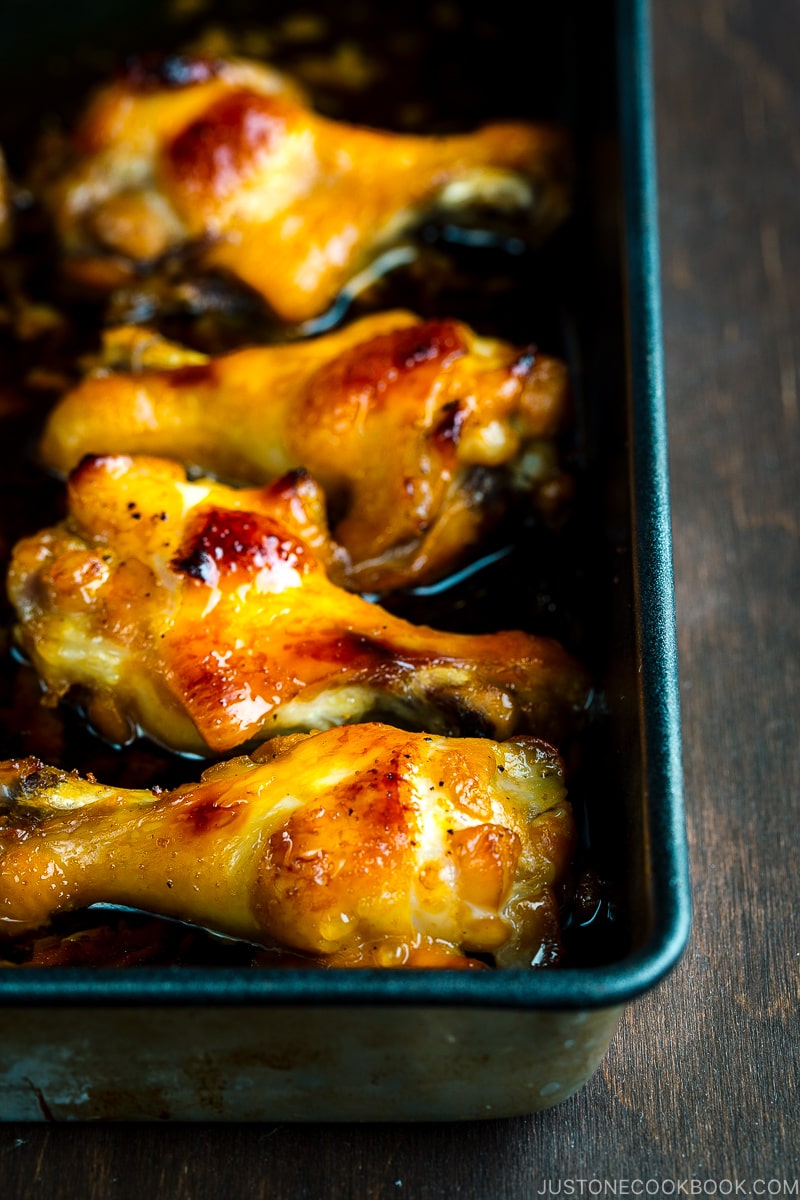 Marinated in sake, soy sauce, and honey, these Honey Soy Sauce Chicken can be prepped the night before. When you're ready to cook, pop them into the oven while you prepare a simple salad or miso soup to serve along.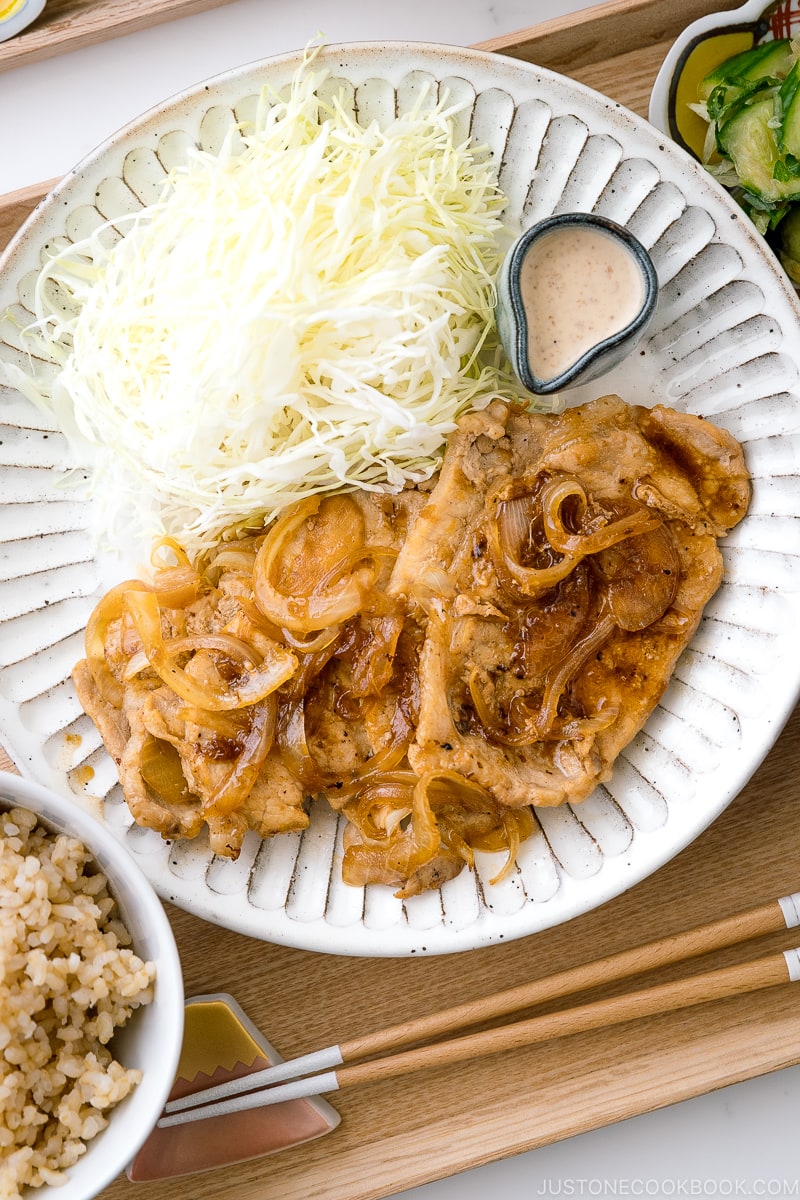 Although you can find Ginger Pork (Shogayaki) at most of the Japanese restaurants in the US, it is a simple dish to make at home. You want to use thinly sliced pork loin or sukiyaki meat to cook. The sweet garlic ginger sauce makes it a delicious savory dish to go with shredded cabbage.
A classic Japanese stir-fried noodles – Yakisoba. You can literally add any ingredients to make your own version of Yakisoba.
---
MORE EASY JAPANESE RECIPES?
Wish to learn more about Japanese cooking? Sign up for our free newsletter to receive cooking tips & recipe updates! And stay in touch with me on Facebook, Pinterest, YouTube, and Instagram.