Hello everyone, Mr. JOC here to share a restaurant review. It's been awhile since I've written one not because we've stopped trying new restaurants, but between learning how to make food videos and working on secret project "X", I haven't had time to do much else lately.
Today the restaurant Jai Yun I am reviewing is quite unique. Located on the edge of San Francisco Chinatown, most people would walk past its nondescript exterior without noticing it.
Before I get into the review, a bit of background. We eat out about twice a week, and most of the time it's Chinese food. It works out for us because besides getting a great meal at dinner, there's usually enough leftover to pack for lunch the next day. More often than not, we usually end up eating at Little Shanghai in San Mateo. It's our family's favorite Chinese restaurant and we think others agree as well, based on the long lines out the door during meal times. When we want fancy Chinese food, we like Koi Palace in Daly City. In addition to their fabulous dim sum, the geoduck sashimi, Peking duck, and Shanghai style crab are some of our favorites there.
When our friend suggested Jai Yun in San Francisco for a get-together, we were intrigued because we've never heard of it. What makes Jai Yun so unique? It doesn't have a menu, you simply pick from a preset price and wait for the chef to surprise you.
For our dinner that day, there were 8 of us and we had opted for the $65 per person meal. Between Nami and myself it would be over $150 with tax and tip, and that's more than what we usually pay for 3 meals at Chinese restaurants. For comparison, a 3 course meal at Michelin starred Gary Danko is $73.
The course meal started with an assortment of twelve cold dishes (see cover photo) followed by hot dishes. The cold dishes included sliced beef, Chinese ham, radish, cucumber salad, vegetarian chicken, tofu salad, spicy cabbage, gon chai (name of Chinese vegetable), sliced pork, mushroom, broccoli, and lotus root.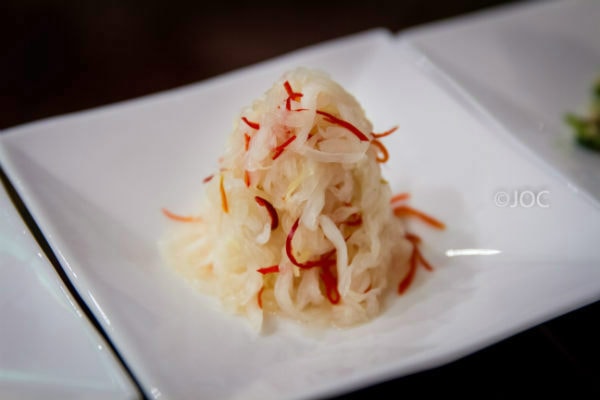 Spicy Cabbage
Enoki Mushroom
In general, each cold dish was done quite well, no complaints about the flavoring. There were one or two cold dishes that stood out as extra tasty, like the spicy cabbage and the enoki mushrooms. However the quality wasn't much different from the $5 appetizers I could order from other Chinese restaurants. The biggest issue our dinner group had with the appetizers was the portion. There were literally enough for 1 bite for each of us before each dish was empty.
Before we had dinner at Jai Jun, I had read the very extensive 3 visit review at CookingForEngineers. With the overwhelming positive recommendation, we had pretty high expectations. After the cold dishes were served, we had thought they were not bad, but the quantity should be double or triple the amount.
Unfortunately, the same theme continued for the entrees. The entrees were delicate and prepared well, and there were 14 of them. Once again, one bite each and entire plate is empty. For example, the taro ball with pork was quite delicious. Deep fried taro with tender pork rib in a sweet and savory sauce, but not everyone got a piece of the pork rib.
Mung Bean with Chinese Ham
Crispy Fried Orange Beef
Abalone with Egg Whites
Pork Shoulder
I won't go through the details for each dish since CookingForEngineers had done a tremendous job and there are plenty of Yelp reviews. From our perspective, here is our final verdict.
1) The food was delicious, but not super outstanding where we feel like we would want to eat there every other week.
2) Based on previous reviews I've read, the mystery menu seems to be more or less the same.
3) The quantity of food needs to be doubled, for both the cold dish and entrees.
4)  If it was $30 a person, it would be a fairly priced meal. At $65, our expectations were much much higher and somewhat disappointed.
At end of the meal, we did get a surprise from the chef displaying his knife skills. He was blindfolded and sliced a cucumber on a restaurant workers' back into very thin slices. Enjoy!