Karashi Renkon is a popular regional dish on the island of Kyushu in Japan. A mixture of miso and Japanese karashi hot mustard is stuffed in lotus root, coated in turmeric flour batter, and deep-fried until a crispy crust forms.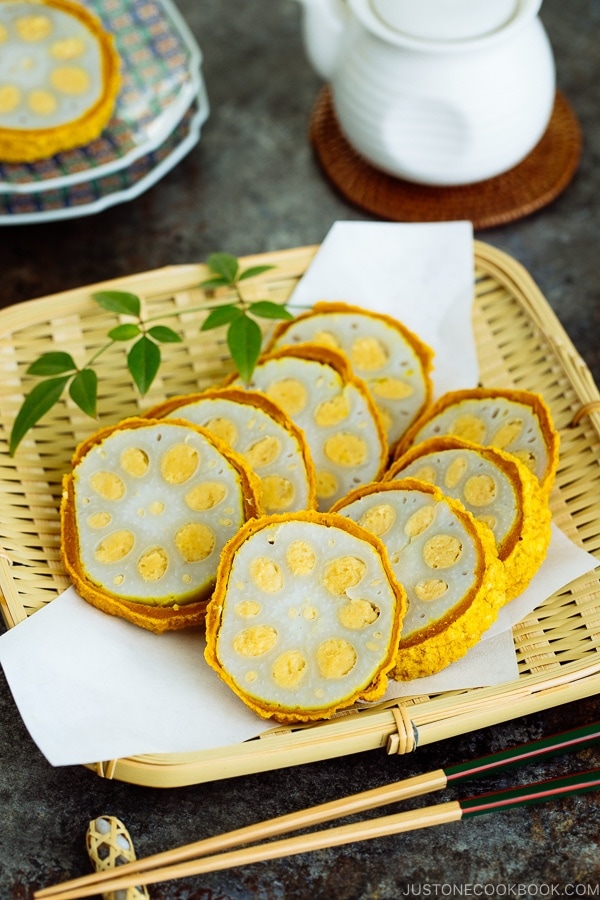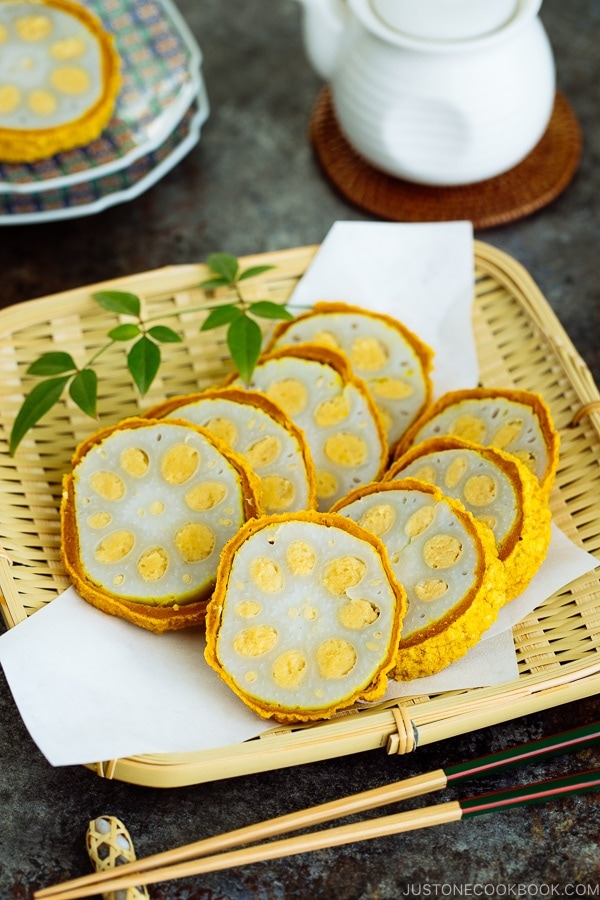 When we were in Kyushu last summer, we visited the city of Kumamoto. We tried many regional foods that we normally can't find in the Tokyo area (where my hometown is). Among all the unique foods we tried in Kumamoto, the dish that stood out the most was Karashi Renkon (辛子蓮根) or Deep Fried Lotus Root with Japanese Mustard.
Watch How to Make Karashi Renkon
Karashi Renkon (辛子蓮根) is a popular regional dish on the island of Kyushu in Japan.
My First Karashi Renkon Experience
I have to admit that I did not know about Karashi Renkon until a JOC reader, Venetia, requested this recipe back in 2013. I had to Google Karashi Renkon to find out what it was. Then two years later, another JOC reader, Elaine, requested this dish. I knew then this must be a special dish. Both times, I emailed back saying I had to try this deep-fried lotus root, and promised to create a recipe to share on JOC.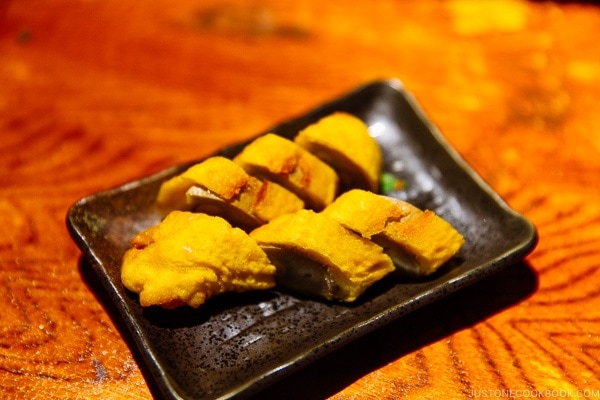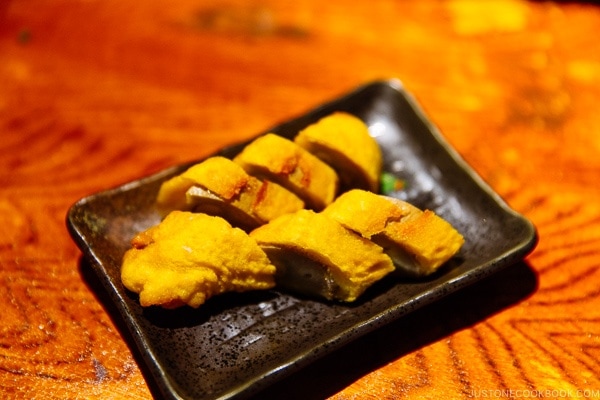 I'm happy that JOC readers are patient because four years later, I finally tried Karashi Renkon in Kumamoto! It was as delicious as my readers promised. The mustard flavor wasn't too strong, and the lotus root and the batter were both crispy and crunchy. Despite using all ingredients common in Japanese cooking, we never had lotus cooked this way. Karashi Renkon was the perfect regional Japanese dish – both familiar and unique all in one bite!
Mr. JOC and I were not always fans of karashi (or wasabi), but in recent years, we started to appreciate the flavor and the wake-me-up burn of the condiments. If you haven't tried them before, or maybe want to give them a second taste like we did, remember that not all karashi and wasabi are created equal. I recommend trying wasabi that is grated from fresh wasabi, and karashi that is made from powdered karashi instead of the pre-made karashi in a tube.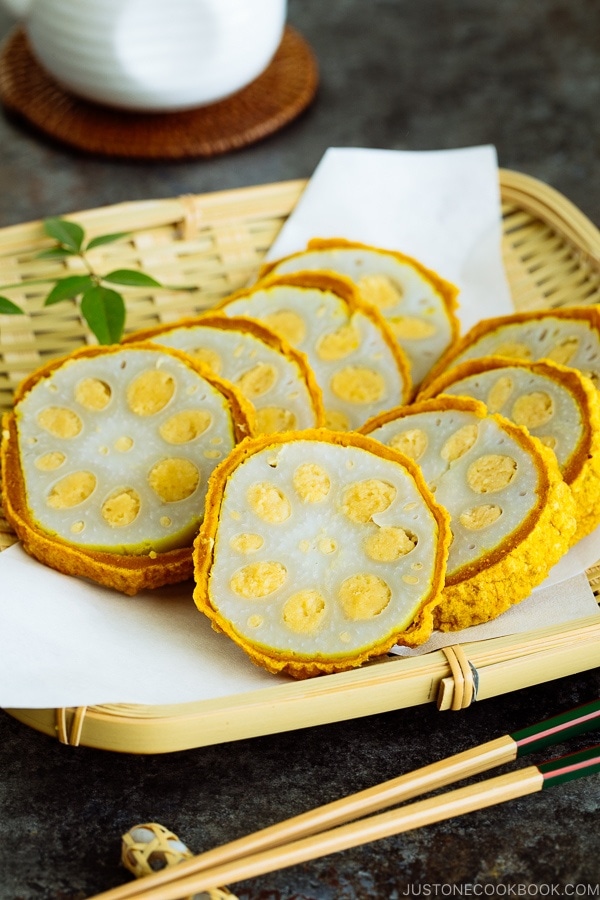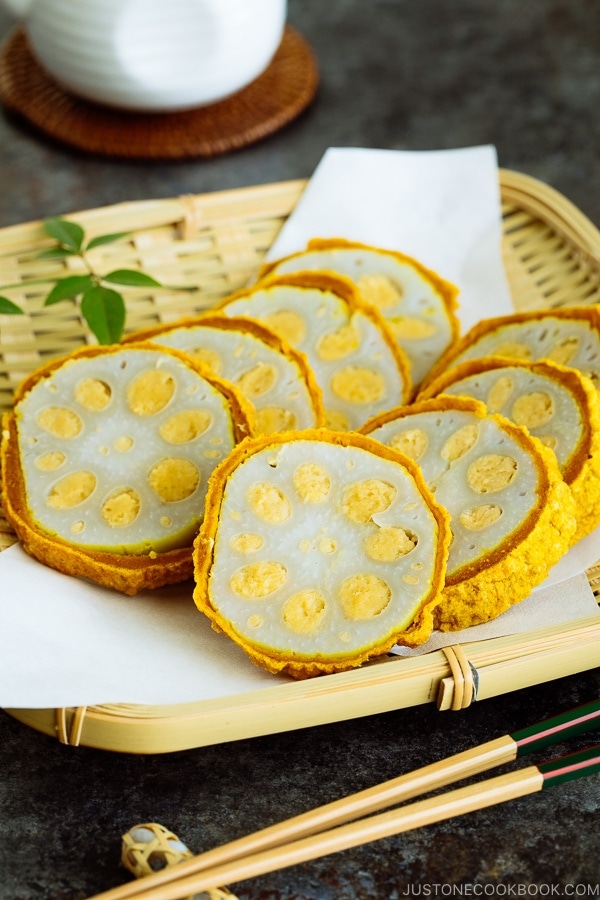 So…What is Karashi Renkon?
Karashi Renkon is one of Kumamoto's regional foods and it is a must-serve dish for all kinds of ceremonial occasions in Kyushu regions. This dish is usually enjoyed as an appetizer or snack to go with sake and beer. When you visit Kumamoto, you will see many shops that sell Karashi Renkon for you to bring back as a souvenir.
An underwater rhizome of the lotus plant, renkon or lotus root is a popular vegetable enjoyed in Japanese cuisine and many other Asian cuisines. It can be boiled, simmered, braised, steamed, stir-fried or deep-fried. To make karashi renkon, the lotus root is first boiled and then filled with mustard miso.
This mustard miso filling is made of soy pulp (Okara) or Japanese breadcrumbs panko (which I used in my recipe) seasoned with karashi mustard, miso, and a little bit of sweetener. The mixture has a mild sharp bite from the mustard and sweetness from the white miso and sugar.
After the filling is prepared and stuffed in the lotus root, it is set in the refrigerator overnight. The next day, the lotus root is dunked in the turmeric batter, and then deep fried till crisp.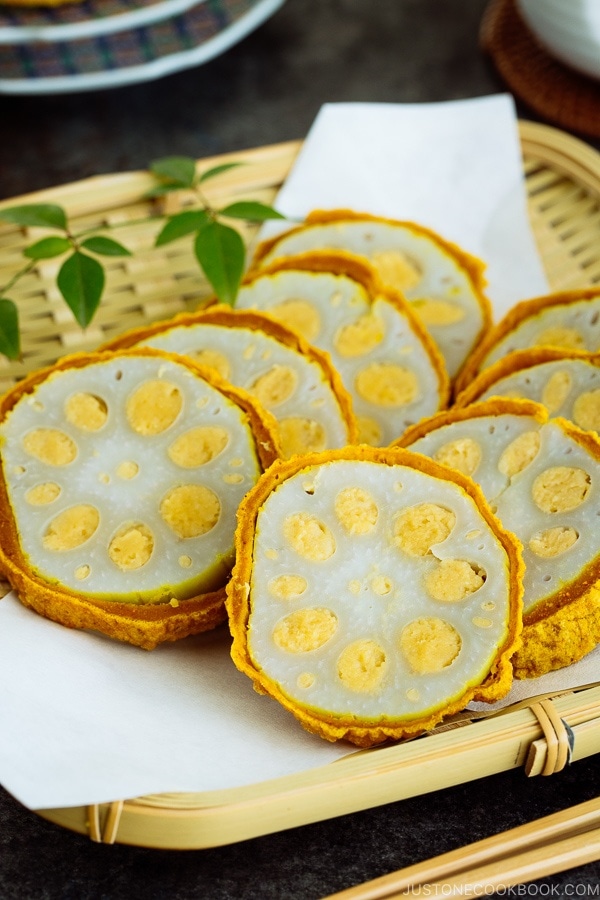 Helpful Tips I Learned from Making Karashi Renkon
1. Scrape the sides of lotus root
After peeling the skin off the lotus root, use a fork to scrape all around to create a rough surface. This step will help the batter to stay on the lotus root.
2. Pile karashi miso for filling 
To fill the air holes, pile the karashi mustard miso on a plate and start pressing the lotus root onto the mixture. Soon it starts to fill up the holes and squeeze out from the top. This is the fun part of the recipe!
3. Use a skewer to deep fry
When you deep fry the battered lotus root, you will need to make sure the lotus root stays away from the bottom of the pot. If it touches the bottom of the pot, the batter would stick and come off from the lotus root. A metal skewer or 2 bamboo skewers to hold the lotus root in the oil would help to keep them in place.
For those of you who grew up eating lotus root, have you tried this preparation before? Are there any other interesting ways that you cook with this amazing vegetable? I must say Karashi Renkon has definitely opened my eyes to how flexible lotus root can be from the culinary standpoint. If this unique renkon recipe caught your attention, you know you can make it right away without having to wait for 4 years like I did!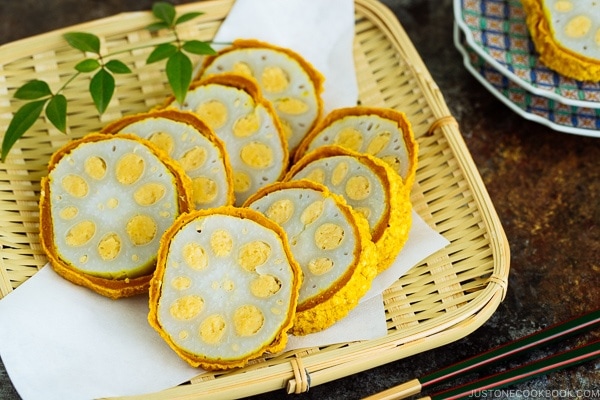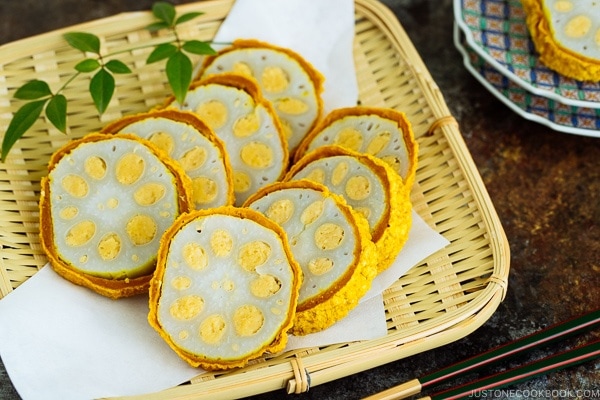 Don't want to miss a recipe? Sign up for the FREE Just One Cookbook newsletter delivered to your inbox! And stay in touch with me on Facebook, Pinterest, and Instagram for all the latest updates.
Karashi Renkon (Lotus Root with Japanese Mustard)
Karashi Renkon is a popular regional dish on the island of Kyushu in Japan. A mixture of miso and Japanese karashi hot mustard is stuffed in lotus root, coated in turmeric flour batter, and deep-fried until a crispy crust forms.
Video
Servings:
6
(as an appetizer)
Ingredients
1

lotus root (renkon)

(6", 15 cm)

3

cups

neutral-flavored oil (vegetable, rice bran, canola, etc.)
Batter
1

large egg (50 g w/o shell)

1

cup

all-purpose flour (plain flour)

1

Tbsp

turmeric powder

¼

tsp

kosher salt (Diamond Crystal; use half for table salt)

½

cup

water
Japanese Ingredient Substitution:
If you want substitutes for Japanese condiments and ingredients, click
here
.
Instructions
Gather all the ingredients.
Day 1
Peel the lotus root and scrape the sides lengthwise with a fork. Creating a rough surface helps the batter stick to the lotus root.

Trim both ends. If the lotus root is longer than 4" (10 cm) in length, cut it in half. Place the lotus root in a saucepan and add just enough water to cover. Add 1 tsp rice vinegar to prevent the lotus root from changing color.

Bring the water to a boil and cook for 6 minutes. Transfer to a sieve and let it stand upright to dry until the holes are completely dry (excess moisture will dilute the fillings).

In a bowl, combine 2 tsp karashi mustard and 1 Tbsp warm water and mix well.

In a medium bowl, combine 5 Tbsp panko, 1 Tbsp mirin, 1 Tbsp sugar, and 5 Tbsp white miso and mix well.

Add in the karashi mustard and mix all together.

Pile the mustard miso mixture into a small mound on a plate. Press the lotus root into the mixture repeatedly until it fills up the holes and overflow from the top.

Wipe off the excess mustard and let it stand upright on a clean plate. Cover with plastic wrap and keep in the refrigerator overnight for the best result (or minimum 5 hours).
Day 2
Next day, remove the excess mustard miso mixture from the top and bottom and wipe off the excess moisture with paper towel.

In a large bowl, beat 1 egg and sift 1 cup flour, 1 tbsp turmeric and ¼ tsp kosher salt into the bowl.

Mix all together and gradually add ½ cup water.

Stir until blended. The batter will be sticky and thick so it coats the lotus root well.

Add 3 cups oil in a small pot and bring the oil to 350ºF (180ºC) over medium heat. The oil should cover the lotus root when deep frying. Therefore, a smaller pot works better so you can use less oil.

Insert 2 bamboo skewers into the side of the lotus root. Dredge the lotus root in the batter.

Using a spoon, make sure the lotus root is completely covered with the batter. Ideally, you want to smooth out the surface. (I know, it can be challenging, as the batter tends to fall off when you touch it. Let's do your best.).

When the oil reaches 350ºF (180ºC) (or drop a small amount of the batter in the oil and if it floats back to the surface in a few seconds, it's ready.), submerge the lotus root, holding the bamboo sticks. Deep fry for 5 minutes.  Make sure the lotus root is NOT TOUCHING the bottom of the pot; otherwise, the batter will stick to the bottom. Deep fry until crisp and golden brown. Drain excess oil on the wire rack until it's cool enough to handle.

Slice the Karashi Renkon into ⅓ inch (8 mm) thick rounds. Serve immediately.
To Store
You can keep the leftovers in an airtight container and store in the refrigerator for up to 2 days or in the freezer for 3 weeks.
Nutrition
Calories:
210
kcal
·
Carbohydrates:
23
g
·
Protein:
5
g
·
Fat:
11
g
·
Saturated Fat:
8
g
·
Polyunsaturated Fat:
1
g
·
Monounsaturated Fat:
1
g
·
Trans Fat:
1
g
·
Cholesterol:
22
mg
·
Sodium:
442
mg
·
Potassium:
185
mg
·
Fiber:
2
g
·
Sugar:
3
g
·
Vitamin A:
41
IU
·
Vitamin C:
9
mg
·
Calcium:
35
mg
·
Iron:
2
mg
©JustOneCookbook.com Content and photographs are copyright protected. Sharing of this recipe is both encouraged and appreciated. Copying and/or pasting full recipes to any website or social media is strictly prohibited. Please view my photo use policy
here
.