Dressed in a delicious sesame sauce, this Pounded Burdock Root (Tataki Gobo) is a popular dish appeared in Osechi, Japanese New Year Food, which is said to bring good luck.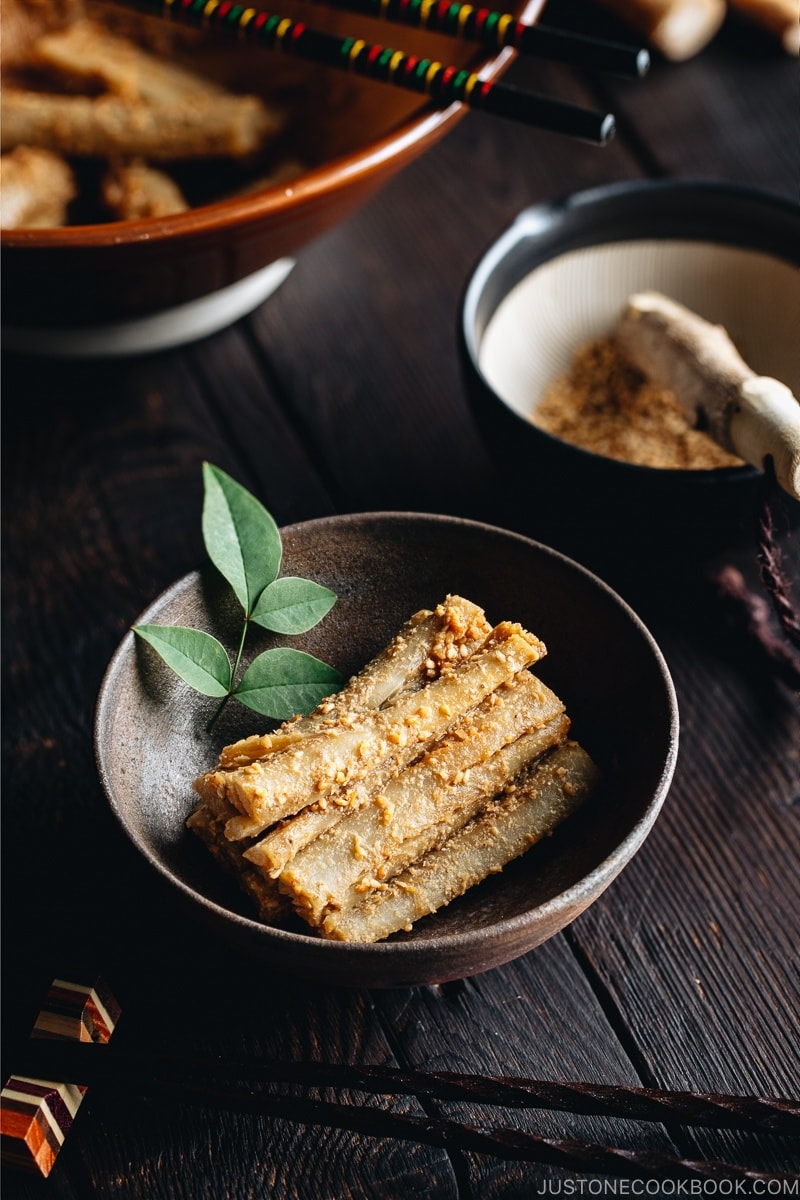 We eat gobo (ごぼう) or burdock root all year round. You can find it frequently appears in miso soup, Kinpira Gobo, and Gobo Salad. On Oshogatu, the New Year's holiday celebration on January 1st, this Pounded Burdock Root with Sesame Sauce or Tataki Gobo (たたきごぼう) is served along with the Japanese New Year feast (Osechi).
What is Gobo?
Gobo is the Japanese name for burdock root. Originating from the Siberian region of Northern Asia and in use as a vegetable in Europe during the Middle Ages, it is particularly popular in Japanese cuisine and Chinese herbal medicine.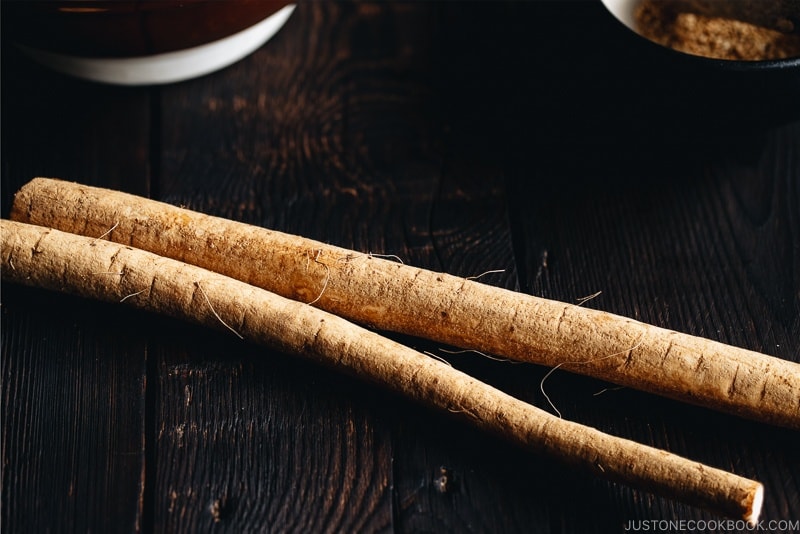 The root is sweet, mild, and earthy with a taste similar to artichoke, and most of the flavor comes from right below the skin. Therefore, instead of peeling the skin, we "shave off" the thin layer of skin with the back of a knife.
It is one of my favorite root vegetables along with lotus root. In Japanese cooking, gobo is used in soups, simmered dishes, rice dishes, salad, and deep-fried dishes.
Eat Pounded Burdock Root (Tataki Gobo) on New Year's Day
Burdock root or gobo is a deep root that grows straight down into the ground which symbolizes stability for the house and family. Therefore, it's considered one of the auspicious foods eaten during the Japanese New Year.
Tataki Gobo is a traditional Japanese New Year's dish where burdock root is cooked, pounded, and dressed with sesame sauce. It is one of the top 3 dishes for the New Year in the Kansai region (Osaka area), but not as popular in the Kanto region (Tokyo area).
Why do we need to pound the burdock root? The burdock root is pretty tough and fibrous, even after cooking. Therefore, we smash the root and break down fibers, which allows the sauce to go through the fibers of the burdock root. Pounding also makes the root easier to chew, even for children!
Burdock root is known for its many health benefits, such as multiple types of powerful antioxidants. Not only for the New Year's celebration, but we should also enjoy this root vegetable all year round, especially when it's in season from fall to winter.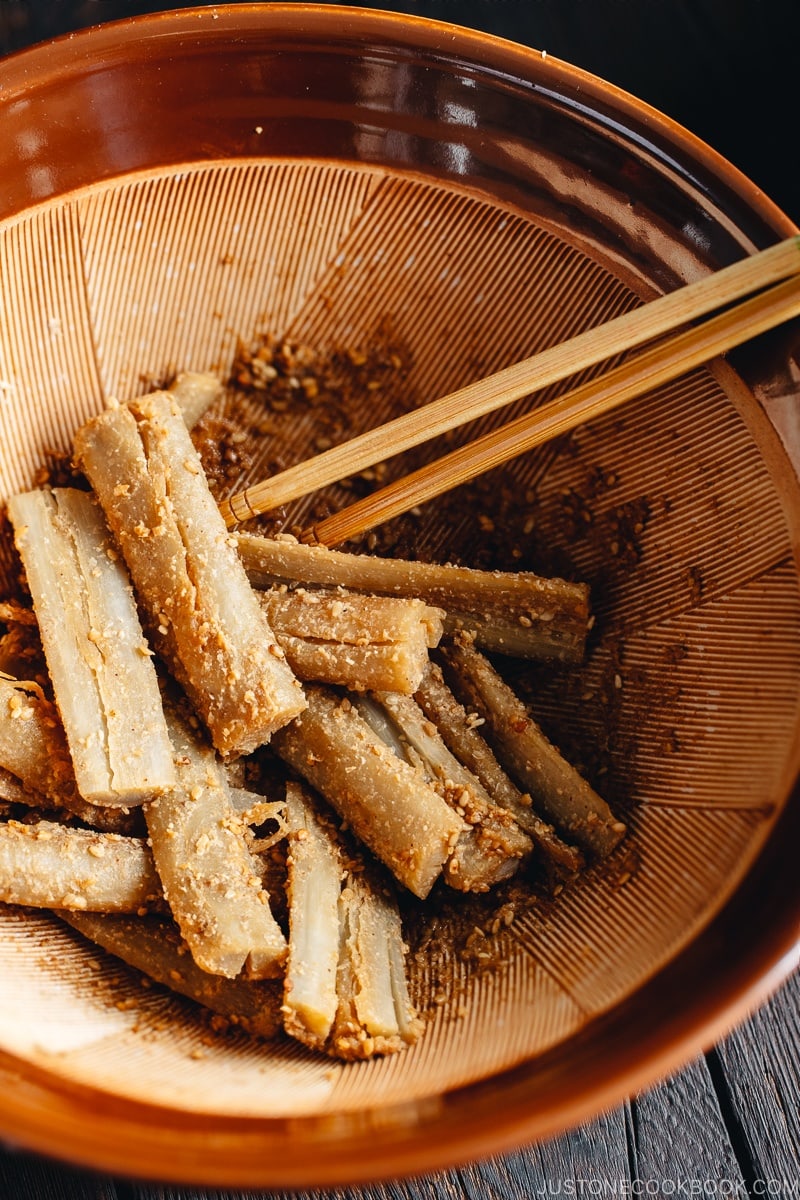 3 Tips to Make Pounded Burdock Root (Tataki Gobo)
1. Soak burdock root in vinegared water
Burdock root's white flesh can oxidize after it is peeled. To prevent it from turning brown and to remove any astringent taste, we typically submerge the root in water with a little bit of vinegar. The burdock flesh turns pale in color, and since red and white are the colors of celebration in Japanese culture, it is recommended to use vinegared water.
2. Toast the sesame seeds before using
Even though the package of your sesame seeds says "Toasted" or "Roasted" sesame seeds, I still recommend toasting the sesame seeds in an empty frying pan until fragrant. The additional toasting releases the oil and brings out the nutty flavor even more.
3. Dress the burdock root while it's hot
When the burdock root is still hot, quickly dress it with the sesame sauce. It will absorb more flavors than when it's cooled. I'm not sure if it's old wives' tale that has passed down to generations, but I think there is some science behind this (or I would like to think that way).
Other Burdock Root (Gobo) Dishes
Sign up for the free Just One Cookbook newsletter delivered to your inbox! And stay in touch with me on Facebook, Pinterest, YouTube, and Instagram for all the latest updates.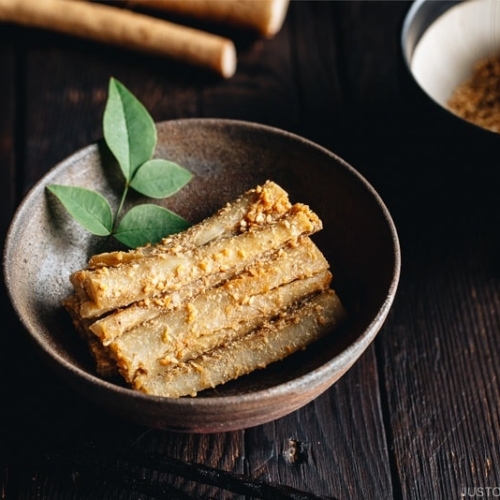 Pounded Burdock Root with Sesame Sauce (Tataki Gobo)
Dressed in a delicious sesame sauce, this Pounded Burdock Root (Tataki Gobo) is a popular dish appeared in Osechi, Japanese New Year Food, which is said to bring good luck.
Servings:
4
(as a small side)
Japanese Ingredient Substitution:
If you want substitutes for Japanese condiments and ingredients, click
here
.
Instructions
Gather all the ingredients.
To Prepare Sesame Sauce
In a frying pan (do not add oil), toast sesame seeds (2 Tbsp) until they are fragrant and starting to pop. Keep some distance from the heat and shake the pan to toast.

Transfer to a mortar (suribachi). Using a pestle (surikogi), grind the sesame seeds until 80% of the sesame seeds are ground (to keep the texture of sesame seeds).

Add soy sauce (1 Tbsp), mirin (1 Tbsp), and rice vinegar (1 tsp) to the sesame seeds.
To Prepare Gobo
Scrape the gobo skin with the back of a knife. Don't use a vegetable peeler for gobo's skin because the earthy delicious flavor is just right below the skin and you don't want to peel it off.

Cut the gobo into 5 inches (12 cm), and then cut each piece in half. If it's a very thick piece, you can cut that piece in half again.

Combine rice vinegar and water in a medium bowl and soak gobo for 3 minutes to prevent it from changing color. Drain and set aside.
To Cook Gobo
Add gobo in the saucepan filled with water. Bring it to a boil. Once boiling, lower the heat to medium and cook for 13-15 minutes, or until the gobo is tender but firm. Drain gobo and transfer to the cutting board.
To Dress with Sesame Sauce
Pound gobo with the pestle (surikogi or a rolling pin from end to end until the fibers are smashed. This allows the sauce to go through the fibers of the gobo. Then cut them in half (2.5 inches/6 cm pieces).

While gobo is still hot, transfer into the sesame sauce and coat well. Gobo can absorb the flavors when they are hot.
To Serve and Store
Serve immediately at room temperature or serve chilled. You can put Tataki Gobo in an airtight container and keep in the refrigerator for up to 3 days.
Nutrition
Calories:
63
kcal
·
Carbohydrates:
8
g
·
Protein:
2
g
·
Fat:
2
g
·
Saturated Fat:
1
g
·
Sodium:
245
mg
·
Potassium:
134
mg
·
Fiber:
2
g
·
Sugar:
2
g
·
Vitamin A:
1
IU
·
Vitamin C:
1
mg
·
Calcium:
88
mg
·
Iron:
1
mg
©JustOneCookbook.com Content and photographs are copyright protected. Sharing of this recipe is both encouraged and appreciated. Copying and/or pasting full recipes to any website or social media is strictly prohibited. Please view my photo use policy
here
.