Print Recipe
Jump To Recipe
Delicious bite-size chicken karaage seasoned with the Japanese all purpose seasoning, Shio Koji! Crunchy, tender and flavorful, this is one of my favorite chicken recipes.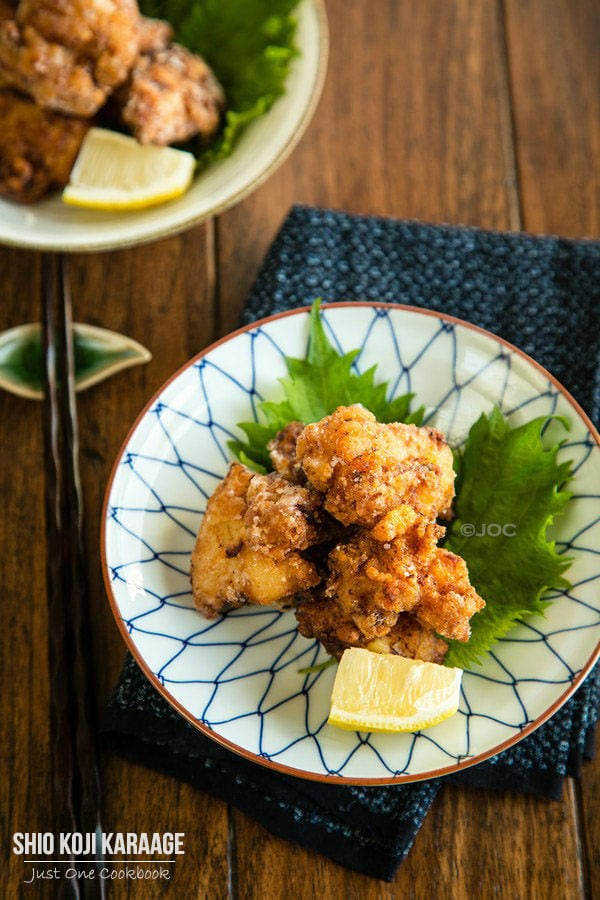 Recently I shared one of my favorite recipe Braised Herb Chicken, that I make with this amazing condiment, Shio Koji.  Today I used the same condiment to make Chicken Karaage.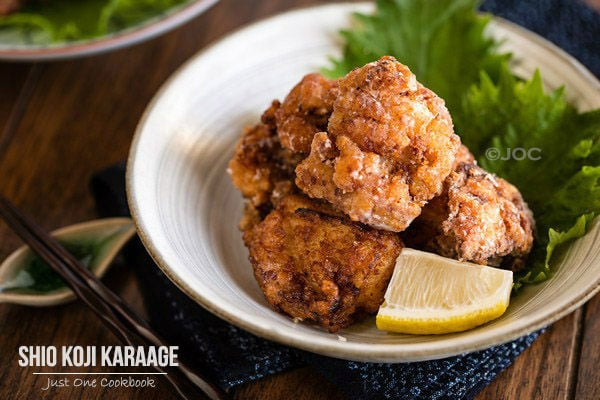 Now, if you are thinking about trying shio koji for the very first time, I highly recommend testing it with this chicken karaage recipe.  I've made chicken karaage countless times for my family, but it's never tasted this good!  As you bite into the crispy chicken, you can taste the garlic along with delicate umami flavor from the shio koji.
Shio Koji (塩麹, 塩糀) is a rice malt (koji) that has been fermented with sea salt (shio).  It is a live food that is rich in enzymes and unlocks the umami flavor in foods.
The texture looks like porridge and has a subtle taste of both sweet and salty.  It is often used in place of salt to enhance all kinds of foods.  It marinates and tenderizes meat and can be used to season fish and vegetables (read more about it here).  (Photo Courtesy: Hikari Miso Co., Ltd.)
To get the Shio Koji Karaage recipe, click here over at the Hikari Miso's website.  Thank you for reading my blog, and enjoy cooking with shio koji!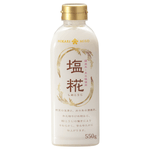 Note: If you cannot find shio koji, use 1 tsp. salt instead for this recipe.
Hikari Miso products are now available on Amazon and Japanese grocery stores.
Shio Koji Karaage
Course:
Appetizer, Main Course
Ingredients
1

lb

boneless chicken thigh with skin

(1 lb = 450g) (cut into 1 inch pieces)

4

tbsp

Hikari Miso Shio Koji

1

tsp

grated ginger

1

tsp

grated garlic

(grated or crushed)

1

tsp

soy sauce

neutral flavor oil (vegetable, canola, etc)

Lemon wedges

(to serve)
Instructions
Combine the chicken with Hikari Miso Shio Koji, ginger, garlic and soy sauce in a bowl or large plastic bag and marinate for at least 30 minutes (or up to 1 day).

Heat up a pot of cooking oil for deep-frying. Ideal temperature is about 320-335F (160-170C).

When the oil is almost ready, add the potato starch in the bowl or plastic bag with the chicken. Mix and coat the chicken with the starch.

Gently drop each piece of chicken into the pot and deep fry until golden brown.

When it's done, transfer the chicken onto a plate lined with paper towels. Continue with a new batch to deep fry. Serve immediately with slices of lemon.
Disclosure: This post is sponsored by Hikari Miso.  To read more about my partnership with Hikari Miso, click click here.