Shiro Dashi is a light-colored broth that won't color dishes, so you can retain their natural colors. Use in noodle soups, chawanmushi, tamagoyaki, oyakodon, oden, and takikomi gohan.
Shiro dashi (白だし) is a concentrated soup base. It's made with umami-rich ingredients such as kombu, katsuobushi, and/or iriko, and seasoned with light soy sauce (usukuchi shoyu 薄口醤油) or white soy sauce (shiro shoyu 白醤油), mirin, and sometimes cooking sake, salt, or sugar. It's a lighter-colored version of mentsuyu and adds an elegant flavor to various Japanese dishes.
What Is Shiro Dashi
Shiro dashi (literally "white dashi") is an amber-colored condiment used to deepen the flavor of dishes without turning them brown. As food presentation is vital in Japanese cuisine, it is a way to preserve the natural colors while also serving as a seasoning. It's an all-purpose seasoning you could use for soba and udon noodles, chawanmushi, tamagoyaki, oyakodon, oden, and takikomi gohan.
What Does It Taste
It's sweet, salty, and savory, and on the salty side compared to mentsuyu. Don't let the light color fool you; it's pretty salty. Unlike soy sauce, which has a straightforward salty taste with a hint of umami, shiro dashi is more delicate and full-bodied.
How To Use
Use like regular mentsuyu. It's great for everything from noodle dishes, rice bowls, and hot pots to the tempura dipping sauce. It's a concentrate, so dilute it with hot or cold water as necessary. Oftentimes, the label on the bottle will suggest a ratio of water to shiro dashi.
You could also use it to add a boost of umami to non-Japanese dishes. Add a few dribbles to pasta sauce, soups, marinades, stews, and more.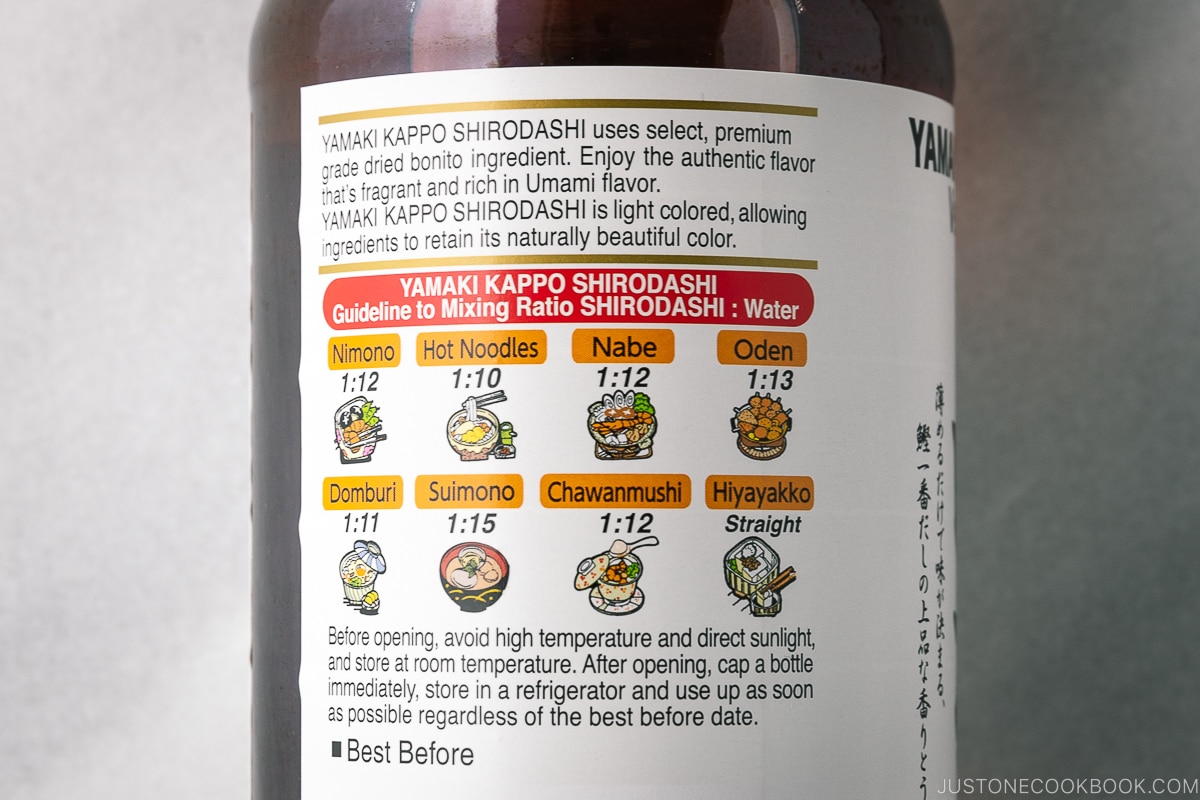 How to Make Homemade Shiro Dashi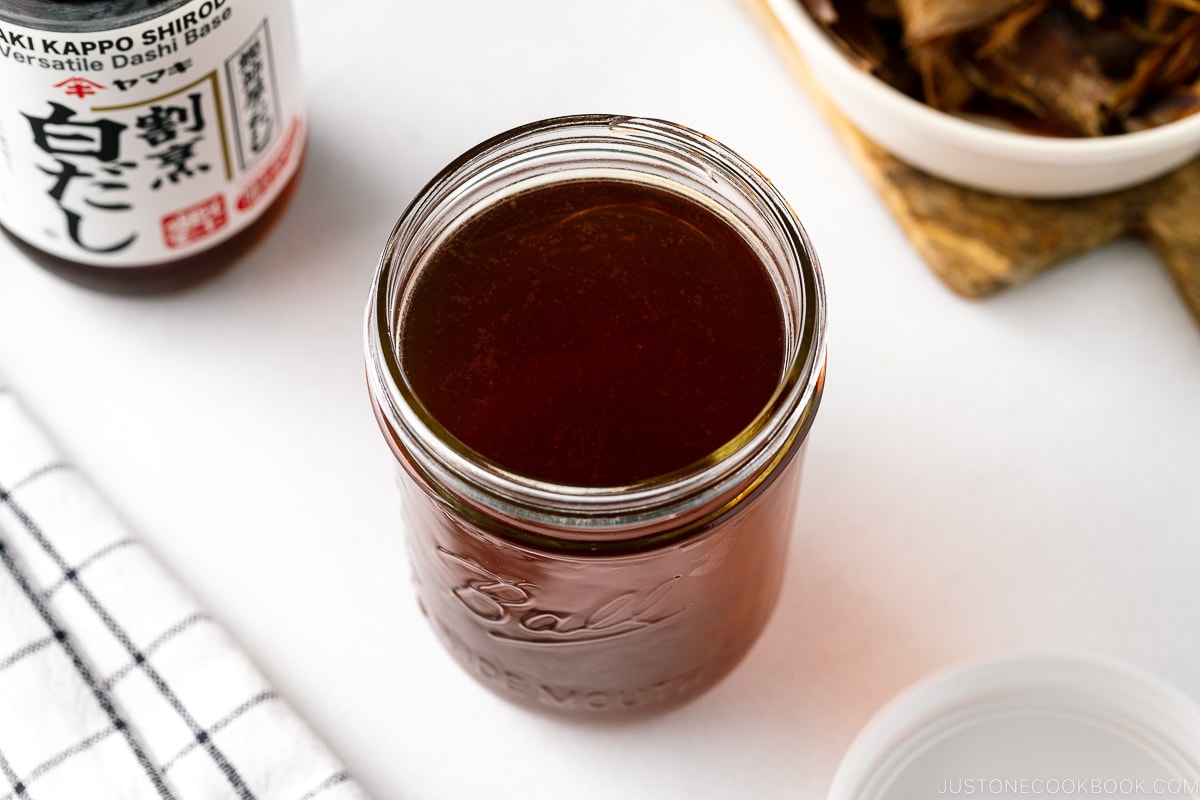 Where To Buy
Find commercial shiro dashi at Japanese or Asian grocery stores. You can also make it from scratch with light-colored soy sauce and other Japanese pantry staples.
How To Store
Whether you use commercial or homemade shiro dashi, store it in the refrigerator and use it quickly. Use up homemade shiro dashi within a few weeks.
How To Choose The Best
When buying commercial brands, check the label and avoid those with artificial colorants or preservatives.
Substitutions
If you can't find it, you can use mentsuyu the same way.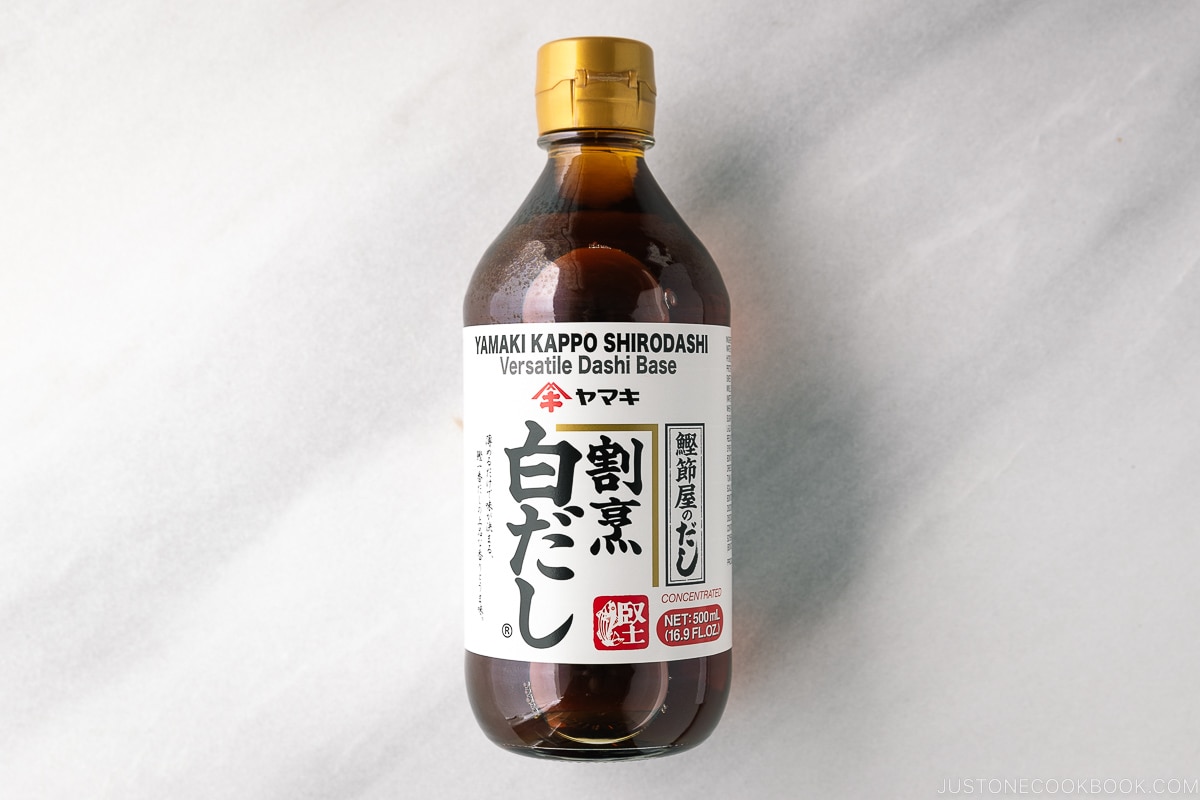 ---
Wish to learn more about Japanese cooking? Sign up for our free newsletter to receive cooking tips & recipe updates! And stay in touch with me on Facebook, Pinterest, YouTube, and Instagram.