The easiest smoked turkey breast recipe for the holidays or a get-together with friends! Tender, juicy turkey breast is smoked over oak, cherry, and hickory and finished in mouth-watering miso butter.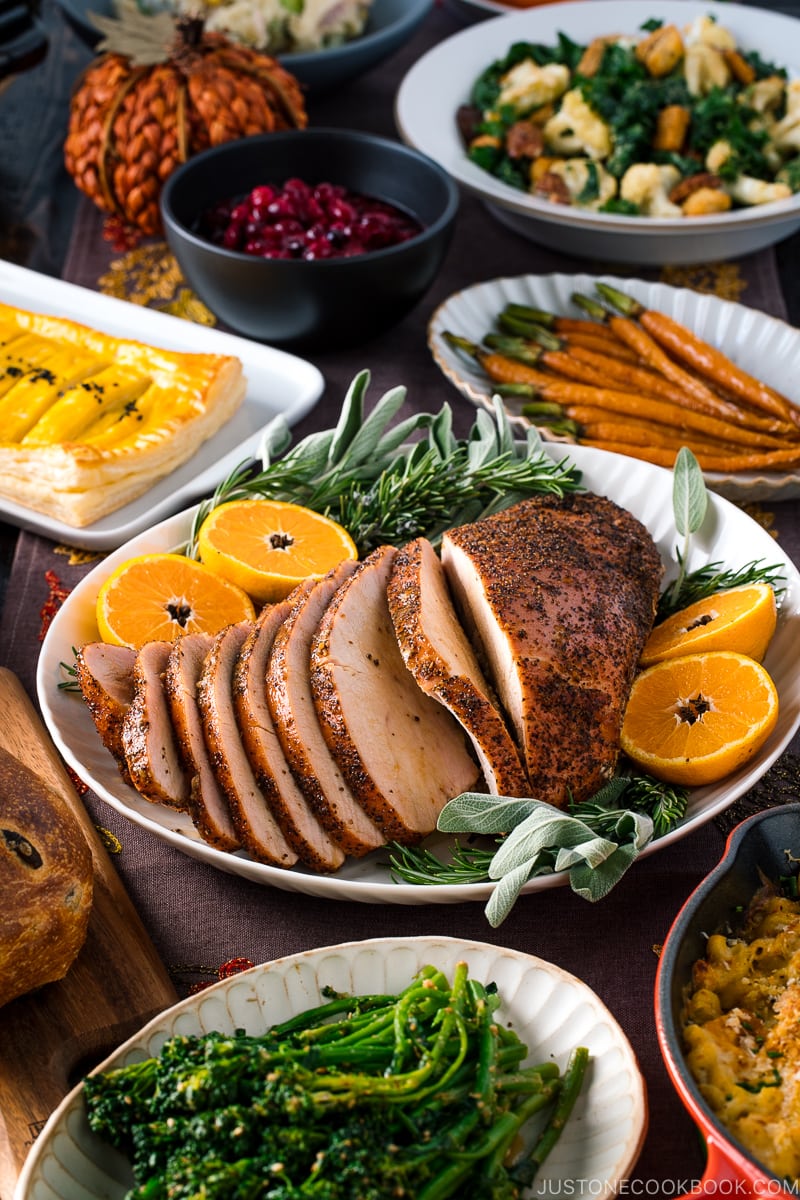 My first Thanksgiving was with my host family when I came over to the US to study. It was my first time eating turkey. I thought 'What is that giant chicken?!' And I wasn't a great fan: it was a little too dry and too bland to my taste.
Twenty years later, I've had my fair share of turkey and many Thanksgiving meals. While I enjoy the celebrations, I never had the desire to cook the bird on my own. Until now. This Smoked Miso Butter Turkey Breast changed everything. It's richly flavored, incredibly moist and so easy!
It is our first family Thanksgiving turkey recipe, and I believe it will be our go-to Thanksgiving turkey recipe for many years to come. I hope you and your family will enjoy the recipe too.
Why Smoking Turkey Breast?
I've had roasted turkey and deep-fried turkey on past Thanksgivings. However, there are always several challenges in preparing the perfect bird.
The turkey meat ends up too dry.
It's way too much food for a small family, even with a petite turkey.
The prep time takes too long.
There are many risks to using a turkey fryer.
The monstrous clean-up afterward.
The smoked turkey breast idea was inspired by Mr. JOC's recent trip to Austin and eating at Franklin's Barbeque, where one of the meats offered is smoked turkey. We got the Franklin Barbecue cookbook and gave the recipe a try and loved it.
The recipe uses a 4-pound turkey breast, much smaller than a typical whole turkey that weighs over ten pounds. The resulting turkey breast was juicy and flavorful, and the prep was super easy (we couldn't believe it!).
So we both worked on a few recipes that incorporated Japanese flavors and decidedly agreed that miso butter was the best. The combination elevates the meat with a creamy, umami and surprising flavor.
If you're interested in smoking, here is the equipment that we use:
3 Important Tips to Make Juicy Smoked Turkey
1. Buy the appropriate size turkey breast (4 lbs for
single

breast).

We've purchased different sizes of turkey breasts and found that 4 pounds for a single turkey breast (no bones) works the best for smoking. If the turkey breast is too small, the flavor from the dry rub becomes too strong and overpowers the meat. The smaller breast also cooks too quickly and doesn't absorb as much smoke flavor.
2. Use double heavy-duty foil and wrap.
After smoking, wrap tightly in heavy-duty foil so none of the juice escapes. During the last part of cooking, the wrapped turkey absorbs all the buttery goodness of miso mixture as well as its own natural juices.
3. Use a meat thermometer.
Turkey will become tough and dry if overcooked. As soon as it reaches 160 degrees Fahrenheit, you have to remove from heat and let the meat cool down while still wrapped. A meat thermometer is your best friend in this recipe!
Preferably, time the turkey to be ready 15 minutes right before being served. Your friends and family will love you when they enjoy a slice of warm, juicy, and succulent turkey.
Turkey Dry Rubs + Miso Butter Sauce
Who would have thought that cooking turkey can be so easy! There is no brining or any special marinade process involved. Simply mix the dry rub and sprinkle generously over the turkey right before smoking.
Many markets carry turkey breasts with skin on, so we usually ask the butcher to remove the skin and bones for us. It's less work when you start prepping at home. All we do is trim some excess fat and tissue before sprinkling on the dry rub.
We then add miso and soy sauce during the last 30 minutes of cooking. Turkey meat absorbs the gentle umami from miso and soy sauce, giving it a tasty finish.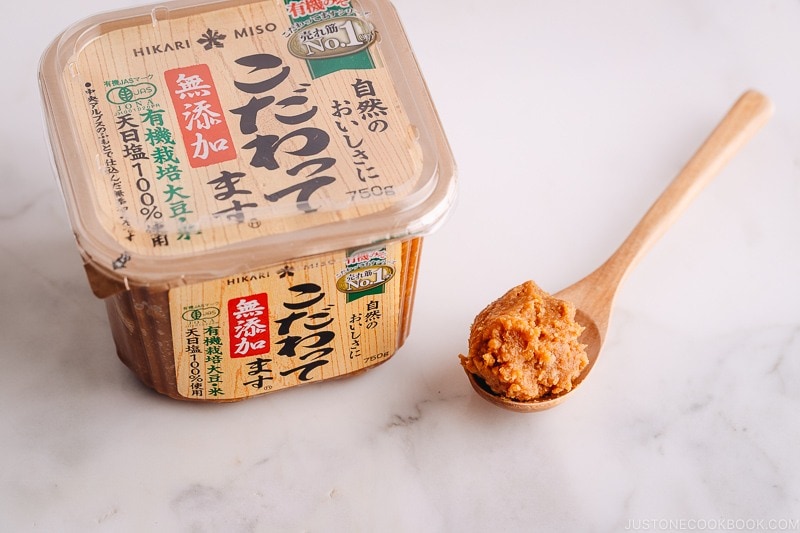 I used my all-time favorite miso from Hikari Miso®, Kodawattemasu, for this recipe. You can use any miso you have in your refrigerator whether it's white or red miso. It adds a robust and umami-packed complexity to the final taste.
Miso Butter Gravy
As I make different kinds of homemade roux often to make Japanese curry, White Stew, and Macaroni Gratin, etc, making the gravy is very easy. There are two important tips you must remember when making the gravy.
Give enough time for the flour to cook so the gravy won't have a raw flour taste.
Gradually add the broth into the roux to avoid making lumps.
If you are careful with the above 2 tips and follow my steps, you will have nice lump-free roux and gravy!
For this recipe, I added a tiny bit of miso and soy sauce to enhance the flavors in the sauce. If you want some Japanese spin in your ordinary gravy, give it a try this Thanksgiving!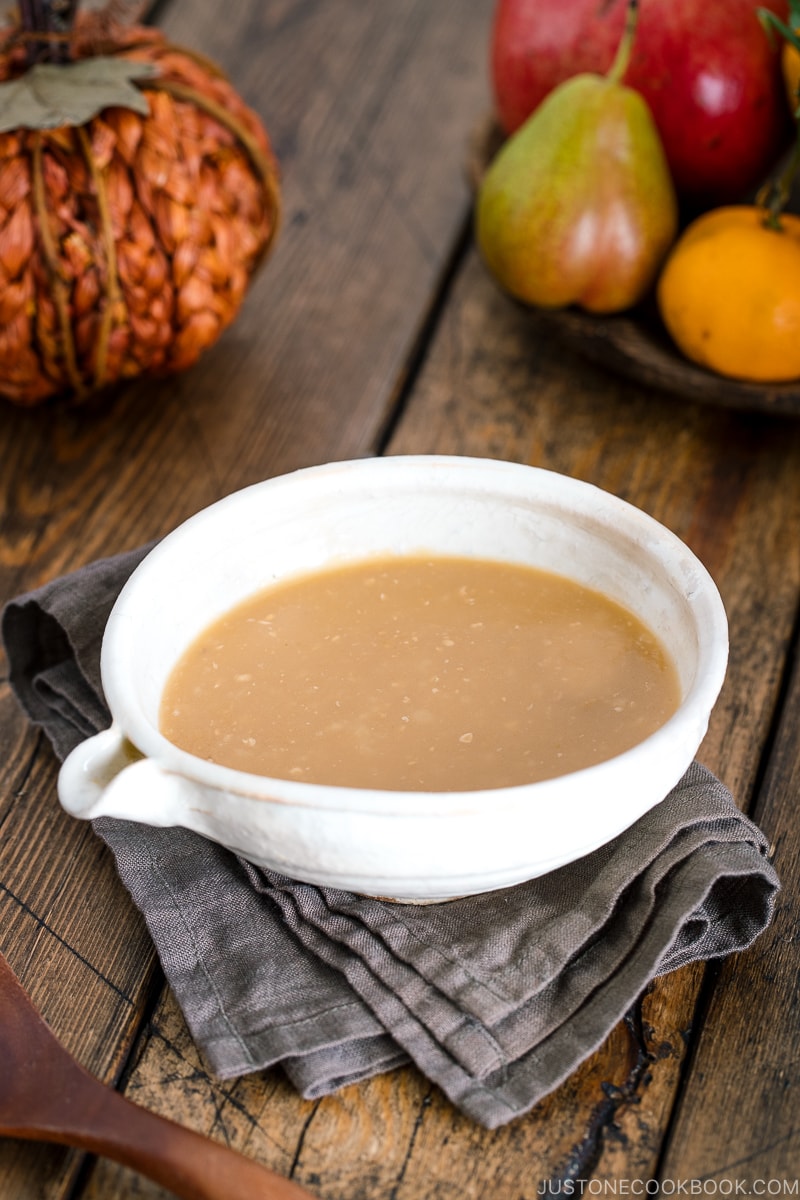 FAQs About Pellet Smokers
We haven't owned our Traeger Pellet Smoker for very long but have been using consistently since we purchased it. In case you are interested in getting a pellet smoker, here are some FAQs that will hopefully address any questions you have.
How does a pellet smoker work?
It's very easy, simply feed wood pellets in the feeder and set the temperature you want to cook at. The feeder will control the temperature and feed the appropriate amount of pellets. All you need to do is refill the feeder when it's low.
Do you recommend Traeger?
We don't have a preferred brand but our friend had recommended it. Costco in the US was running a Traeger promo in the warehouses so they were a really good deal. We purchased our junior size Traeger smoker at Costco for around $400. So far we haven't had any issues with it.
What size Traeger should I get?
This depends on how many people you usually feed. Our junior size one can almost smoke 2 of anything at the same time, ribs, tri-tip, turkey breast, or steak. However, it does not leave much room to grill veggies and other side dishes. If we had the chance to pick again we would select the next size up.
Can I use other wood pellets?
Yes, you can use wood pellets from other brands. We like the Lumberjack brand vs. Traeger's for the smell and taste.
Is it easy to clean up?
Yes! With disposable liners, cleanup is super easy. Since it doesn't cook as hot as a BBQ grill, food doesn't get burnt or stuck as easily to the grate.
What kind of wood should I buy?
There are recommended types of wood for various types of protein but we find that the combination of cherry, hickory, and oak work with most meat. We buy the premixed pack so we don't have to do it ourselves.
How does a smoker compare to a BBQ grill?
A smoker doesn't sear as well as a BBQ grill since it cooks with indirect heat. We would not recommend doing steak on the smoker but any other meat would work. On the other hand, it's fantastic for cooking chicken evenly without worrying about the skin getting burnt and the meat is still raw.
Let us know if you have any other questions in the comments below.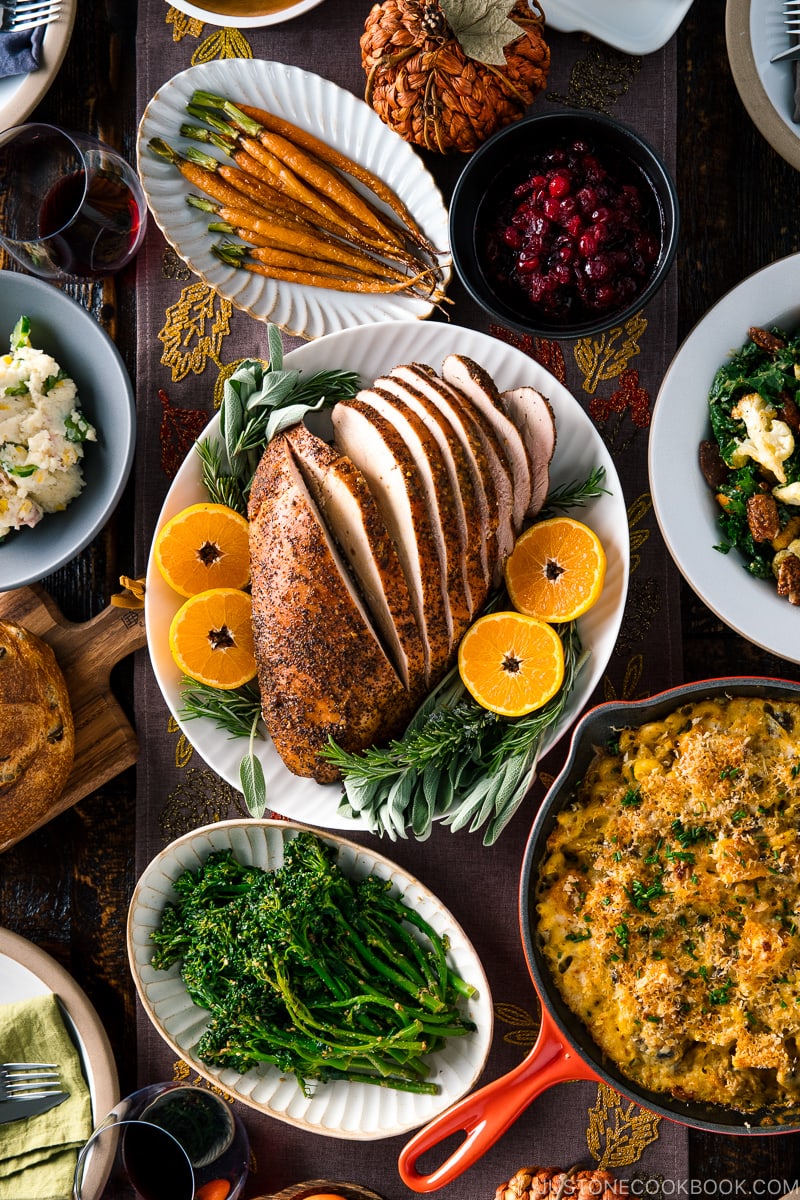 The truest critics we have for the turkey are our children, and they simply love the smoked turkey. Besides complaining that it was too spicy when we tested with the smaller turkey breasts, they give this recipe two thumbs up.
If you are planning for a Thanksgiving get-together with just a few friends and do not want to deal with a whole turkey, give this smoked turkey breast a try. It is the perfect Thanksgiving turkey recipe for smaller gatherings and no-fuss cooks. If you don't have a smoker, don't worry, you can still use the recipe to cook the turkey with an oven. There won't be any smoky finish, but you'd still get a delicious turkey! Serve it with orange ginger cranberry sauce on the side.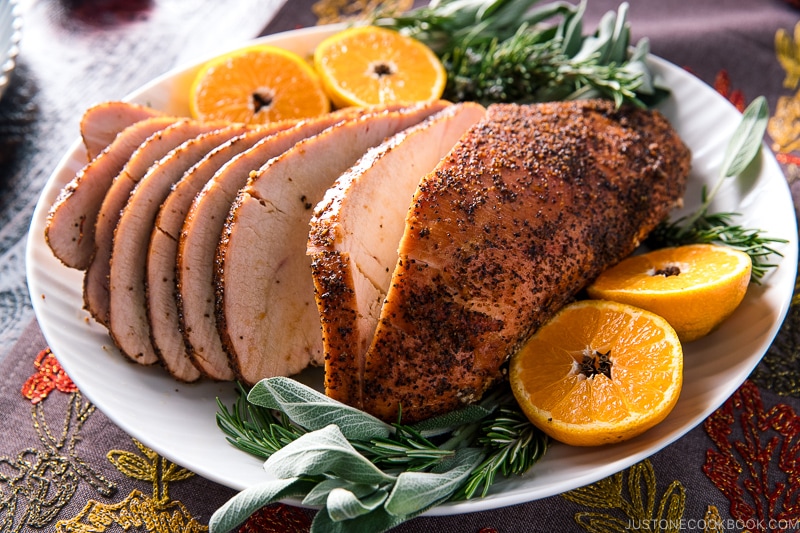 Looking for other Traeger recipes? Don't miss the very popular baby back ribs and reverse sear steaks.
Japanese Ingredient Substitution: If you want to look for substitutes for Japanese condiments and ingredients, click here.
Wish to learn more about Japanese cooking? Sign up for our free newsletter to receive cooking tips & recipe updates! And stay in touch with me on Facebook, Pinterest, YouTube, and Instagram.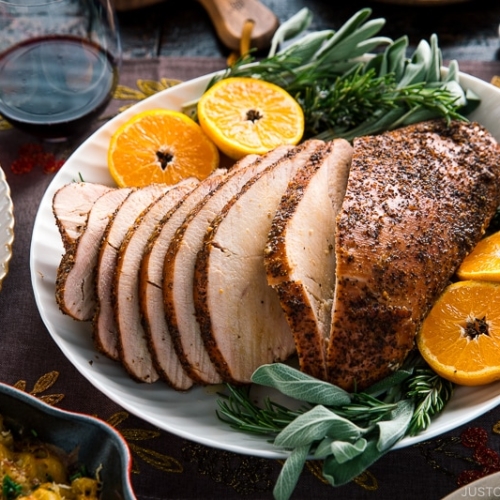 Smoked Miso Butter Turkey Breast
The easiest smoked turkey breast recipe for the holidays or a get-together with friends! Tender, juicy turkey breast is smoked over oak, cherry, and hickory and finished in mouth-watering miso butter.
Ingredients
Japanese Ingredient Substitution:
If you want substitutes for Japanese condiments and ingredients, click
here
.
Instructions
Gather all the ingredients. You will also need heavy-duty aluminum foil and meat probe. If your turkey breast has the skin and bone attached, remove them carefully. I asked the butcher to remove them for me. My turkey breast was 5 pounds with skin and bone, and 4 pounds after removing them.
Start the fire:
Preheat the smoker to 265°F. The smoker temperature will range between 250 – 285 while it's cooking but that's fine. If it gets too hot just open the lid for a bit for it to cool down. You don't want it too hot since the turkey will become dry.
Prepare the turkey & rub:
In a small bowl, add all the turkey rub ingredients.

Mix all together and scoop into the MaracaSifter. I LOVE this little tool from Uchicook, which allows me to sprinkle evenly.

Apply the rub evenly on the turkey breast.

Make sure to sprinkle on the sides and the tender area (if it's separated).
Cook the turkey:
Place the turkey, skin side up in the smoker (the side that previously had the skin). Attach the meat probe and cook until golden brown, or when the meat probe says 140ºF (60ºC) (typically around 2 hours).

In the meantime, make Miso Butter Sauce. Combine the melted butter, miso, and soy sauce in a small bowl.

When the meat probe says 140ºF (60ºC), remove the turkey from the smoker and place it on two layers of heavy-duty aluminum foil, dull side out. Place the turkey on the foil towards the edge away from you so you'll have enough room to completely wrap it up later.

Drizzle all the Miso Butter Sauce on top of the turkey and stick the meat probe into the thickest part of the meat.

Wrap tightly in the aluminum foil.

Seal the edges well. The turkey will cook in its juice and miso butter sauce so don't let liquids escape.

Return the turkey to the cooker, this time with the skin side down. It should look like a boat on the grate.

Continue cooking until the internal temperature reaches 160°F (71ºC), about 1 hour. Do not overcook.
Let rest and serve:
Let the turkey wrapped in foil and rest until the internal temperature drops to 140°F (60ºC) for about 30 minutes. Open the foil carefully, making sure you don't spill the juices.

Slice turkey based on your thickness preference against the grain. Keep the cooking liquid for making the gravy.
Make the Miso Butter Gravy:
Gather all the ingredients for the gravy. This smoked turkey breast is pretty clean, and there's not much stuff, so it's not required to strain the drippings.

Add the butter to the frying pan or a saucepan on medium heat and let it melt completely. Add the flour to the pan.

Using a spatula or whisk, combine the flour and butter together and cook until you form a roux, a thick gloppy paste, about 2-3 minutes. Then gradually add chicken broth and mix to combine. DO NOT pour the whole broth. Add roughly ¼ cup at a time and make sure the mixture is homogenous before you add more broth.

You can add more broth for a thinner gravy or let the gravy cook a few minutes for a thick gravy.

Pour in the drippings and mix to combine with the roux.

Taste your gravy. If you like, you can add a bit of soy sauce, miso, and salt. I added a little bit of soy sauce and miso in my gravy. Remember, it depends on your chicken stock and drippings (it can be already salty), so always taste your own gravy before season to taste.

Turn the heat to medium-high and bring the liquid to a boil while still stirring. Once the liquid reaches a boil, reduce the heat to medium and stir occasionally until the gravy is as thick as you'd like it. Once the gravy is thick, serve it immediately or keep it over very low heat until you are ready to serve. If the gravy develops a thin film on the top, just give it a quick mix.
To Store:
Gravy can be kept refrigerated for up to a week or frozen for up to 3 months. Reheat gently over low heat while whisking occasionally.
Nutrition
Nutrition Facts
Smoked Miso Butter Turkey Breast
Amount per Serving
% Daily Value*
* Percent Daily Values are based on a 2000 calorie diet.
©JustOneCookbook.com Content and photographs are copyright protected. Sharing of this recipe is both encouraged and appreciated. Copying and/or pasting full recipes to any website or social media is strictly prohibited. Please view my photo use policy
here
.
More Ideas for Thanksgiving + Christmas Holiday Meal