Print Recipe
Jump To Recipe
Daifuku is a popular traditional Japanese sweet; it is soft mochi with anko (sweet red bean paste) stuffing.  There are many varieties of Daifuku, but it's the same soft mochi exterior with different stuffing.
During the spring time, Japanese confectionery shops sells a seasonal Daifuku with a whole strawberry as the filling, called Strawberry Daifuku (Ichigo Daifuku in Japanese).  The combination of fresh soft mochi, sweet anko, and juicy and tart strawberry is a match made in heaven.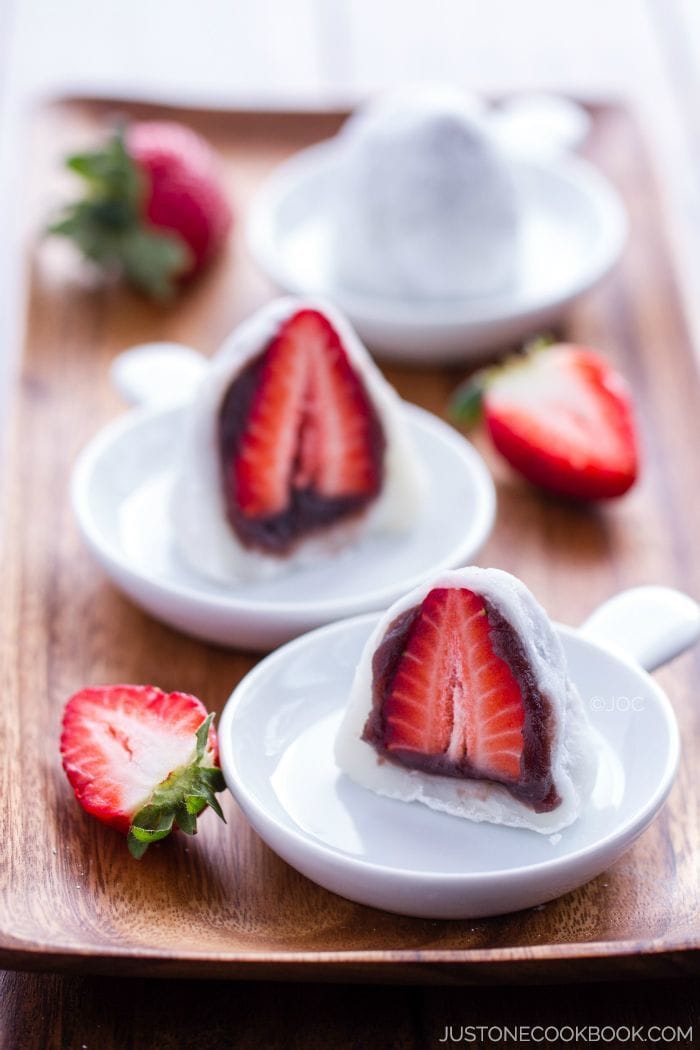 Today I'm beyond excited to announce that my Strawberry Daifuku recipe is being featured on the spring issue of Flavour Fiesta Magazine!
Divya is the author/cook/baker/photographer behind Flavour Fiesta and she issues beautiful quarterly online magazine about food and her recipes with beautiful food photography.  Looking at her blog and how professionally it's laid out, it's hard to tell that Divya's blog just had its first blogiversary this month.  I've been closely following her for about half a year and I continue to grow my admiration toward her and her blog.  Her strong dedication to improve what she does amazes me and I wish I had similar artistic talents.
Visiting her blog over the past few months, I could recognize her hard-working ethics toward her blog, especially with the food photography.  I think I already work very hard on my blog consistently thinking of ways to improve.  But I learned that she works even harder than I do after working this project with her.  Not only she's very detailed and thorough at what she does, but she's also a generous person to kindly share her advice and tips for my food photography when I needed some help to improve.  Her food is always so delightfully presented; the colors, flavors and textures always catch my eye and I can already taste the food simply by looking at her photos.
I'm so truly happy for her that this spring issue is already the third release of her online magazines and wish her continued success.  It was really pleasure to work with such a creative and talented blogger and I fondly cherish my experience working with her.
Now please prepare a cup of coffee or tea and enjoy Divya's Flavour Fiesta Magazine!
Don't want to miss a recipe? Sign up for the FREE Just One Cookbook newsletter delivered to your inbox! And stay in touch on Facebook, Google+, Pinterest, and Instagram for all the latest updates. Thank you so much for reading, and till next time!
Strawberry Daifuku
Servings
:
6
Strawberry Daifuku
Instructions
Rinse, dry, and hull the strawberries. Divide anko into 6 same size balls. Anko gets sticky on your hands, so wash your hands and dry completely each time you make a ball.


Wrap the strawberries with anko. Leave the tip of the strawberry uncovered. Wash your hands and dry completely each time you wrap a strawberry with anko.


In a medium microwave-safe glass bowl, mix shiratamako and sugar with a whisk.


Using a silicone spatula, slowly add water in 3 parts and stir until the mixture has reached a thick consistency. Cover loosely with plastic wrap.


First, microwave 1 minute (for 1200W microwave). Mix well with a wet silicone spatula. The mixture is still whitish and floury.


For the second time, microwave 1 minute again, and mix well with the wet silicone spatula. Now it starts to resemble mochi, but there are still some floury parts.


For the last time, microwave only 30 seconds. Now the mochi mixture should look translucent.


Sift corn starch on the tray and put the mochi on top.


With silicone spatula or kitchen scraper, fold the mochi in half one time so it won't be as sticky and then divide into 6 equal pieces.


Put some corn starch on your hands and flatten and expand each mochi into a 3" round or square. Then put the anko covered strawberry on top of it, with the tip facing down.


Start covering the strawberry from all sides and use your thumb to hold the mochi on top.


When all sides of mochi meet at the top, twist and close. Hold the mochi with both hands and form into nice round shape. Repeat the process for the remaining mochi.


Serve at room temperature and they must be consumed within 2 days.
Recipe Notes
If you want to make more than 6 pieces, I highly recommend you to work in batches.

If you use the 120g Shiratamako package like I did, here's the portion: 120g Shiratamako, 24g sugar, 180 ml (3/4 cup) water.
Red bean paste (anko): Homemade recipe, click here.

If you do not have a microwave, you can use:
 A rice cooker: Put the ingredients in the bowl of the rice cooker and mix well. Cook for 10-12 minutes or until the mixture is translucent. Mix with silicon spatula at least 2 times during cooking.
 A steamer: Put the ingredients in a heatproof bowl that fits inside your steamer. Mix well and cover with a thin kitchen towel or heatproof plate. Cook for 10-12 minutes or until the mixture is translucent. Mix with silicon spatula at least 2 times during cooking.
Recipe by Namiko Chen of Just One Cookbook. All images and content on this site are copyright protected. Please do not use my images without my permission. If you'd like to share this recipe on your site, please re-write the recipe in your own words and link to this post as the original source. Thank you.