Tonteki (トンテキ) is a Japanese pork loin steak dish served in a savory citrusy sauce. From start to finish in 15 minutes! Inspired by the Japanese drama – Midnight Diner.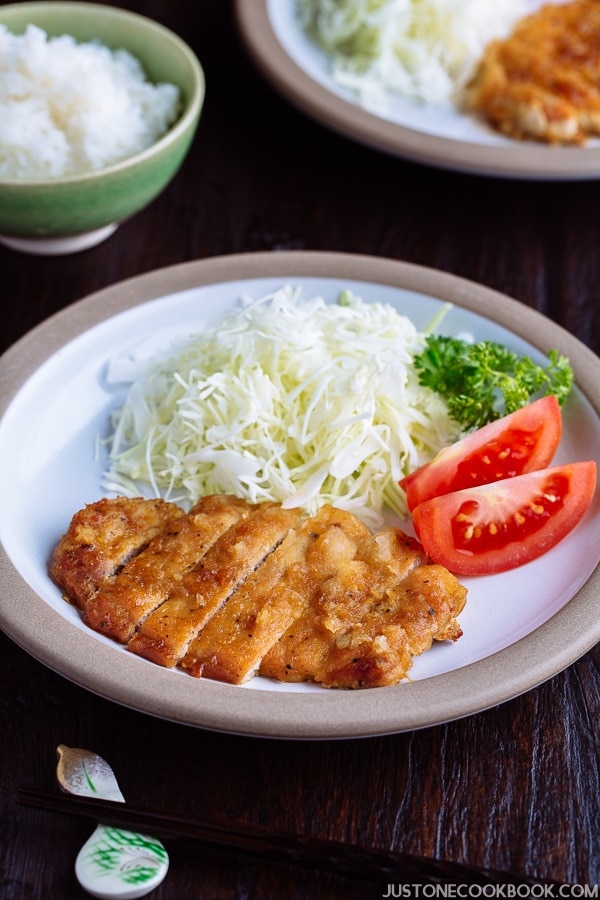 Tonteki was featured on the popular Japanese TV program called "Shinya Shokudo (深夜食堂)" or "Midnight Diner: Tokyo Stories" which is now available on Netflix.
Watch How To Make Tonteki
Click here to watch on YouTube
Episode of Tonteki from Midnight Diner: Tokyo Stories
Midnight Diner features Japanese dishes that are more representative of home cooked recipes than Japanese restaurant menus in the US. If you're interested in Japanese home cooked meals, you will enjoy this show as much as I do!
Tonteki episode is Season 1, Episode 3 on Netflix.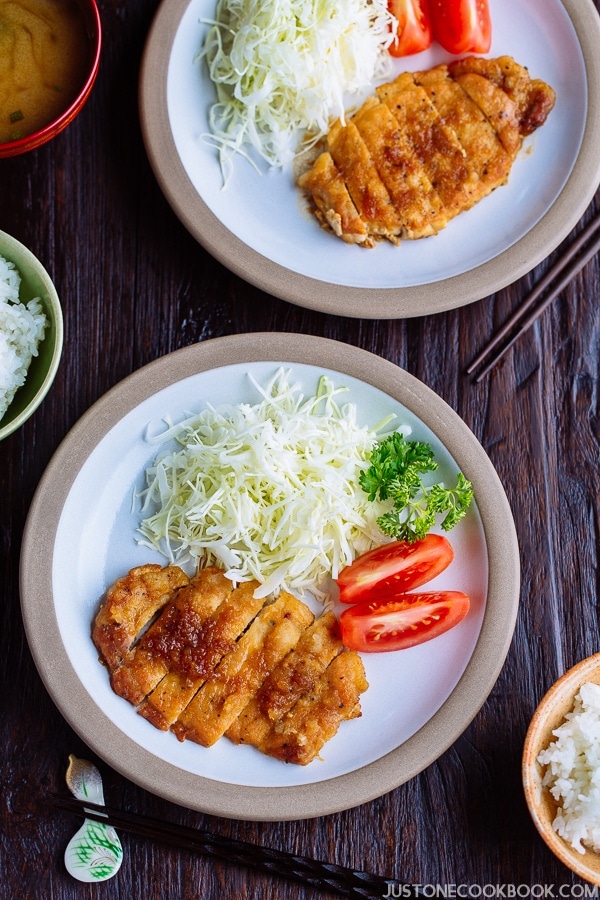 Tonteki – Japan's Regional Food 
One of the characteristics I love about Japan is each region has its own unique culture and well-known food made with local ingredients. These regions are not too far apart, and sometimes even by taking just a 20 min train ride, you can experience very different food (e.g. Osaka and Kyoto). I love traveling in Japan and visiting new places to experience local special food, arts & craft and such. This is probably why the we have a culture of buying local souvenir or gifts wherever we go to bring back home to family and friends.
Until I watched Midnight Diner: Tokyo Stories, I had never seen or had Tonteki (トンテキ). Tonteki is a regional food in Mie Prefecture in central Japan. That's where Tenmusu (Shrimp Tempura Rice Ball) originated from as well!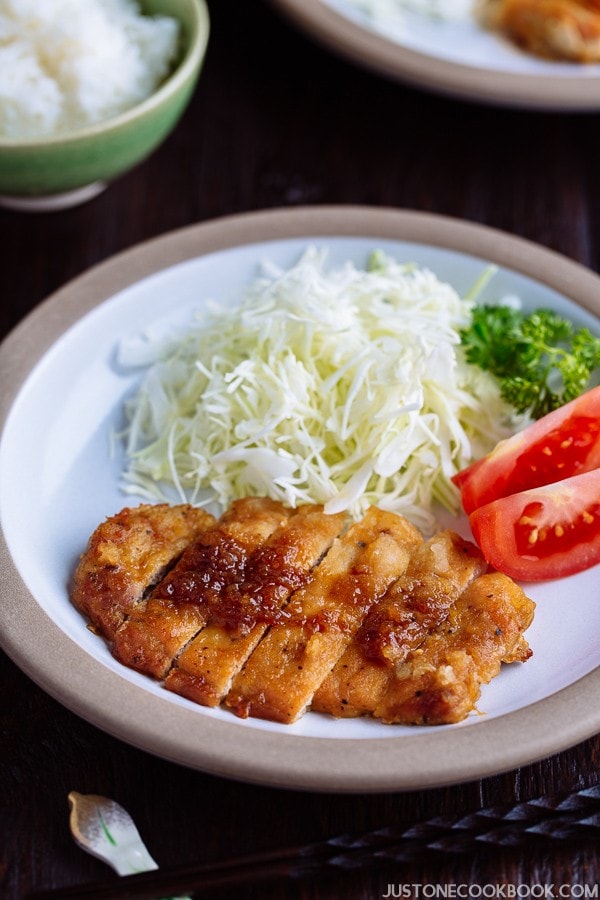 What's Tonteki?
Tonteki is one of the simpler dishes featured on Midnight Diner; it is pan seared pork loin steak. Ton (豚) means pork in Japanese, as you may already be familiar with Tonkatsu (pork cutlet) and Tonkotsu (pork broth), and -teki (テキ) comes from suteeki (ステーキ) which means steak in Japanese. For those of you who study/read Japanese, Tonteki トンテキ is sometimes written as とんテキ、豚てき、とんてき、豚テキ, with the different combination of hiragana, katakana, and kanji.
The original Tonteki was introduced at the Chinese restaurant Lai Lai Ken (來來憲らいらいけん) in Yokkaichi (四日市) after WWII. The pork loin steak is cooked with thick garlic soy sauce and served with shredded cabbage.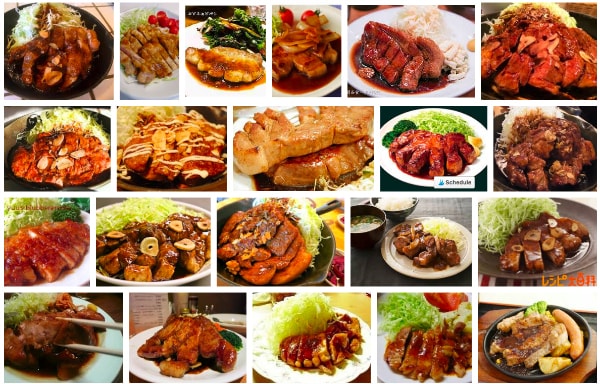 This dish is also known as Glove-yaki (グローブ焼き) as the pork loin with slits resembles the baseball gloves. These slits are added so that it's easier to eat with chopsticks and it also helps cook the meat faster without overcooking it.
What Makes It Tonteki??
According to Yokkaichi Tonteki Association (how cool they have an association for this dish!), in order to call a dish "Tonteki", it has to have the following four requirements:
Served with dark rich savory sauce
Thick pork loin is used
Garnished with garlic
Served with thinly shredded cabbage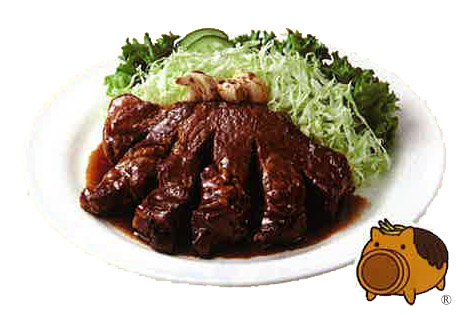 However, as you see today's dish, the master (the main actor) from Midnight Diner made Tonteki that's slightly different from the original style Tonteki. As this series on JOC is a recreation of the master's recipe, I followed how he made it in this episode. Maybe when I have a chance to try Tonteki in Yokkaichi, I'll re-create the original version. My family loved this simple dish and I hope you'll enjoy it as well.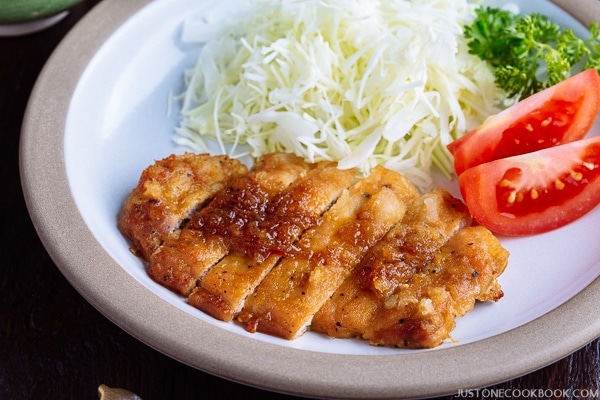 If you want to check out other Midnight Diner Tokyo Stories – Season 1 Recipes, read Netflix Midnight Diner: Tokyo Stories – Season 1 Recipes.
Don't want to miss a recipe? Sign up for the FREE Just One Cookbook newsletter delivered to your inbox! And stay in touch with me on Facebook, Google+, Pinterest, and Instagram for all the latest updates.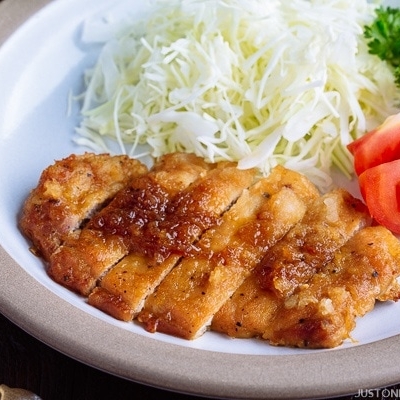 Tonteki
Tonteki is a Japanese pork loin steak dish served in a savory citrusy sauce.  From start to finish in 15 minutes!  Inspired by the Japanese drama - Midnight Diner.
Video
Ingredients
¼

onion

(core should be intact for grating)

2

boneless pork loin chops (½-inch thick)

(½ lb, 227 g)

⅛

tsp

freshly ground black pepper

1

Tbsp

all-purpose flour (plain flour)

1

Tbsp

neutral oil
For Garnish (Optional)
¼

green cabbage

1

tomato

parsley
Japanese Ingredient Substitution:
If you want substitutes for Japanese condiments and ingredients, click
here
.
Instructions
Gather all the ingredients.

Over a small bowl, grate ¼ onion (use about half of it) and set aside.

Shred the cabbage into thin slices (I'm using a Japanese cabbage shredder) and cut the tomato into wedges.

In a medium bowl, combine ponzu, sake, soy sauce and whisk all together.

In order to sear the meat perfectly, pat dry the pork chops with paper towels. Removing the moisture will prevent the meat from being steamed.

Make a couple of slits on the connective tissue between meat and fat on both sides of the meat. Red meat and fat have different elasticity, and when they are cooked, they will shrink and expand at different rates. These slits allow the pork loin chops to stay nice and flat when being cooked and prevent it from curling up.

Season one side of the meat with kosher salt and freshly ground black pepper (the sauce is salty, so you can skip the salt here if you like).

Coat the meat with flour and remove excess flour.

Heat the frying pan over medium-high heat and add the oil. When the pan is hot, add the pork loin chops and cook for 4 minutes each side. Do not flip until the bottom is nice golden brown. If you cook more than 2 pieces, make sure to cook in batches. Give some space between meat, which ensures nice searing and prevent from steaming the meat. Browning the meat gives an important flavor component. To get evenly golden brown, the meat should be flat, which is why making slits is important at step 6.

If you see the protein coming out from the meat, you can pick it up and wipe off the excess oil (optional).

Add the sauce and grated onion to the pan.

Pour the sauce over the meat and coat well with a spoon

If you eat with chopsticks, transfer to the cutting board and slice into bite-size pieces. Serve the Tonteki with shredded cabbage and tomatoes. Pour the extra sauce over the cabbage if you like.
To Store
Keep the leftovers in an airtight container and store in the refrigerator for up to 3 days or in the freezer for a month.
Nutrition
Nutrition Facts
Tonteki
Amount per Serving
% Daily Value*
* Percent Daily Values are based on a 2000 calorie diet.
©JustOneCookbook.com Content and photographs are copyright protected. Sharing of this recipe is both encouraged and appreciated. Copying and/or pasting full recipes to any website or social media is strictly prohibited. Please view my photo use policy
here
.