Print Recipe
Jump To Recipe
A popular drink in Japan, Royal Milk Tea is made with Assam and Darjeeling tea leaves and milk. You can add sugar or honey to suit your taste. It's a delicious drink to serve when you have friends over for tea time. Enjoy with some homemade matcha cookies or mochi!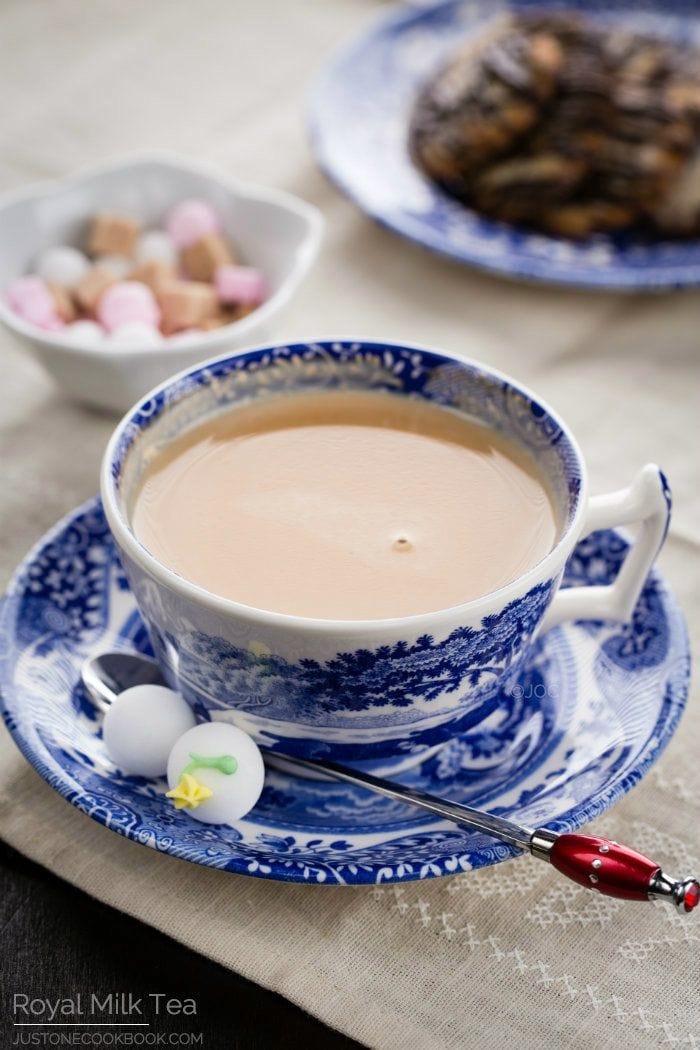 Have you ever heard of Royal Milk Tea (ロイヤルミルクティー) before?  It sounds fancy, doesn't it?  It is really popular in Japan and typically available on the cafe menus, and you can also find bottles of royal milk tea in vending machines and convenience stores.
Watch How to Make Royal Milk Tea ロイヤルミルクティーの作り方
Delicious and rich drink made with Assam and Darjeeling tea leaves and milk. Add sugar or honey to enhance flavor.
In Japan, there are vending machines (like picture below) that sell different kinds of drinks all over the place.  My husband and children love them as they can try out many different flavors and they get thirsty often since we walk almost everywhere.  For me, the only drink I love and always get is royal milk tea (my favorite brand is Kocha Kaden 紅茶花伝 and Gogo no Kocha 午後の紅茶) .
So what's royal milk tea?  Actually, royal milk tea is a Japanese-English word and (of course) this name does not exist in the UK.  The tea company Lipton in Japan invented this product in 1965 as part of their "royal" recipe series (source).  Compared to a typical milk tea, the ratio for milk is much higher so it balances semi-bitter taste of strong tea with the creamy richness of milk.
The cooking method is similar to Indian Chai.  Instead of using a teapot, we use a milk pan or saucepan to make tea.  The only difference is that royal milk tea does not include any spices such as cardamoms, ginger and cinnamon that Chai might include.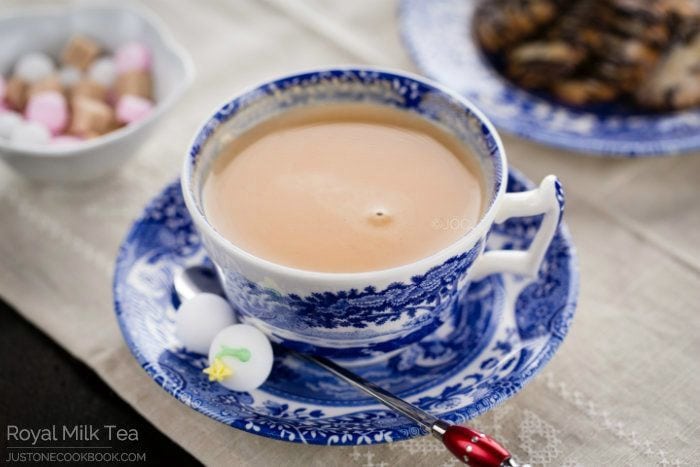 There are a number of ways you can prepare the tea to add even more flavor and dimension but the following recipe is how I make royal milk tea.  I do not normally use a measuring cup, and use a teacup to make.  However, not everyone has the same size teacup, so I measured it precisely.  I also included my teacup measuring in parenthesis as well.  
Even though it's not required, I recommend using a pre-warmed cup to maintain the temperature of the tea.  To make dark colored tea, use Assam tea and to make light colored tea, use Darjeeling tea.
Don't want to miss a recipe? Sign up for the FREE Just One Cookbook newsletter delivered to your inbox! And stay in touch on Facebook, Google+, Pinterest, and Instagram for all the latest updates. Thank you so much for reading, and till next time!
Royal Milk Tea
Ingredients
To make 1 cup
¾ cup water (Regular tea cup 80% full)
2 heaping teaspoons (about 8 g) black tea leaves (See Note)
½ cup milk (Regular tea cup 50% full)
Sugar or honey (optional)
To make 2 cups
1 cup warm water (Regular tea cup 100% full)
3 heaping teaspoons (about 12 g) tea leaves*
1 cup milk (Regular tea cup 100% full)
Sugar or honey (optional)

Instructions
In a milk pan or small saucepan, add warm water and bring to a boil over medium-high heat.

When the water is boiling, add tea leaves and reduce the heat and simmer for 1 and half minute to 2 minutes.

Add milk and slowly bring just to simmer. Meanwhile keep your serving cup nice and hot with hot water (drain the water before you serve tea).

When the tea is about to boil, remove from the heat and pour the tea through a tea strainer or fine mesh strainer and into your serving cup.

Serve with sugar or honey and sweeten it to your liking.
Notes
To make dark colored tea, use
Assam
tea and to make light colored tea, use
Darjeeling
tea.
Please note that the ratio for water is NOT double when you make 2 cups of royal milk tea. Water won't be evaporated as much so ¾ cup is right amount.
If you know how much sugar you like to add already, add sugar at the end before pouring into cup so sugar will be dissolved completely.
To make iced royal milk tea, you can cook the tea leaves a slightly little longer so ice will not dilute the flavor as much.
Recipe by Namiko Chen of Just One Cookbook. All images and content on this site are copyright protected. Please do not use my images without my permission. If you'd like to share this recipe on your site, please re-write the recipe and link to this post as the original source. Thank you.