To celebrate my 5 years of blogging with my readers, I picked 5 things that I absolutely love in my kitchen and give them to 5 readers (1 item per person)!
Here are my top 5 favorite items in the kitchen!
1. Instant Pot 
IP-DUO60 7-in-1 Programmable Pressure Cooker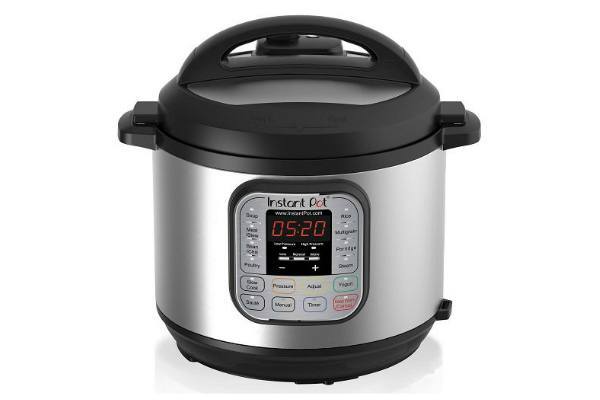 You probably knew this was coming, didn't you? Yes, I love Instant Pot that I can BOTH slow cook and pressure cook (brilliant, right?). I was lucky to receive this gift from the company, but I am NOT being sponsored by them to talk about their product at all on my blog.
I enjoy using it a couple of times a week, and I highly recommend it to anyone who wants to eat home cooked meal at the end of your busy day. If you don't have enough time to stay around in the kitchen to prep and cook a meal, this is the perfect tool for you. I have several Instant Pot recipes on my blog, and will continue to add more!
2. Season with Spice Matcha Green Tea Powder and East Asian Spice Kit
As I mentioned before in this blog post, my friends at Season with Spice have an amazing collection of delicious spices I use daily. Their East Asian Spice Kit is a great starter kit for Asian cooking!
They also carry other culinary ingredients like Matcha Green Tea Powder. I really enjoy making Matcha Green Tea Latte (or Iced Green Tea Latte) using their refined green tea powder everyday.
A lot of my readers have become a big fan of their spices and recipes, so do check their site to browse more!
3. The Food Lab – Better Home Cooking Through Science by Kenji Lopez-Alt 
I've been reading Kenji's James Beard Award-nominated column The Food Lab on Serious Eats for sometime. So I was super excited about reading his first book, The Food Lab, which was published in fall 2015.
It's a thick, heavy cookbook with collection of science-based tips, explanations, techniques, and recipes for the home cook. I'm still reading the beginning of this book, but so far I love it! If you ever wonder about all the science behind cooking, you will love this book!
4. 
GIR: Get It Right Ultimate Spatula (11″)
Have you broken a few spatulas in the past? I had, and I wish I bought this Get It Right's silicone spatula long time ago. It comes in various colors and it's very durable (yet flexible!). It makes your folding, mixing, scraping, and stirring job easier and fun! I love good utensils that I can trust!
5. 
Fox Run Stainless Steel Magic Whisk
Speaking of trustworthy utensils, I've been using this Fox Run Stainless steel Magic Whisk for YEARS and I'm still madly in love with it.
I love using this flat whisk for mixing eggs, sauces, or any ingredients that do not have enough depth for a regular big whisk to whisk in a mixing bowl. It's simply great for any whisking job! The winner will receive 2 whisks.
How To Enter
IMPORTANT RULE:
Your email entry has to match with your email address that receives my Email Newsletter (Subscribe now).
This giveaway closes on Sunday, January 31st, 2016 at 12 p.m. PST and is open to participants worldwide (everyone!).
Five (5) winners will be selected via Random.org and contacted via email, so please include a valid email address in the email address entry box (please double check your spelling!).
If the winner lives outside of the U.S. where I can't ship the item via Amazon, I'll send her/him an Amazon gift card of the equal value of the winning item (or cash via Paypal).
The winners are required to respond within 72 hours to claim the prize.
Tip: The comments on this page will get longer, so use the "scroll up" button (see below) on the right side of the screen to scroll up to leave another comment!
1. Required to Enter: Subscribe to my FREE newsletter and leave a comment (Ticket 1). 
2. Please let me know what you would like to see on my blog in 2016 (Ticket 2). 
3. Subscribe to my YouTube channel and leave a new comment (Ticket 3).
4. Like my Facebook page and leave a new comment (Ticket 4).
5. Follow my Instagram and leave a comment (Ticket 5).
You will have a total of 5 tickets for your chance to win! Good luck!
Full Disclosure: This giveaway is sponsored by yours truly.
****
Thank you so much for participating this giveaway! The winners are…
Congratulations  Andrea D (#349), Christine B (#557), Eleen (#1204), Camille (#164), and Jessica B (#708)! I'll email you shortly….