From bento boxes to bento dishes to food safety, here are my answers to your frequently asked questions for bento making.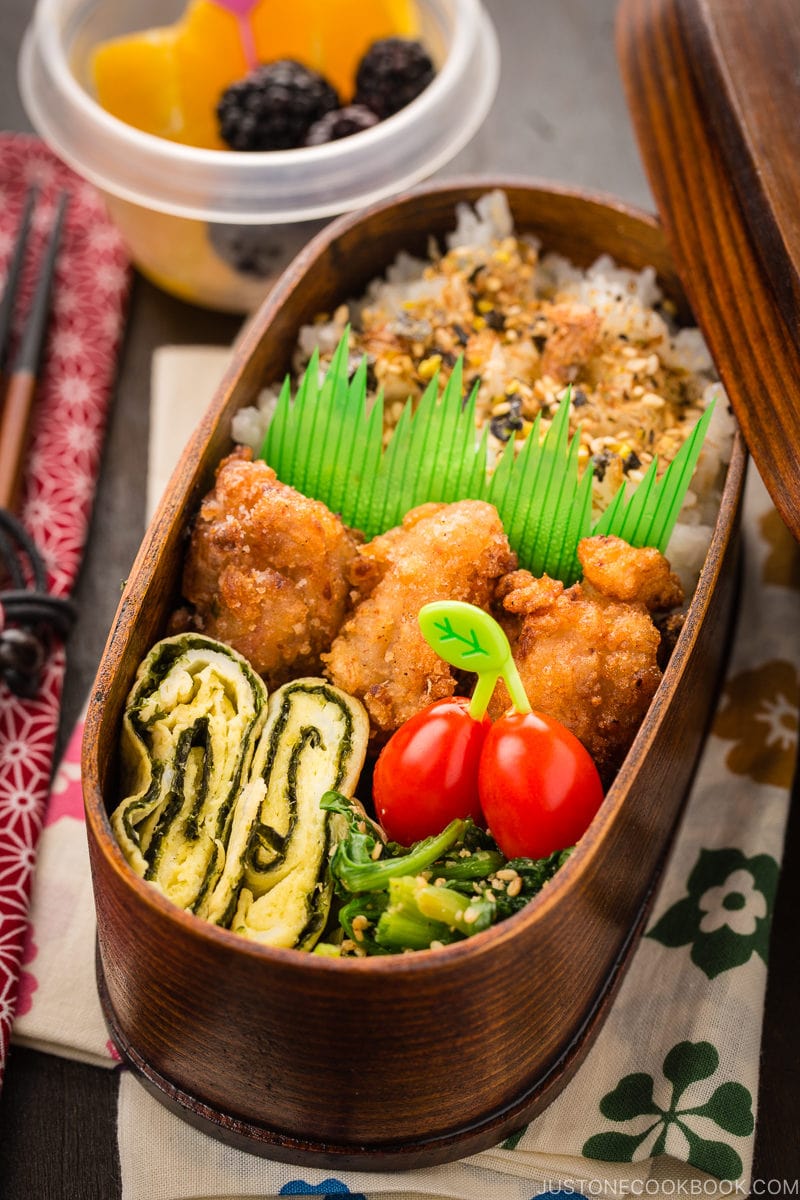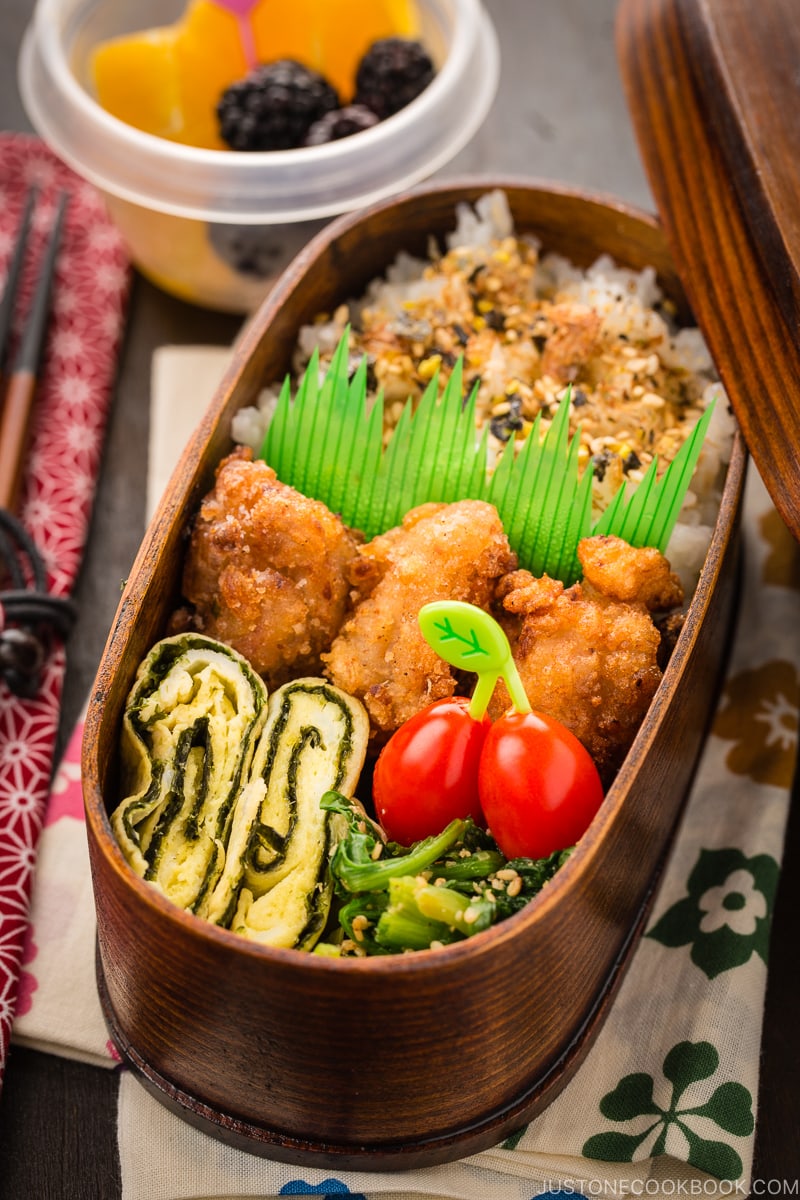 Bento – The Quintessential Japanese Lunch Boxes
To put in a simple form, bento (弁当 bentō) or obento (お弁当 obentō) refer to home-packed meal or takeout food presented and packed in a compartmentalized lunch box.
Many non-Japanese are familiar with the term 'bento' and are starting to pack their lunches in bento-style containers. However, I often get asked questions in regard to the type of food to pack, how to make the bento appealing, food safety, tips to save time, etc. Some readers express their struggles in packing Japanese-style bento because it seems to be too time-consuming.
So, I've compiled all the FAQs and provide my answers and guidance below:
Frequently Asked Questions by Readers
Q: Do I need to pack Japanese food for my bento? What do I pack?
No, you don't have to pack Japanese food. I pack Japanese food because that's what I cook every day. Even though bento is designed for Japanese meal format, you can still apply the same formula for whatever food/ cuisine you make at home. A good bento follow 3 key ideas: nutritious, colorful, and well portioned. As long as you keep these in mind, you can pack the food you typically make at home.
Q: How do I make bento?
I have written 2 guides on how to pack bento. You can find all the information in the posts:
Q: Is bento making time-consuming?
Well, it depends on how you want to prepare it. A lot of my friends in Japan wake up early and make their husbands and kids lunch. But I don't, and this is how I pack bento in 15 minutes. As I wrote in the post, I rely heavily on my frozen, meal-prepped dishes and leftover foods from the previous day. It's pretty quick to reheat the food or pack frozen food into the bento box. Occasionally I allow myself to cook only one dish in the morning to keep the routine stress-free.
Q: When do I prepare it? Can I make it the night before?
I recommend preparing bento the morning of the day you are planning to eat because some foods suffer texturally from an overnight stay in the refrigerator, and it's also not ideal in terms of food safety. If the majority of food is prepared the previous night, all you need to do is to reheat in the morning, and it should not take more than 15 minutes. Prepare bento before breakfast, and let it cool down (for food safety) while you eat breakfast. Once you get the hang of it, it's very simple.
However, if you cannot spare 15 minutes in the morning, you can make bento at night and continue to keep it cool till lunchtime. Right before lunch, reheat the bento using a microwave oven. If there is no option of reheating, pack some food that can be kept cool throughout the day and still be enjoyable at a cool temperature.
Q: How do you make the hot foods hot and cold foods cold?
Use an insulated food container like a thermal lunch box to keep hot foods hot. Include an ice pack or two into your lunch bag to keep cold food cold.
Q: Do we eat bento cold or at room temperature?
Traditionally, Japanese bento is sold or eaten at room temperature. We choose bento menus by considering what kind of foods taste better at room temperature.
For example, food that is soaked in an oily sauce doesn't taste delicious as the oil solidifies. Surprisingly, deep-fried foods actually work well as long as you reheat them in the oven or toaster oven in the morning until crispy and let cool completely before closing the bento box lid.
Each person has a preference in terms of what's okay to eat at room temperature, so you might want to decide for yourself after experimenting.
That being said, you still need to remember that bacteria thrive on moisture and protein at room temperature. If you are not familiar with this topic, please read my post, Food Safety Tips for Bento. Remember, 3 key points: reheat thoroughly, let cool completely, and keep it cool with ice packs until mealtime.
If you have a microwave oven available, pack foods that are meant to be eaten warm separately in a microwave-safe container so you don't microwave the salad or fruits.
Q: Any tips for making nutritious and exciting bento for elementary school kids?
I have a few tips based on my own experience.
Prepare 5 types of food – Read this post where I discussed more with examples (nutrition in mind!)
Work on rainbow colors – It's easy to use rainbow colors as a simple reminder to keep the variety of different healthy foods in their bento. Too many brown dishes? Probably need to do a color check.
Make the bento colorful and cheerful! – Picky eaters are more likely to try foods when the foods are presented in a fun and appealing way. A cute colorful bento always gets more attention than a dull-looking bento. You can start with easy food art like apple bunny, ham flower, and octopus sausage, or piggy spam musubi to get their attention. Or start with these cute food picks!
Do not overpack their lunch – Children are happy to show an empty bento box when they come home (especially when mommy asks "how was lunch?"). If you want to encourage them to eat "everything", do not overpack. My children's lunch and playtime is just 30 minutes (I assume their actual "eating" time is just 10 minutes). They really want to play with their friends, so I pack less portions compared to what they would normally eat at home for lunch. I make sure to pack some healthy snacks and fruits for after-school activities to complement the small lunch portion.
Try one food at a time – If your children are picky eaters and reluctant to eat lunch, don't push too hard. Start with just one dish and slowly increase the portion (with praise when they finish eating!). If they are hungry, they will more likely eat the food you pack for them. It's about creating interest and developing a palate for a good variety of food.
Q: How do I pack bento for the older generation?
The Japanese pack bento for all ages. There is no special meal just for the older generation, but from my experience, the older generation seems to prefer soft-texture foods and more traditional Japanese dishes, like grilled fish over deep-fried foods.
Q: What Japanese dishes go well together?
This is a bit of a hard question to answer. Simply speaking, any dish would go well together as long as you pack similar type of food in the box—be it washoku (traditional Japanese food), yoshoku (western-influenced Japanese food), or chuka ryori (Chinese Japanese food). It often comes to down personal preferences, so you can definitely mix and match your dishes.
For examples:
Some of these combinations can be delicious too!
Q: Do we need to worry about different textures and flavors in the bento?
Eating different textures and flavors of foods will increase more appetite. If the main dish is seasoned with a soy sauce base, avoid including other similar flavor dishes and try putting refreshing veggies instead.
Also, keep in mind that food at room temperature tastes better when the food has more flavor. Use extra seasoning for the bento portion or make the sauce more concentrated before setting aside for the bento portion.
However, this is entirely up to you. There are no specific rules when it comes to textures and flavors for packing bento.
Q: How do you make budget-friendly bento?
Whether it's bento or a regular meal, some sort of planning will help to minimize produce waste. If you include a head of cabbage in your shopping list, you want to make sure you can use it in a few dishes throughout the week. Don't get a special ingredient just for one dish without knowing what else to do with it.
I have a blog post on How to Meal Prep Bento: $3 Bento Challenge where I meal-prepped and made 3 types of bento for under $3 each.
Q: How do you keep the bento safe in hot weather?
Assuming that the backpack or lunch bag is kept outdoors until lunchtime, it's a good idea to invest in an insulated lunch bag like this or this and pack ice packs for the bento to remain cool.
---
I hope I've answered your questions. If yours is not covered, leave a comment below and I'll try to answer in the post!