Win one of the finest, best performing Kikuichi Santoku Knives that will complement your kitchen today! This handmade Japanese knife is a true workhorse and useful for nearly any task. 3 winners will be selected.
Being a good cook depends on having one or two primary knives. It is undoubtedly one of the most important tools in the kitchen. Today I'm beyond excited to partner with Kikuichi Cutlery, the premium Japanese knife company, to give away their finest NWD Nickel Warikomi Damascus Santoku knife to 3 lucky winners!
Kikuichi is my most favorite and revered knife company and I almost always use my Kikuichi knives in all my cooking. You can see all the actions in my step-by-step recipes or YouTube videos.
This is a most valuable giveaway, so don't miss your opportunity to win this amazing knife!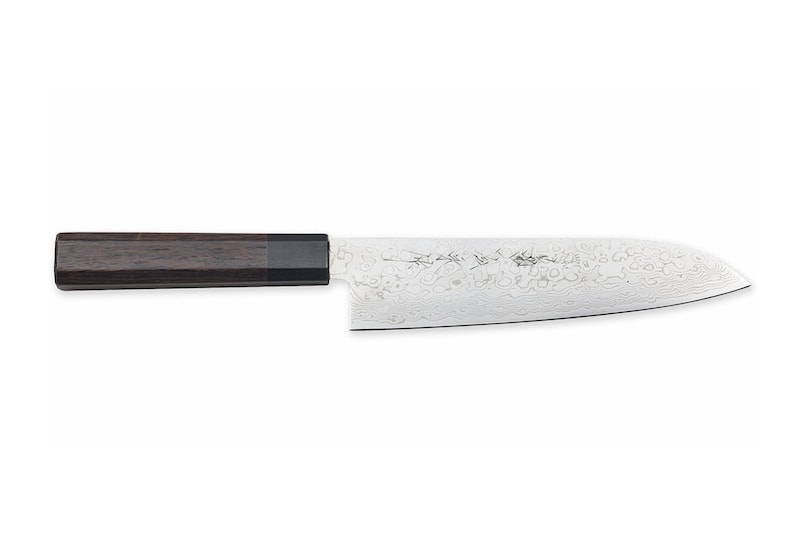 Win High Performing Kikuichi Santoku Knife Today!
While it performs like a chef's knife, a santoku is the quintessential Japanese workhorse knife, it is lightweight, razor-sharp, well-balanced and comfortable, and you can use it for all sorts of tasks. This Santoku is an absolute pleasure to use!
For this giveaway, we've specially selected the Nickel Warikomi Damascus Santoku knife just for you. This Nickel Warikomi Damascus series may be the most nimble knives you ever hold.
The thin and agile 45 layer Damascus blade has an edge of AUS10, one of the finest modern Japanese blades available. Matched with a Rosewood handle and Ebony ferrule, this series is beautiful and functional, and destined to be the showpiece of any kitchen. It is also hand engraved with the Kikuichi name and chrysanthemum logo.
Why I Love Kikuichi Knives
Here are the reasons why I especially love Kikuichi knives:
They are stainless steel so you don't need to worry about them rusting.
They are made of very hard steel and don't chip easily (they are rated HRC 60).
The distributed balance allows you to use them for a long time. No worries about your hands getting tired!
Superior craftsmanship – the knives are made for lifelong companion and l look beautiful even after years of use.
All purpose – you can use them for cutting meat and peeling or slicing vegetables.
About Kikuichi Cutlery
With over 750 years of fine craftsmanship, Kikuichi is the oldest knife company in the world, dating back to the days of the samurai.
The company was established in the 13th century when Emperor Go-Toba chose the family ancestor, Shiro Kanenaga, to be one of his swordsmiths. All blades are designed with the Chrysanthemum flower (kiku-no-mon). This symbol not only signified the blades were made for the emperor, but also the superb quality which exceeded royal standards.
Today, Shiro Kanenaga's hand-forged swords are considered national treasures in Japan. All of Kikuichi's products are handmade in Japan and are not manufactured in a large factory, but rather a production method like the old guild style of manufacturing, common in Japan and Europe. All Kikuichi knives come with a lifetime warranty on craftsmanship and sharpening. Kikuichi offers the best quality of traditional Japanese cutlery as well as modern double bevel Western Style knives.
GIVEAWAY RULES:
Please Note: Your email for the comment entry has to match with your email address in my Email Newsletter Subscription mailing list.
This giveaway contest closes on Tuesday, June 8, at 12 p.m. PST and is open to US and Canadian residents only.
Three (3) winners will be selected via Pick Giveaway Winner Plugin and contacted via email, so please include a valid email address in the email address entry box (please double check your spelling!).
The winners are required to respond within 72 hours to claim the prize.
(CLOSED) HOW TO ENTER:
You can enter up to 6 tickets (max) to increase your odds of winning. Good luck!
Ticket 1 (Required): Follow Kikuichi Instagram and leave a separate comment below on this post.
Ticket 2 (Required): Subscribe to JOC Email Newsletter if you haven't and leave a comment below on this post.
Ticket 3 (Optional): Follow Kikuichi Facebook and leave a separate comment below on this post.
Ticket 4 (Optional): Follow JOC Instagram and leave a separate comment below on this post.
Ticket 5 (Optional): Follow JOC Facebook and then leave a separate comment below on this post.
Ticket 6 (Optional): Subscribe to JOC YouTube channel and leave a separate comment below on this post.
*Please read through the giveaway rules carefully. Submissions will be forfeited if entered more than 6 times.
***
The giveaway is now closed. The winners are…
Stephanie Chang
Jason
Robert Haynie
Congratulations! We'll contact you shortly.