Black vinegar is amber-colored, with a mild taste and robust aroma. It's primarily brewed from brown rice and undergoes a long fermentation period.
Black vinegar, or kurozu (黒酢), is aged rice vinegar. It is usually aged for one to three years in clay vessels, compared to regular rice vinegar, which is aged for three months. While there are different versions of the condiment in Asian cuisine, Japanese black vinegar is made from brown rice. It is deeper in color and flavor, and has a distinct smell.
This bottle is from Kagoshima prefecture (southern Japan), where most of the black vinegar is produced in Japan.
What Does It Taste Like
The taste is milder and less acidic than regular rice vinegar and has a malty, smoky, and deeper umami-rich flavor.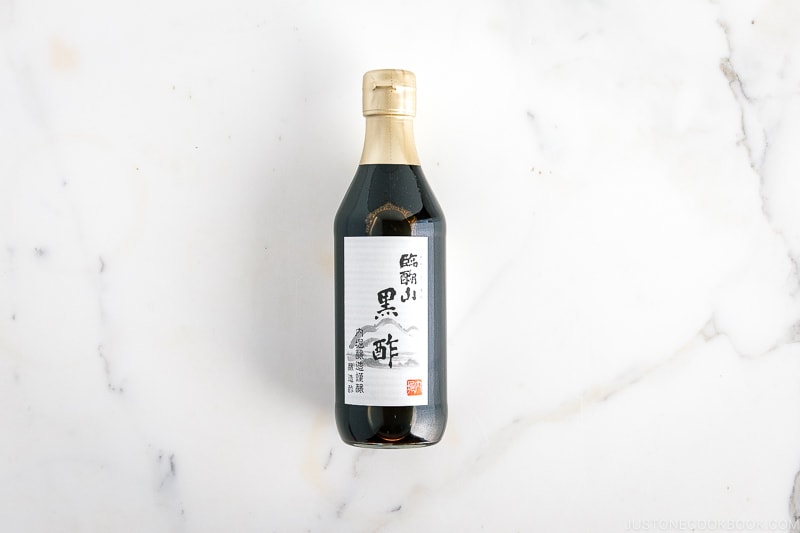 It is also very popular in southern China. Chinese black vinegar can be made from wheat, millet, sorghum, or glutinous rice. The inky black condiment is bold, flavorful, and funkier than the Japanese version. For the best, look for Chinkiang Vinegar (镇江香醋), which originated in Zhenjiang.
Recipes Using Black Vinegar
---
Wish to learn more about Japanese cooking? Sign up for our free newsletter to receive cooking tips & recipe updates! And stay in touch with me on Facebook, Pinterest, YouTube, and Instagram.