Have you tried food cooked on lava rocks? Bonbori offers one of a kind experience by preparing their guests' meals on lava rocks extracted from Mt. Fuji.
In Shibuya, you will probably be able to find any cuisine and food you want. We wanted to try something a bit different and cooking your food on lava rocks definitely fell into that category.
So of all the restaurant and dining choices in Shibuya, how did we end up at Bonbori (溶岩焼肉ダイニングbonbori 渋谷)? Here is the short story. On the day we visited Shibuya, we also went to Meiji Jingu, Harajuku, and Omotesando. It was 93°F/34°C that day with full humidity.
By dinner time, we have walked about 17,000 steps or roughly 8 miles or 13 kms and our children were in the process of mutating into little monsters.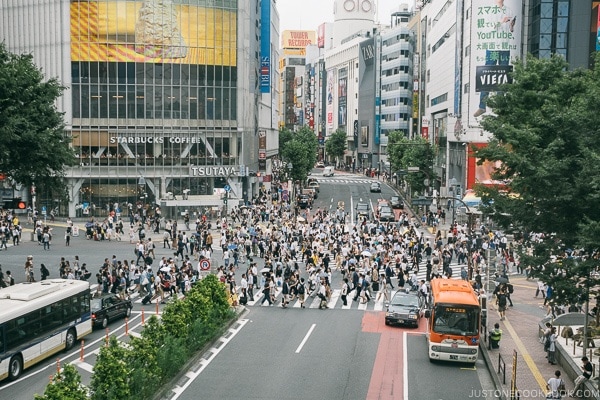 We can't really blame them as this summer (2018) was one of the hottest on record in Japan and the heat was relentless throughout the day. As dinner time approached, they were running out of patience and hungry.
Our son's favorite Japanese meal is hambagu and our daughter is gyoza so after a quick search on Tabelog, I asked if they would like hambagu and gyoza served on lava rocks. The answers were a resounding YES!
Bonbori has 2 locations at Shibuya, we went to the one southwest of Shibuya Station closer to Mark City.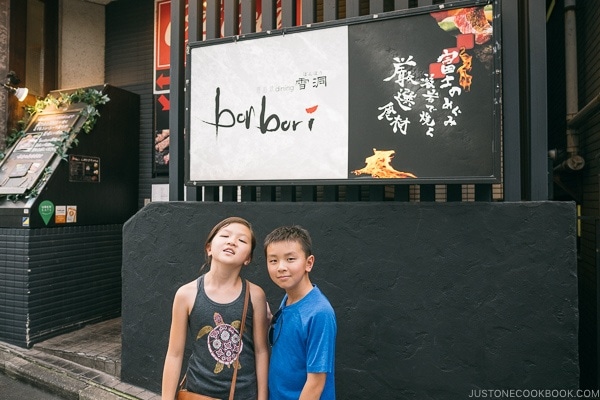 If you haven't been to Japan before, it might surprise you that most restaurants in Japan still allow smoking, especially at dinner time. On this trip, we've seen some restaurants that ban smoking during the lunch service. If you are sensitive to cigarette smoke, try to reserve an earlier mealtime (ideally leave restaurants before 6:30 pm).
After the salad, the next up was the signature hambagu, what Bonbori is known for. If you live in Japan, you can actually order their hambagu on Amazon Japan to enjoy at home.
The hambagu was soft, flavorful, and juicy. The outside was crispy and the meat patty was kept nice and warm on the lava rocks. According to Bonbori's website, 90% of their lunch orders are hambagu. Our son, the in-house expert agreed that it was tasty, just not as good as mom's.
Soon after hambagu, gyoza was served on lava rocks. The gyoza skin was crispy from being heated on the lava rocks and tasted really good with the dipping sauce.
The main event is the grill beef, it is served raw and customers can cook the beef as they like it on hot lava rock.
Bonbori offered a few condiment to go with beef including tare (sauce) and Himalayan pink salt. After quickly grilling the beef, the result was super tender and tasty beef strips. As far as the condiments go, we liked it with salt. Bonbori's tare sauce didn't have much flavor. To finish off the night, we had seared beef nigiri sushi. It was surprisingly tasty and hit the spot.
The lava plates at Bonbori are heated to 1650 °F or 900°C and the restaurant claims the heat cooks the food through infrared, resulting in crispy finishes with a perfectly cooked center. Other benefits from cooking on lava rocks include minerals absorbed by the food. Whether those benefits are true or not, our family had a fun time enjoying food on lava rocks. The price at Bonbori is reasonable, dinner was about USD$25 per adult.
Thank you for reading our post, if you are interested in other Tokyo and Japan post, click here.