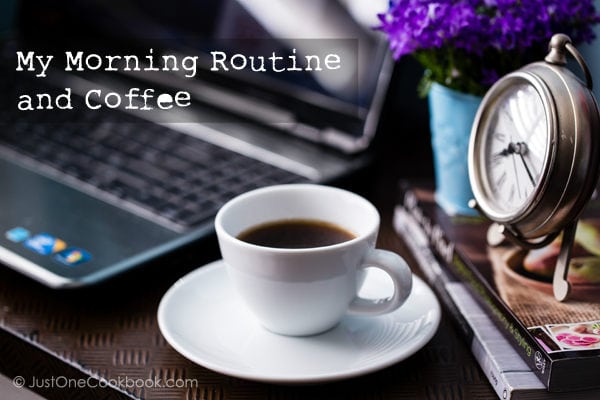 Every weekday morning as my alarm goes off at 6 AM, I try to pry open my sleepy eyes to get ready for the next two hours which are usually the most hectic time of the day. Shower, get dressed, wake kids up, dress kids, cook breakfast, prepare lunch, pack lunch, feed kids, and drive kids to school…
When I get back home after dropping off the kids, it's my favorite "me" time. This is when I turn on the radio, brew my coffee, turn on my laptop, sit in my comfy chair, and start catching up on emails and questions from readers. This moment is the one I look forward to each day because the house is calm and quiet with no one else around, and I get to slowly enjoy my hot fresh coffee while working. If I have to rank my favorite beverages, coffee is definitely at the top of the list. The smell of coffee has a magical calming effect on me as it reminds me of my college days in my parents' house. When I still lived at home, I remember every morning as I woke up, the first thing I smelled was the sweet aroma of brewed coffee. The smell would fill the entire house originating from the coffee maker in the kitchen, and as I sit down at the kitchen table there would be a cup waiting for me. It's my mom's way of helping me kick start my day. These days, as I drink and listen to music, I am reminded of those happy morning memories. Speaking of coffee and music , I was recently asked by Folgers to write about their Folgers Jingle contest which supports aspiring musicians.
Folgers runs a contest for the best Jingle where the winner could win up to $25,000. YAY! Folgers reached out to musicians to create new ways of incorporating their "the best part of waking up, is Folgers in your cup" theme into new songs. I loved watching the previous jingle winners  and oh my are they talented! Now you have a chance to help determine this year's winner. In addition, you have a chance to win $10,000 just for voting. Listen to the tracks from this year's Top 10 Finalist and vote for the best one in Folgers' Jingle Contest! Cast your vote once every day through June 19th. You could win exciting prizes, like free Folgers Coffee, iTunes® gift cards, signed CDs from Gavin DeGraw, and even a $10,000 Grand Prize just for voting! Before you vote, follow the Road to the Jingle on Facebook to see how they traveled the U.S. to track down the Top 10 contestants! Remember, you can vote once a day through June 19th! I'll share who I think the best musician is after June 19th! Good luck!