This post may contain affiliate links. Please read my disclosure policy for details. As an Amazon Associate I earn from qualifying purchases.
Today I'm partnering with Tuttle Publishing to give away one (1) copy of Roger Dahl's Comic Japan by Roger Dahl! This giveaway contest is open to everyone worldwide.
Roger Dahl's Zero Gravity cartoon strip has been a popular feature of Japan's leading English-language daily newspaper, The Japan Times, since 1991.
Now, for the first time, Roger Dahl's Comic Japan brings together the best of Zero Gravity in book form. Offering a Western artist's take on Japan, the strip stars Larry and Lily, a young American couple working as English teachers in Tokyo. Larry and Lily never manage to fully integrate into Japanese society, and Zero Gravity takes a whimsical approach to the meeting of cultures as well as the quirky dynamics of changing relationships between generations and subgroups within Japan. Besides Larry and Lily, Zero Gravity features their close friends, the Koyama family, whose three very different generations encounter plenty of misunderstandings of their own!
This anthology contains eight chapters featuring the best selection of strips from Larry and Lily's life in Japan. Each chapter opens with a brief passage about its theme, and a 3-page illustrated introduction provides information about Dahl, his career, and his inspiration for Zero Gravity.
Graphic novels and comic books have experienced explosive growth in recent years, and Roger Dahl's Comic Japan offers humorous cross-cultural observations that will delight visitors to Japan and armchair travelers alike.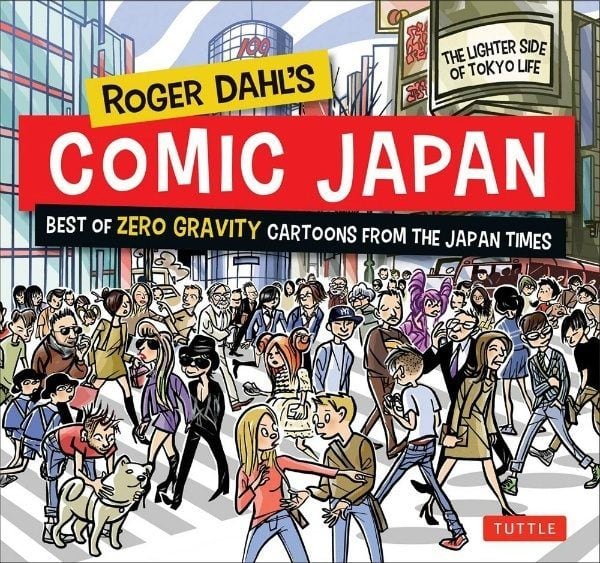 Tuttle Publishing has amazing collection of books, especially topics extending in Asian and Japanese cultures. You can start checking out their bestsellers if you are looking for new books to read. I will be giving away more books in the future with Tuttle Publishing, so stay tuned!
To enter for your chance to win a copy, please pick ONE or MORE of the following choices to stay connected with me:
and leave a comment letting me know which one you're subscribing/following. If you follow more than one, don't forget to leave a separate comment for each social media.
Bonus Entry!
and leave a separate comment saying you "liked" their page.
This giveaway closes on Sunday, July 12, 2015 at 12 p.m. PST and is open to participants worldwide (everyone!).
One (1) winner will be selected via Random.org and contacted via email, so please include a valid email address in the email address entry box (please double check your spelling!). The winner is required to respond within 72 hours to claim the prize.
Full Disclosure: This giveaway is sponsored by Tuttle Publishing.
*****
Thank you everyone who participated this giveaway! The winner is….
Congratulations Edwin Chua (#124)! I'll email you shortly… 🙂