Living in the San Francisco Bay Area, there isn't a shortage of great Chinese restaurants. From dim sum at Koi Palace, salt and pepper crab at R & G Lounge, stinky tofu at Joy Restaurant, to Shanghai style chow mein at Little Shanghai, we could find plenty of restaurants to fulfill our Chinese food cravings. The one Chinese specialty that Nami and I love but haven't found a restaurant that wowed us so far in the Bay Area is Xiao Long Bao, aka Shanghai steamed dumplings.
When talking about Xiao Long Bao, the best known specialty restaurant is probably Din Tai Fung, originating from Taiwan. Din Tai Fung was founded 1958 in Taipei originally as a peanut oil retailer. As time changed and packaged salad oil was introduced, the owners had to subsidize their oil business by selling steamed buns on the side. The delicious steamed buns at Din Tai Fung became so popular it got out of the oil business in the 1980's and became a full time restaurant business. Today, Din Tai Fung serves their delicious Xiao Long Bao in 10 different countries with most of them in the Asia Pacific region.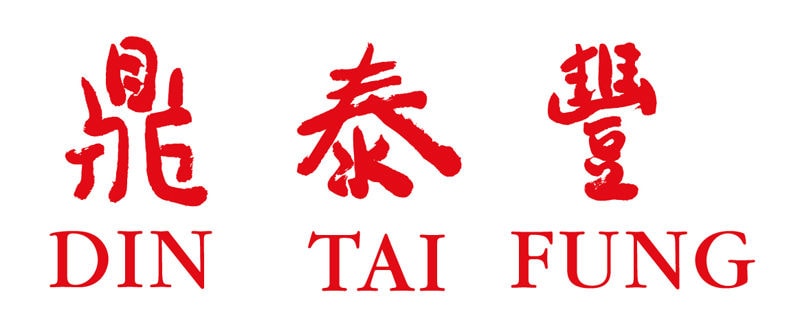 Whenever I travel to Los Angeles, there is an "eat" list that I usually can't skip. This list has evolved over the years but Din Tai Fung is always on the list. When our family went to Los Angeles for a wedding earlier this year, it was the perfect time to bring our children and share the wonderful experience with them (since both of them love dumplings). We went there around 10:30 AM on a weekend for lunch because the wait time for an available table is also legendary. There are actually two branches of Din Tai Fung in Arcadia, California and they are located back to back (and yes there is still a line). Since we were there early we only had to wait for 15 minutes before sitting down at our table.
As you enter the restaurant, you could see the men huddled in the kitchen around a table making fresh dumplings. It's amazing to observe their machine-like hands and fingers moving so quickly to make each dumplings.
As you site down, the table setting is simple, vinegar with julienned ginger, tea, along with chopsticks, spoon, and a plate. The menu is not a long list, with a variety of noodles, rice, soup, and dumplings. However as someone who has tried almost their entire menu, I can attest that almost everything on the menu is super delicious. For our meal, we ordered sour and spicy soup, fried pork chop, shrimp and pork dumping, pork bun, red bean bun, and 2 order of Xiao Long Bao.
The sour and spicy soup came out first it was my very first time ordering it. Unfortunately it was a rare disappointment, the soup was not sour or spicy and I had much higher expectations. For soup, I highly recommend the house chicken soup instead.
The second course was Taiwanese style fried pork chop and it was superb, I had to fight with our son for the last piece. The pork chop is seasoned and golden fried to perfection. Din Tai Fung's Taiwanese style pork chop is unique because it doesn't have a thick layer of batter on the outside. The meat is juicy, tender, and flavored all the way through.
The next up are the shrimp and pork dumplings. When you order multiple steamed dishes, Din Tai Fung serves the dishes one at a time so the dumpling doesn't get cold sitting there idle and the skins become hard. The biggest differentiator in my opinion between Din Tai Fung and everywhere else is their skin. The skin on their dumplings is so thin it's barely strong enough to hold the fillings.
You can see the fabulous ingredients they use (large shrimp piece) in the filling when you bite inside.
Along with the dumping, we also ordered two types of buns, pork and red bean. The buns were freshly steamed and the texture for the exterior of the bun is extremely refined. The skin was soft like marshmallow and simply melted in your mouth as you bite into it.
The pork bun fillings were done just right and didn't overpower the gentle flavor of the bun. The red bean paste filling was sweet and delightful.
Finally Xiao Long Bao was served at last. Each Xiao Long Bao is wrapped in paper thin skin that almost tears when you try to pick them up with chopsticks.
The best Xiao Long Bao are the ones with soup inside when served and you absolutely want to enjoy it with the soup. Even with its super thin skin, Din Tai Fung's Xiao Long Bao are filled with soup. The proper way to enjoy Xiao Long Bao is to put one completely intact in a spoon, drizzle the vinegar, place a few strands of ginger on top and enjoy the whole thing in one bite. Be careful not to burn yourself since the soup inside could be extremely hot. Our children enjoyed the wonderful dumplings with us and Din Tai Fung is now on our family's "eat" list.
Din Tai Fung
Address: 1108 S. Baldwin Ave., Arcadia, California 91007
Phone: (626) 574-7068
Mon – Fri: 11:00AM – 3:00PM, 5PM – 9:30PM
Sat: 10:30AM – 9:30PM
Sun: 10:30AM – 9:00PM
I hope you enjoyed my husband's restaurant review. I'm currently on vacation but will come back next Tuesday August 14th (for some of you, it is Wednesday) with a new Japanese recipe. See you all then! xo  – Nami