It's me Mr. JOC here to share a quick getaway post. If you have children attending K-12 in the US, they are likely to have their spring break these few weeks. Did you do anything fun with your children over spring break? With our young children, our typical destination is Monterey/Carmel area since it has fabulous restaurants for us and our kids love the aquarium. Last summer, we decided to take an adventure and take a short trip to explore San Luis Obispo area instead.
One of the things we love about living in the Bay Area is the variety of activities that you can do within 2-3 hour drive. You can go to Napa and enjoy the wine country, visit Tahoe and play in the snow, explore Yosemite National Park and its beauties, or go to Carmel and enjoy the beautiful ocean side sceneries. We've been to San Luis Obispo before but always driven past it or just grabbed  a quick bite. This time we stayed for 2 nights.
Where is San Luis Obispo
San Luis Obispo (SLO) is roughly 200 miles from the Bay Area and located halfway between San Francisco and Los Angeles. We chose to stay at the Embassy Suites in SLO because
It's located in the center of all the areas we wanted to visit.
Indoor heated pool. Need I say more.
Every room is a suite: separate living and bedroom. We can watch a movie while the children are sleeping.
Free made to order breakfasts.
Free Manager's happy hour reception.
If you are looking a more relaxing hotel, we've stayed at Sycamore Spring Resort before and highly recommend it. Our family loves Onsen (hot springs) and it's one of the few places we are aware of where you get your own private natural hot spring Jacuzzi.
Sea Venture Restaurant
After arriving in the area, the first meal we had was at Sea Venture Restaurant. Before I get into the food, I noticed during the trip that generally everything in the area cost 15-20% less than the Bay Area, including restaurants. At Sea Venture, we had quite a bit of food as we were famished. We started with deconstructed bruschetta, peach salad, and their award-winning clam chowder. The peach salad and the bruschetta were average but the clam chowder was delicious! It was creamy and really thick with large pieces of clam and goodies and what stood out for us was the strong heavy bacon kick.
For entree we had the shrimp and lobster vol-en-vent and their signature dish The Sea Venture. The vol-en-vent turned out much better than we expected. The lobster meat was tender and flavorful and matched really well with the sauce. The Sea Venture was not so memorable, I feel like our bouillabaisse recipe tastes better. For dessert we had the warm apple crostata and bananas' foster sundae. Our kids were excited to see the sundae lit up with a ring of fire. For wine we had the Tolosa Chardonnay which was creamy with hints of peach and cranberries.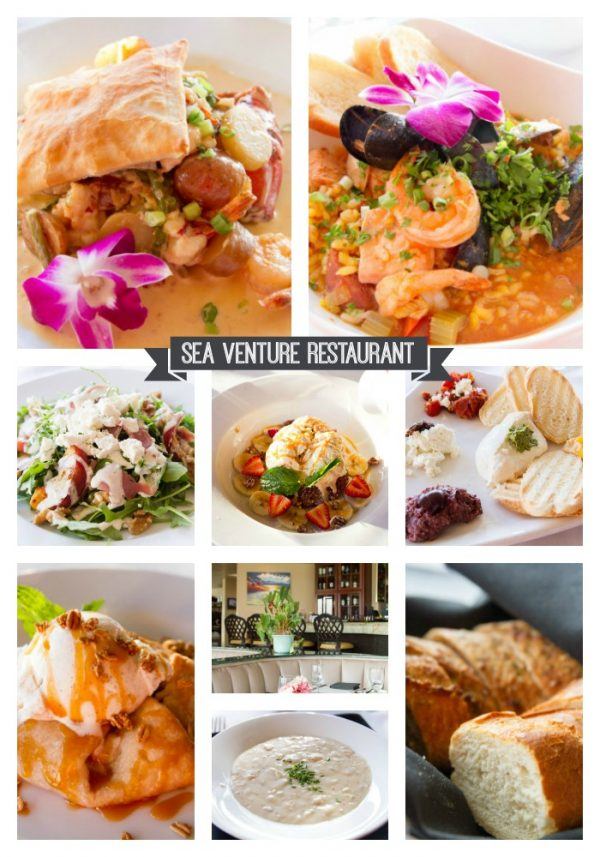 While we were at dinner, we caught an amazing sight. Seated right next to window and we were able to see Shearwaters migrating through the Pismo Beach. It was an amazing sight seeing tens of thousands of birds flying through the area and chasing the poor fish that didn't get eaten by the dolphins. The children were super excited to see dolphins in the wild so close to the shore!
Firestone Grill
Besides Sea Venture, we also ate at legendary Firestone Grill in downtown SLO which was recommended on the Chowhound board. On our previous trip through SLO, the line was 50 people deep and couldn't wait so we were glad we finally got to try it on this trip. Their tri-tip sandwich was juicy and flavorful and the ribs were yummy. Maybe my hope was too high so I would say it was a good meal, but I wouldn't say it's amazing. For dinner the next night we ate at Buona Tavola in downtown SLO. They have a beautiful heated patio in the back that is perfect for a summer meal. The food tasted pretty good, but the plating can be improved. Every dish came out looking like a mount of food with cheese spread on top.
Sausalito Canyon Winery
Besides eating, what else did we do? Well, we visited a few wineries! Central California wines are getting more and more popular so we went to Sausalito Canyon based on our friend's recommendation. Sausalito Canyon specializes in Zinfandel and to tell you the truth, it's the one varietal I was not familiar with. I didn't have high expectations before the tasting but I was really surprised the wines were superb! The wines had bright fruit flavors and were super smooth. My favorite was the Muchacho, a mix of Tempranillo, Zinfandel, and Cabernet Sauvignon. While we were at Sausalito Canyon, we were recommended Autry Cellars and their wines. Autry Cellars produces very limited cases (less than 100) of each wine and tasting room is quite small. But don't let the small size fool you, the wines are fantastic and the tasting is only $5!
San Luis Obispo Children's Museum
Since it's a family trip, we did plenty of children's activities as well including visits to the San Luis Obispo Children's Museum. It's fun for children between the age of 3-8, children older than 8 could find the museum's displays and activities a bit too young. The museum has a lot of hands on display that children can play with as well as an area upstairs for play and pretend. Besides the museum, we spent some time at Avila Beach and relaxed in the sun. What I really like about the beaches in the area is that parking is really close by. We were able to park practically right next to the beach so it was easy to unload and load our tents and gears. There are several small shops along the beach and we stopped by a local ice cream shop after playing in the sun.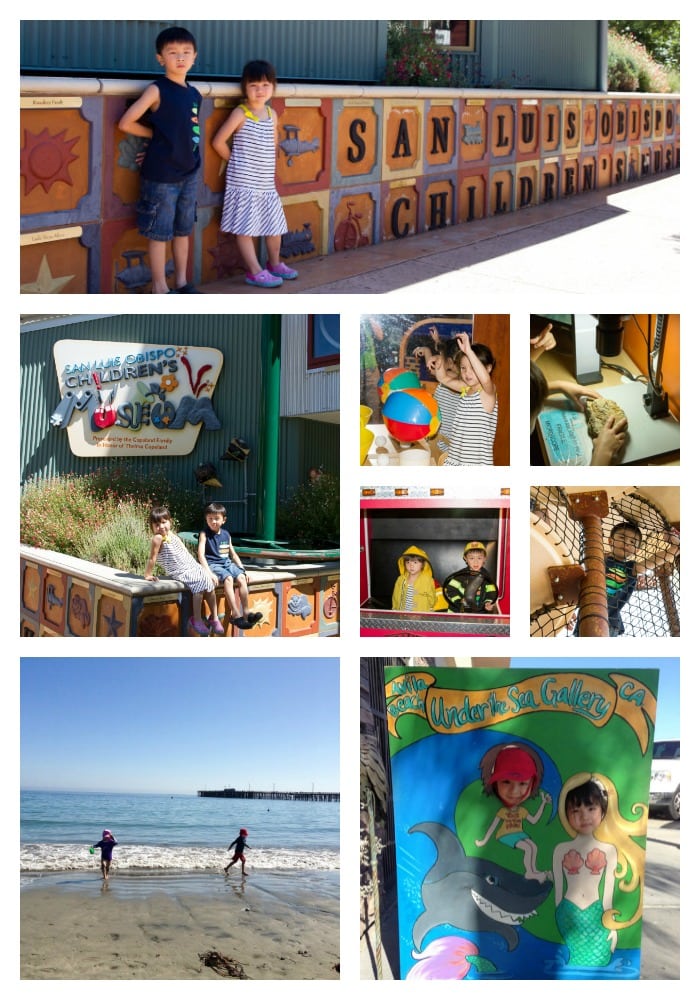 Morro Bay
On our last day, we visited Morro Bay and walked around the area. It's a very cute seaside town with lots of small shops and eating options. We debated whether to go since it's a bit out of our way, but we were really happy that we decided to go in the end. The best part about Morro Bay is its beach. The waves are no more than 6 inches high because a large breakwater blocks most of the wave. We felt really safe with our little ones running in and out of the ocean not having to worry about them being swept away by currents. If you have little ones, I highly recommend Morro Bay if they love playing in the ocean.
It was a fun and memorable trip and we'll definitely visit San Luis Obispo area again this summer! Let us know if you know great places for families to visit in California! Till next time…
Full Disclosure: Just One Cookbook was not compensated by any restaurants/hotels/shops/stores/wineries for this post.