Juicy Japanese BBQ meat with crunchy vegetables, wrapped in rice paper to seal in the deliciousness, these fresh spring rolls with Yakiniku make the best summer dish! Serve the spring rolls as the main dish on a warm summer night or as an appetizer for your next potluck or home party.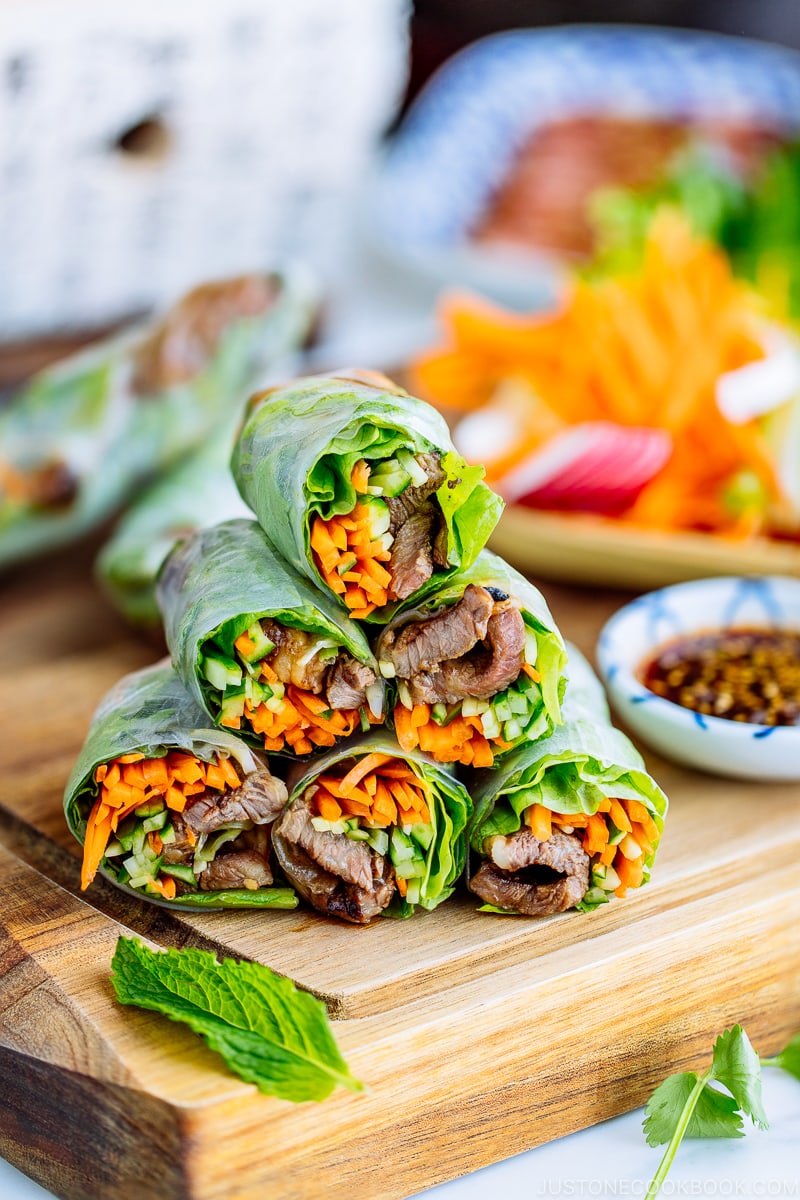 What do you like to prepare on a hot summer day when you want to avoid standing in the kitchen for a long time?
When I want to stay away from the stove, these Fresh Spring Rolls with Yakiniku (焼肉の生春巻き) are one of my favorite foods to make. I usually assign the hardest part of the work to our family head grill chef (thank you Mr. JOC!), and you too can do the same. Sounds good so far, right? All you need to do is wash the vegetables and cut them into julienned strips. Once the meat is done grilling, you just need to wrap up everything into light, colorful rolls.
Oh, did I mention you should dip these spring rolls in a homemade Japanese BBQ sauce too? Incredibly refreshing and packed with flavors, everyone who tries these will be in love!
Watch How to Make Fresh Spring Rolls with Yakiniku
Juicy Japanese BBQ meat with crunchy vegetables, wrapped in rice paper to seal in the deliciousness, these fresh spring rolls with Yakiniku make the best summer dish!
Gluten-Free Japanese BBQ Sauce
Yakiniku sauce (or Japanese BBQ Sauce) is sweet, savory & intensely flavorful, which makes it the best companion to grilled meats, thinly sliced short ribs, and many other grilled foods. Although there are several brands of Japanese BBQ sauce available in the Japanese grocery stores, they often come with a few sneaky ingredients on the labels that you may not want to eat.
Luckily, homemade Yakiniku Sauce is easy enough to make with the condiments you have in the kitchen. Make a large batch in advance and you'd be happy to use the leftover for the rest of the week.
To make it gluten-free, all you need is to swap the regular soy sauce with Gluten-Free Soy Sauces.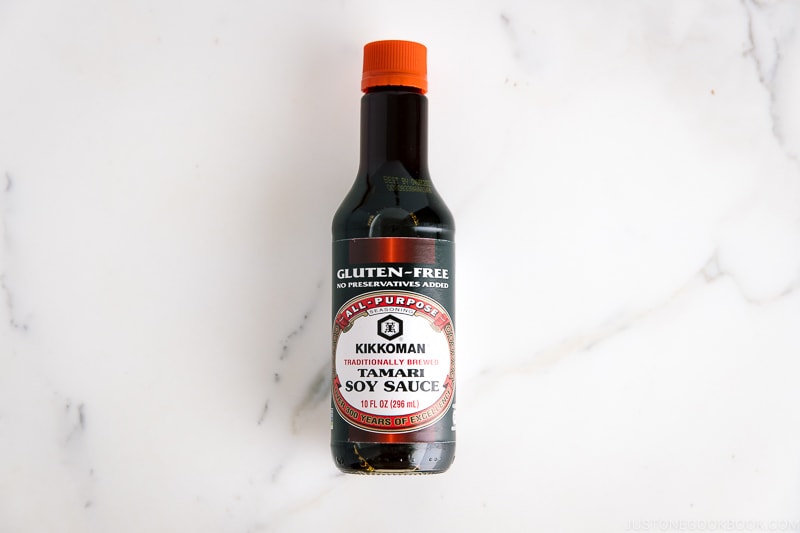 To make Fresh Spring Rolls with Yakiniku, I used Kikkoman's Gluten-Free Tamari Soy Sauce. If you do not have to make this recipe gluten-free, feel free to use regular soy sauce. The flavor is pretty much the same, so there is no need to adjust the amount.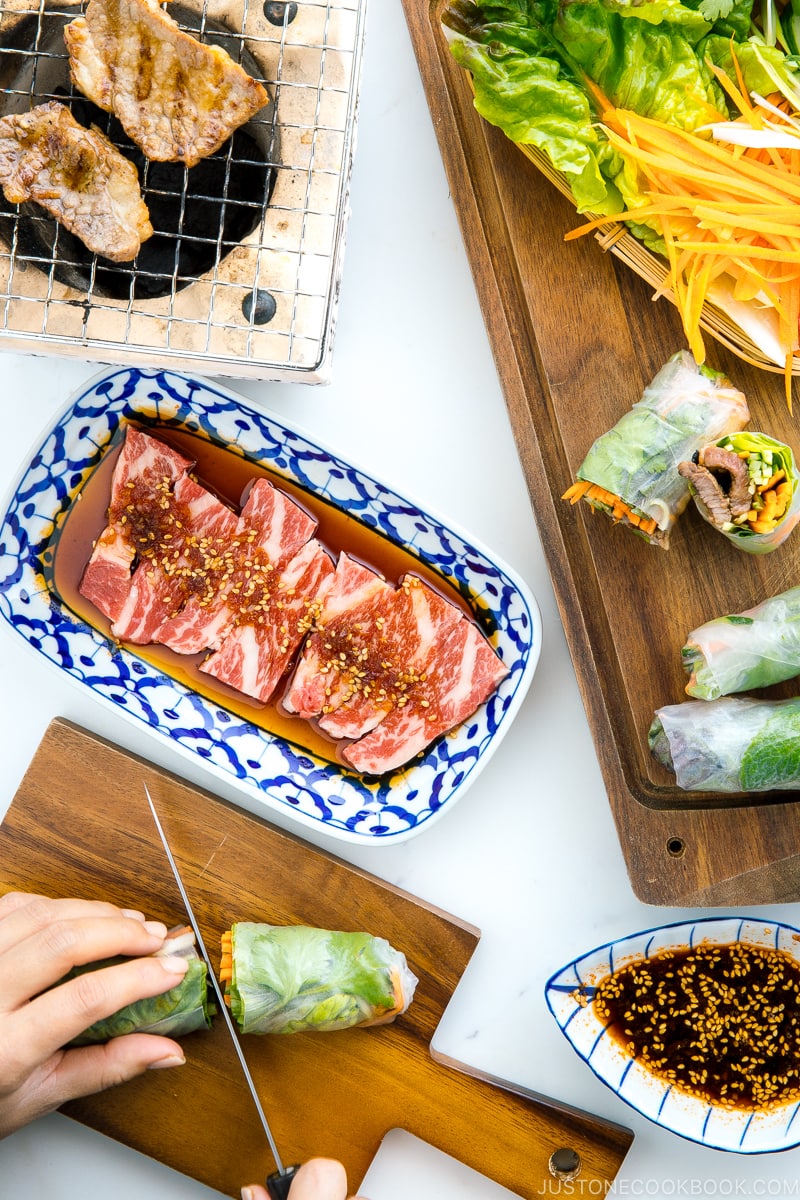 3 Tips to Make Fresh Spring Rolls with Yakiniku
1. Buy "Three Ladies Brand" rice paper
Some of you have asked for my recommendation for a rice paper brand. I've tried a few and my favorite choice goes to "Three Ladies Brand". The rice papers are easy to work with, and I find it easy to detach the spring rolls without tearing the rice papers when they stick to each other.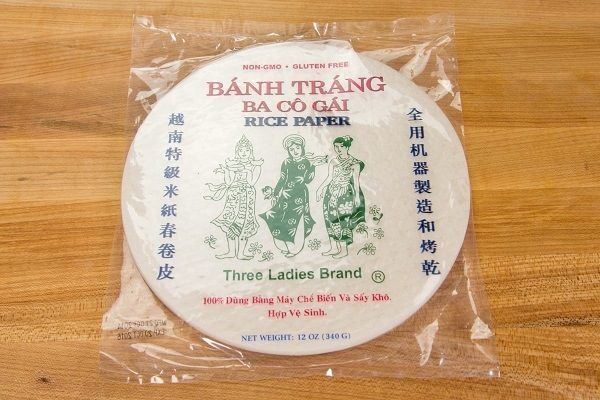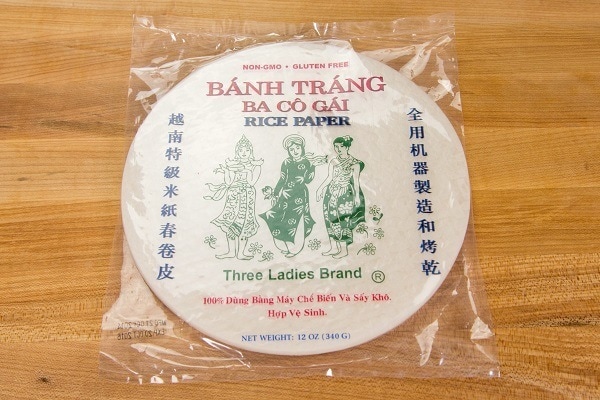 2. Start with less filling and "tuck tightly and roll"
If you've never worked with rice papers for spring rolls before, it's a bit like making pancakes: you just need a few practice runs to get better at it. To start off, do not over pile the filling. It's easier to work with less than more. Once you do a few rolls, you will get better at judging the right amount of filling. When you're ready to roll the wrappers, make sure your first fold over is tight enough to cover the ingredients. Then fold the side edges towards the middle to secure a nice package. Then give it another tight roll to finish off.
3. Adjust the amount of sugar
For those who are careful with their sugar intake, the amount of sugar (3 Tbsp sugar) that goes into the sauce might raise your eyebrow. Please feel free to adjust the amount, but remember that you need to counter the salty flavor from soy sauce with a sweetener. You can swap the sugar with honey or maple syrup if you like, but the final taste will be different from my recipe.
If you prefer the original taste of Japanese Yakiniku Sauce, follow this recipe, but don't go crazy with the sauce. The sauce is there to enhance the flavor of fresh ingredients you're eating.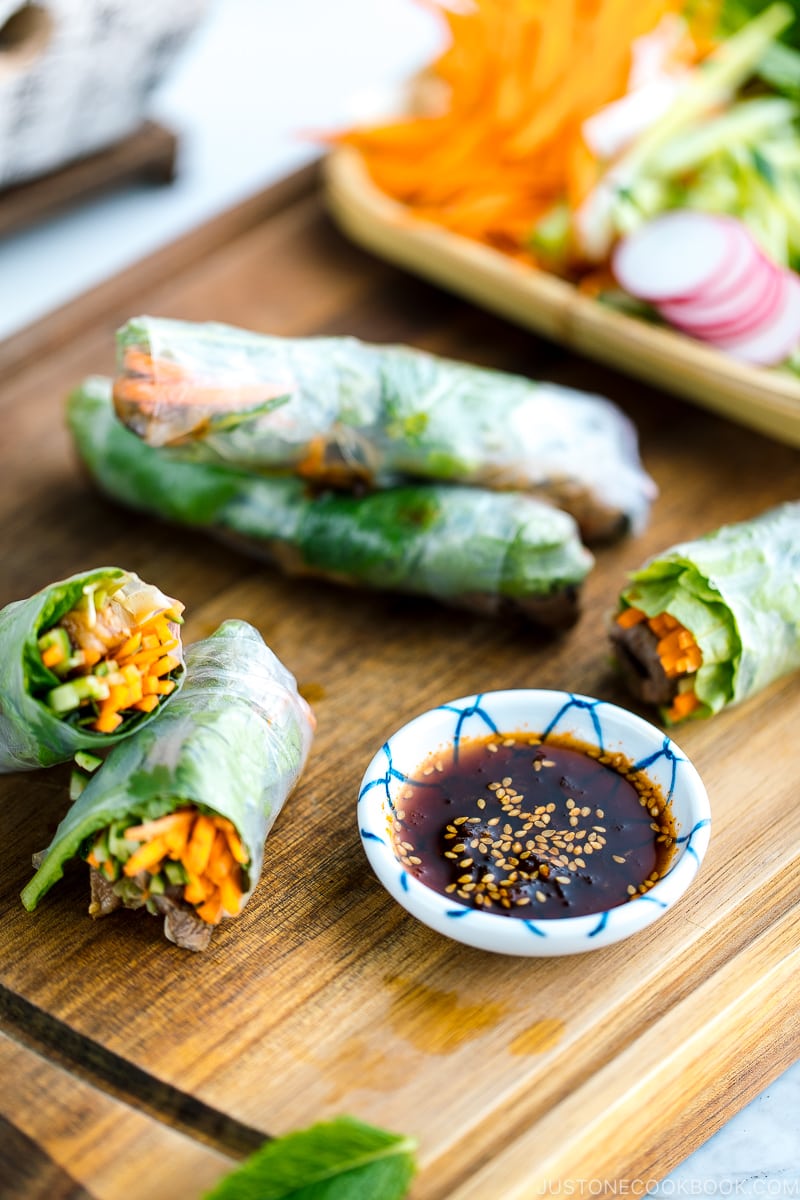 Various Filling Choices
For this recipe, I included lettuce, cucumber, and carrot – simple enough ingredients to assemble for a weeknight dinner. Below are some suggestions for the filling, but feel free to customize and work with whatever you fancy:
Protein Choices
Thinly sliced beef (short ribs, ribeye, and chuck)
Thinly sliced pork (pork belly and pork loin)
Strips of chicken breast and thighs
Shrimp/prawn
Strips of firm tofu
Boiled eggs, sliced or wedges
Vegetable Choices
Any kind of leafy lettuce
Carrot
Cucumber
Green onion
Garlic chives
Radishes such as daikon or red radish
Jicama
Avocado
Mango
Sugar snap peas
Red bell peppers
Bean sprouts
Herbs (mint, basil, cilantro)
Grilled eggplants
Grilled zucchini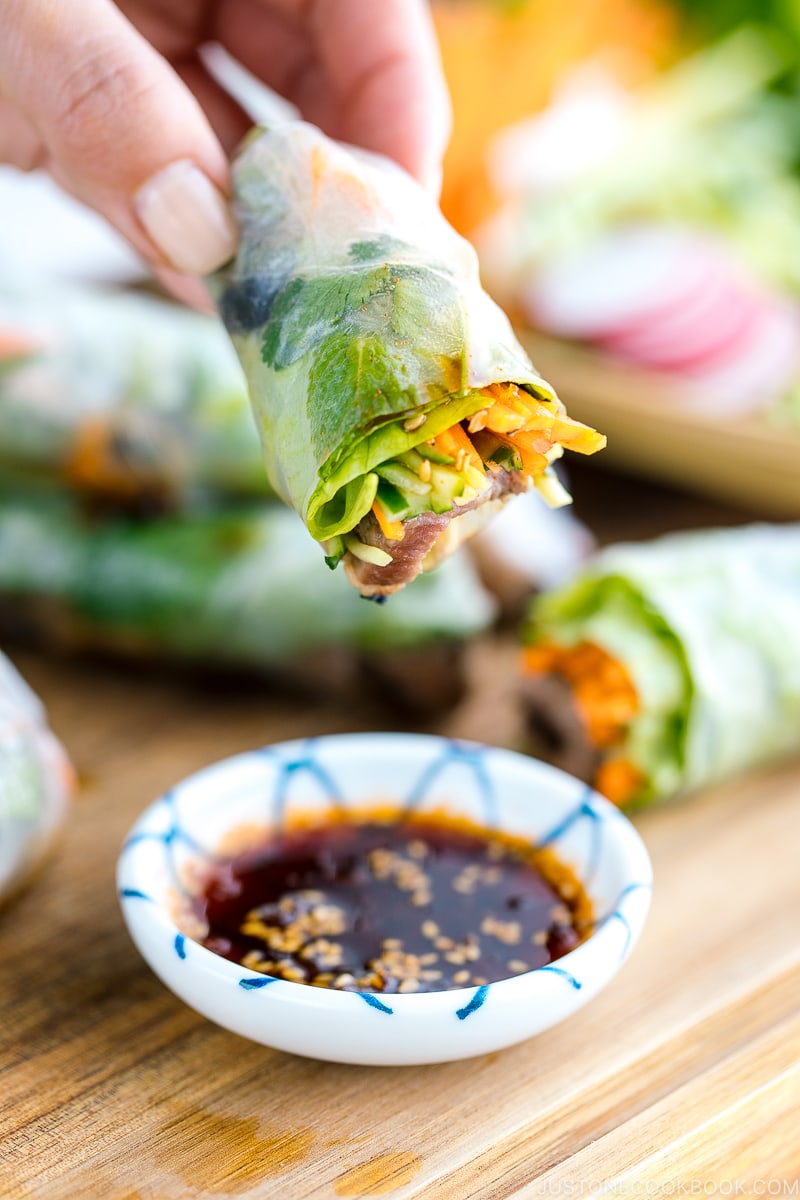 Make These Fresh Spring Rolls Vegetarian and Vegan
This recipe can make a wholesome meatless meal, perfect for those who are vegetarian and vegan. Swap the meat with grilled tofu and vegetables such as zucchini, eggplants, and bell peppers. You can also grill up an assortment of mushrooms in replace of the meat. They will work very well with homemade Yakiniku Sauce.
Bright and flavorful, I promise these fresh spring rolls will be a regular occurrence in your summer meal.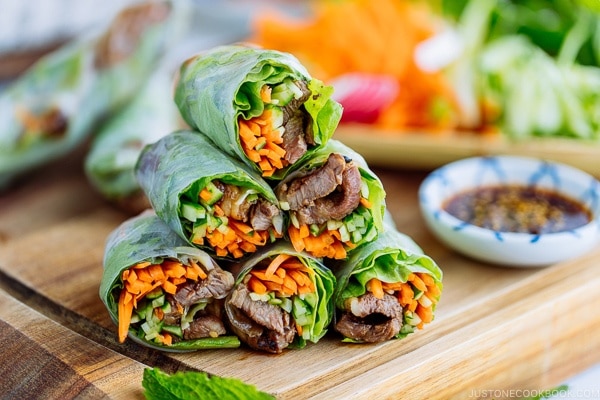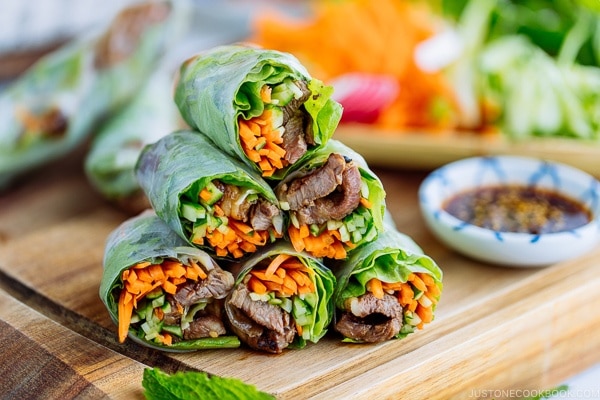 Japanese Ingredient Substitution: If you want to look for substitutes for Japanese condiments and ingredients, click here.
Sign up for the free Just One Cookbook newsletter delivered to your inbox! And stay in touch with me on Facebook, Pinterest, YouTube, and Instagram for all the latest updates.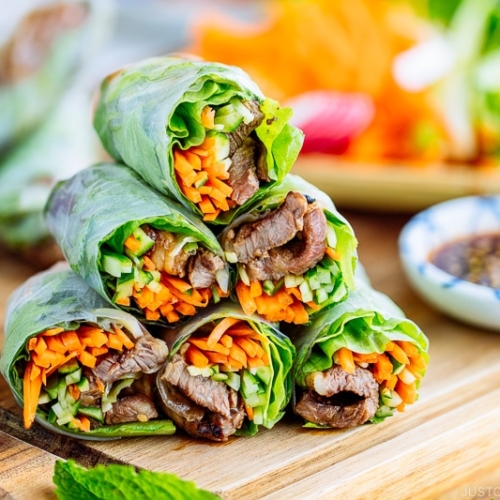 Fresh Spring Rolls with Yakiniku
Juicy Japanese BBQ meat with crunchy vegetables, wrapped in rice paper to seal in the deliciousness, these fresh spring rolls with Yakiniku make the best summer dish!
Video
Servings:
8
fresh spring rolls
Ingredients
4

leaves

red leaf lettuce

1

bunch

mint

1

bunch

cilantro (coriander)

¾

lb

thinly sliced short rib

1-2

carrot

1

green onion/scallion

1

Tbsp

neutral oil

8

rice papers
Japanese Ingredient Substitution:
If you want substitutes for Japanese condiments and ingredients, click
here
.
Instructions
Rinse the lettuce, mint, and cilantro and dry completely. Gather all the ingredients on the working surface.

Add all the ingredients for the sauce: ½ cup soy sauce, 3 Tbsp granulated sugar, 2 Tbsp mirin, 2 Tbsp sake, 1 Tbsp sesame seeds, ½ tsp gochugaru (or ichimi togarashi), ½ tsp sesame oil, and freshly ground black pepper.

Grate ¼ apple, ½ clove garlic, and ½ knob ginger.

Add the grated apple, garlic, and ginger into the sauce and mix all together.

Place the meat in a single layer and drizzle some of the sauce on top. The sauce does not have to cover the entire meat. In Japanese BBQ restaurants, they usually just drizzle a small amount to the meat. 

Peel the carrot. Use a julienne peeler or a knife to cut the carrot into julienned strips.

Cut the cucumber diagonally into thin slices and then cut them into thin strips.

Cut off the green part of the green onions and we will only use the white part. Cut the white part in half lengthwise and thinly slice into long strips. Soak in iced water to make them crisp and curl.

Heat the griddle or frying pan or outdoor grill and brush the oil on the griddle. When it's hot, start cooking the meat. Once you get nice char on one side, flip and cook the other side. Cooking time varies depends on the meat and its thickness. Set aside.

Once all the food is prepared, pour hot water into a large bowl. Working with 1 wrapper at a time, soak the wrapper in the hot water and rotate 2-3 times, about 5 seconds. The wrapper will still feel slightly stiff but don't worry, it will become softer. Place it flat on a plate.

Lay the lettuce, carrot, cucumber, white part of green onion, and grilled meat at bottom 1/3 of the rice paper.

Pick up the bottom of the rice paper and press firmly down to hold the filling in place. Roll tightly once.

Around the middle of the rice paper, fold both sides into the center and roll up tightly 1-2 times.

Right before finish rolling, place the mint and cilantro leaves on the rice paper and finish rolling up. This way, you can see through the mint and cilantro. Set aside and cover loosely with plastic wrap. Repeat with the remaining rice papers and fillings.

Cut in half or in thirds, and serve with the Yakiniku Sauce.
To Store
If not serving immediately, keep the spring rolls tightly covered with plastic wrap at room temperature for up to 2 hours.
Nutrition
Nutrition Facts
Fresh Spring Rolls with Yakiniku
Amount per Serving
% Daily Value*
* Percent Daily Values are based on a 2000 calorie diet.
©JustOneCookbook.com Content and photographs are copyright protected. Sharing of this recipe is both encouraged and appreciated. Copying and/or pasting full recipes to any website or social media is strictly prohibited. Please view my photo use policy
here
.