Win a beautiful glass lid GohanGama rice cooker from Hario USA today! 5 winners will be selected.
We're partnering with Hario USA to give away my personal favorite GohanGama rice cooker to 5 lucky winners! With special built-in features that allow you to cook fluffy and delicious rice, this Japan-made rice cooker will be a wonderful addition to your kitchen.
Enter now for your chance to win!
What I love about Hario's GohanGama Rice Cooker
Let me tell you 5 things I love about Hario's GohanGama rice cooker.
The rice tastes unbelievably fragrant and good. No joke! Even my kids could tell the difference and often request for the rice to be prepared in GohanGama.
The inner water line for 2 rice cooker cups and 3 rice cooker cups is genius.
You can see the rice cooking process through the glass lid. What a game-changer. I can see what's going on inside without opening the lid, which is a big no-no for cooking rice in a pot.
The whistle alert lets you know when to stop cooking. You get perfectly cooked rice every single time.
It is very sturdy compared to my other clay pot rice cooker, and I feel less nervous about chipping the clay pot while washing it.
You can read more about the special features here.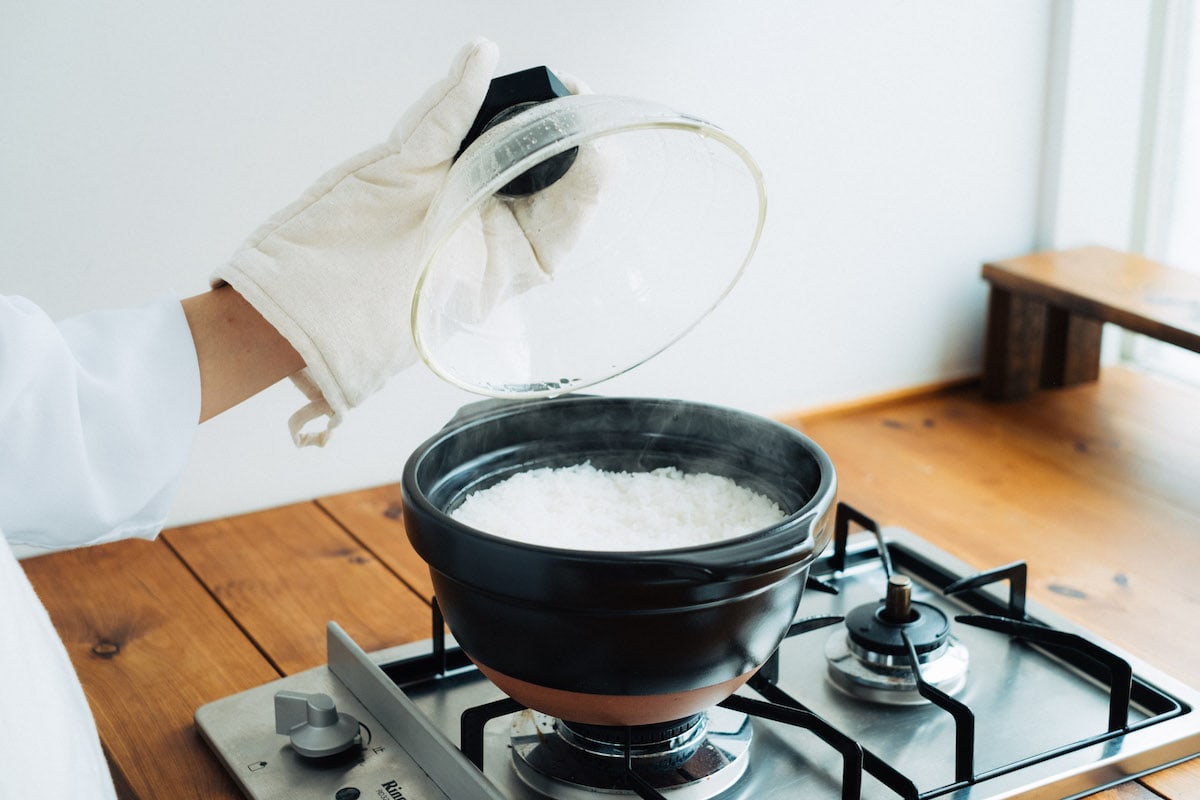 About Hario USA
Hario began their history as a manufacturer of laboratory glassware in Tokyo, Japan in 1921. In 1948, the company expanded their production to household items, starting with the coffee syphon.
Today, Hario continues to make a variety of items, from microwave-safe kitchenware and coffee and tea implements to aromatherapy and pet products.
JOC DISCOUNT CODE:
A special 15% off discount code for JOC readers: Nami15.
You can use this code to shop at Hario USA website (discount will apply to everything) between September 23 to October 7, 2022.
GIVEAWAY RULES:
Please Note: Your email for the comment entry has to match with your email address in my Email Newsletter Subscription mailing list.
This giveaway contest closes on Friday, October 7, 2022, at 12 p.m. PST and is open to the US Only (excluding Hawaii & Alaska).
Five (5) winners will be selected via Random.org and contacted via email, so please include a valid email address in the email address entry box (please double-check your spelling!).
The winners are required to respond within 36 hours to claim the prize.
(CLOSED) HOW TO ENTER:
The more tickets/comments left on this blog post will increase your odds of winning. Good luck!
Ticket 1 (Required): Follow Hario Instagram and leave a comment below.
Ticket 2 (Required): Subscribe to JOC Email Newsletter if you haven't and leave a comment below.
Ticket 3 (Optional): Follow my Instagram and leave a separate comment below.
Ticket 4 (Optional): Like my Facebook and leave a separate comment below.
Ticket 5 (Optional): Subscribe to my Youtube channel and leave a separate comment below.
***
The giveaway is now closed. The winners are:
Yan
Cheryl Chua
pipensu
Chong
Carol
Congratulations! We'll contact you shortly.