Fall Giveaway: Win hojicha powder, a delicious roasted green tea product from Kyoto, from Hojicha Co. Eight lucky winners will be selected!
My family loves hojicha, so I'm excited that we get to partner with Hojicha Co. again to giveaway their hojicha roasted green tea powder (100g) to 8 lucky winners of Just One Cookbook.
Hojicha powder is the perfect ingredient for crafting modern beverages and tea-infused Japanese desserts at home. You can also use it as a substitute for matcha powder in all of your favorite recipes.
Looking to try out this new tea flavor? Enter now for your chance to win this giveaway!
About Hojicha Co.
Hojicha Co. brings the Japanese roasted green tea experience to homes and cafes outside of Japan by providing freshly roasted green tea made from tea leaves grown exclusively in Kyoto.
Founded by Danielle Geva and Francois Mathieu and launched in 2018, the company's goal is for everyone to enjoy the rich and distinctive flavor of hojicha. They offer a wide range of roasted tea leaves and the original Hojicha Powder, the key ingredient for preparing the famous hojicha latte. All their teas are expertly roasted in small batches in Kyoto and packaged in Japan for optimal freshness and taste.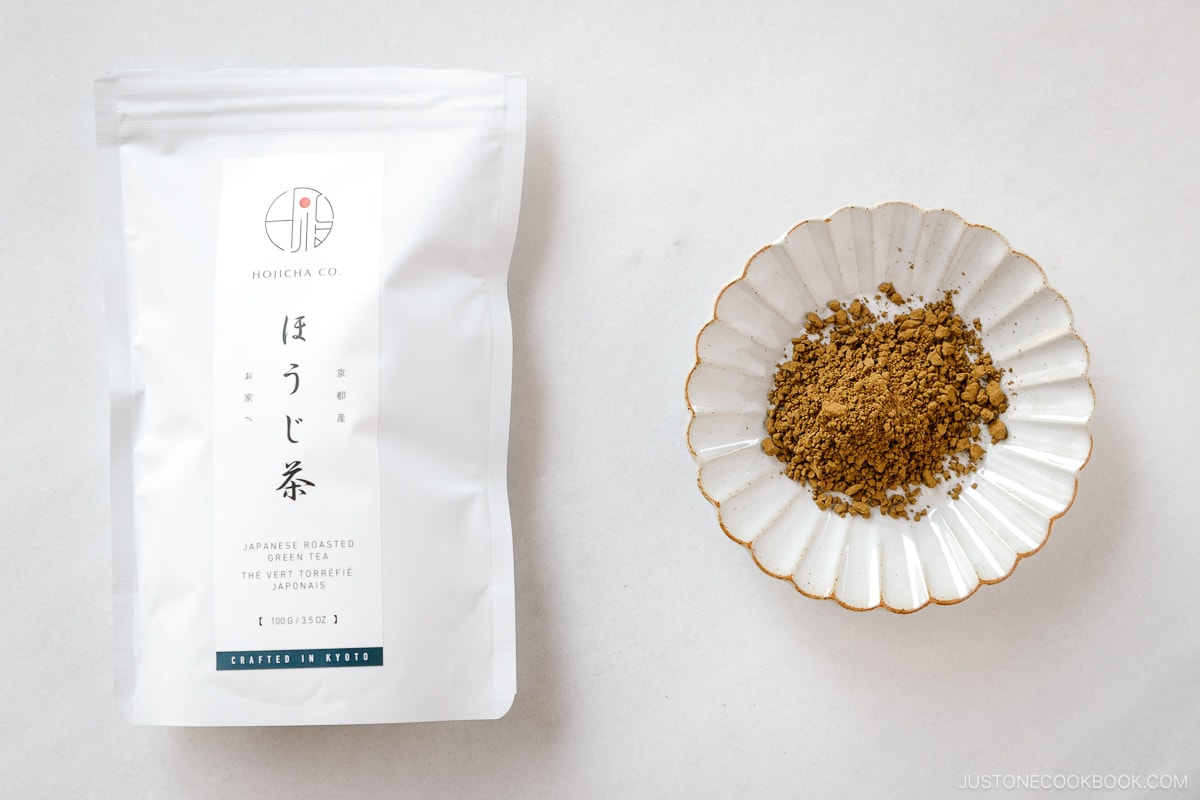 More About Hojicha
Hojicha is a Japanese green tea that originated in Kyoto 100 years ago. Unlike traditional green teas, hojicha is roasted after the leaves are steamed. Along with removing all bitterness, the roasting process gives hojicha its signature earthy aroma, its reddish-brown color and a unique smoky taste.
Since it is low in caffeine, hojicha is the perfect alternative to coffee for those seeking a warm and toasty drink in the afternoon or evening.
For hojicha powder, the tea is expertly roasted and then milled into a superfine powder for a smooth experience. You can use hojicha powder to make hot chocolate, Kyoto Fog, latte macchiato, whipped hojicha, pudding and more! Check out the recipes here.
WATCH: How to Make Hojicha Yuzu Tea Latte
Special Discount for Just One Cookbook Readers
Hojicha Co. is also offering Just One Cookbook readers a 8% discount on all items for your first order.
Discount Code: JOC8
You can use the code at the checkout. The code expires on November 30, 2023 and are limited to one use per customer.
GIVEAWAY RULES:
Please Note: Your email for the comment entry has to match with your email address in my Email Newsletter Subscription mailing list.
This giveaway contest closes on Monday, November 20, 2023, at 12 p.m. PST and is open to the US, Canada, and the UK Only.
Eight (8) winners will be selected via Random.org and contacted via email, so please include a valid email address in the email address entry box (please double-check your spelling!).
The winners are required to respond within 48 hours to claim the prize.
HOW TO ENTER (CLOSED):
You can enter up to 6 tickets (max) to increase your odds of winning. Good luck!
Ticket 1 (Required): Subscribe to Hojicha Co. newsletter and let us a separate comment below on this post.
Ticket 2 (Required): Subscribe to Just One Cookbook Email Newsletter if you haven't and leave a comment below on this post.
Ticket 3 (Optional): Follow JOC Instagram and then leave a separate comment below on this post.
Ticket 4 (Optional): Follow Hojicha Co. Instagram and leave a separate comment below on this post.
Ticket 5 (Optional): Follow JOC Facebook and then leave a separate comment below on this post.
Ticket 6 (Optional): Like JOC Pinterest and leave a separate comment below on this post.
***
The giveaway is now closed. The winners are:
Pauline
Donald
J Lee
Liza
Helen S
Keiko L
Sherry
Lydia
Congratulations! We'll email you shortly.