This post may contain affiliate links. Please read my disclosure policy for details. As an Amazon Associate I earn from qualifying purchases.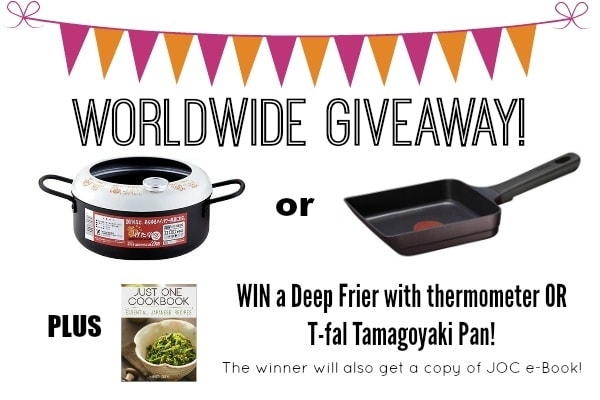 This giveaway is exclusive to Just One Cookbook Email Newsletter Subscribers!
Thank you so much for subscribing to my newsletters and staying in touch with my blog! As a small token of my appreciation, I host a monthly giveaway just for my dearest subscribers.
This month since I'm still in Japan I decided to send a gift from here. When I asked my fans on Facebook and Instagram what they like to get, several people requested deep fryer with a thermometer and T-fal Tamagoyaki pan that I use (but can't find in the US). Due to the cost of shipping, I'll only be able to pick one winner this month and will adjust the # of winners or the gift next month. The winner can either pick the deep fryer or the tamagoyaki pan.
Starting this month, the winner(s) will also receive a copy of my e-Book, Just One Cookbook – Essential Japanese Recipes. One of my readers wished that my e-Book is a part of my monthly giveaway so I am including it now. Thank you for the suggestion, I am happy to add it.
Important Rule:
You can enter ONLY one comment per subscriber.
Your email entry has to match with your email address in my Email Newsletter Subscription mailing list.
In the comment box below,

please let me know if you're interested in joining a community page on my website

 where readers and fans can

Ask questions (to me or other fans)
Exchange information (about traveling and recipes)
Share pictures of their food
Connect to each other to share their love for Japanese food and culture.
You can answer YES or NO. And if you like (this is optional), please write additional feedback on this idea.
This giveaway closes on Wednesday, July 22, 2015 at 12 p.m. PST and is open to participants worldwide (everyone!).
One (1) winner will be selected via Random.org and contacted via email, so please include a valid email address in the email address entry box (please double check your spelling!). The winner is required to respond within 72 hours to claim the prize.
Full Disclosure: This giveaway is sponsored by yours truly.
*****
Thank you so much for participating this giveaway! The winner is…
Congratulations Stephanie (#505)! I'll email you shortly…