Hi Everyone,
Sorry for disappearing for over a week, I was actually busy working behind the scene for the Just One Cookbook reboot.
If you are a Just One Cookbook reader, I hope you will enjoy the updated look and feel of the website, as well as some of the new functionality we've enhanced. All the enhancements came from your valuable feedback on what would make the website easier and better for you to use.
If you are new to Just One Cookbook, welcome!
From time to time, websites get stale as technology improves and we expect more for the user experience on the site. I try to update Just One Cookbook about once a year to keep up with all the changes.
(click to enlarge)
In 2013 the big update made the site more mobile friendly, and for this update in 2015, the key feature is to make your recipe search on the site effortless.
Here are some of the key enhancements:
1) New improved recipe search, and now the search box appears much faster than before.
2) Featured Just One Cookbook YouTube video at the top of the page.
3) The recipes by category on the Home page will change frequently. Hopefully there will be something you find tasty there.
4) Each recipe post has a quick short cut on top of the post where you can click the button to print out the recipe or jump to the recipe card.
5) The coolest feature I've added is search function by filter. Now you can search not just by keywords, but also by ingredients, types of dish, cooking method, etc.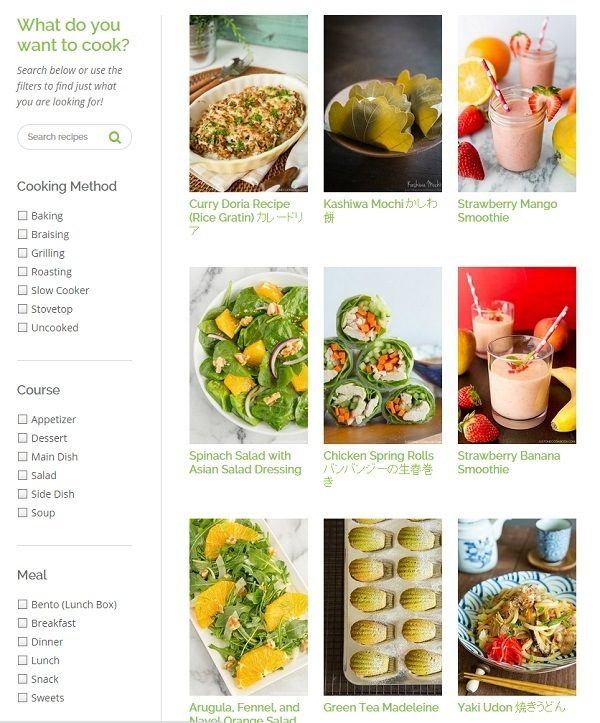 6) Updated Pantry and How To pages. I hope the new layout with images is helpful for you to find what you are looking for.
I've been testing the site for over a week now and I am really happy with it. The recipes and the font seems easier to read, and I've also remove some ads so the site loads faster.
As of now the images are still uploading so you see a lot of missing ones, but all of images should appear within a day.
I want to thank you again for your support and patience with me disappearing over the past week.
Lastly, I want to give a shout out to Emily White, who has been nothing short of amazing going through this journey with us. If you're a blogger looking for an update, I'd highly recommend her.
So… what's your verdict? Please let me know. The recipes and posts will now continue on Just One Cookbook and let's go cooking!
Nami