Just One Cookbook is hosting an international giveaway. Enter for your chance to win a pair of Japanese knife from the world-famous Japanese specialty knife store – Kamata Hakensha.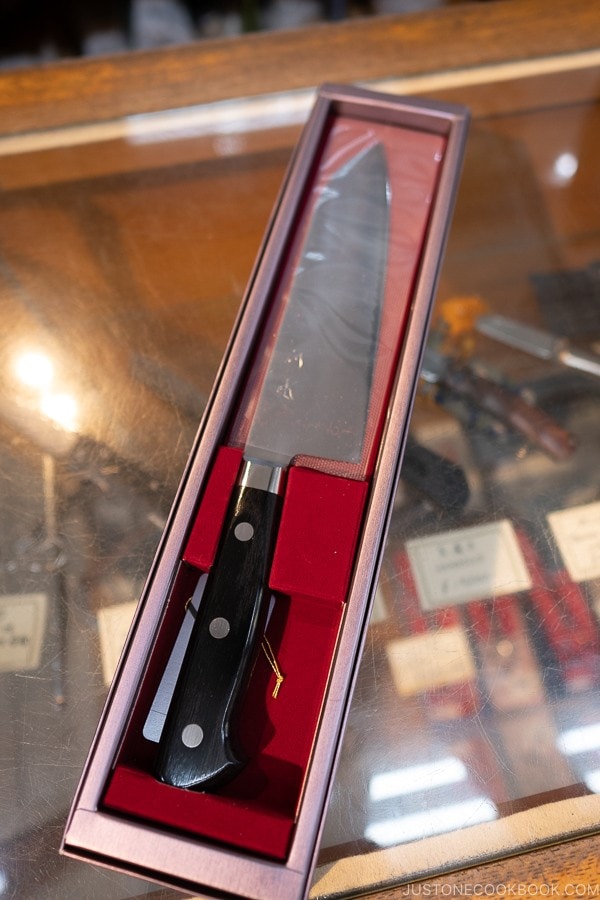 Any professional chefs or avid home cooks would attest that a good pair of knife is a true workhorse of the kitchen. In Japan, knife-making is a respected art form that can be traced back to many centuries during the samurai days and their sharp swords. Many traditional Japanese knives are designed to perform a wide range of specialized tasks, from slicing sashimi, cutting vegetables, preparing unagi to butchering meat. Although many of the traditional craftsmanship have faced challenges in continuation, the Japanese knife craft is fortunately still well-preserved until these days.
During our 2-month summer stay in Japan, my family and I have the opportunity to visit Kamata Hakensha, one of the most well-respected knife shops. With over 800 knives on display, we were completely in awe to see so many knives with unique designs and features.
So I'm really excited to host a giveaway of a pair of a top-quality knife from Kamata Hakensha on Just One Cookbook.
Kamata Hakensha: Best Knives from Japan
Established in 1923 with a history spanning four generations, Kamata Hakensha is one of the oldest and famous kitchen knife stores in Japan. Located in downtown Asakusa, the store offers more than 800 types of knives which include traditional Japanese handmade knives designed by the owner and factory-made knives that meet the strictest quality checks. Chefs and passionate gourmands around the world visit the store to hunt for the perfect blade.
If you have a chance to visit Tokyo, you may want to make a stop at Kamata Hakensha located on Kappabashi Kitchen Town or Kappabashi Dougu Street. You may pick out a knife as a souvenir for a passionate cook in the family.
Kamata Hakensha (Kenmax, Inc.)
Address: 2-12-6 Matsugaya, Taito-ku, Tokyo (see map below)
Phone: 03-3841-4205
Website: http://kap-kam.com/index_en.html
This particular Santoku knife that we'll be giving away is an utter pleasure to work with. The Santoku bōchō (knife) (三徳包丁) is a general-purpose kitchen knife originating in Japan. It is as sharp as can be, lightweight, and comfortable to hold, and I know you're going to enjoy it!
GIVEAWAY RULES – How to Enter to Win a Pair of Kamata Knife :
This giveaway contest closes on Aug 31, at 12 p.m. PST and is open worldwide to everyone. The winner will be notified on this page and via email and must respond within 48 hours before I choose next winner.
Please Note: Your email for the comment entry has to match with your email address in my Email Newsletter Subscription mailing list.
HOW TO ENTER:
The more tickets/comments left on this blog post will increase your odds of winning. Good luck!
Ticket 1 (Required): To be eligible to win this giveaway, please subscribe to my newsletter AND leave a comment below (with the same email as your subscription) and tell us if you read travel posts on our blog. If yes, how can we improve? If no, let us know what content besides Japanese recipes you're interested in. 
Ticket 2 (Optional): Follow my Instagram and then leave a separate comment below on this post.
Ticket 3 (Optional): Subscribe to my YouTube channel (and click on "bell" icon) and leave a separate comment below on this post.
Ticket 4 (Optional): Like my Facebook and leave a separate comment below on this post.
Ticket 5 (Optional): Follow my Pinterest and leave a separate comment below on this post. 
Full disclosure: This giveaway is sponsored by yours truly.
*****
Thank you for participating this giveaway! The winner is…
The winner is Albert (#1274). Congratulations! I'll contact you shortly via email.