This post may contain affiliate links. Please read my disclosure policy for details. As an Amazon Associate I earn from qualifying purchases.
Are you counting down to a very Mele Kalikimaka? To get you in the spirit, we once again partner with Honolulu Cookie Company to give away their 2018 Holiday Collection of 'Mele Kalikimaka' cookies to 3 lucky winners!
Mele Kalikimaka is the thing to say on a bright Hawaiian Christmas day…That's the island greeting that we send to you. From the land where palm trees sway.
Inspired by the flavors of Hawaii, Honolulu Cookie Company are releasing their holiday shortbread cookies with unique tastes like Kona coffee and tropical fruits from the island. And they are giving Just One Cookbook readers a chance to taste the deliciously handcrafted shortbread cookies. Don't forget to enter to win this amazing giveaway!
Mele Kalikimaka Holiday Collection – Premium Shortbread Cookies
A stitch in a quilting pattern, a cookie dipped in fine chocolate, a perfectly tied ribbon – each one designed to warm the heart and make you feel comfortable; welcome. This 2018 Holiday Collection is the latest gift from Honolulu Cookie Company with their hand-crafted legacy of Aloha.
The cookies are given their signature pineapple shape of Hawaii. As pineapples are the symbol of hospitality, they are one of the guiding stars. They carry through to their pineapple Hawaiian Quilt design as a way to welcome visitors and guests from around the world to enjoy something sweet together.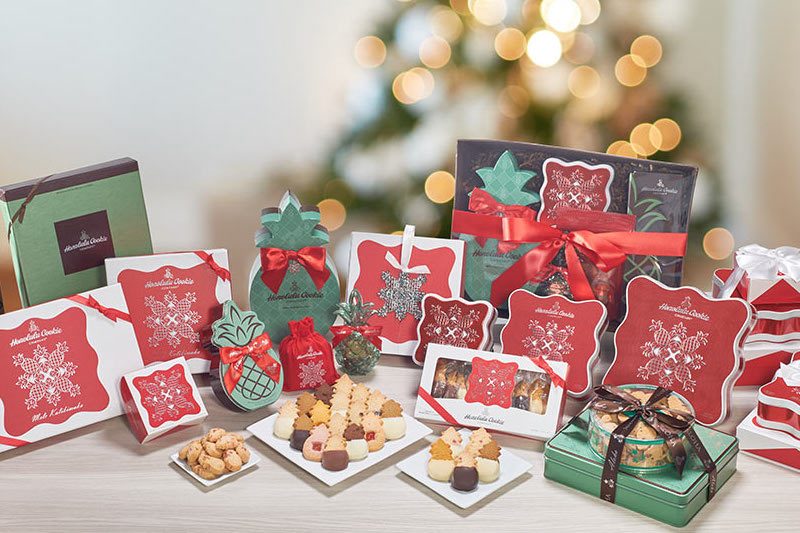 Baked fresh each day with only the finest ingredients, these premium, Hawaiian-inspired shortbread cookies are the best way to bring cheers to your loved ones.
The lucky winners will receive an assortment of boxes which include:
Mele Gift Tin
Mele Pineapple Tin
Mele Keepsake Box
Mele Window Gift Box

Where to Get Honolulu Cookies?
Honolulu Cookies are now available online or at other retailer stores in various locations such as Bloomingdales in California, Disney store in Florida, Tommy Bahama stores throughout the US and Japan and so on.
These cookies are baked fresh daily, made with the finest ingredients and natural Hawaiian fruit flavors, and individually wrapped to maintain their delicious oven-fresh quality. Did you know each cookie is individually wrapped and packed by hand too?
Click here to learn about Honolulu Cookie Company and the delightful cookies.
GIVEAWAY RULES:
Please Note: Your email for the comment entry has to match with your email address in my Email Newsletter Subscription mailing list.
This giveaway contest closes on Friday, December 7, at 12 p.m. PST and is open to US residents only. 
Three (3) winners will be selected via Random.org and contacted via email, so please include a valid email address in the email address entry box (please double check your spelling!).
The winners are required to respond within 36 hours to claim the prize.
HOW TO ENTER:
The more tickets/comments left on this blog post will increase your odds of winning. Good luck!
Ticket 1 (Required): Subscribe to Honolulu Cookie Company Instagram and leave a separate comment below on this post.
Ticket 2 (Required): Subscribe to my Email Newsletter if you haven't and leave a comment below on this post. 
Ticket 3 (Optional): Follow my Instagram and then leave a separate comment below on this post.
Ticket 4 (Optional): Subscribe to my YouTube channel and leave a separate comment below on this post.
Ticket 5 (Optional): Like my Facebook and leave a separate comment below on this post.
*****
Thank you for participating in this giveaway contest! The winners are…
I'll email you shortly!