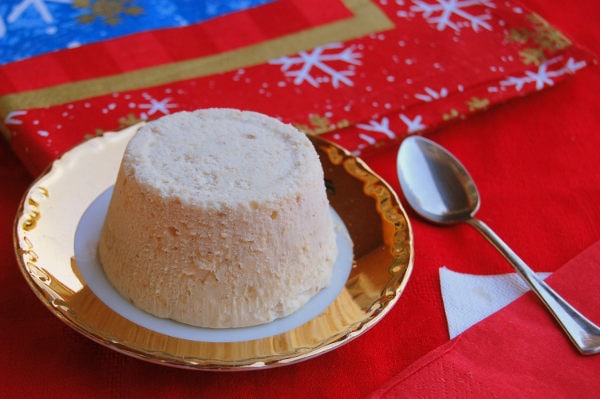 While I'm visiting my in-laws in Taiwan with my family, I've asked my long time blogger friends to blog-sit for me like asking a good friend to house sit when you go on vacation. They have prepared wonderful holiday recipes for Just One Cookbook readers so I hope you will enjoy reading their recipes. My blog sitter today is Giulia of Alterkitchen.
Giulia lives in Italy where my husband and I long to visit one day in the future. She's one of my very first friends I made through blogging and she's genuinely a nice and fun person to talk with. I love her sense of humor and our discussion topic varies from food to American TV shows that both of us love.

When I first found her blog Alterkitchen it was an exciting moment for me because 1) I love Italian food and 2) it's rare to find an authentic Italian blogger who writes in English! Later on when I found out that she actually maintains two blogs, one written in English and the other in Italian, I had unexplainable admiration for her. As an English as a second language speaker myself, I know how hard it is to maintain a blog in English. I constantly struggle maintaining one blog but she has two to take care of. The best part about Giulia's blogs is that she shares really good food, both savory and sweets, that I'm sure you will enjoy as if you're taking a culinary trip through Italy.

It's truly been a wonderful pleasure to read Giulia's blog and it's also been a fun experience to get to know new Italian food and some tidbits about Italian cultures that I am not familiar with. Her site features mainly Italian food but there are other delicious dishes featured as well. You can also visit her online at Facebook. Please welcome Giulia with her delicious Italian Christmas dessert.
Welcome Giulia! Please tell us a little bit about yourself.
I'm Giulia, I'm Italian and I'm 26 years old. I recently graduated in Art History and I still have to find my place in the world… but for now that place is my kitchen.
Please tell us a little bit about your blog.
I started my blog, Alterkitchen, shortly after my graduation. I have an Italian blog and an English one, so I can share my recipe and my experiences with people from all around the world. I blog mostly about Italian cuisine, but not just that.
How do you feel about your own food blogging experience so far?
I have to admit that my blogging experience so far was wonderful: I met a lot of interesting people, I learned new recipes, I improved my English and I loved every single post and comment on my blog.
If you can give one advice to a new food blogger, what would it be?
Believe in your blog, always. It's the only way it could really work!
What would you advise to a new cook or someone who wants to start cooking at home more?
If you want to learn how to cook, you have to read (books and blogs), but most of all you have to try and cook… sure, at first you'll make a lot of mistakes but then you'll learn and you'll really improve your skills.
Thank you Giulia! From here I will let Giulia take over and show us what she prepared. Enjoy!
Torrone (nougat) is a very popular sweet in Italy, and we eat it especially during Christmas holidays. There are at least a thousand different kinds of torrone: hard, soft, semi-hard, with hazelnuts, almonds, pistachios, covered in chocolate, covered in glaze, big, small and so on..
Well, the funny thing is… I don't like nougat! My mom could practically eat a ton of it (so it's not genetically), and instead I don't like it so much, basically 'cause it's too sweet for my tooth.
But, after Christmas holidays, it's practically impossible living in an Italian house without seeing nougat all around, since it's a very common gift and it's also very used in Christmas goodie baskets.
So, if you want to use some of those leftovers or if you actually love nougat and you'd like to make a very Christmas sweet, very easy and very sensational, here it is my SEMIFREDDO AL TORRONE (nougat semifreddo).
Enjoy them and… Merry Christmas!
Wish to learn more about Japanese cooking? Sign up for our free newsletter to receive cooking tips & recipe updates! And stay in touch with me on Facebook, Pinterest, YouTube, and Instagram.
Nougat Semifreddo
Italian dessert made with Torrone (nougat), a very popular sweet during Christmas holidays in Italy. Garnish with chocolate sauce and enjoy!
Ingredients
200

g

white hard nougat

(or little nougats, I used hazelnut nougat, but almond one it's perfect too)

2

large eggs (50 g each w/o shell)

40

g

sugar

200

ml

heavy (whipping) cream

dark chocolate

(or extra-dark chocolate, to garnish)

milk

(to garnish)
Japanese Ingredient Substitution:
If you want substitutes for Japanese condiments and ingredients, click
here
.
Instructions
Put the nougat in the freezer for at least a couple of hours and then chop it finely with a blender.

Separate the egg whites from the yolks. In a bowl beat the egg whites with a pinch of salt and a pinch of powdered sugar, until they're stiff. In another bowl, beat the yolks with sugar. In a third bowl, whip the cream.

Now, mix everything together with a wooden spoon or a spatula, mixing from bottom up (being careful to not deflate the mixture); then add the chopped nougat.

Pour the mixture in single-portion cups (I used the disposable aluminum ones), cover them with aluminum foil and then put them in the freezer for at least 10 hours before serving them (but you could prepare this dessert even a week before, or more).

When you serve your semifreddi (plural), take them out of the mold on dishes and, if you want to, garnish them with a sauce made with melted chocolate and a drizzle of hot milk (to make your sauce more fluid), or with a ganache made with melted chocolate and piping hot whipping cream.
Notes
The recipe is provided by Giulia of Alterkitchen.
Nutrition
Nutrition Facts
Nougat Semifreddo
Amount per Serving
% Daily Value*
* Percent Daily Values are based on a 2000 calorie diet.
©JustOneCookbook.com Content and photographs are copyright protected. Sharing of this recipe is both encouraged and appreciated. Copying and/or pasting full recipes to any website or social media is strictly prohibited. Please view my photo use policy
here
.