Join us and admire at the surreal gigantic whale sharks and enjoy the dolphin show at Ocean Expo Park, then head over to Okinawa Ryukyu Village to partake in the Ryukyu folk music and dancing!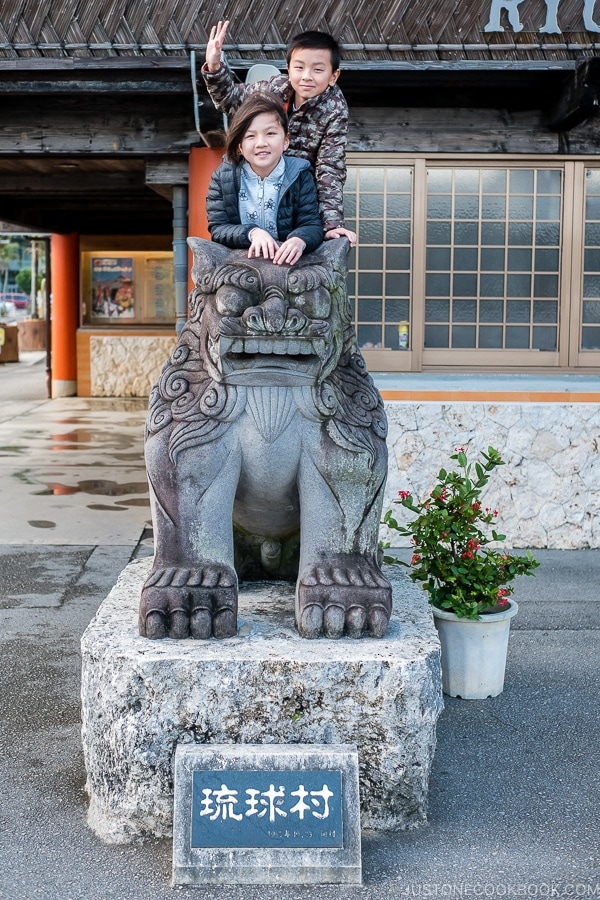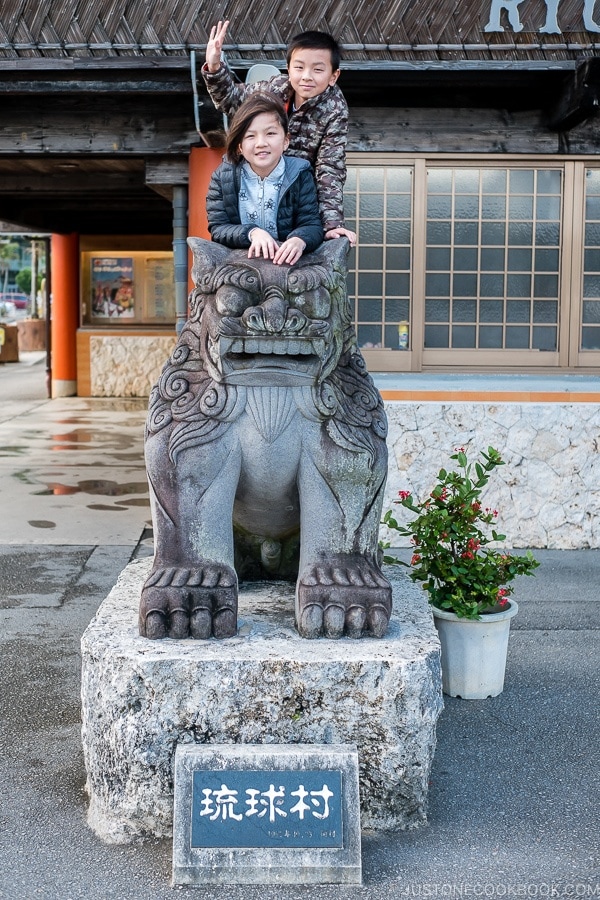 Our family took a trip to Okinawa – the most southern islands of Japan last December. Since it was winter time, we didn't get to enjoy the famed beautiful sandy beaches but there are so many activities to do on the island. From visiting the caves at Okinawa World to seeing the giant whale sharks at Okinawa Churaumi Aquarium, we got to experience the many personalities of Okinawa and of course, ate all different types of Okinawan food.
Nami will be sharing Okinawan recipes on the blog as I shared our travel experience in Okinawa. Hopefully, our travel tips will come in handy when you are ready to visit this island paradise.
For this travel series, we'll share the following posts:
Okinawa World – おきなわワールド (recipe – Rafute)
Ocean Expo Park and Ryukyu Village – 海洋博物館・琉球村 (recipe – Sata Andagi)
Shuri Castle and Nakagusuku Castle – 首里城 & 中城城 (recipe – Taco Rice)
Kokusai Dori, Shikinaen, Busena Marine Park, and Peace Museums – 国際通り, 識名園, ブセナ海中公園 (recipe – Okinawa Soba)
Okinawa food, rental car, and accommodations
Let's go!
Watch Journey to Okinawa (沖縄) Travel Highlights
Last December, our family traveled to Okinawa (沖縄) the most southern island of Japan and had an amazing time.
Okinawa Ocean Expo Park (海洋博公園)
Before we went to Okinawa, one of the spots our children looked forward to visiting the most was Churaumi Aquarium. What we didn't know and surprised us was that the aquarium was part of the very large Ocean Expo Park.
The Ocean Expo Park covers an immense area and hosts an assortment of facilities and attractions. Here is where the major attractions are located:
North side

Churaumi Aquarium
Native Okinawan Village and Omoro Arboretum
Okichan Theater (Dolphin Show)
Oceanic Culture Museum and Planetarium (additional fee)
Emerald Beach

Center

Tropical Dream Center (additional fee)
Sunset Square

South side

Tropical & Subtropical Arboretum
Banko Forest Ocean Expo Park
Since we didn't know the Expo Park was so large (takes 35 min to walk from the aquarium to the tropical arboretum), we only had time to cover the aquarium and attractions near it on the north side.
One thing to note is that some of the attractions require additional fees and others are free. You can click on the above map to see the details. There are trolleys to take visitors to the different parts of the park and it's ¥100 for 1 ride or ¥200 for a day pass.
Another tip if you plan on visiting the aquarium is that the location is quite far from Naha City (1.5 hours driving), so account for this in your travel planning if you plan on visiting other locations in Okinawa the same day. For us, we took the glass bottom boat at Busena Marine Park and toured the Orion Beer factory the same day that we visited Ocean Expo Park.
Kids Adventure Land
Before you enter the aquarium, there's Kids Adventure Land where our children did spend quite some time (We visited after we finished all the major attractions). It's a large playground made up web structures where kids can climb and jump all over. There is no cost to play in the Kids Adventure Land.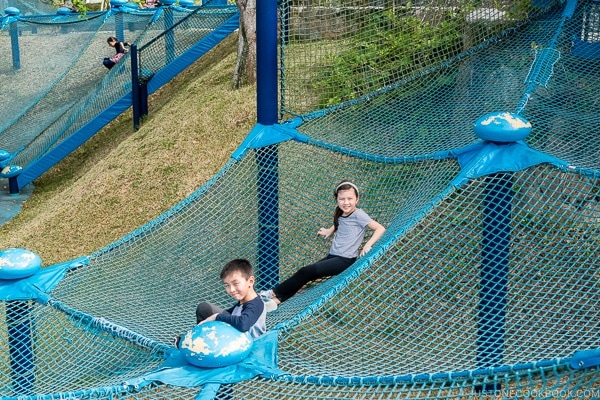 Churaumi Aquarium
Beaches near Churaumi Aquarium
There are a few beaches nearby the aquarium and we highly recommend taking a few minutes out of your day to splash around the water. The water is unbelievably clear and you can easily see the bottom of the ocean.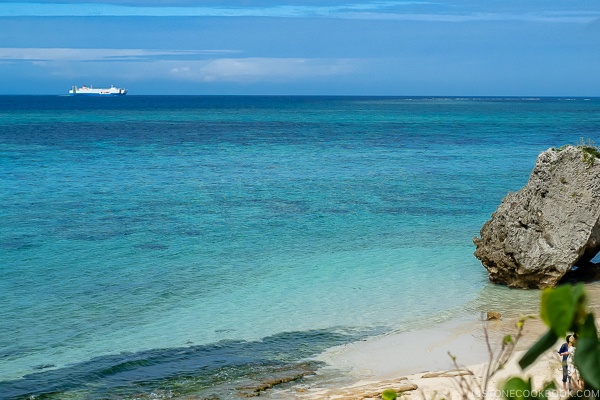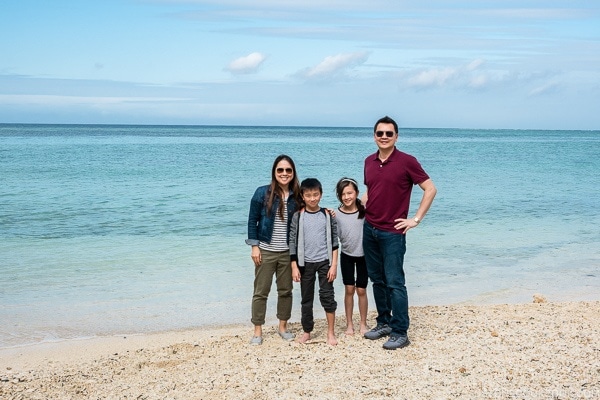 Emerald Beach is located 10 min north of the aquarium known for its beautiful white sand beaches.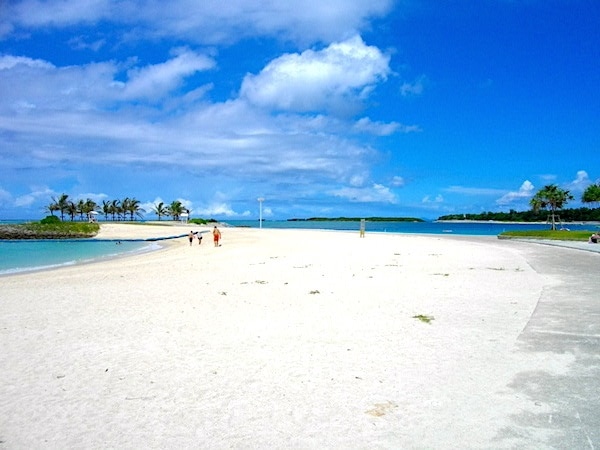 Okichan Theater (Dolphin Show)
If you walk south along the ocean from the aquarium, you will see Okichan Theater Dolphin Show. It runs 4 times a day and 5 times from April – Sept. The show times at the time of this post are 11:00 / 13:00 / 14:30 / 16:00 / *17:30.
The show is free so anyone can watch even if you didn't buy a ticket to the aquarium. The performances were typical of dolphin shows, including dolphins jumping in the air, doing tricks based on trainers' commands, swimming with the trainers, etc.
Nevertheless, it was very entertaining and our entire family had a great time. The backdrop of the theater is really cool as it's situated right next to the ocean with Ie Island in the background.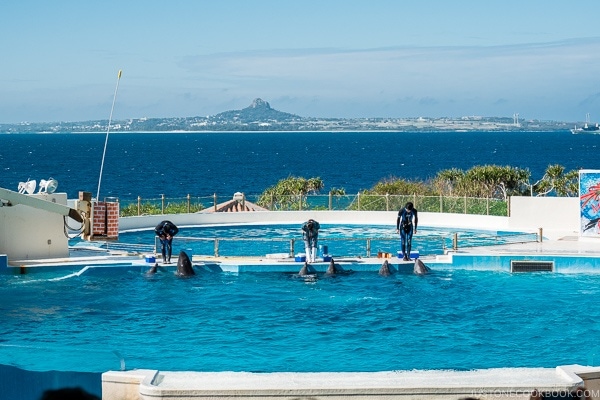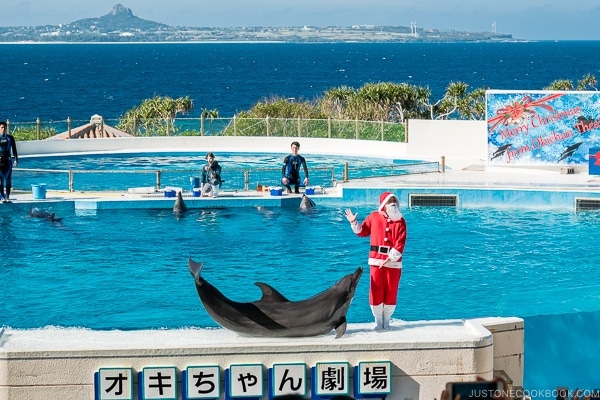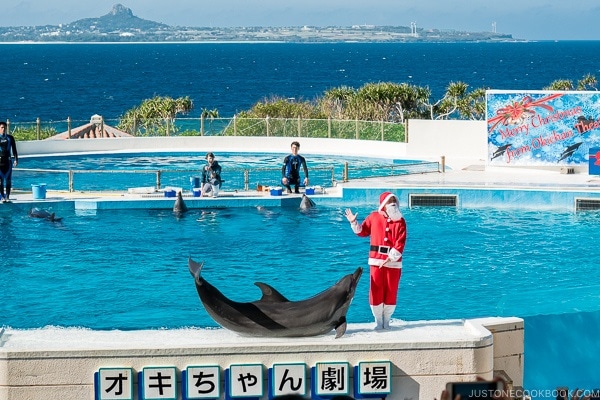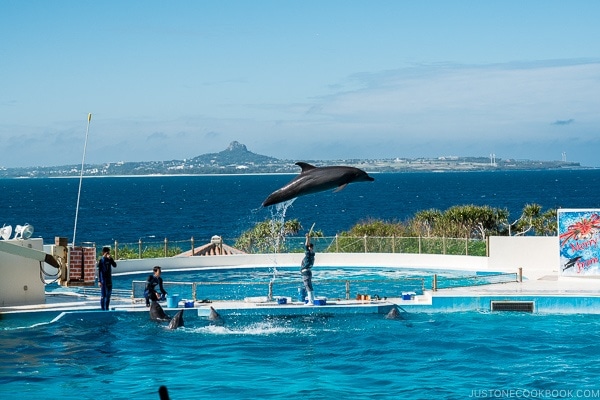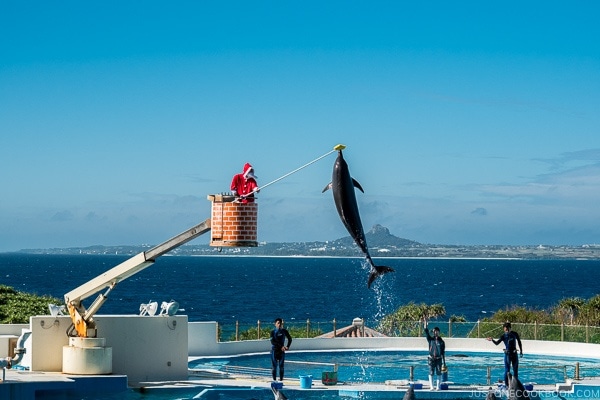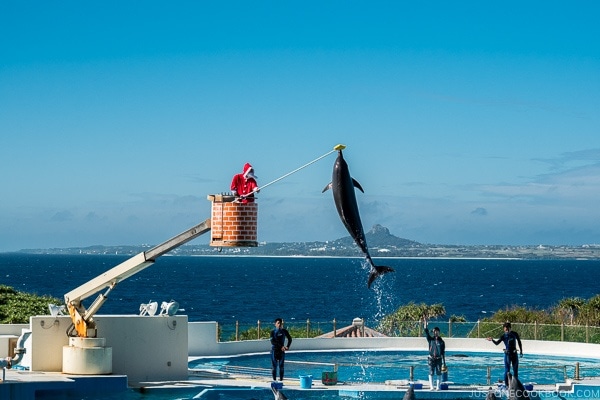 There is a dolphin lagoon right next to Okichan Theater where visitors can see the dolphins up close. Dolphin lagoon educates visitors about dolphins, their anatomy, healthcare, and offers feeding dolphin for an additional charge.
Sea Turtle Pool
The second nearby attraction we visited was the Sea Turtle Pool. It is a large tank with 15 – 20 sea turtles of various species inside. It's interesting to see so many large sea turtles up close but the tanks and the setup could be more engaging.
The turtles can be observed from both above the pool as well as below the surface behind a glass wall.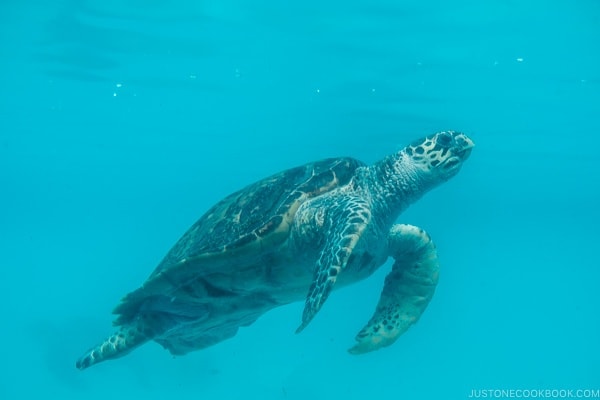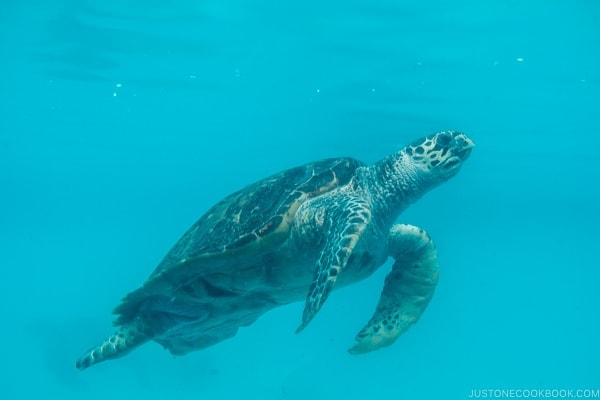 Native Okinawan Village
As you make your way towards the east side of the park, there's a replica of Okinawan Village onsite with a few buildings that are representative of life during Ryukyu Kingdom period. There are 8 traditional residences in the village.
At the village, performers play traditional Okinawan music on Sanshin (three strings). Dessert and tea are served to visitors free of charge.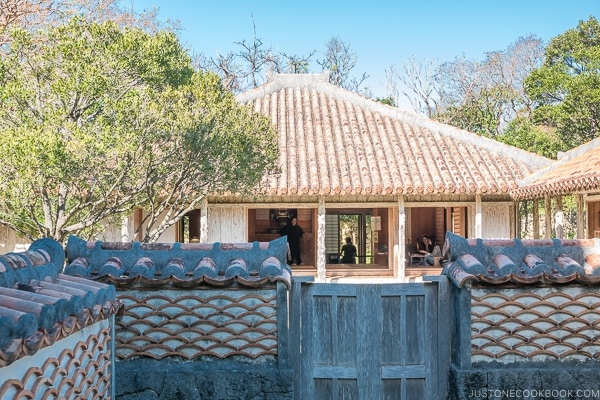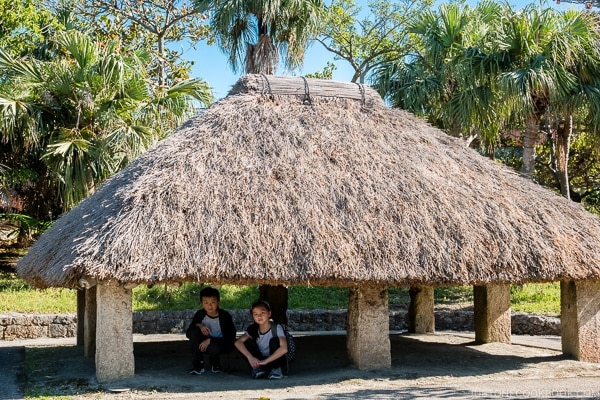 To fully enjoy the Ocean Expo Park we could have easily spent an entire day there. However, we only had 4 days in Okinawa so we ended up spending about 5 hours at the Ocean Expo Park.
Ryukyu Mura (Okinawa Ryukyu Village)
Our next stop is Ryukyu Mura. This "okinawa village" has a number of historic buildings from late 1800's to early 1900's relocated from other parts of Okinawa. Visitors can learn about what life in Okinawa was like. The experience is very interactive and there are a lot of activities visitors can participate in.
Thank you for reading! Shuri Castle and Nakagusuku Castle will be featured in the next post.
Don't want to miss a recipe? Sign up for the FREE Just One Cookbook newsletter delivered to your inbox! And stay in touch on Facebook, Pinterest, and Instagram for all the latest updates.