Okinawan's rich history and culture are on full display at two of its most renowned world heritage sites, Shuri Castle and Nakagusuku Castle.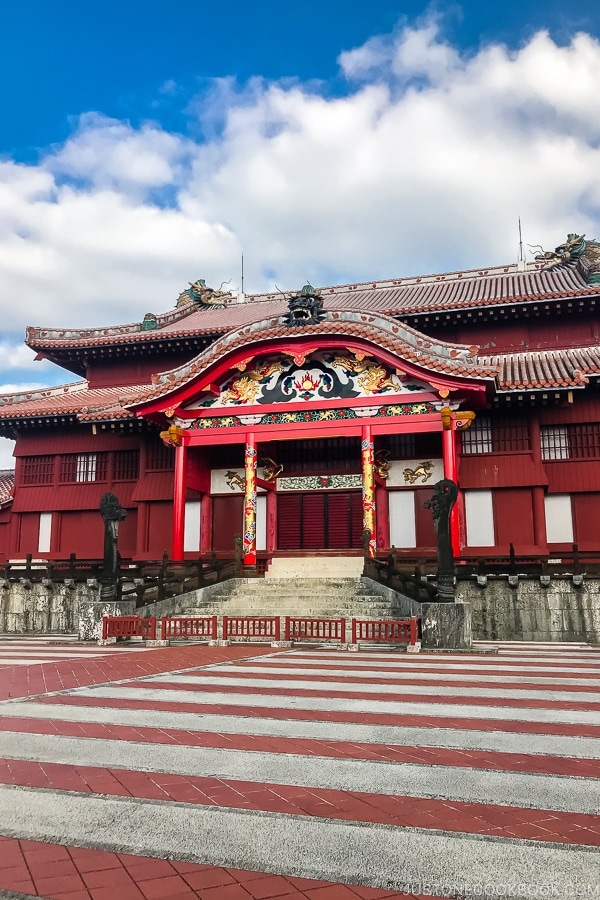 Our family took a trip to Okinawa – the most southern islands of Japan last December. Since it was winter time, we didn't get to enjoy the famed beautiful sandy beaches but there are so many activities to do on the island. From visiting the caves at Okinawa World to seeing the giant whale sharks at Okinawa Churaumi Aquarium, we got to experience the many personalities of Okinawa and of course, ate all different types of Okinawan food.
Nami will be sharing Okinawan recipes on the blog as I shared our travel experience in Okinawa. Hopefully, our travel tips will come in handy when you are ready to visit this island paradise.
For this travel series, we'll share the following posts:
Okinawa World – おきなわワールド (recipe – Rafute)
Ocean Expo Park and Ryukyu Village – 海洋博物館・琉球村 (recipe – Sata Andagi)
Shuri Castle and Nakagusuku Castle – 首里城 & 中城城 (recipe – Taco Rice)
Kokusai Dori, Shikinaen, Busena Marine Park, and Peace Museums – 国際通り, 識名園, ブセナ海中公園 (recipe – Okinawa Soba)
Okinawa food, rental car, and accommodations
Watch Journey to Okinawa (沖縄) Travel Highlights
Last December, our family traveled to Okinawa (沖縄) the most southern island of Japan and had an amazing time.
In the travel guide today, we'll tour two of the many castles in Okinawa, Shuri Castle and Nakagusuku Castle. The two castles are very different from each other, and structurally and design-wise they are quite different from other Japanese castles. Ready to join us on the castle tour? Let's go!
Shuri Castle (首里城)
Note: Shuri Castle buildings were destroyed by a fire on Oct 31, 2019. The target timeframe to rebuild the castle is by 2026.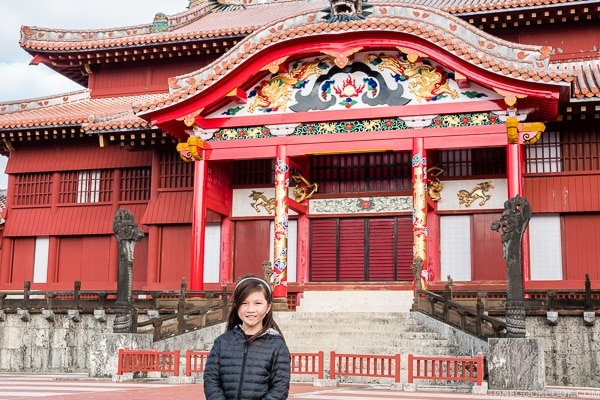 Shuri Castle is located about 20 min drive from downtown Naha. It was actually the last stop on our third day we were in Okinawa. If you're curious, on the third day we went to Ryukyu Mura, Yomitan Pottery Village, and also Nakagusuku Castle. I'll share our complete 4-day Okinawa itinerary in the next post as well as where we stayed and ate.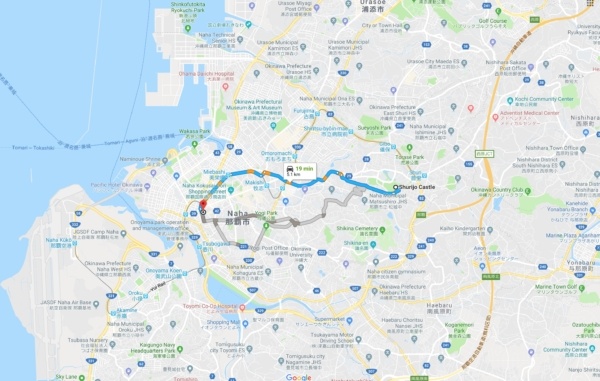 Shuri Castle was the royal palace as well as the center of Okinawan culture, politics, and diplomacy for 500 years. The current castle was reconstructed in 1992 after the previous one was destroyed in 1945 during Battle of Okinawa. Similar to other Japanese castles, it had been rebuilt many times throughout history. The first Shuri Castle was built sometime in the 14th century.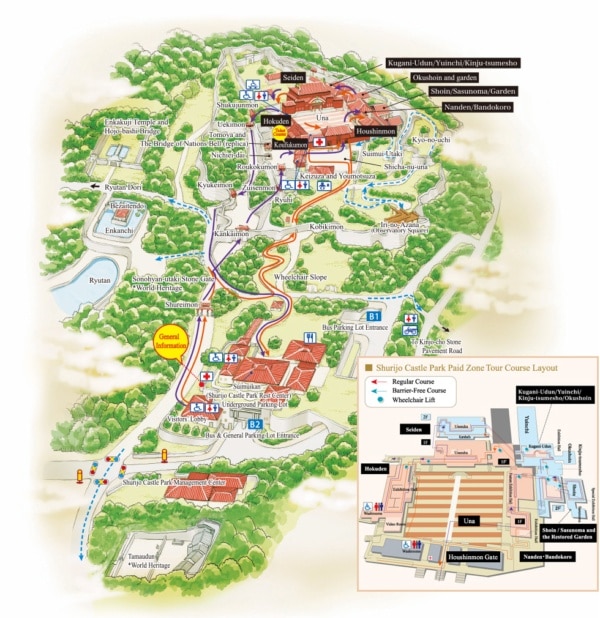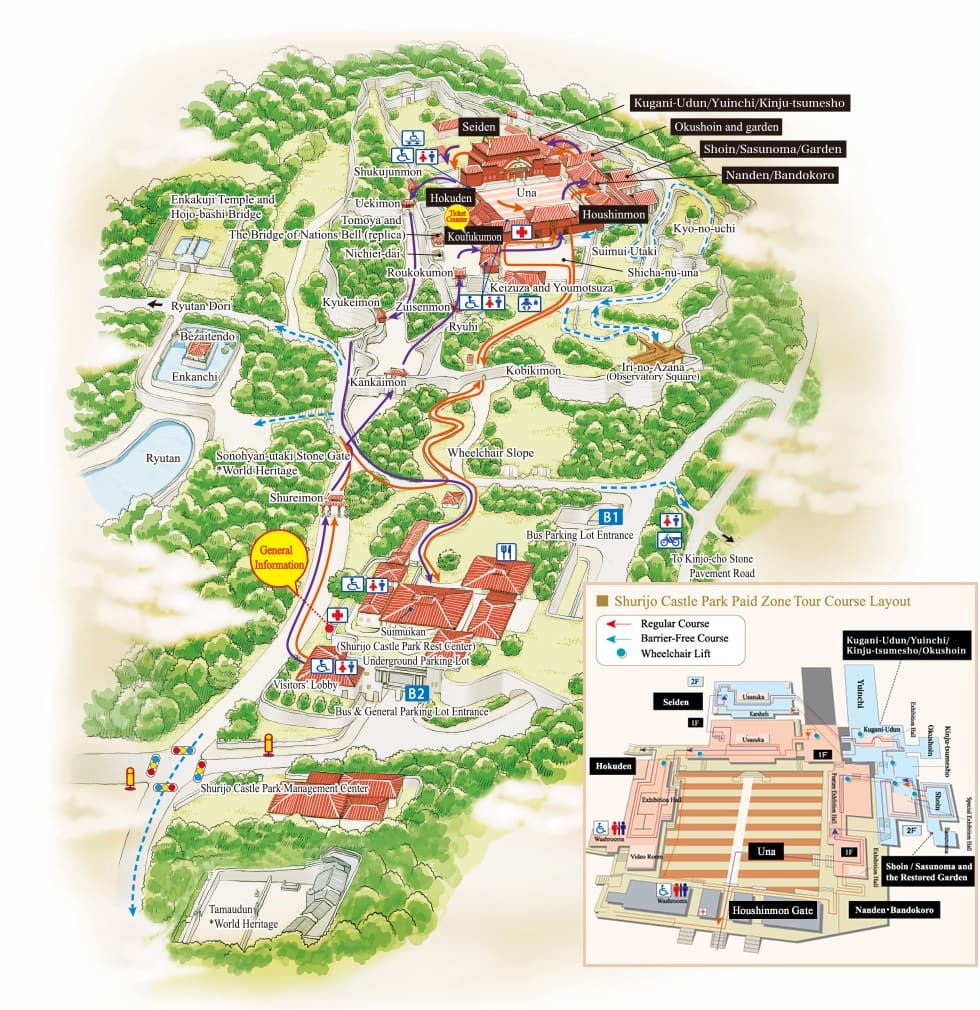 The castle grounds are divided into two sections. The surrounding outer walls and gardens can be enjoyed free of charge. Visitors only need to pay if they wish to enter the Seidan area.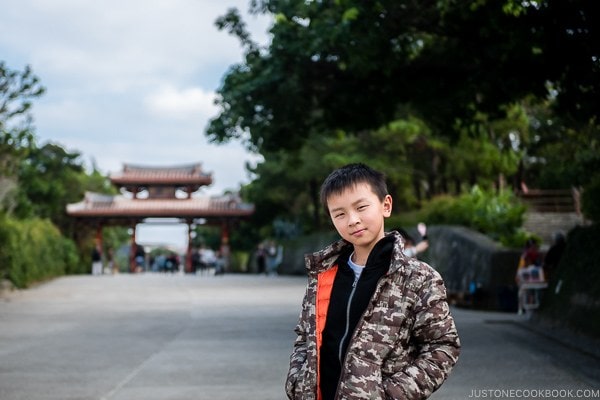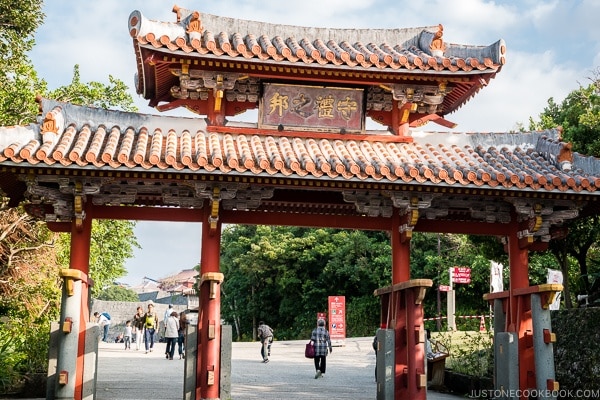 The first thing that caught our attention starting from the outer gate and walls is that they do not resemble other castles we've visited in Japan (Himeji Castle, Osaka Castle, Nagoya Castle, Kumamoto Castle etc). There is significant Chinese influence and characteristics with the designs.
Though the castle was restored in 1992, there are UNESCO World Heritage landmarks such as Sonohyan-utaki on the castle ground.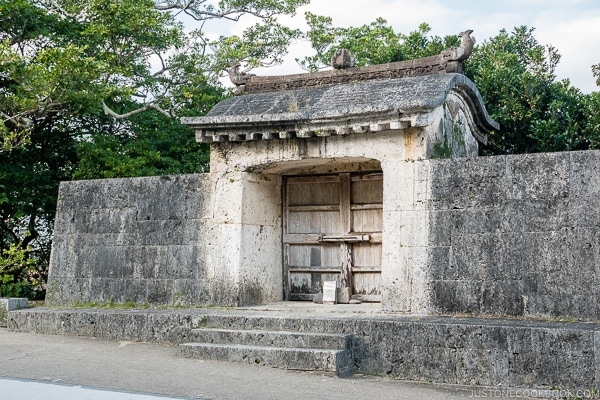 To get to Seiden, the visitors will go through a series of stone steps and gates.
When you get to the top of the steps, there's a beautiful view of the castle ground and city below the hill.
Shuri Castle Seiden 正殿
The Seiden is the main hall at Shuri Castle. There are various cultural treasures on display inside Seiden and surrounding buildings around Una courtyard. The entrance fee as of May 2018 is
¥820 for adult
¥620 for high school age
¥310 for elementary-middle school
Free for below 6 years old
To see the Seiden, you will go through Houshinmon and enter the Una square.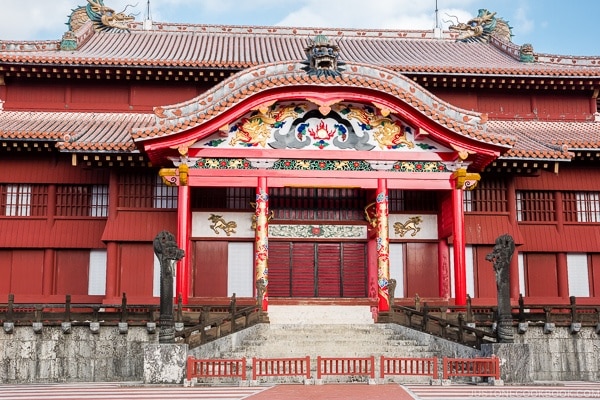 The guided path will take visitors to the right of the square starting from Nanden. Visitors will have the opportunity to go through the buildings and see the interior rooms as well as some gardens.
The Seiden includes many rooms including King's Throne room.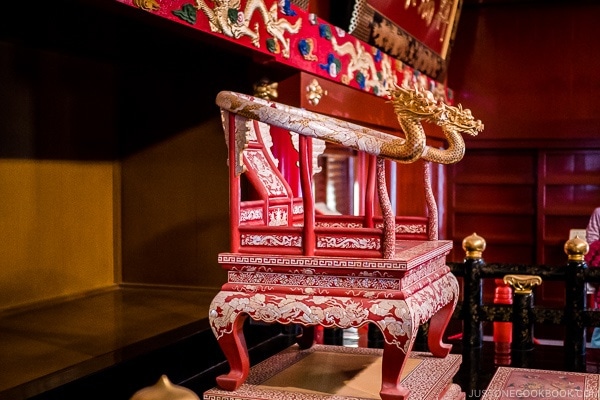 The current castle is built on top of old castle ruins, there are glass panels where visitors can see the previous castle foundations below.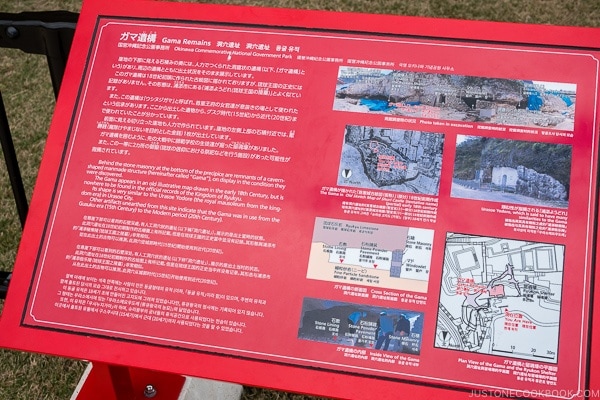 Shuri Castle is definitely worth a visit when you are in Okinawa. Learn about the Okinawan Kingdom and its rich history interacting with both Japan and China.
Nakagusuku Castle
The second castle we want to share with you was also built in 14th century by Ryukyu Lords (Nakagusuku Ajis). In the Okinawan language, "gusuku" means castles or forts. Nakagusuku Castle is located about 40 min from Naha City by car.
Nakagusuku Castle was recognized by UNESCO World Heritage site in 2000 and also recognized as one of the top 100 castles of Japan.
The existing ground is just the ruins of the castle. The last structures built on the premise, the Nakagusuku Village Office was destroyed during the Battle of Okinawa in 1945.
The castle is located high up on a hill on the east coast of Okinawa.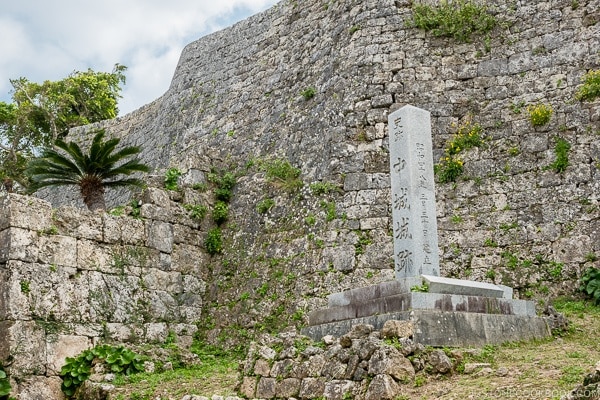 The outer stone walls are similar to Shuri Castle but there are many more layers of enclosures for Nakagusuku Castles.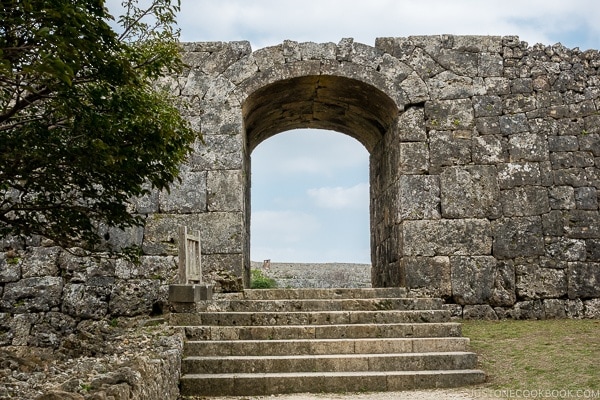 When we visited, there were restoration work and surveys being done by workers.
Today, the castle ruin consists of stone walls visitors can walk around and see the various sceneries. Here is a video from Nakagusuku Castle introducing the main spots to see within the castle ground.
Nakagusuku Castle Main Spots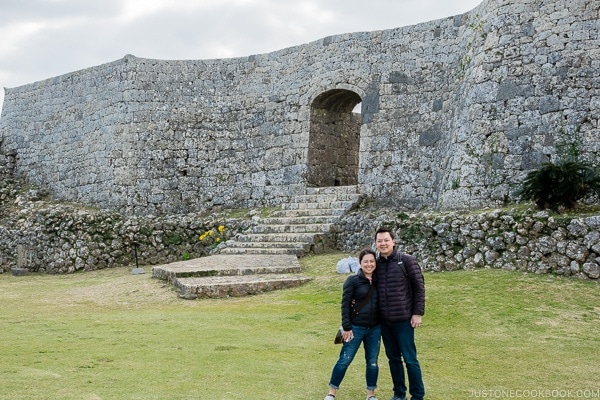 There's a model of Nakagusuku Castle near the end of the tour. Pretty cool shot with the real castle behind the model castle.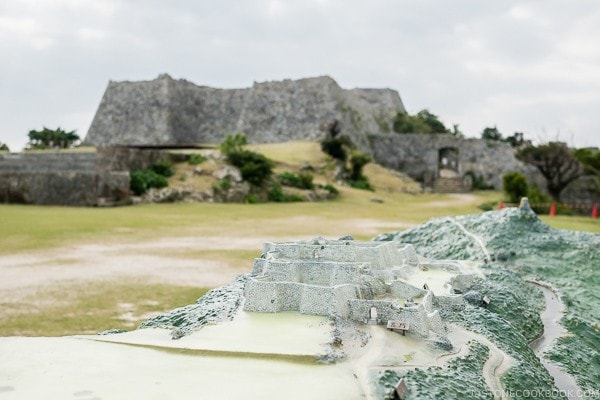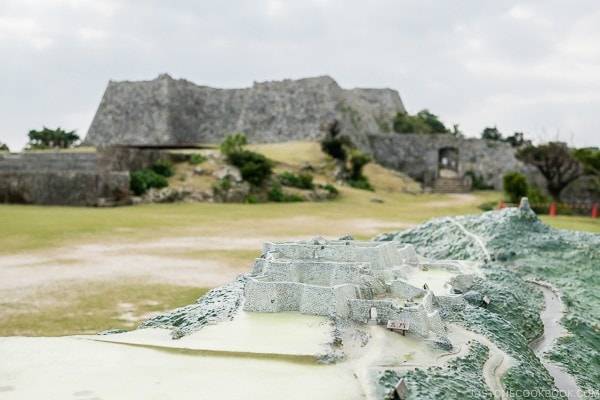 During our short visit to Okinawa, we only had time to visit Shuri Castle and Nakagusku Castle. There are over 30 castles around Okinawa Islands and other popular ones for visitors are Katsuren Castle, Nakijin Castle, Zakimi Castle, and Tamagusuku Castle.
We hope you enjoy the quick castle tours with us and on the next Okinawa post, we'll share where and what we ate, and other cool sites and activities you might want to check out if you plan on visiting Okinawa. If are interested in other travel posts, you can view them here.