Expocity in Osaka is perfect for young families visiting Osaka, ride the tallest Ferris wheel in Japan, explore the children friendly aquarium NIFREL, or shop until you drop at Lalaport Expocity.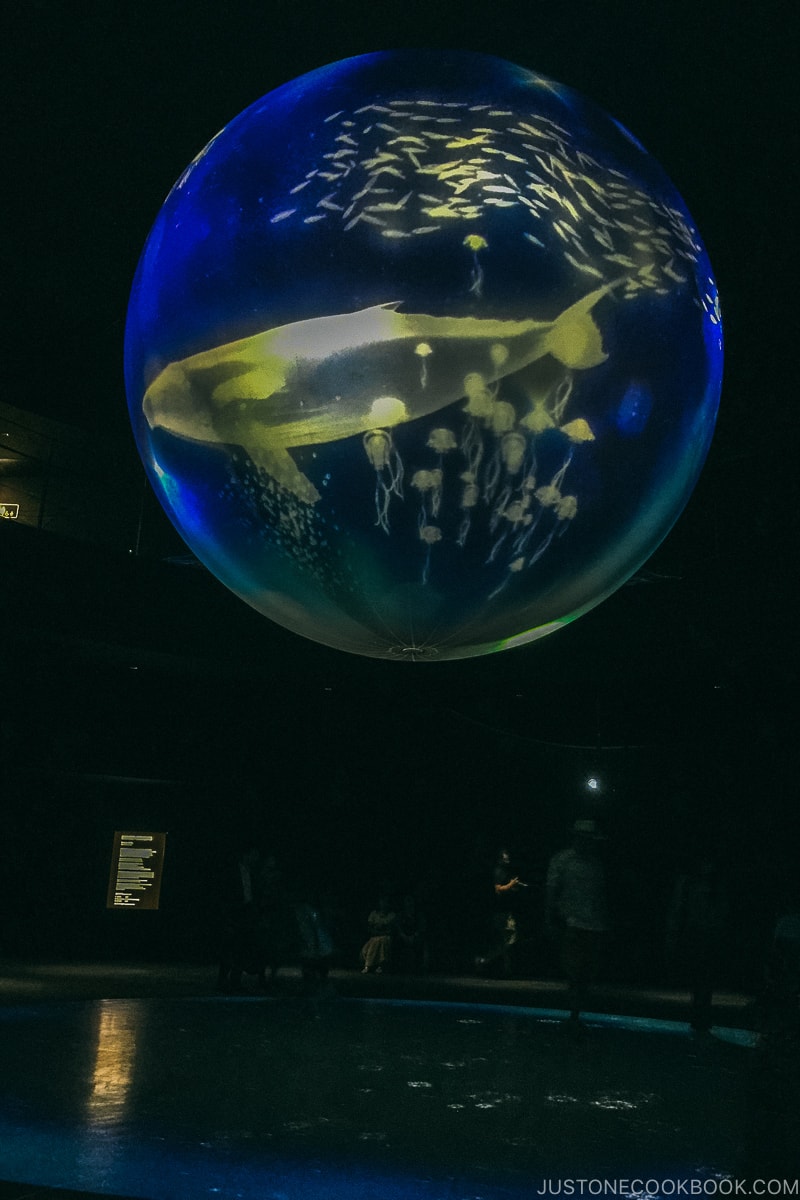 In 1970, Japan hosted its first world's fair at Suita, Osaka called Expo '70. The space used for the expo has now been turned into Expo '70 Commemorative Park. Additionally, across from the park is a large mix-used plaza that opened in 2015 called Expocity and a great place to spend a day for families especially if you have young children.
Where is Expocity
Expocity is located north of Osaka in Suita and takes about 1 hour by train from Umeda. You can take either the Hankyu-Kyoto, the Hankyu-Takarazuka, or the Midosuji Line and transfer to Osaka Monorail and exit Bampakukinenkoen Station. It's a bit out of the way but worth the trip especially if you like space for children to run around.
What is in Expocity
A number of different buildings and facilities makes up Expocity, including NIFREL, Redhorse Osaka wheel, LaLaport Expocity, 109CINEMAS, and other amusement activities. Gamba Osaka football club plays at the Panasonic Stadium Suita nearby. When we were there we saw many Gamba fans heading to the stadium for a game. Ready to go explore Expocity? Let's go!
NIFREL Aquazoo
We spent most of our day there at NIFREL as our children love observing animals and living creatures. NIFREL has an interesting way of presenting its exhibits and animals. The aquazoo facility is produced by Kaiyukan, it's a mix of an aquarium, zoo, and science museum all in one and spread over 2 spacious floors.
There are 7 exhibition zones and they are COLORS, ABILITIES, SHAPES, WONDER MOMENTS, WATERSIDE, BEHAVIOR, and BIODIVERSITY.
What do the words mean? You've probably guessed it. The living creatures in each zone exhibit characteristics of that word. For examples, in colors, the creatures use their color to camouflage into their surrounding colors.
NIFREL tries to make some of the exhibits interactive. For example, they had a tank where fish loves to nibble on visitors fingers.
In shapes zone, the futuristic display and lighting accentuate the creatures and their shape.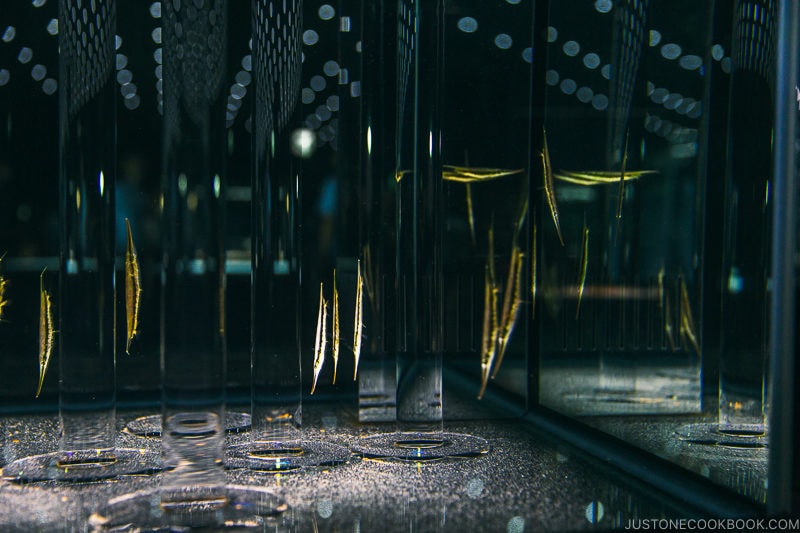 Besides ocean creatures, NIFREL also had a few land animals in exhibits. such as an albino tiger.
Our children's favorite was the behavior zone. In this area, visitors can observe the animals up close since basically there aren't really any barriers.
There are many birds in the behavior zone and you get can very close to some of them as they are free to fly and roam around the room. Occasionally some of them land right next to the visitors.
In Wonder Moments, created by artist Takahiro Matsuo a large sphere changes into different sceneries.
It was mesmerizing to see different graphics and colors.
Lalaport Expocity
Next to NIFREL is the massive Lalaport Expocity mall, and you'll find many name brand stores here from Japan and all around the world. Popular brands include Uniqlo, Zara, Polo, Tsutaya, and Muji just to name a few of the over 300 stores. There's also a food pavilion on the third floor.
For fans of Gundam, there are two large statues of Gundam robots at Gundam Square.
Redhorse Osaka Wheel
If you want panoramic views of the nearby area, head over and ride on Redhorse Osaka Wheel. At 123m, Redhorse is Japan's tallest Ferris wheel. It takes about 18 min to go around one time. What's interesting is every gondola on the Ferris wheel has a see-through floor.
The gondolas are air-conditioned so the ride can be comfortable. The standard ticket price is 1,000 yen but if you are worried about waiting time, you can purchase FAST10 tickets and specify time and date you want to ride for 1,500 yen. The usual wait time for FAST 10 tickets is around 10 min.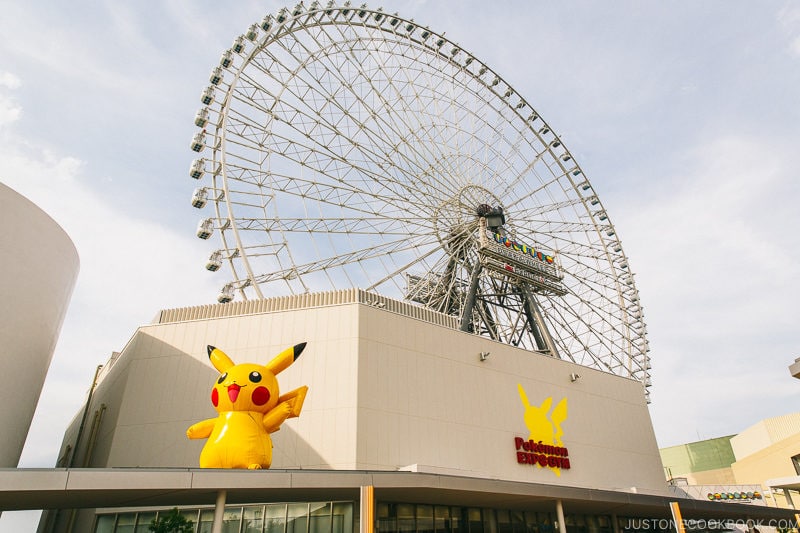 Tower of the Sun
Lastly, when you're at Expocity you can't miss The Tower of the Sun building located in the Expo '70 Commemorative Park. Designed by Taro Okamoto, the building is 65 meters tall.
The Expo '70 Commemorative Park contains gardens, expo museum, and other cultural museums. If you are tired of all the buildings and chaos in Osaka, it's a great place to relax and stroll through.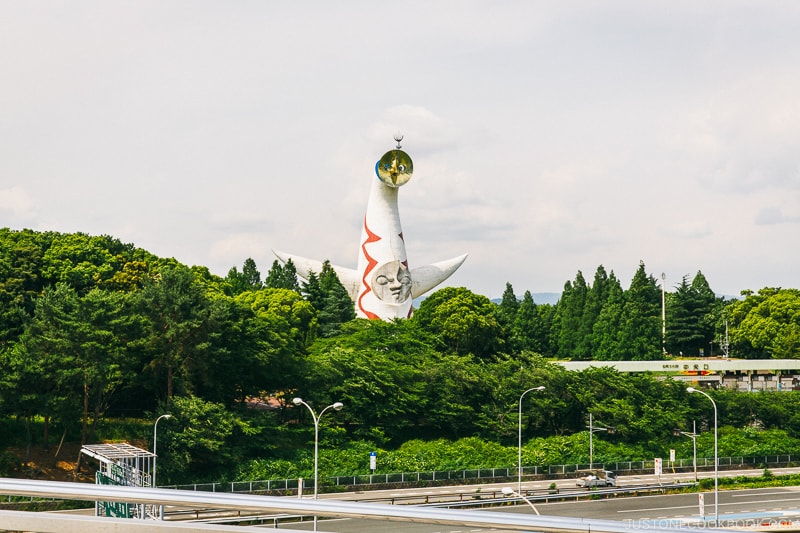 To sum up our visit to Expocity, our family had a blast! It was nice to have some space to walk around without bumping into people all the time. We hope you enjoyed our Osaka Guides and sincerely hope it helped you with your travel planning. We'll soon share our adventures in Nikko and Kinugawa Onsen with you.
Just One Cookbook Osaka Guides