Take in the unobstructed view of Osaka from the top of Tsutenkaku Tower and taste the mouthwatering kushikatsu in the vibrant Shinsekai district.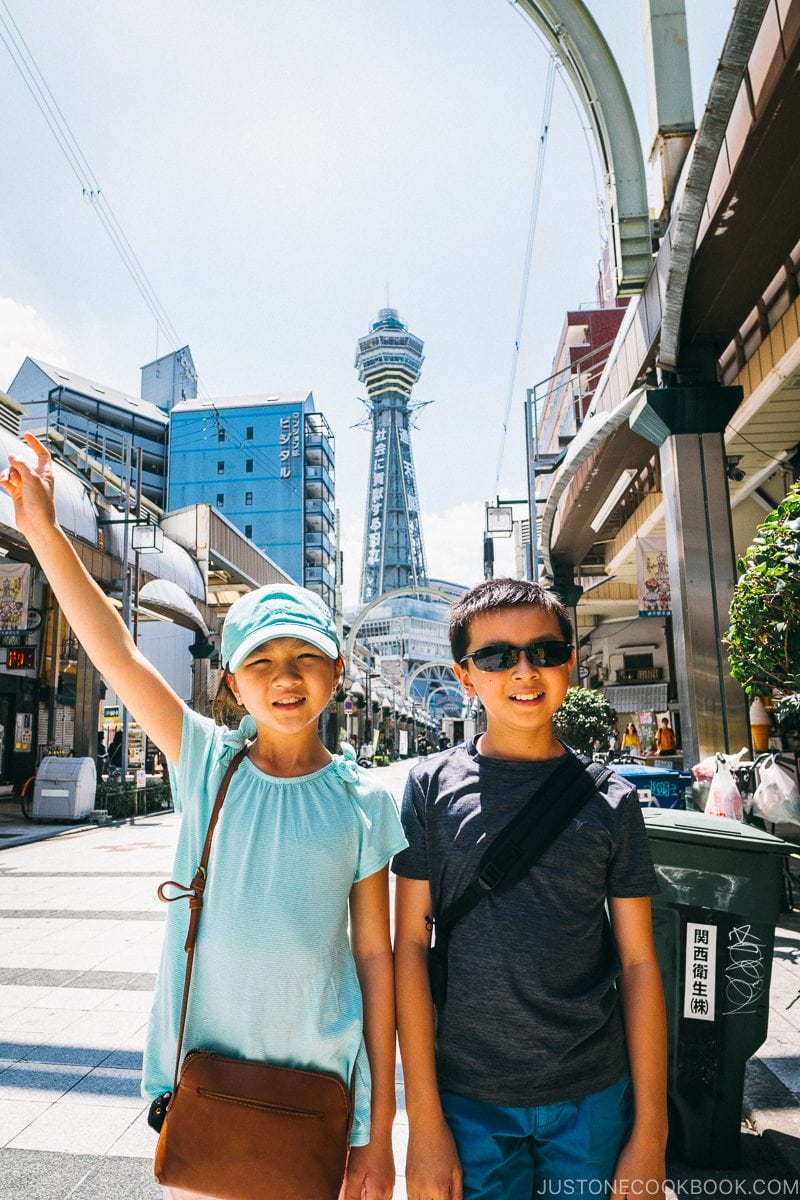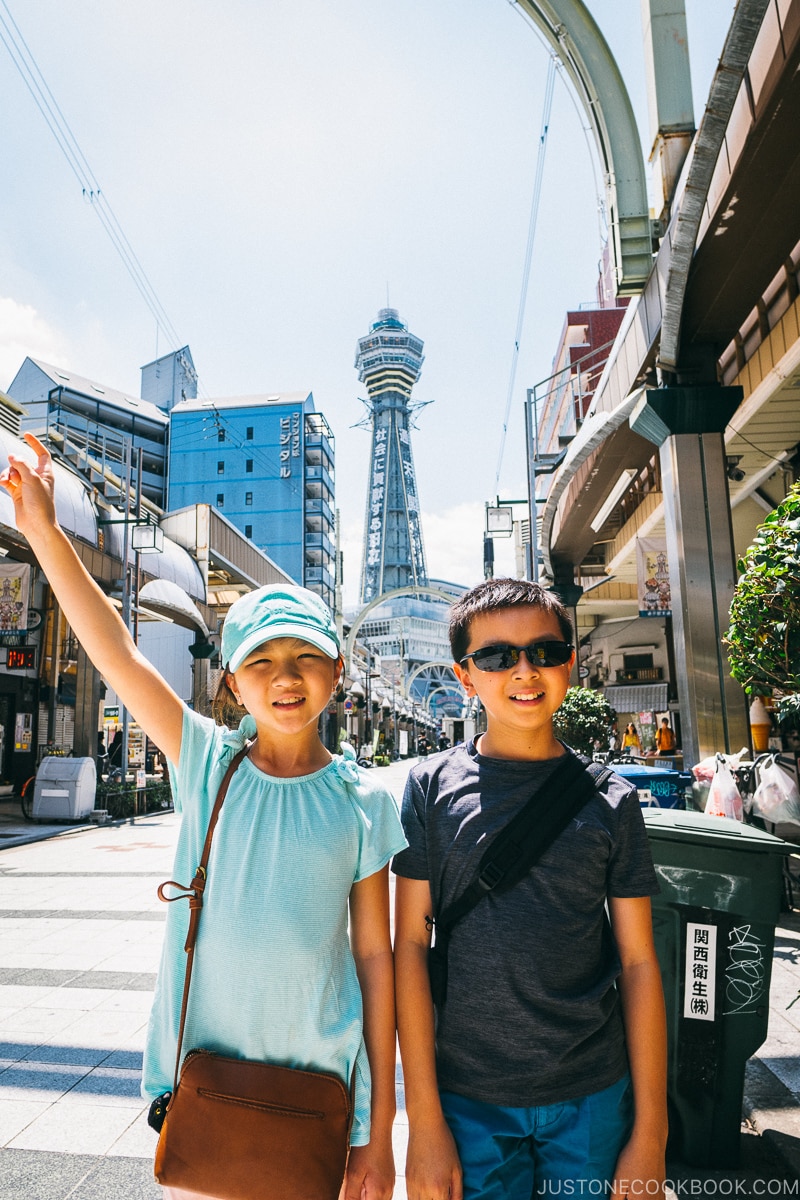 Osaka is the third largest city in Japan with a population of over 2.3 million people (19 million in the greater Keihanshin Metropolitan area). We visited Osaka on every one of our trips to Japan since Nami's mother family all lives there. Let us take you around Osaka in the following travel guides starting with Tsutenkaku Tower and Shinsekai District.
Just One Cookbook Osaka Travel Guides

We'll take you from Shinsekai in the southern part of the city through the lively and colorful Dotonbori, and visit attractions at Tempozan, Universal Studios Japan, and Expocity in our Osaka travel guides. If there are any places you want us to visit and share in Osaka, please let us know in the comments below.
In general, Osaka is much easier to get around than Tokyo. It's less crowded and there aren't as many subway lines so it's straight forward going to different attractions and locations around the city. One recommendation we have when you visit is to get the 2-day pass which covers buses and subway rides, as well as entrance fee to Tsutenkaku, Osaka Castle, Tempozan Ferris wheel, and many other attractions.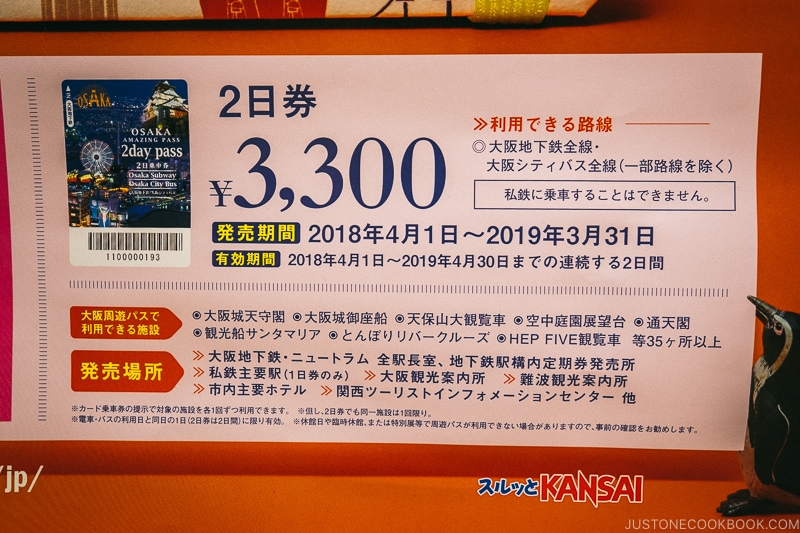 However, there aren't as many English sign in restaurants and retail shops compared to Tokyo so keep this in mind when you visit Osaka.
Shinsekai District
Shinsekai (新世界) is located at the southern part of the city and there are a few attractions in this area that should be on your itinerary to Osaka. There is the Tsutenkaku, Tennoji Zoo, Spa World, and Osaka City Museum of Art just to name a few. Depending on what you want to do, a typical visit to the area is about 2-3 hours.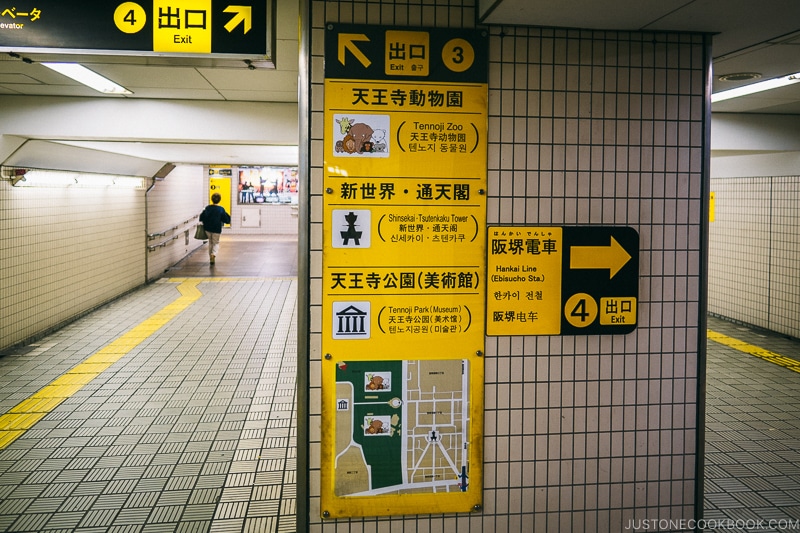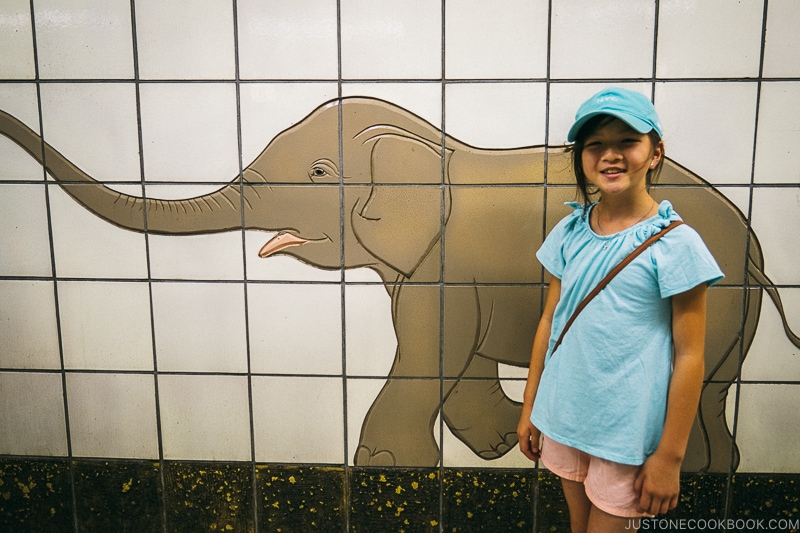 Tennoji Park
Shinsekai borders Tennoji Park which contains the Osaka Tennoji Zoo and Osaka City Museum of Art. There is also an amusement park for young children and gardens for visitors to walk through.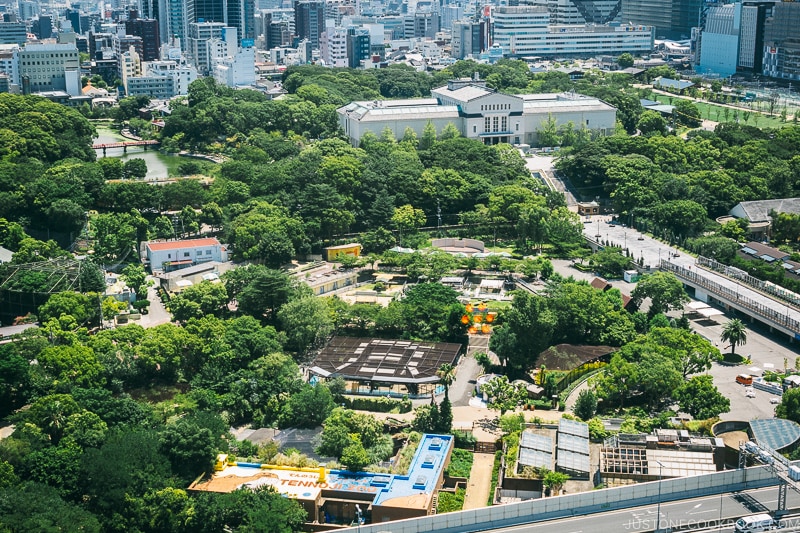 Streets of Shinsekai
The streets of Shinsekai were designed in 1912, with the northern part modeled after Paris and the southern part New York.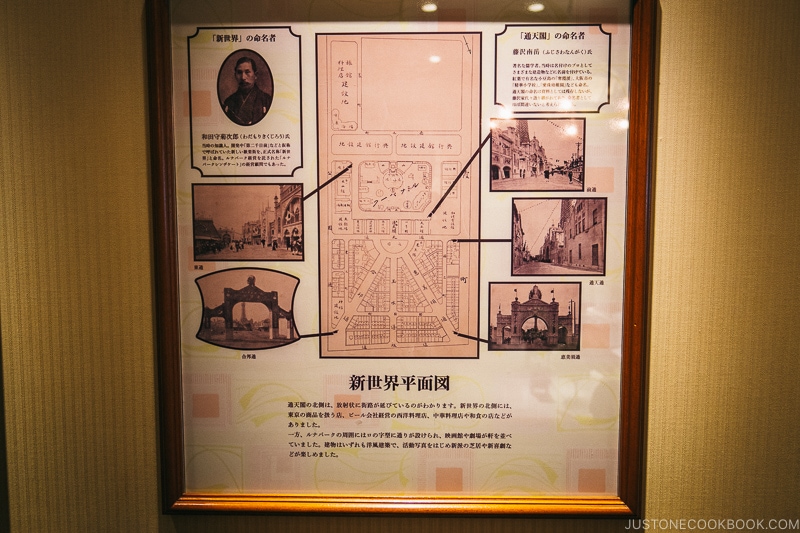 Today, the streets in Shinsekai are filled with a variety of restaurants. Many of the restaurants have interesting exterior decor similar to the ones on Dotonburi.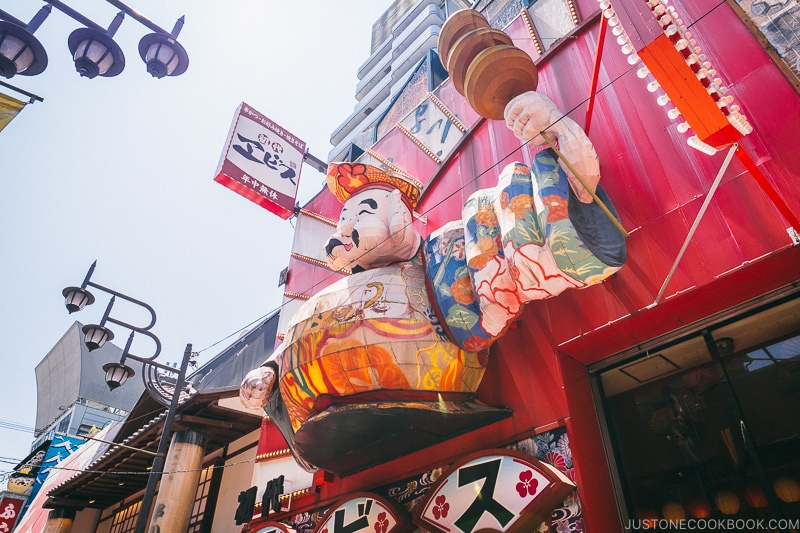 The majority of the restaurant serves Japanese bar food and many of them offer good drink deals to go with the meal. There are a few interesting restaurants including Jumbo-tsuribune Tsurikichi (ジャンボ釣船 つり吉) where you can fish your meal. We tried it at Zauo in Shinjuku and our kids had a blast.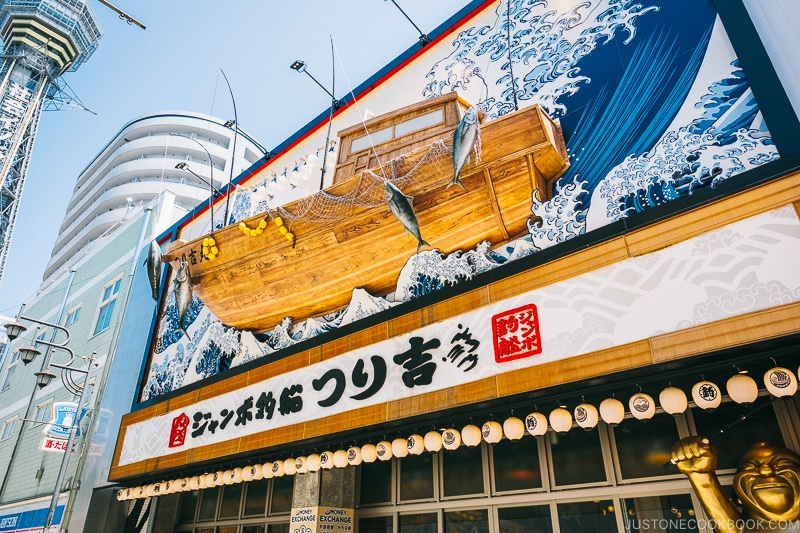 If you want to be adventurous with your food choices in Japan, one of the most famous fugu restaurants in Osaka is Zuboraya in Shinsekai. Their fugu course meals range from 5,000 to 10,000 yen and include a variety of dishes like fugu sashimi, deep fried fugu, and fugu served in rice porridge.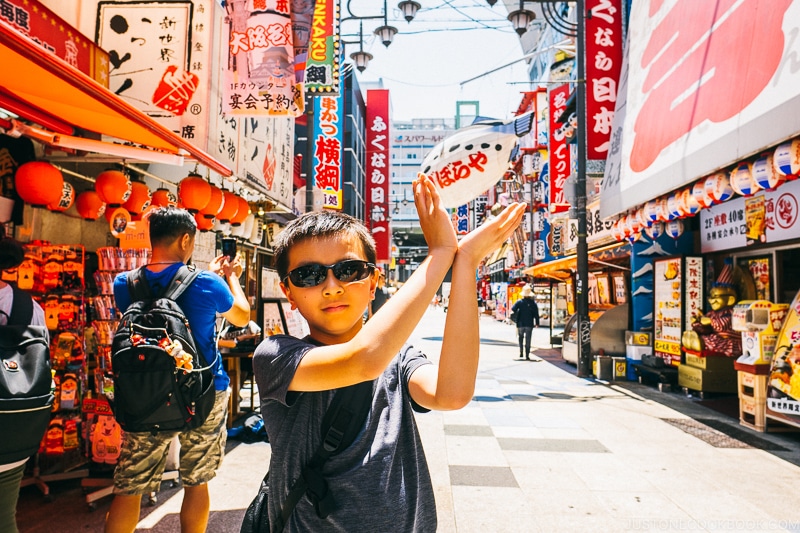 Kushikatsu in Shinsekai
Of all the food in the area, the signature food to eat is kushikatsu – deep-fried skewers. There are a lot of restaurants in Osaka that serve it and many of them have a long history. Popular ones including Kushikatsu Daruma (has 10+ stores in Osaka), Tengu, and Yaekatsu. There is one golden rule for kushikatsu that applies no matter which one you go to, never ever double dip.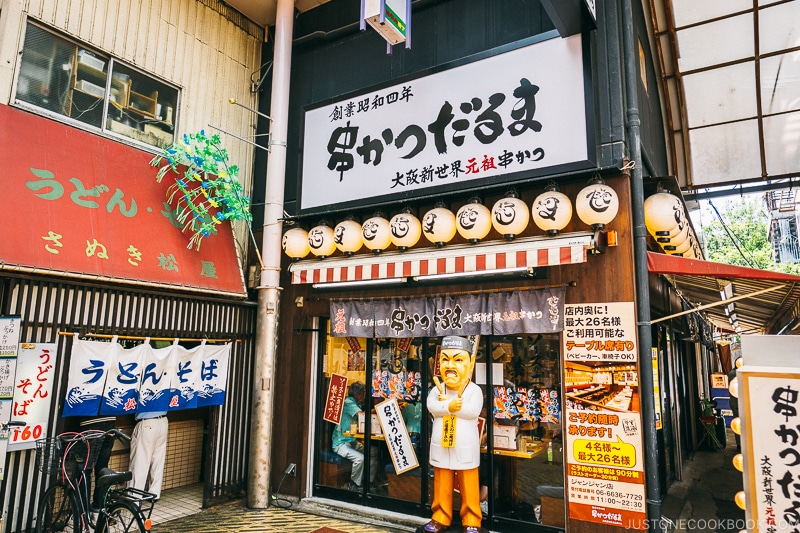 Yaekatsu 八重勝
We ate at Yaekatsu (八重勝) during our visit to Shinsekai. Yaekatsu has been there for decades and is really popular with both locals and visitors. Only counter seating is available but the good news is the restaurant has 2 storefronts so we were seated after waiting for about 10 min.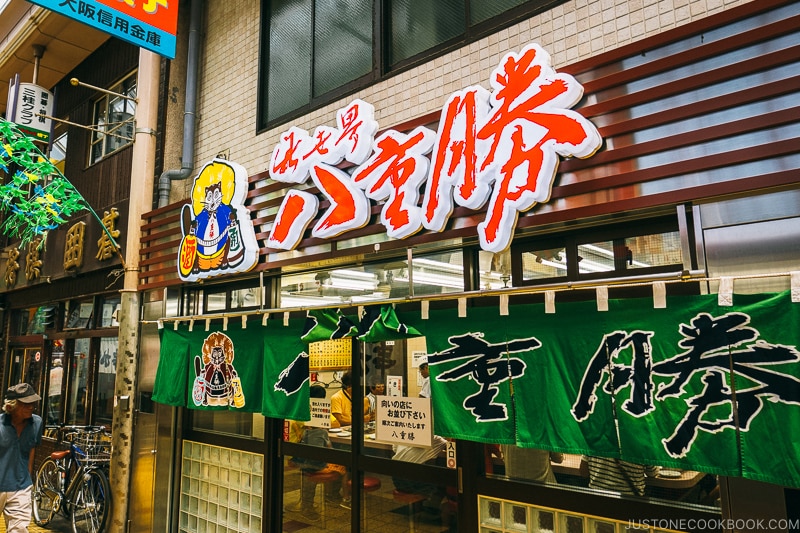 The menu is on the wall and in Japanese only. However, you can see the ingredients in the display case on the counter. Popular kushikatsu include shrimp, scallop, beef, pork, eel, octopus, and chicken.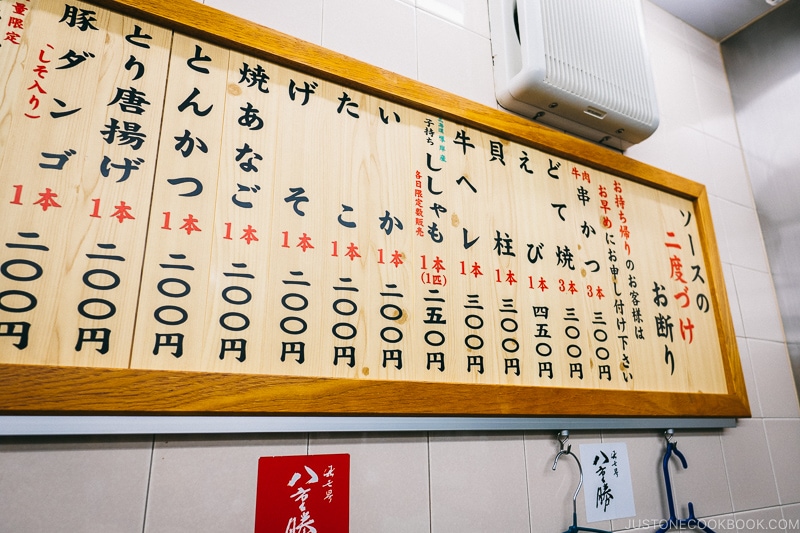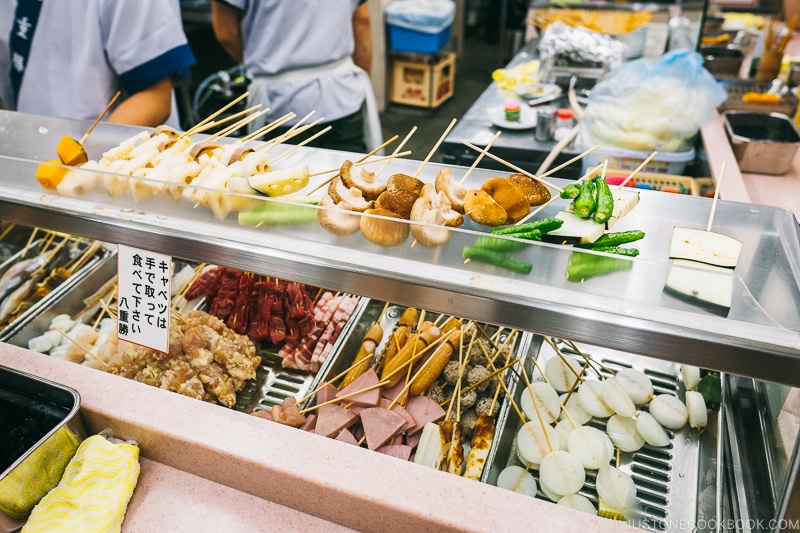 Simply let the chef know what you want a few skewers at a time and they'll grab it from the display case, dip it in the batter, and deep fry quickly.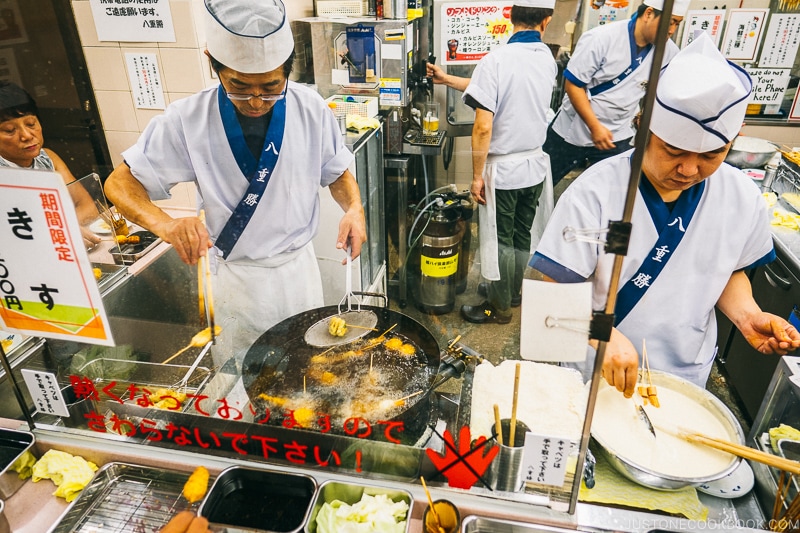 After frying, the food will be placed in a metal tray in front of you. Take them off the tray and dip in the sauce, and place into your plate. Again, do not double dip.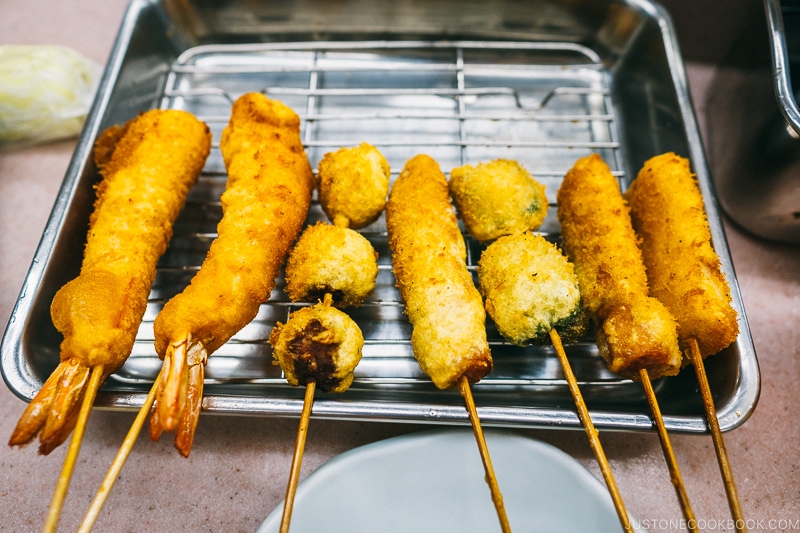 The kushikatsu at Yaekatsu was so good. The exterior was thin and crispy, just fried long enough resulting with the perfect golden color. Even after eating a lot of skewers we didn't feel the food was too oily. If you want to try making kushikatsu at home, check our recipe here.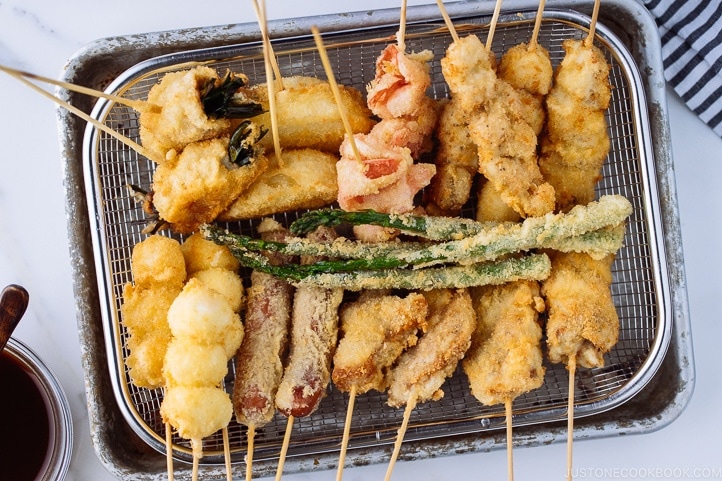 Besides fried skewers, many kushikatsu restaurants in Osaka also serve doteyaki (どて焼), beef tendon simmers in miso sauce. It was super tender and flavorful with a bit of kick from the shichimi seven spice.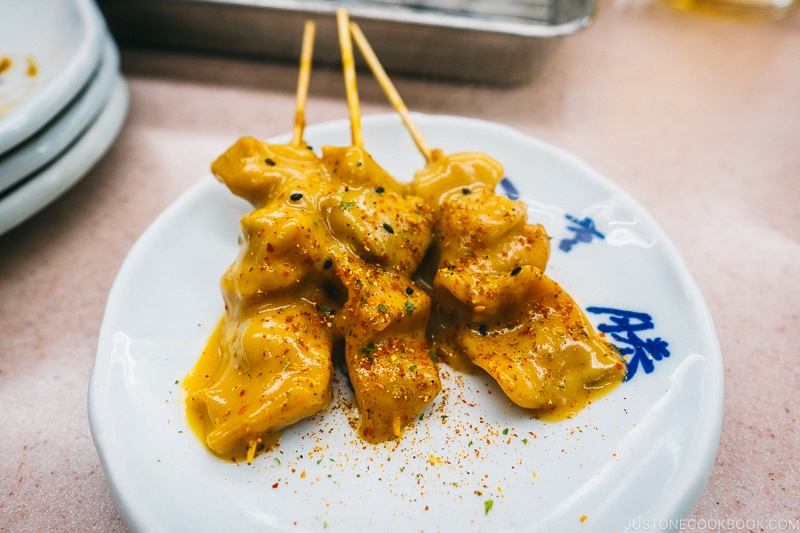 Billiken
As you walk around the Shinseki you will see many statues and figures of Billiken and some stores even sell Biliken manju. Who is Billiken and why is it in the area?
The Billiken character was originally created by American Illustrator Florence Pretz. In 1912, there was an amusement park called Luna located in the area and Billiken was enshrined in the park. It became a symbol of good luck and "The God of Things As They Ought to Be".
Random fact: did you know the popular Kewpie character on Japanese Kewpie mayo was also created an American cartoonist?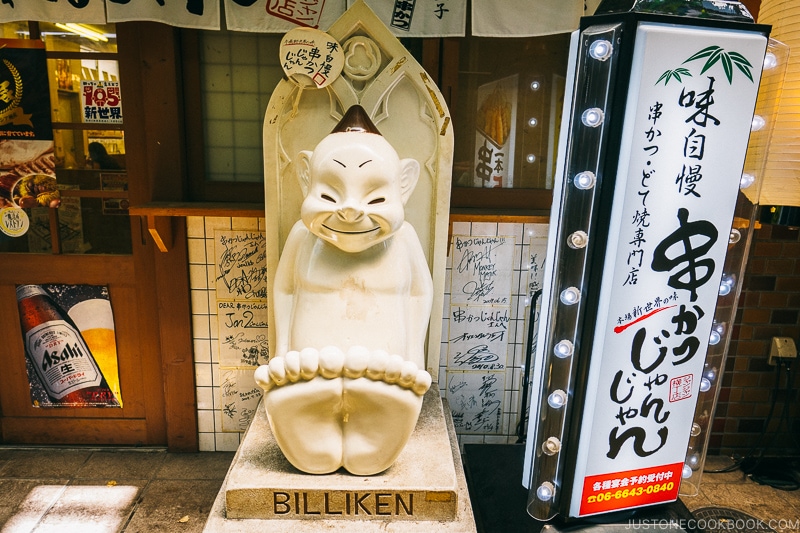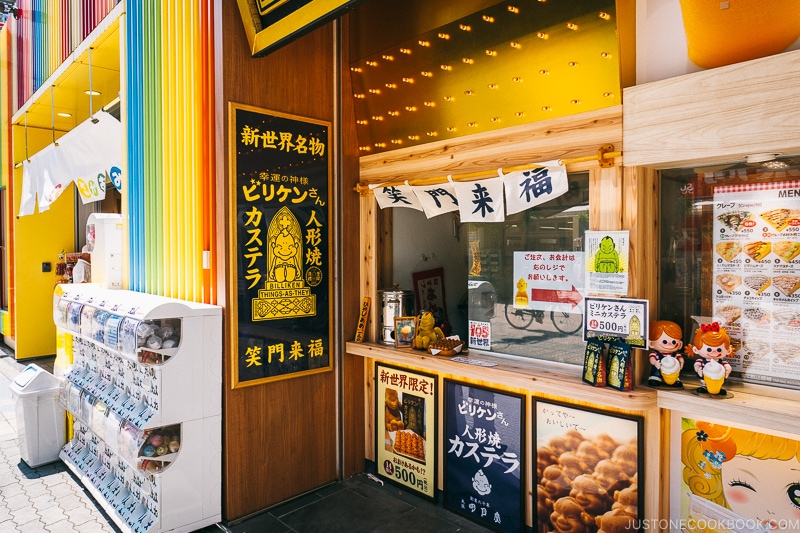 Just One Cookbook Instagram from Tsutenkaku and Shinsekai District
Tsutenkaku Tower
When you are in Shinsekai, you can't miss the landmark Tsutenkaku Tower that was built in 1956. There was an original tower built in 1912 but it was destroyed by fire in 1943.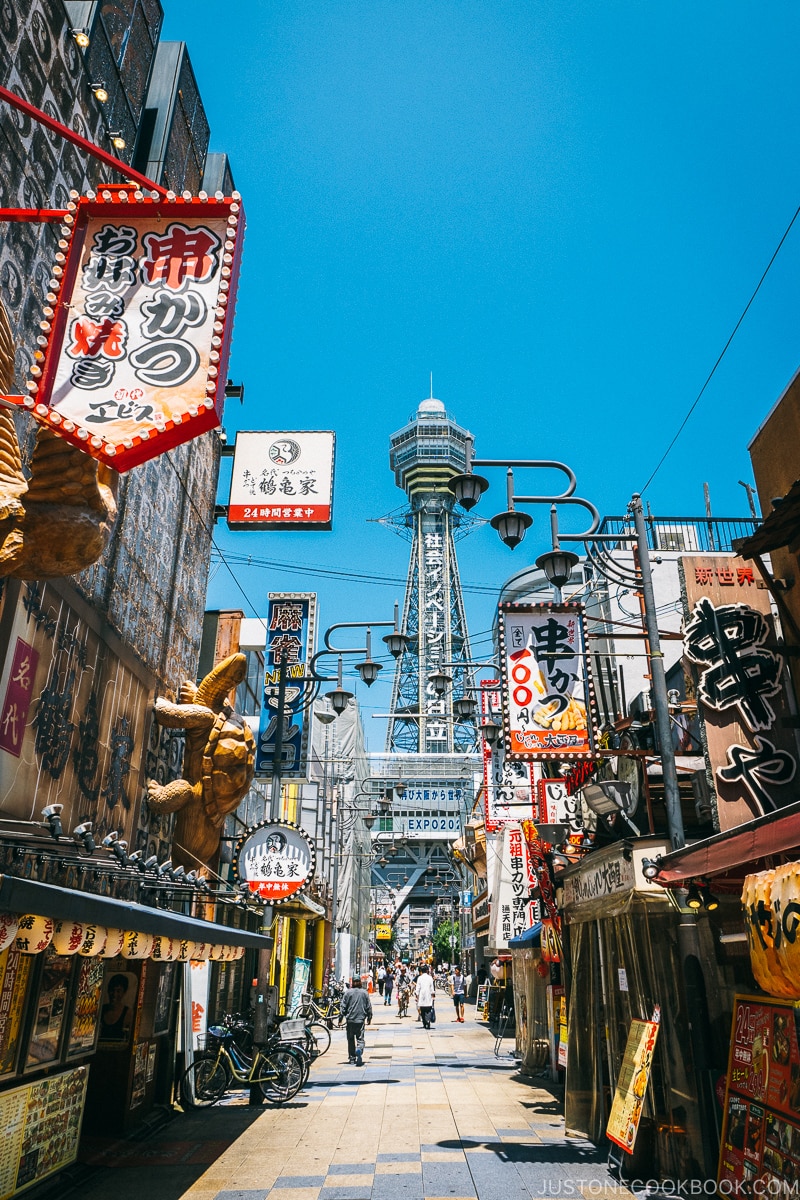 Tsutenkaku Tower is not as tall compared to Tokyo Skytree or Tokyo Tower. However, it has its own charming characteristics and offers a great view from the top as many of the buildings nearby are much lower.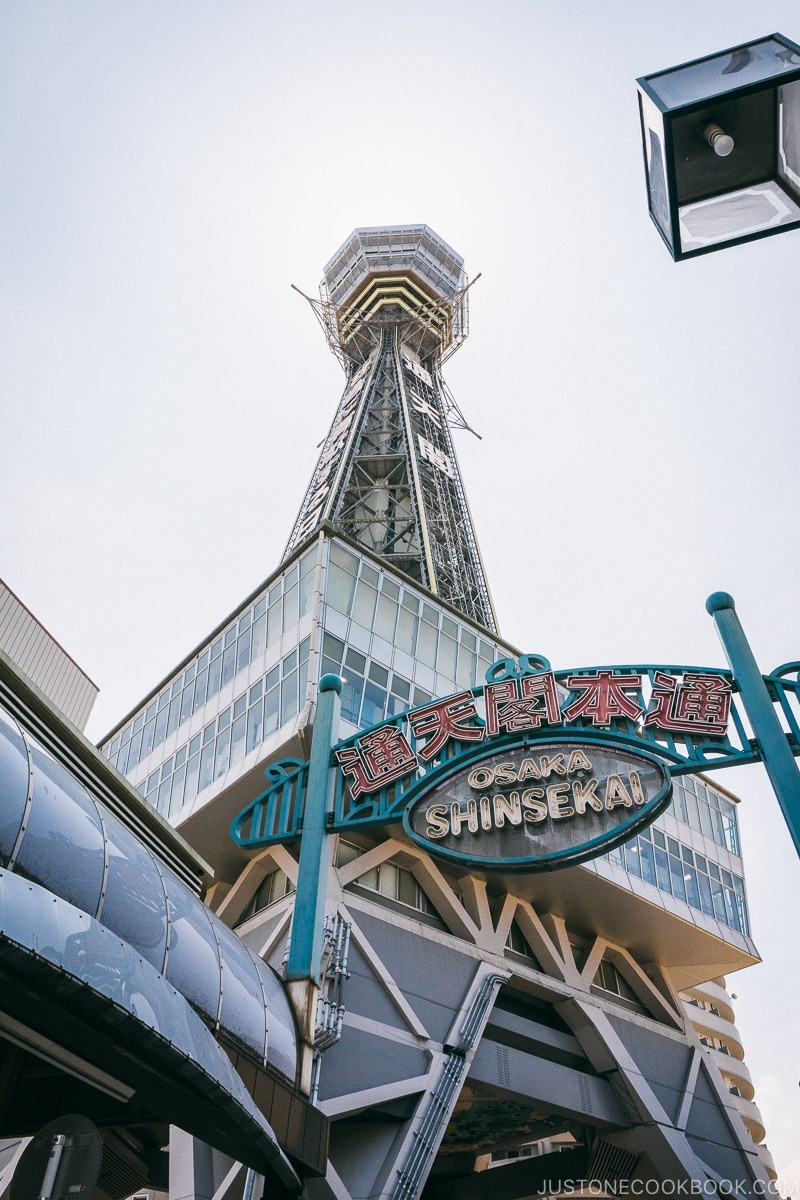 The entrance to the tower is right below. Once you enter, before the ticket booth, there is a souvenir gift section. You will exit the same way so you don't need to buy the souvenir before heading up to the tower.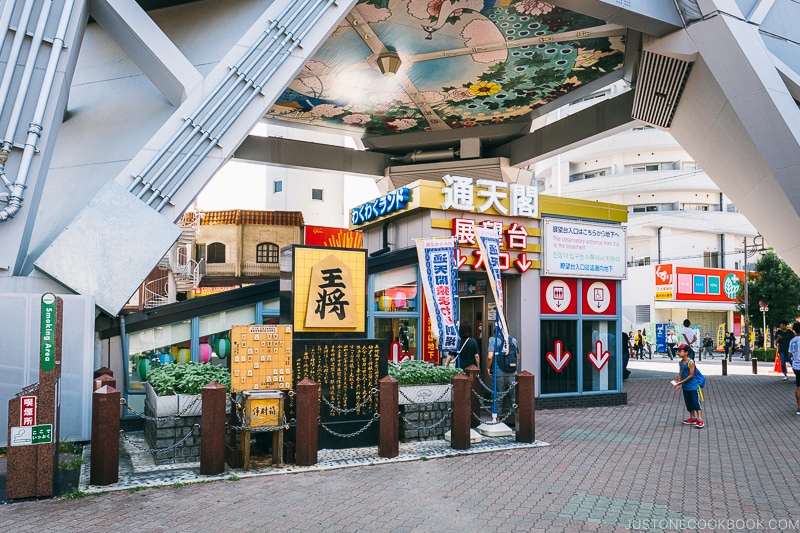 After buying the ticket and walking to the elevator, you pass by Billiken statues and nostalgic toys from the past.
When we were there, the display cases along the wall had an exhibition on Kinnikuman, one of my favorite Japanese comics as a boy. Seeing the memorabilia brought back a lot of childhood memories for me.
The Golden Observatory at Tsutenkaku
We had an amazing view of Osaka once we were at the top of the tower.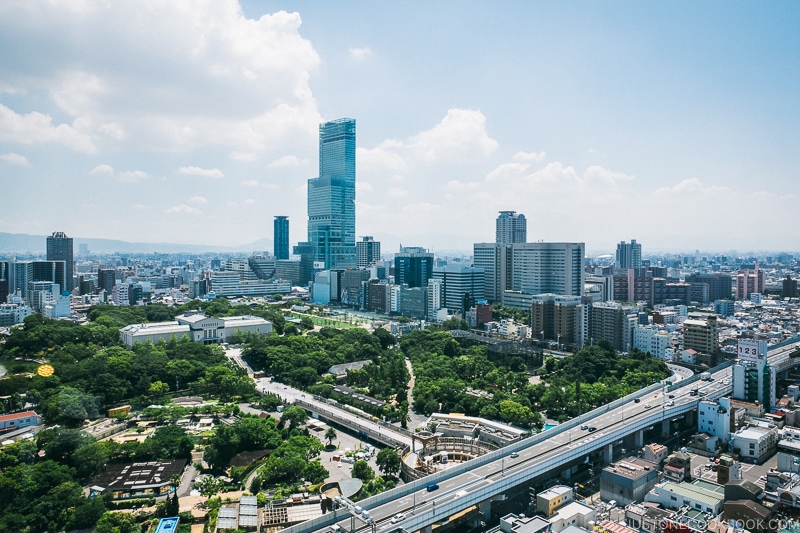 At the top, there is the enshrined Billiken. When Luna Park closed in 1923 the original statue disappeared. A replica was made in 1979 and a second replica that's currently in place is from 2012. Place some coins in the donation box and rub its feet for good luck.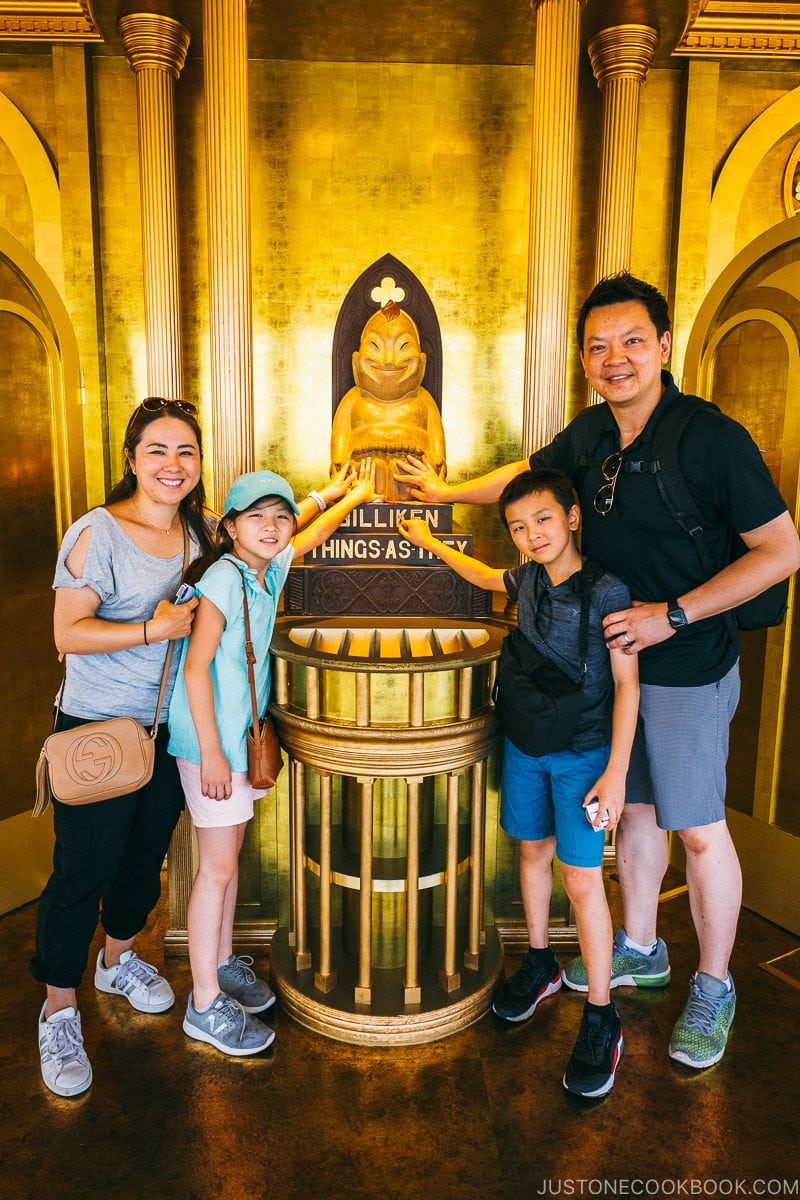 Osaka History Gallery in Tsutenkaku
Take the elevator down to the third floor and there's a gallery on the history of Luna Park and Shinsekai area. The Osaka's past and transport you back to 1912.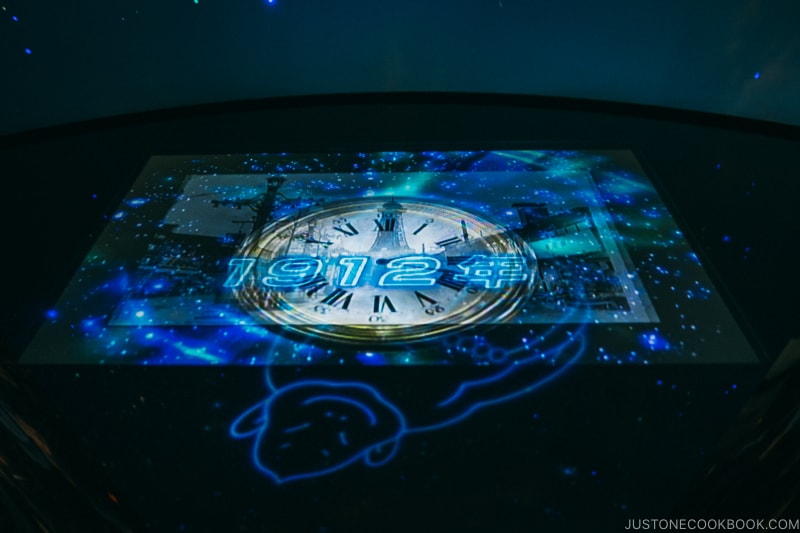 As I had mentioned earlier, this area was home to Luna Park and an original tower about 60 m high, which was one of the tallest in Asia at the time.
There's a small diorama of what Luna Park looked like and the model changes from day to night.
Besides the history of Luna Park, the history museum feels like a giant advertising opportunity for Glico – the maker of Pocky and Pretz.
There's a section where you can buy all types of specialty Glico products you don't normally see outside of Japan or even within Japan.
Thank you for reading and we hope you enjoyed our guide to Shinsekai. If you go to Osaka, make a quick stop to Tsutenkaku to enjoy the view and eat some fluffy and crispy Kushikatsu in Shinsekai. We'll see you soon at Dotonburi.
Just One Cookbook Osaka Guides
If you're interested in our travel guides on Tokyo, Kyoto, Kanazawa, Kyushu, and more, please click here.