Umeda is a major city center in Osaka with endless dining and shopping options. Check out the gigantic food malls inside the mega department stores, take in the city view from HEP FIVE FERRIS WHEEL, and ride the floating escalator in the cool slick Sky Building.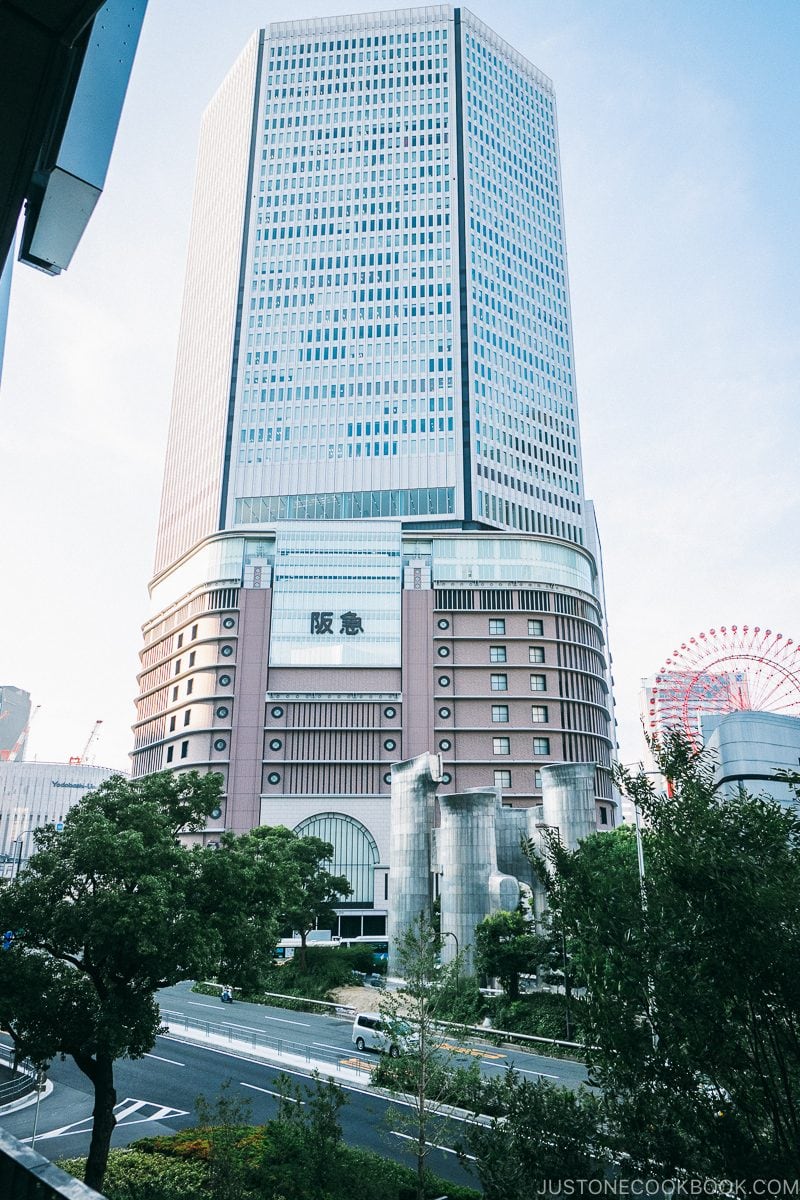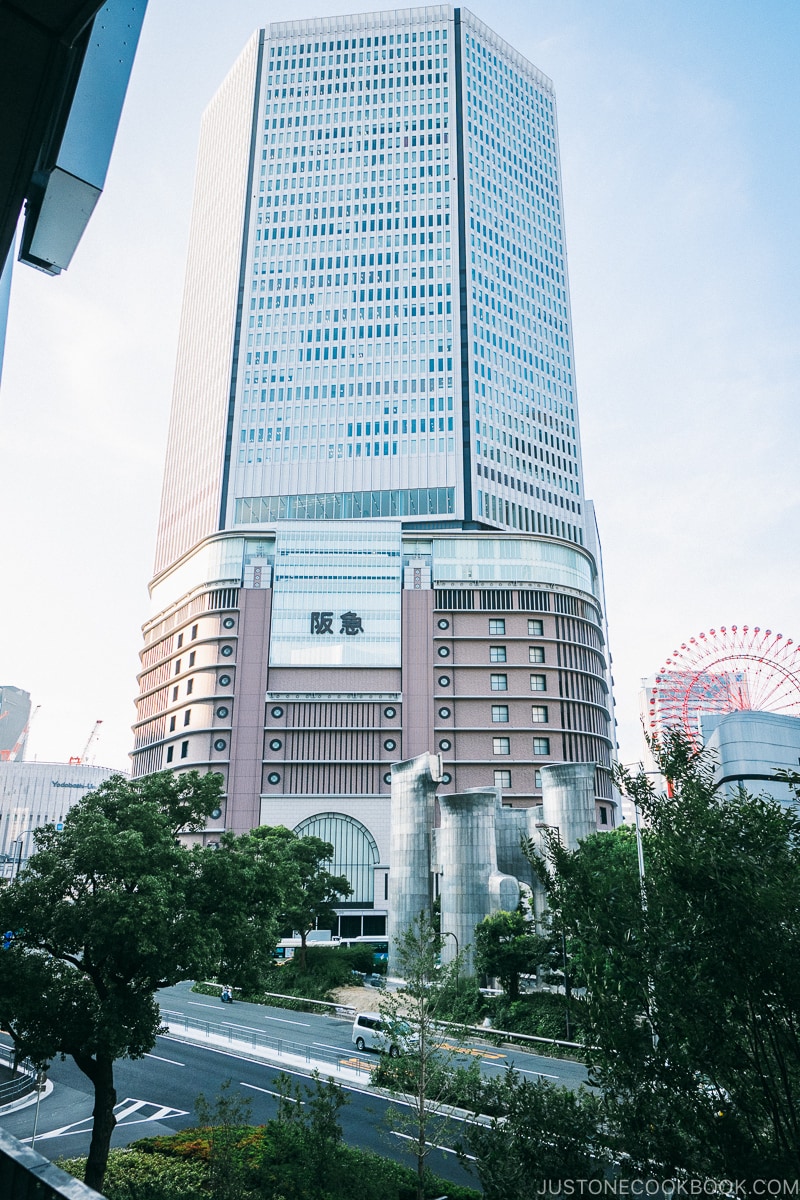 Umeda is the go-to destination for shopping and dining choices in Osaka, with the major transport hubs Osaka Station and Umeda Station, flanked by Hankyu, Hanshin, Daimaru, and other super-sized retail shops.
Osaka Station 大阪駅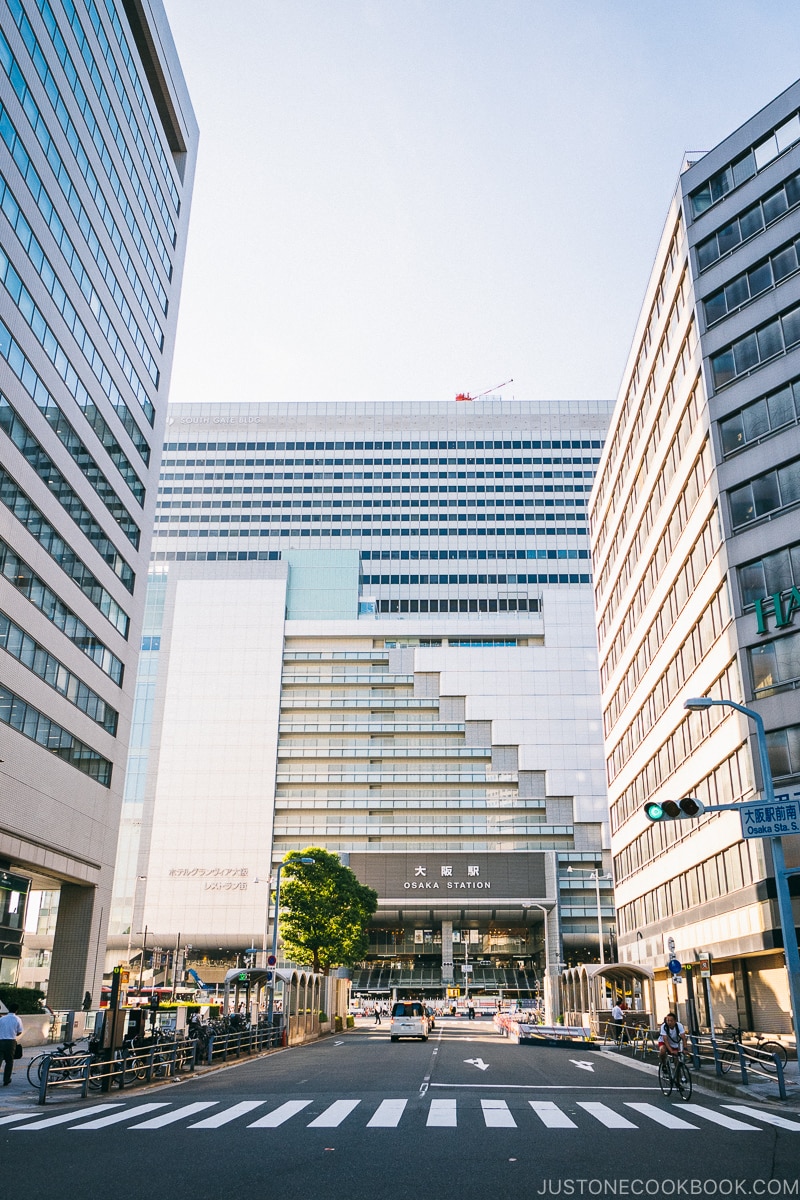 Umeda cemented its place as the center of transportation in Kansai area when Osaka Station open in 1874. Subsequent train and subway lines were added to the area including Umeda Station. A similar comparison for Umeda in Osaka would be Shinjuku in Tokyo.
Osaka Station went under a major renovation in 2011 and is now composed of South Gate and North Gate Buildings. Besides the many dining and shopping choices, South Gate Building includes the department store Daimaru and the North Gate Building houses Lucua shops as well as a movie theater on the top floor.
Department Stores in Umeda
If you are looking to shop in Osaka, then Umeda is where you want to be. There's no shortage of large department stores surrounding the station. However, there aren't many tourist attractions in the Umeda area. What we do highly recommend checking out for any foodie is the "depachika," the food mall underneath the department stores. We really liked the one at Hanshin so you have limited time go check that one out.
Hanshin Department Store Umeda 梅田 阪神百貨店
Hanshin's history in Umeda goes back to the early 1930s. Like many other department stores in Japan, it's home to many high-end boutiques, fashionable attires, restaurants, and cafes. However, the best way to peek into the daily Japanese life and what people buy and eat is in the food mall.
The food mall in Hanshin sells everything from ready-to-go food to delicate desserts, wine, tea, and many other gifts. The packaging and gift wrap for the purchases are exquisite and free of charge.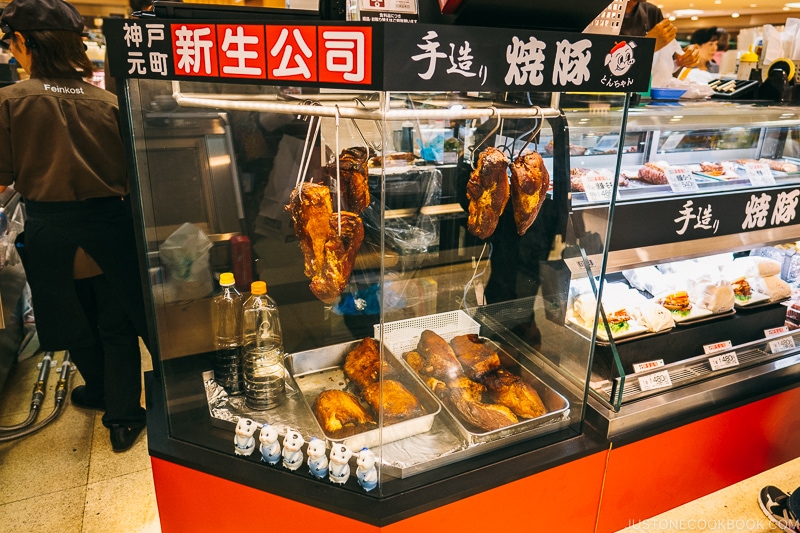 One of the conveniences the food mall offers is there are many famous stores from the nearby area (Kobe, Kyoto, etc) that will operate a booth there so you don't have to travel all over to buy them. The photos we've shared below is just a small sample and it's easy to spend an hour checking out all the different foods.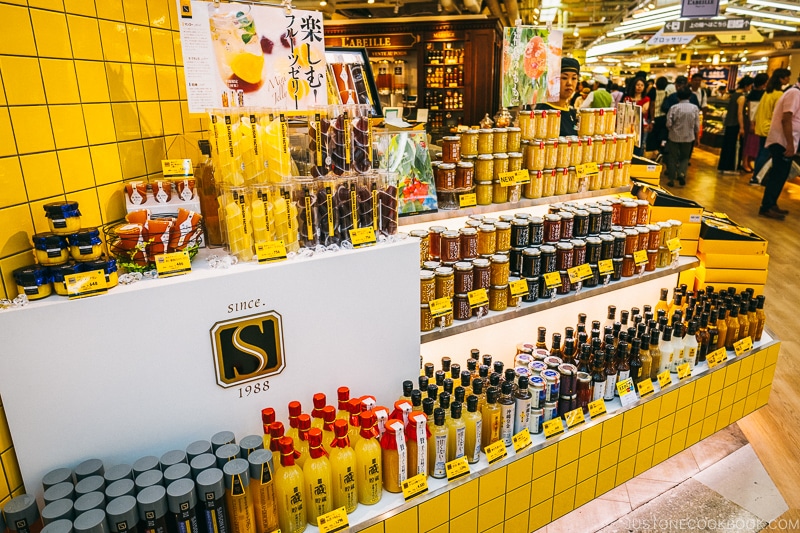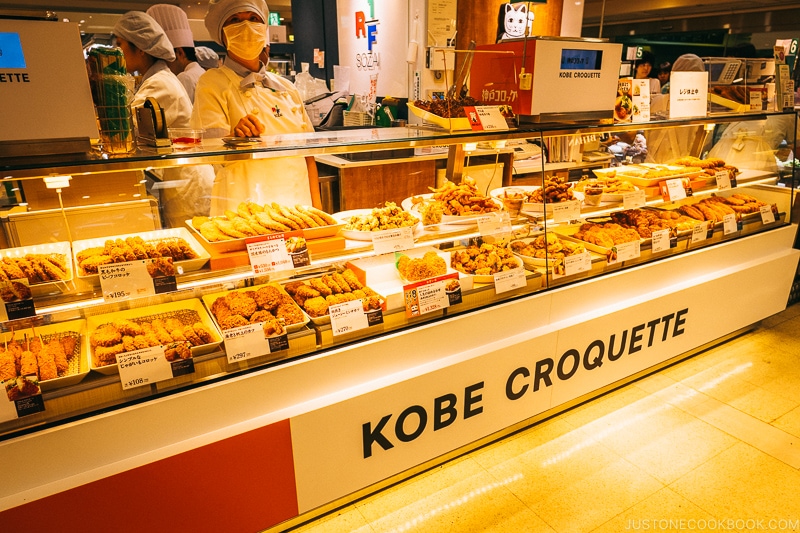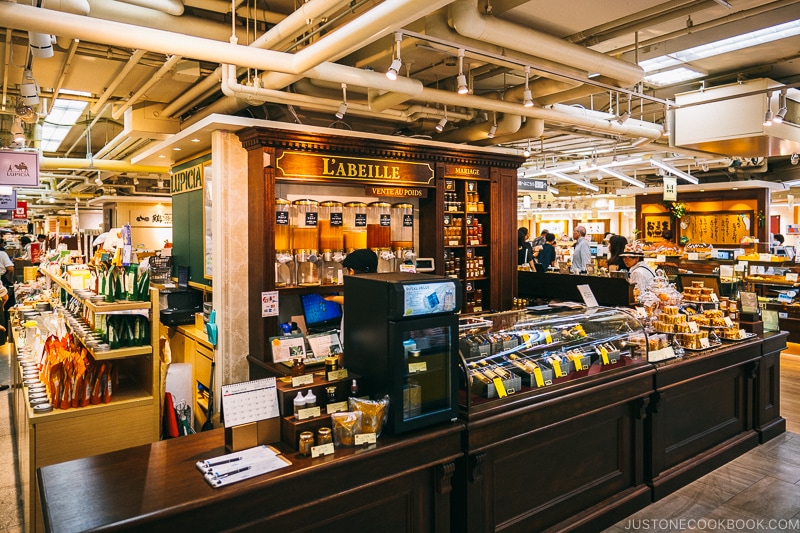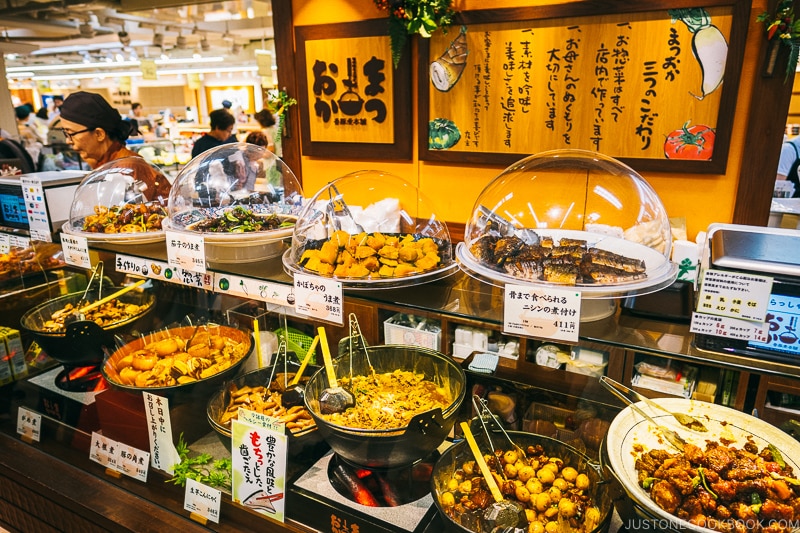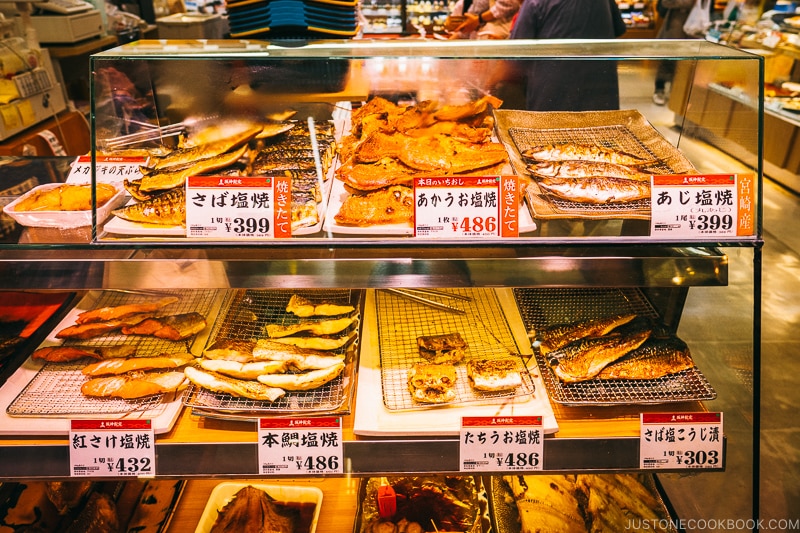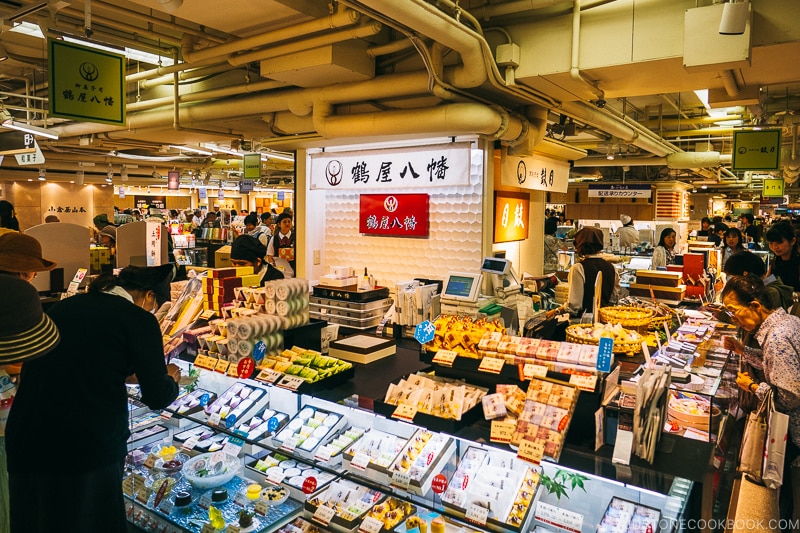 Besides offering their most popular products and items throughout the year, each shop often features seasonal and limited time goods. One of our favorite indulgences during the summer is the white peach jelly. Eating the chilled white peach jelly on a hot summer day is simply too incredible to describe. At $10 per jelly, it's really pricey so we usually share 2 between 4-6 people.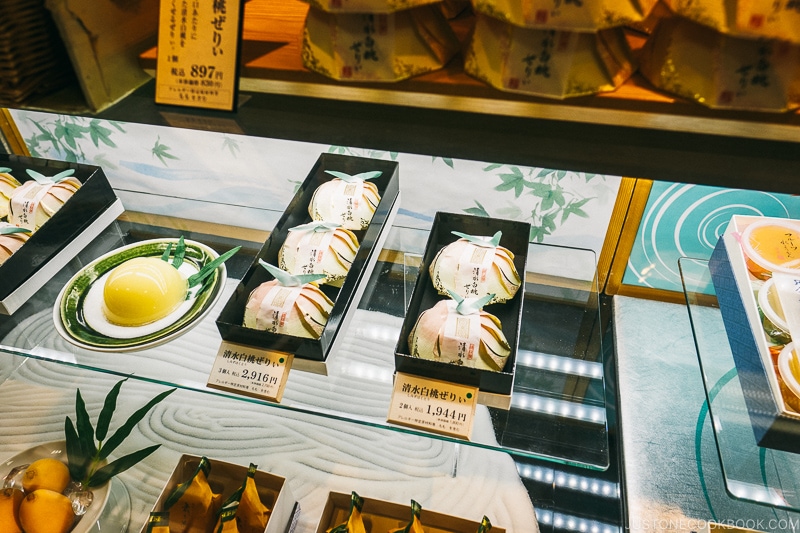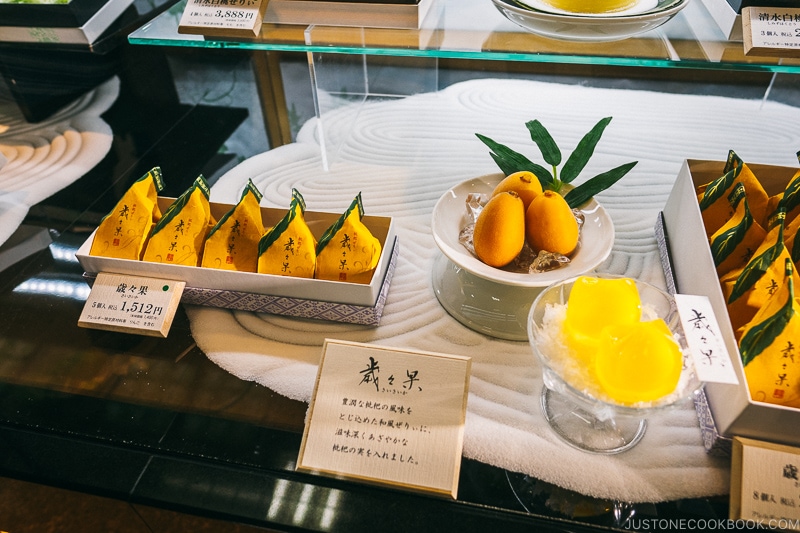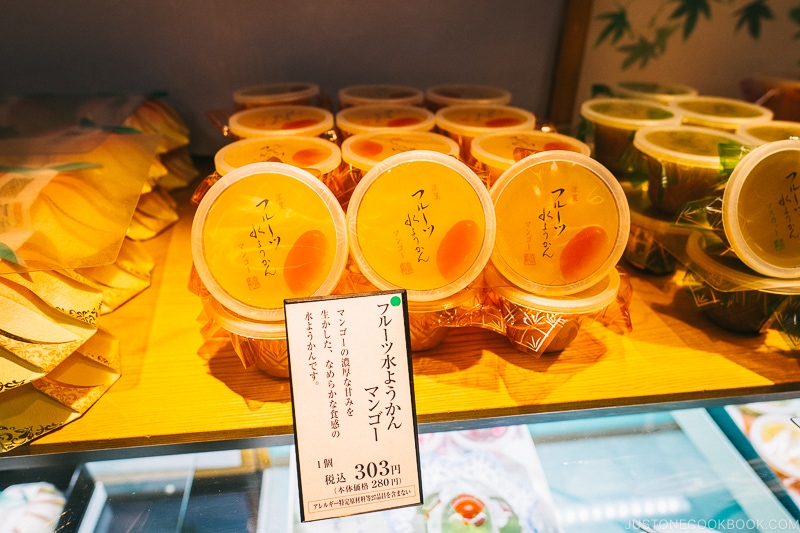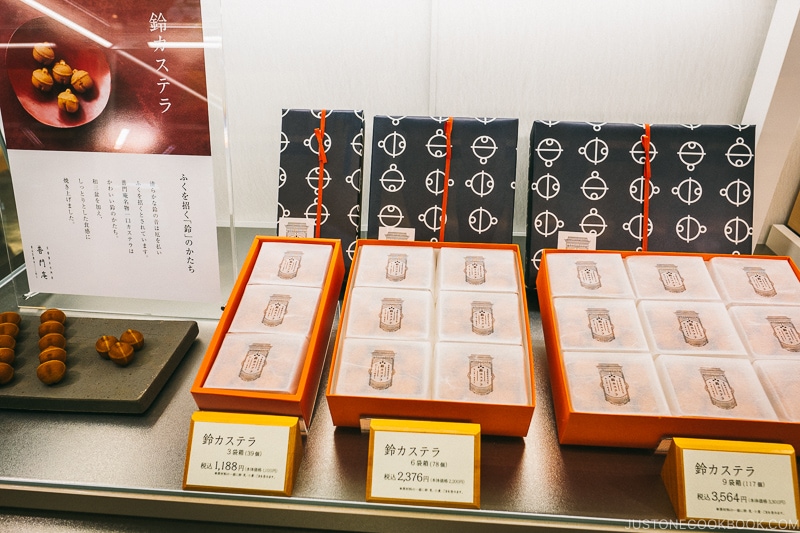 Hankyu Department Store Umeda 梅田 阪急百貨店
Another prominent department store in Umeda is Hankyu and it actually merged with Hanshin in 2008. It is the premier department store in the Umeda area. Between its main store along with the HEP NAVIO men's store, the combined retail sq footage is the second largest in Japan.
In the pedestrian walkway along Hankyu, the window display are decorated with incredible detail and changes based on the current theme or season.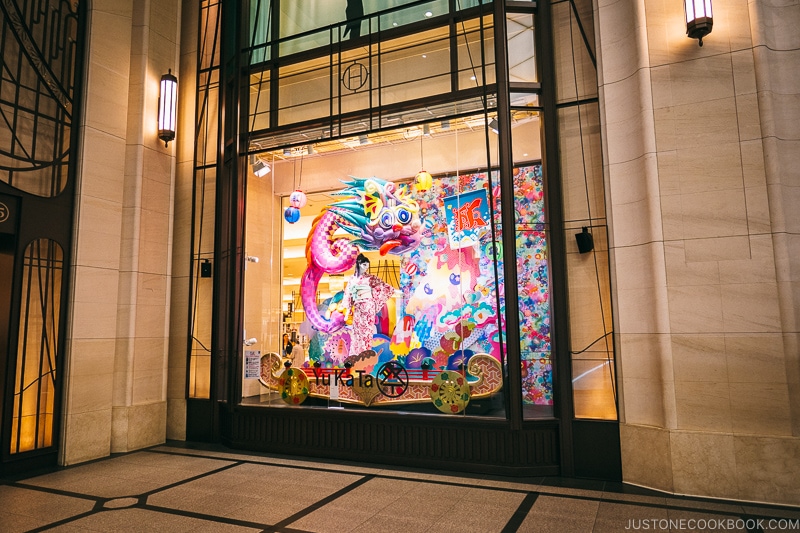 In the Hankyu flagship department store in Umeda, there is also a plethora of food options in depachika.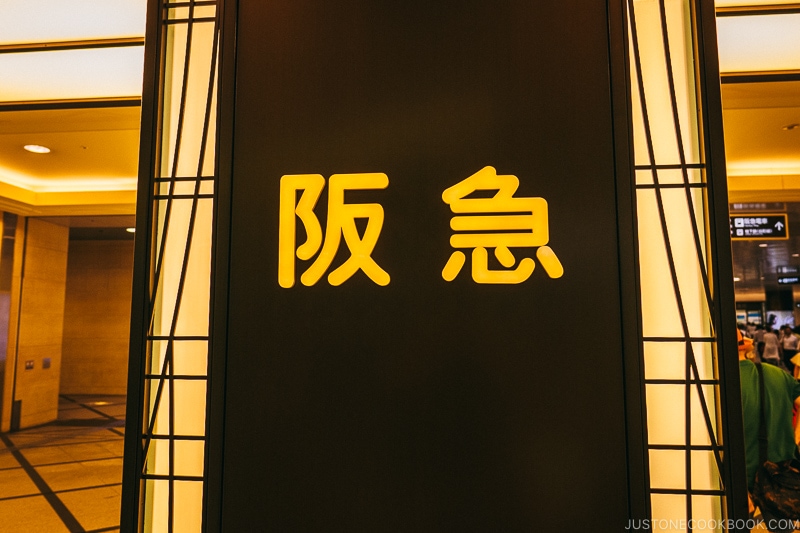 The food mall at Hankyu is focused on Japanese and Western confectionary as well as ready to go Japanese dishes and meals. The feeling there is different from Hanshin's depachika, with a higher ceiling and a more refined feeling. However, there are a lot fewer options with a smaller number of vendors compared to Hanshin.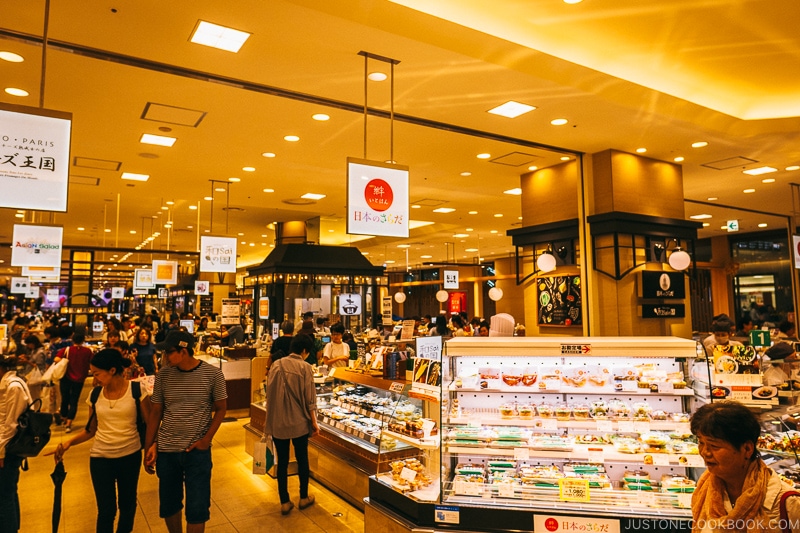 The walkways at Hankyu are much wider between the vendors and not as crowded.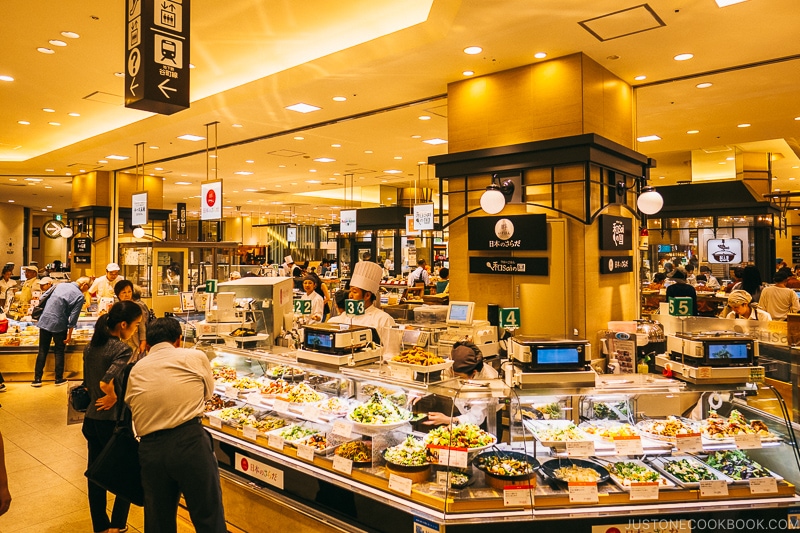 There are plenty of shopping choices at the department store. If you are specifically looking for men's fashion, head on over to HEP NAVIO
HEP FIVE FERRIS WHEEL ヘップファイブ観覧車
Now we got the shopping out of the way, let's check out some landmarks around Umeda. One of the most popular landmarks is the red HEP FIVE FERRIS WHEEL on top of HEP FIVE (Hankyu Entertainment Park) building.
The HEP FIVE building is targeted at a younger demographic with over 170 stores. It gets an impressive 14 million visitors per year.
Although the Ferris wheel is not particularly high, you get a great bird-eye view of the Umeda area. The cost is 600 yen per rider and children five and under are free.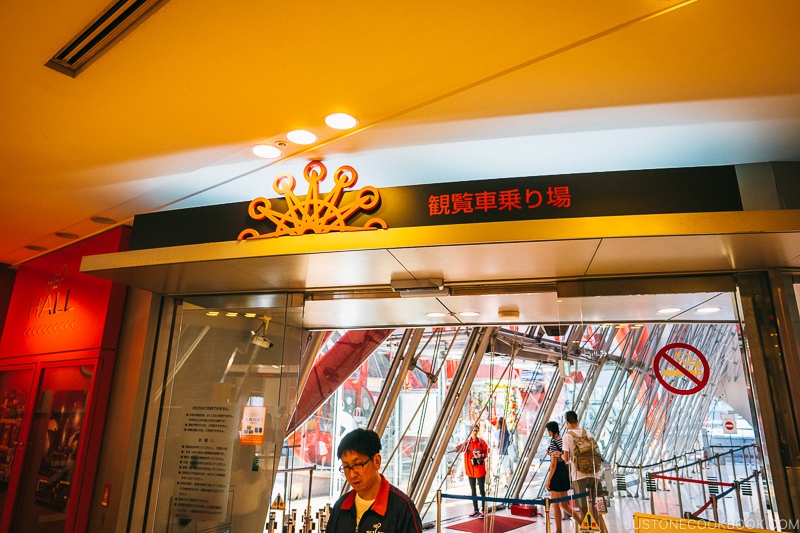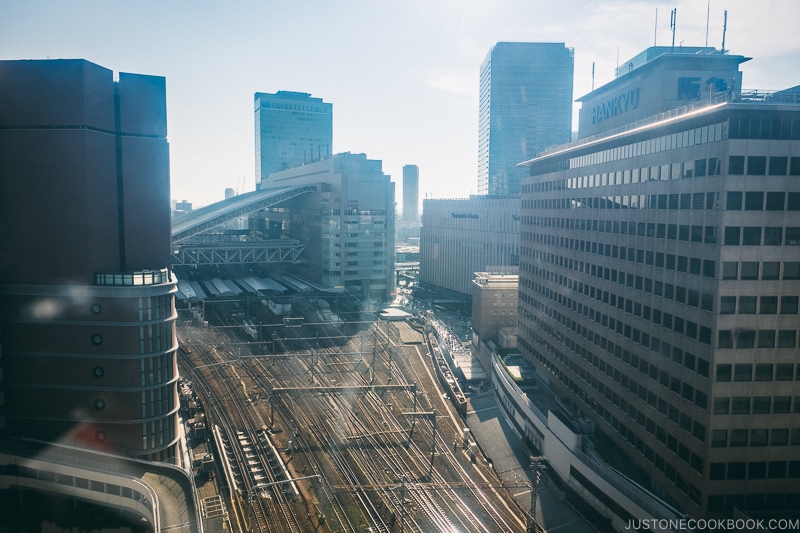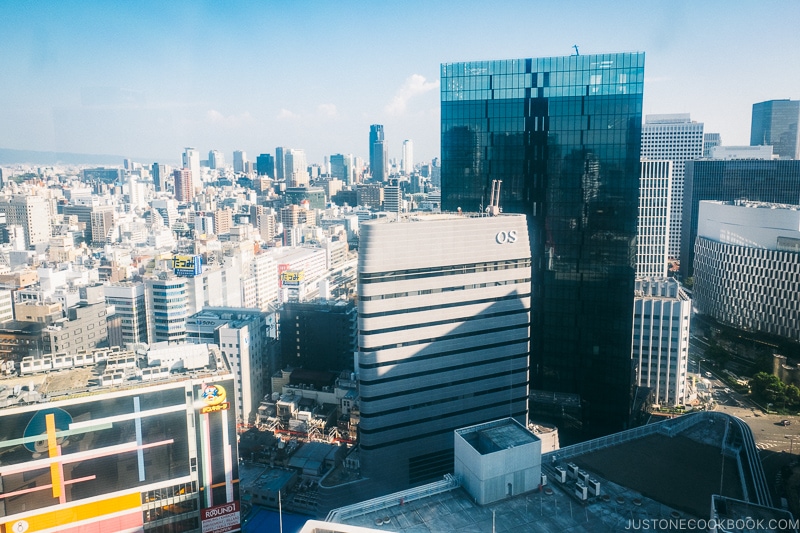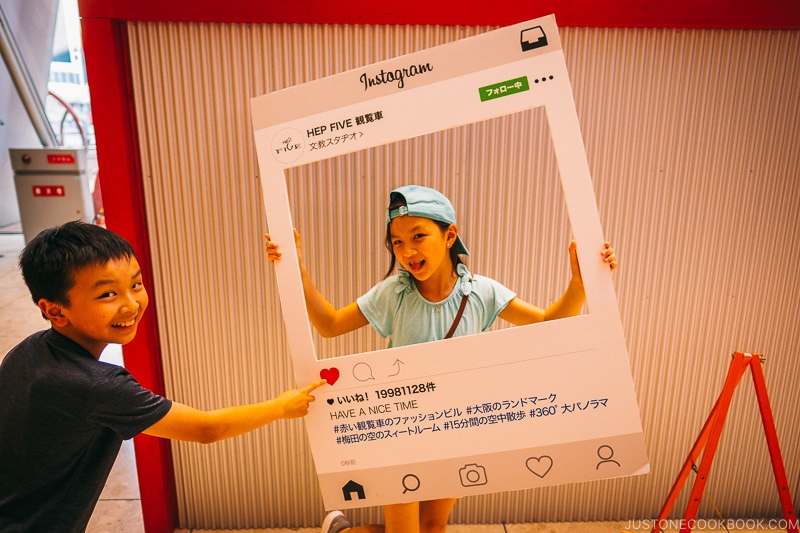 Umeda Sky Building 梅田スカイビル
Another landmark in Umeda is Sky Building. It's an observatory platform connecting two buildings. The building looks like an upside down U. It's quite a futuristic experience as visitors go up an elevator shaft that's mostly glass. After arriving at the top, you then go up the escalator that's suspended in the air.
If you are limited on time during your trip to Osaka then skip the Sky Building. The elevator ride and the escalator was the most fun part and there are other places to get better views.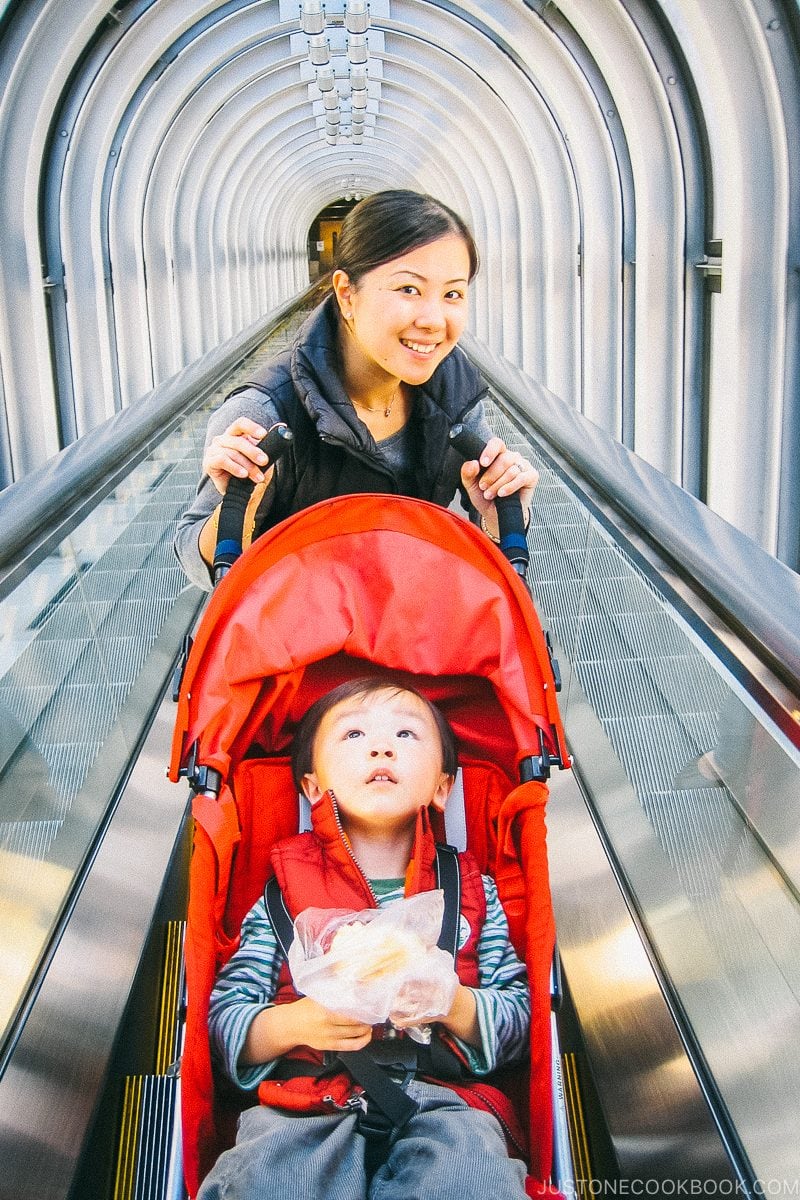 Dining Option in Umeda
So, we will not give any recommendations for dining in the Umeda area at this time. Why you might ask? There are over 6,000 restaurants choices within 1 km (roughly 1/2 mile) of Umeda Station according to Tabelog. You can probably find whatever food you desire around there, so explore and be adventurous! During our visit to Umeda, we had dinner at Mamesuke.
Mamesuke 個室居酒屋 豆助 梅田マルビル店
We were able to meet up with Nami's family for dinner at Mamesuku near Umeda. Mamesuke is an Izakaya restaurant with an extensive menu. What's convenient about it is that there are plenty of semi-private rooms. It's great for big groups as they can fit between 4 – 40 people. This is rare in Japan as most restaurants have a hard time accepting a large number of people due to the limited space.
The food at Mamesuke was quite good and they had a few interesting dishes. One of them is their famous gluten skewers. The grilled gluten skewers are topped with various sauces including chili mayo, cheese, and five different types of miso including yuzu and tomato.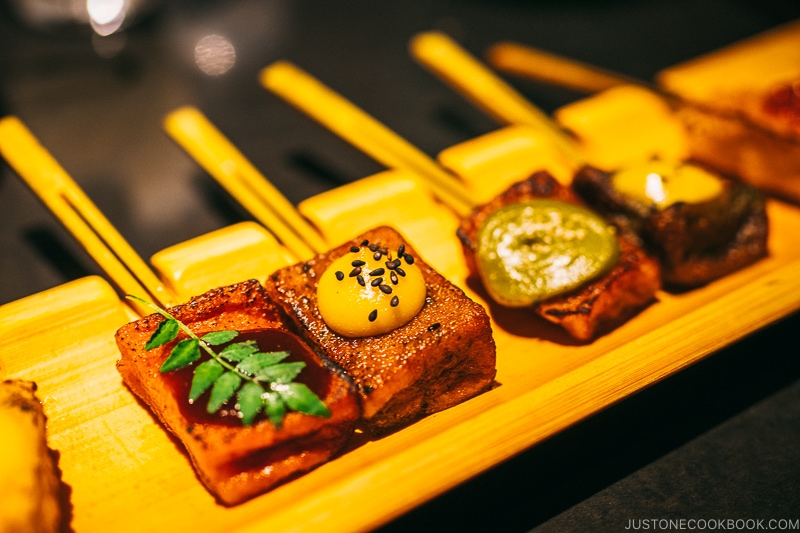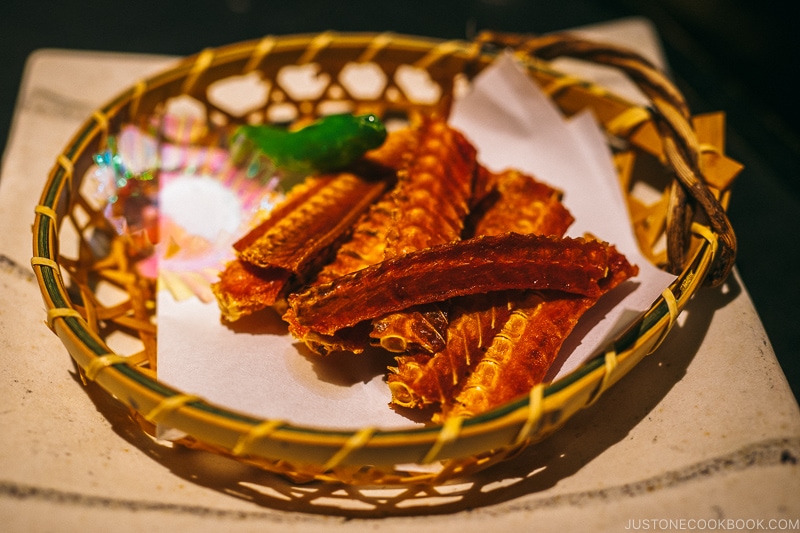 Thank you for reading our quick guide to the Umeda area in Osaka. It's a great place to spend the afternoon browsing through the stores and grabbing a bit to eat at the many restaurant choices nearby. If time allows, take the HEP FIVE FERRIS WHEEL or go up the glass elevator in Sky Building. We'll see you in our next post – Tempozan.
Just One Cookbook Osaka Guides
If you're interested in our travel guides on Tokyo, Kyoto, Kanazawa, Kyushu, and more, please click here.