Tempozan Harbor Village houses incredible whale sharks at Kaiyukan, provides breathtaking views from the Giant Ferris Wheel, and offers Osaka's favorite foods at Naniwa Kuishinbo Yokocho.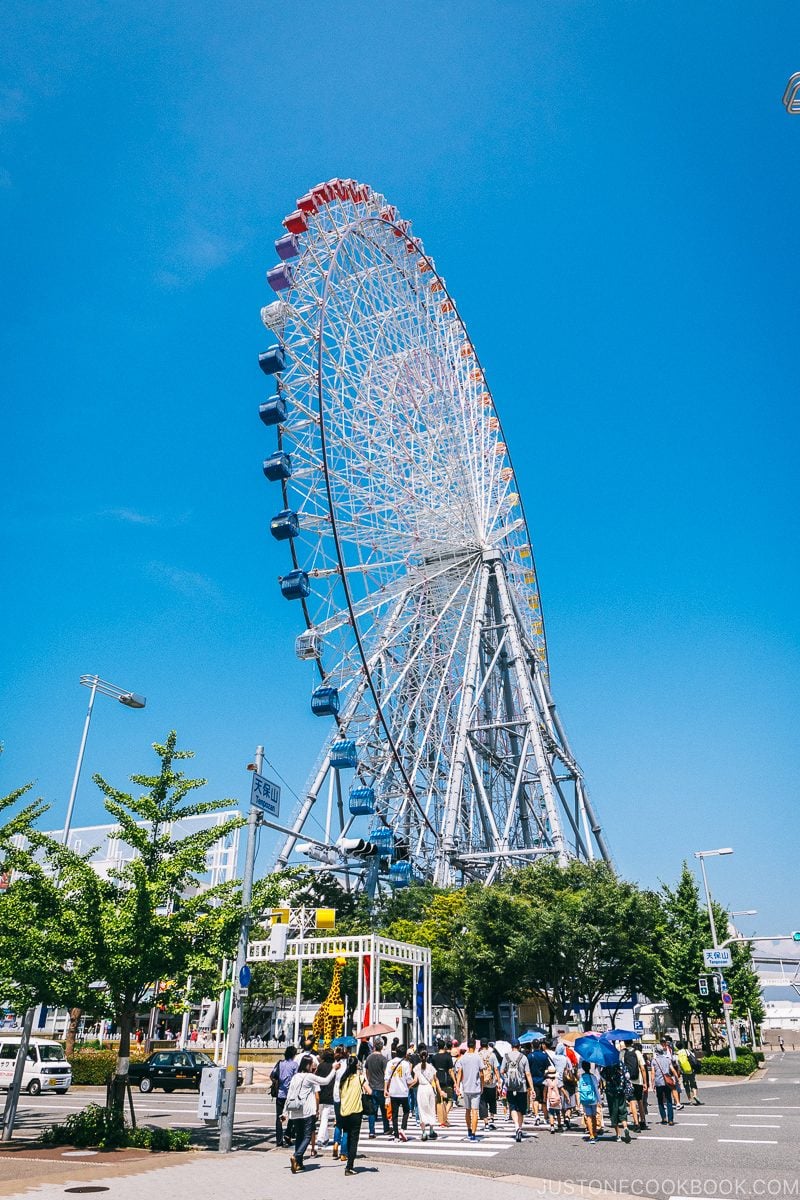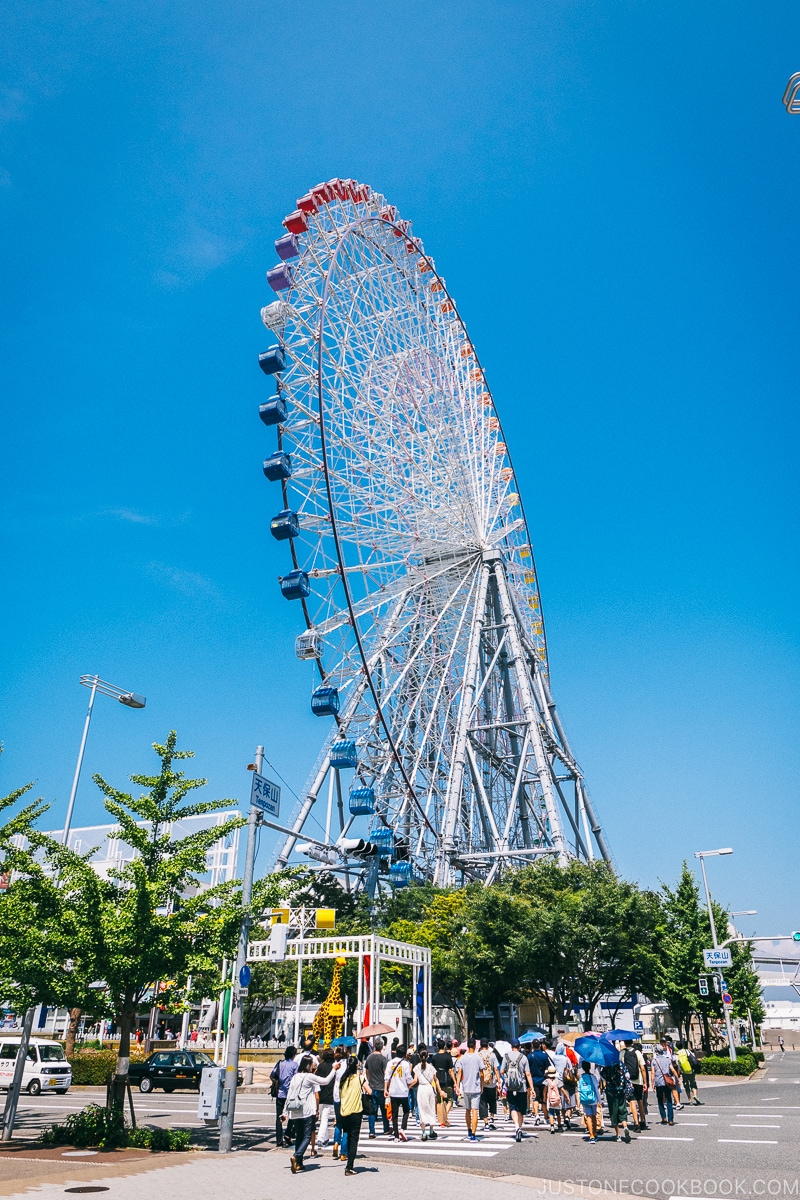 We recommend taking a trip to Tempozan Harbor Village when visiting Osaka, especially if you have younger children. The village contains an enormous aquarium, a giant Ferris wheel, Legoland Discovery Center, and lastly, you can even take a bay cruise. The best of all, you can find many nostalgic and classic Osaka food at Naniwa Kuishinbo Yokocho. Ready to check it out? Let's go!
Where is Tempozan Harbor Village
Tempozan Harbor Village is located on the western part of Osaka, it's just a quick 30 min train ride from either Umeda or Namba area of the city.
To get to Tempozan Harbor Village, you will exit Osakako Station on the Chuo line and it's just a short five min walk to get to the village.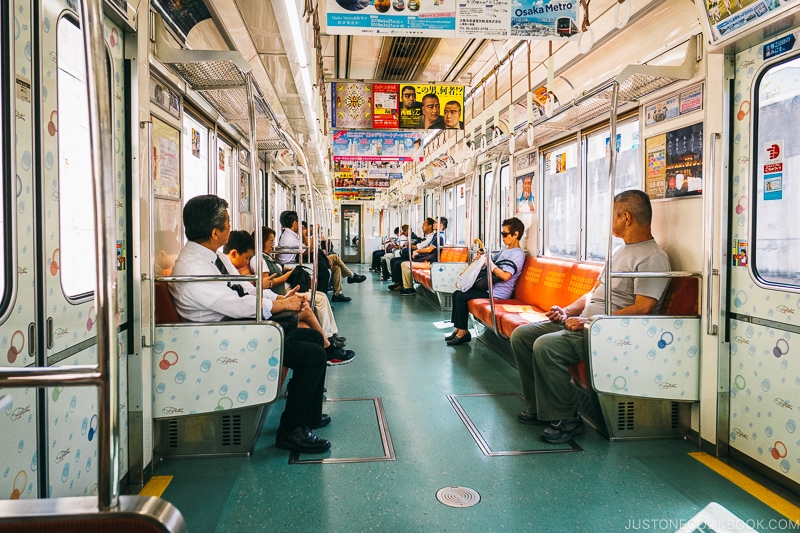 As soon as you exit Osakako Station, you'll see plenty of signs to guide you to Osaka Aquarium Kaiyukan.
Tempozan Harbor Village
Tempozan Harbor Village is made up of six attractions, and they are
Osaka Aquarium Kaiyukan 海遊館
Tempozan Giant Ferris Wheel 天保山大観覧車
Tempozan Marketplace
Naniwa Kushinbo Yokocho なにわ食いしんぼ横丁
Legoland Discovery Center Osaka
Cruise Ship Santa Maria
It's free to walk around Tempozan Marketplace and Naniwa Kushinbo Yokocho, however, the rest of the attractions requires a fee.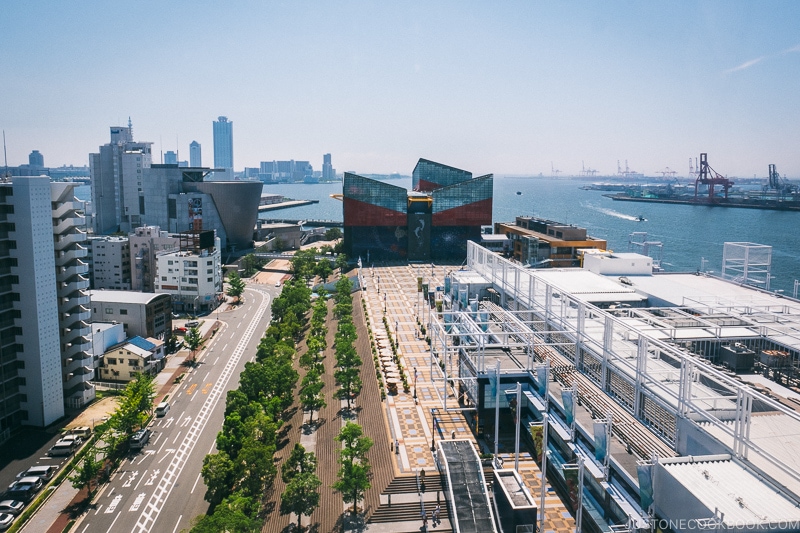 If you get the Osaka Amazing Pass it includes the giant Ferris wheel, Legoland, and Cruise Ship Santa Maria for free. The 1-day pass is usually 2,700 yen and the 2-day pass 3,600 yen. There are sometimes promotions for the Osaka Amazing Pass with a reduced fee.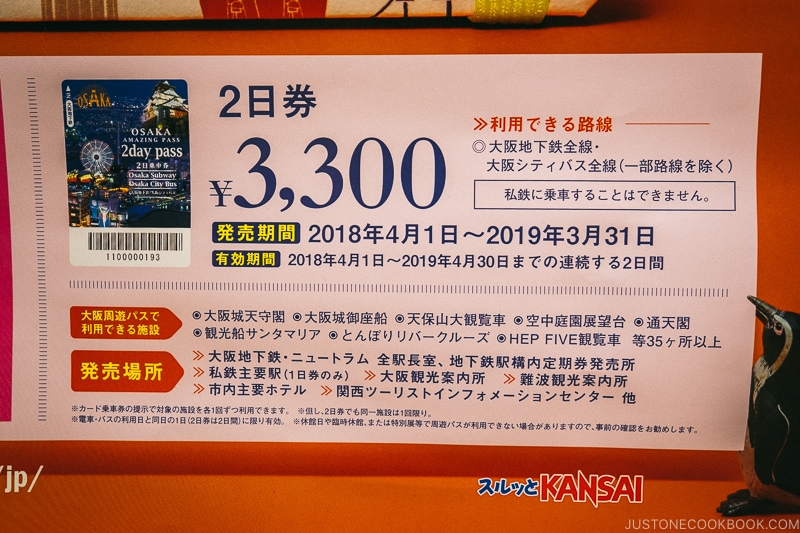 Osaka Aquarium Kaiyukan
The biggest attraction at the Tempozan Harbor Village is undoubtedly the Kaiyukan aquarium (海遊館). It is one of the largest aquariums in Japan (the largest one is the Okinawa Churaumi Aquarium) and easily accessible.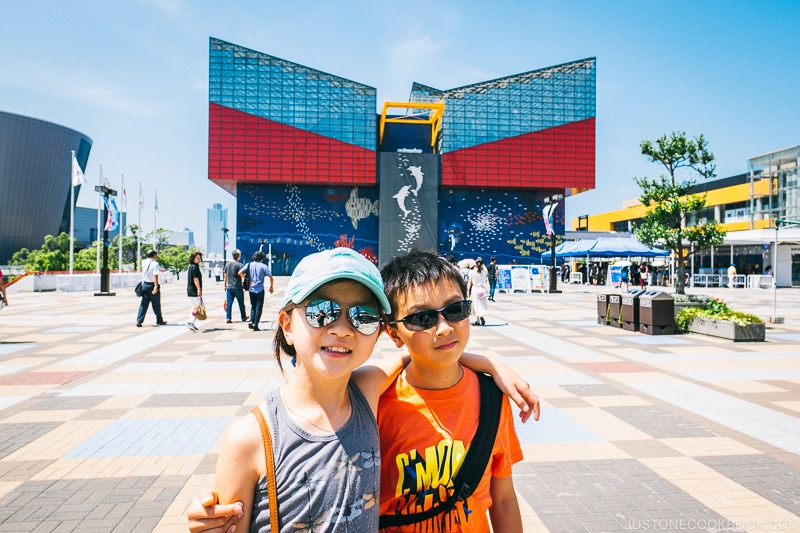 There are over 30,000 creatures and 620 species at Kaiyukan and the star attraction is undeniably the largest fish in the world – the majestic whale shark.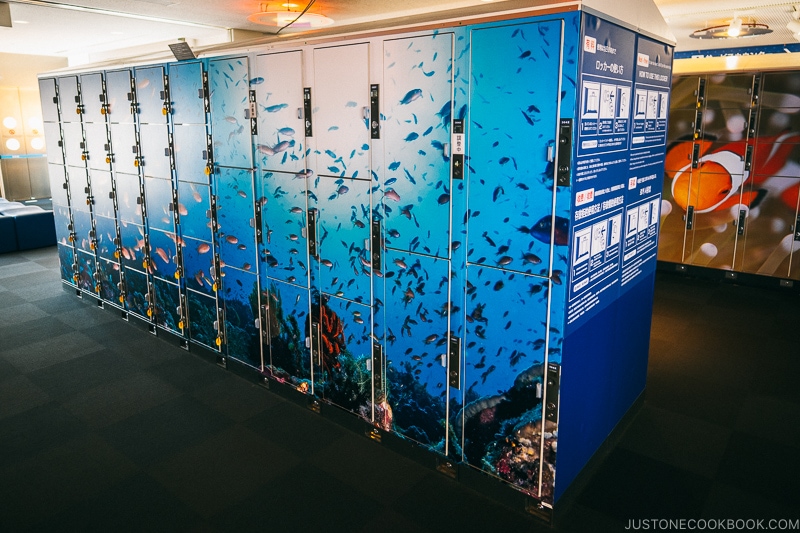 The themes for Kaiyukan are about the Pacific Rim and the regions within it. The regions include Japan Forest, Aleutian Islands, Monterey Bay, Gulf of Panama, Ecuador Rain Forest, Great Barrier Reef, and the Pacific Ocean.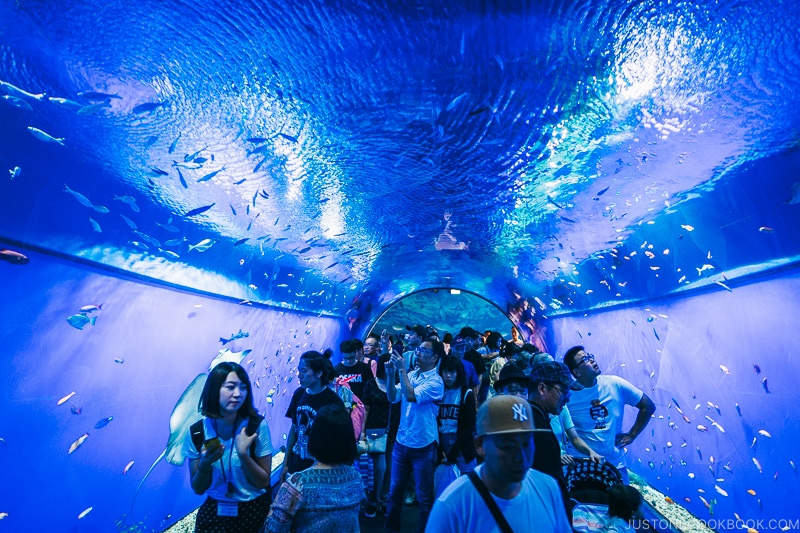 It's easy to navigate around the aquarium as there's basically only one route the visitors can take. If you follow the guided route it will take you through all the areas.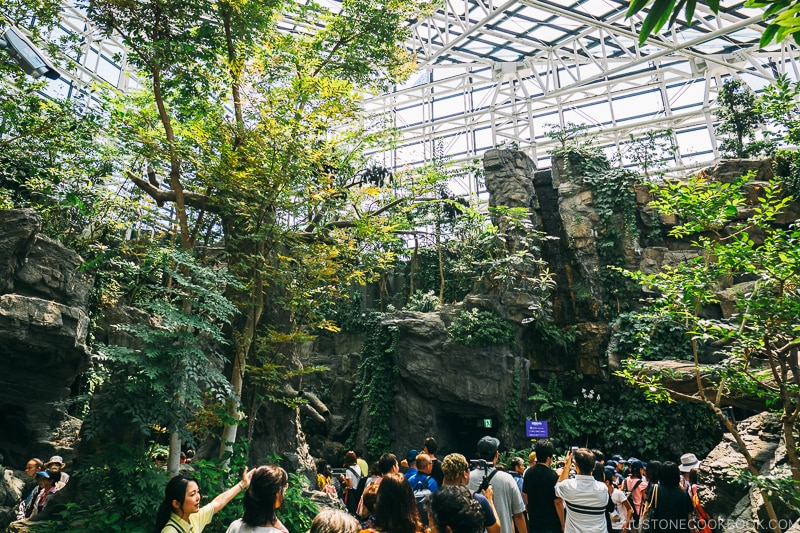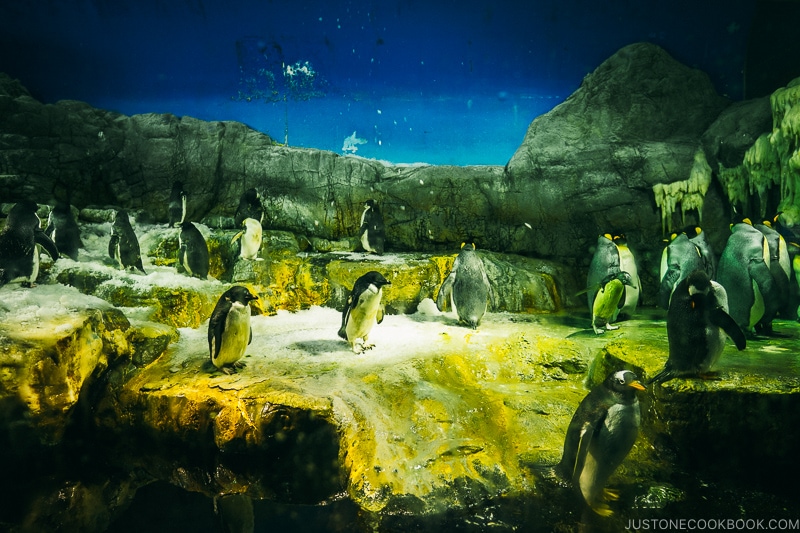 Besides the many exhibits, there are 15 large tanks in the aquarium each featuring animals and habitats from a distinct area of the Pacific Rim.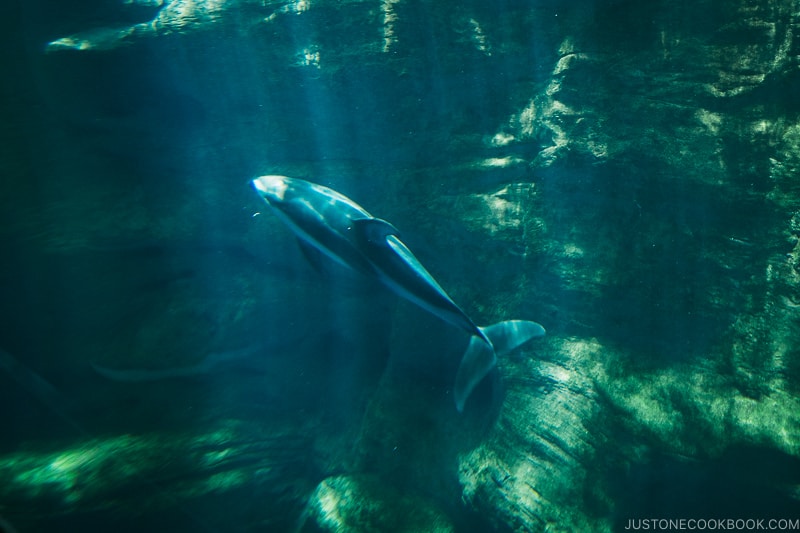 Pacific Ocean Tank
The main feature of the aquarium is the "Pacific Ocean" tank. The 9 meters tall tank features a unique design as the observation walkway wraps around the tank. This allows plenty of opportunities for visitors to get a surprisingly good view of the sea creatures. Most aquariums' feature tank is viewable only from one side so this design is really well thought through.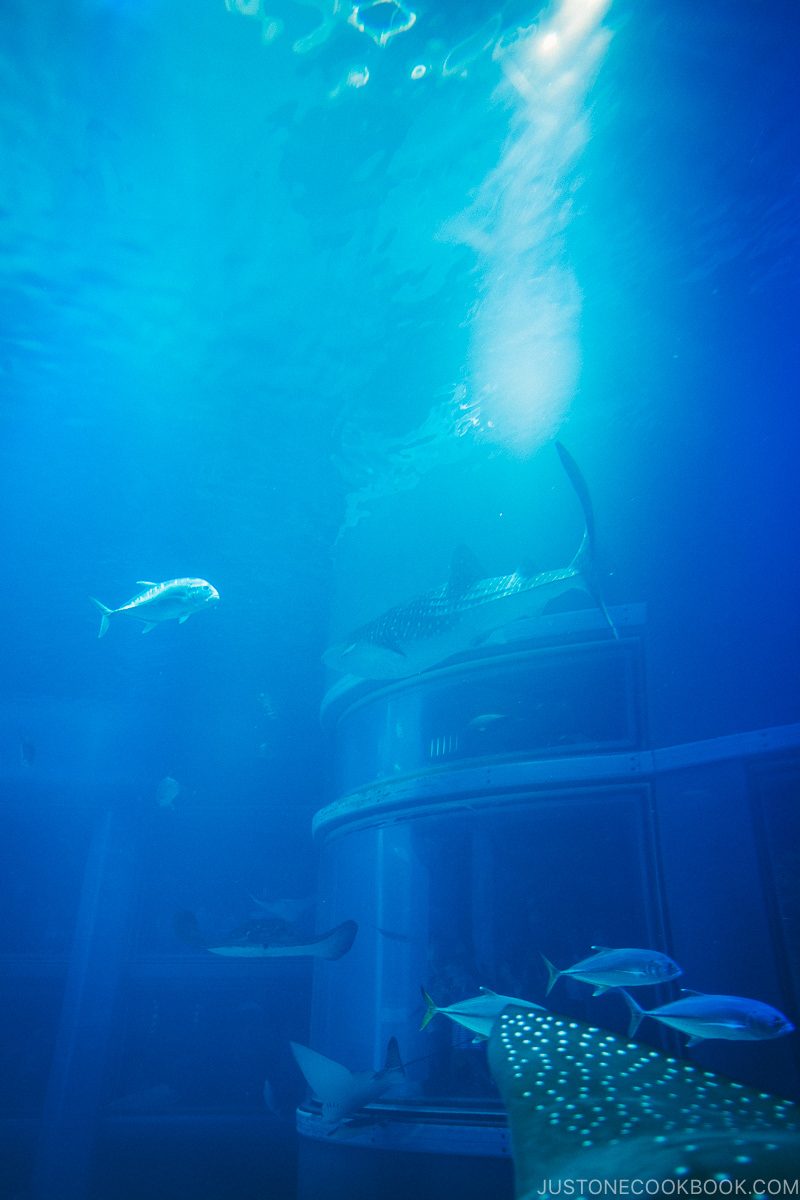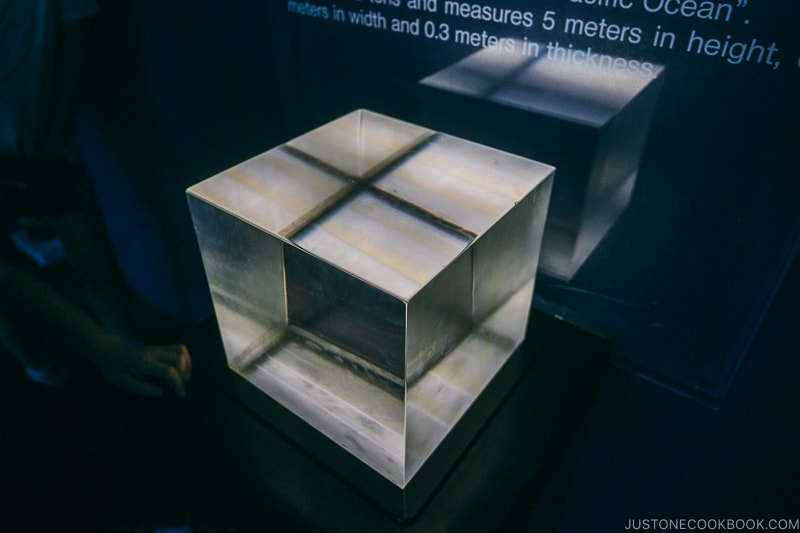 Interactive Exhibits inside Kaiyukan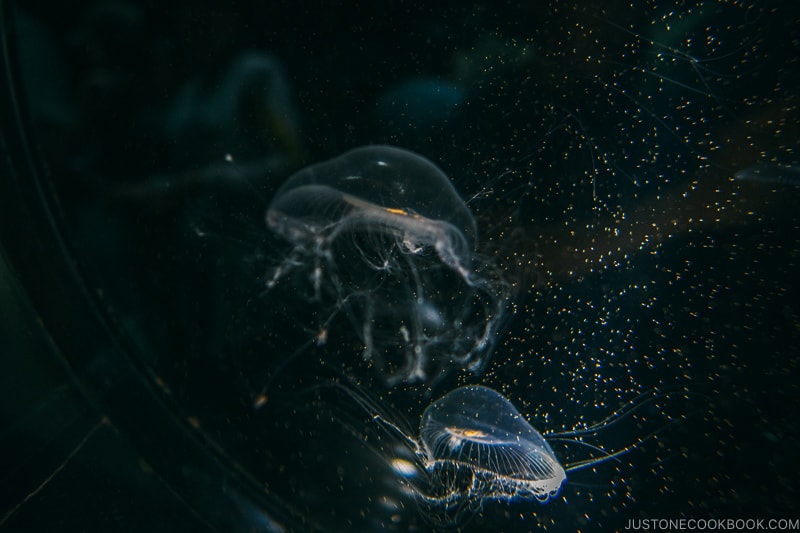 Outside of sea life exhibits, there are informative exhibits on regions of Pacific Rims including how humans explore ice cold Antarctica and what prehistoric ocean animals looked like.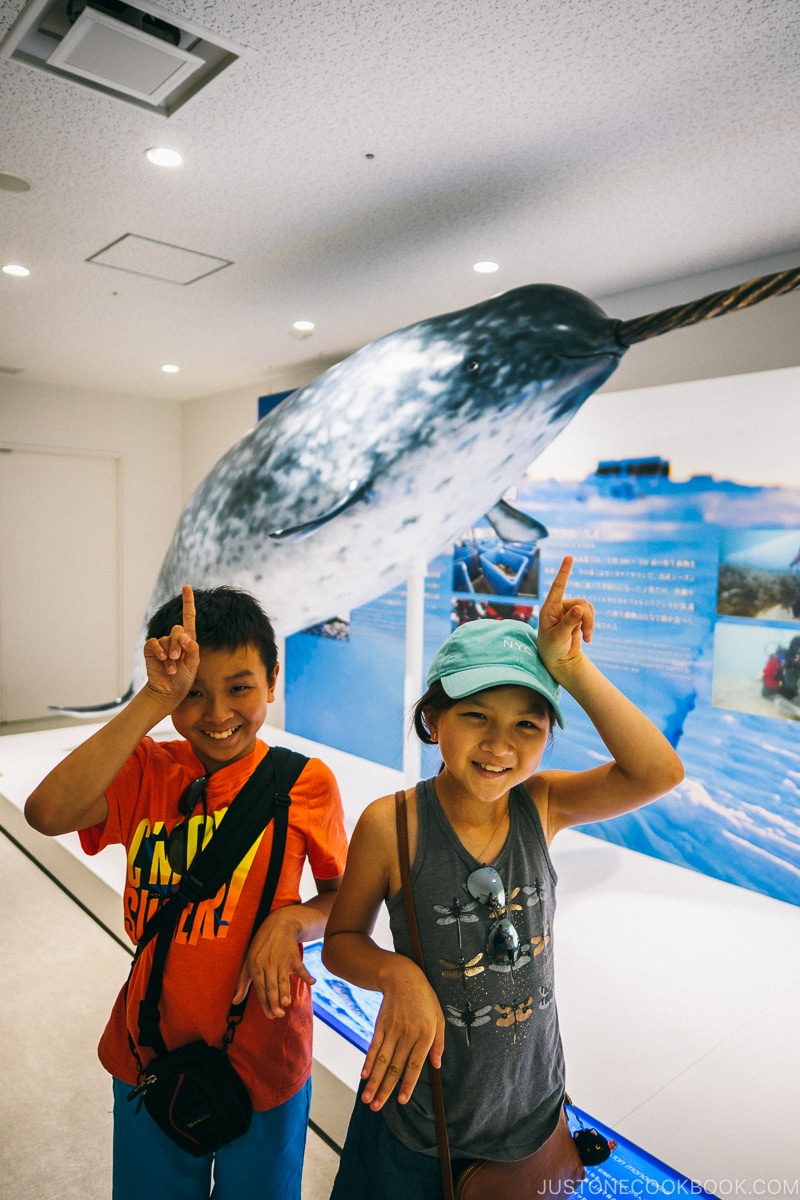 Lastly, there's an interactive touch pool where visitors can touch sharks and rays.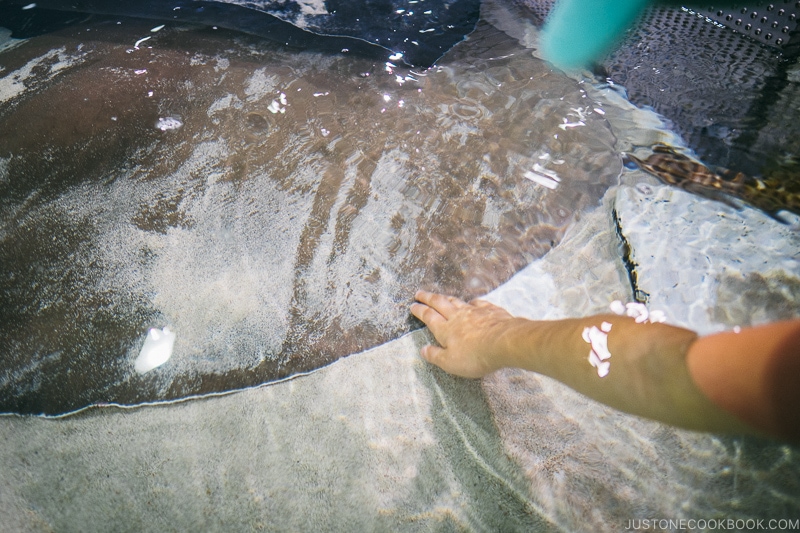 Our son especially loves biology so we had a great time in Kaiyukan.
Tempozan Giant Ferris Wheel
The next attraction is a landmark that's hard to miss, the Tempozan Giant Ferris Wheel (天保山大観覧車). When it opened in 1997 it was the world's tallest, while it has since been surpassed by others, it still reaches an impressive height of 112 meters (almost 30 stories tall).
Over the years, over 10 million riders have ridden on the Ferris wheel.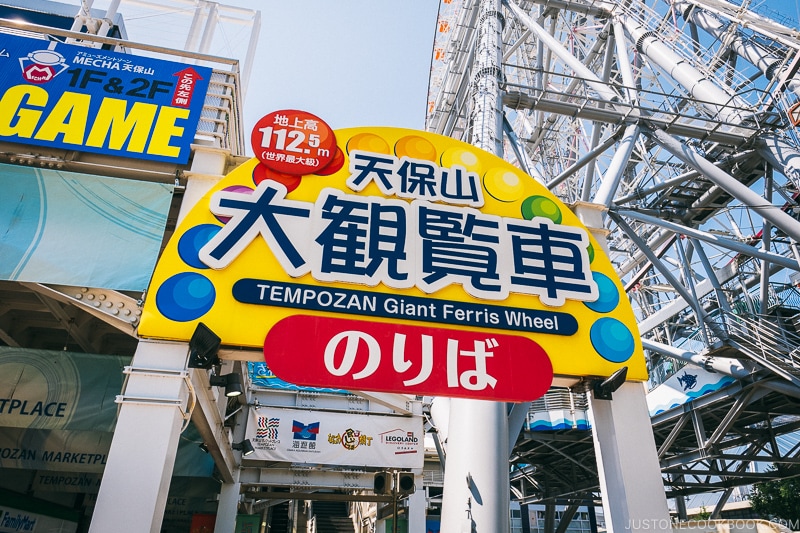 It takes about 15 min to go around once and there are special carriages that are surrounded by clear glass panels including the floor. These carriages offer best-unobstructed views while on the ride.
The views from the Ferris wheel is spectacular as you can take in 360 degree views from high above.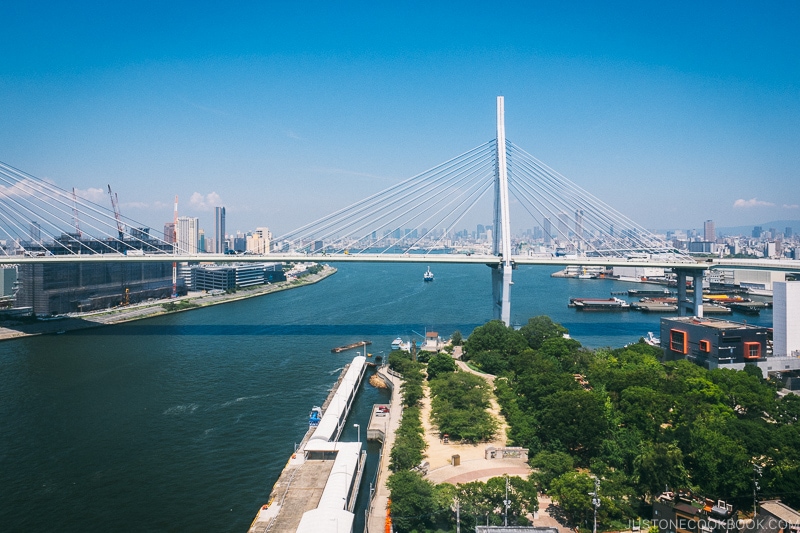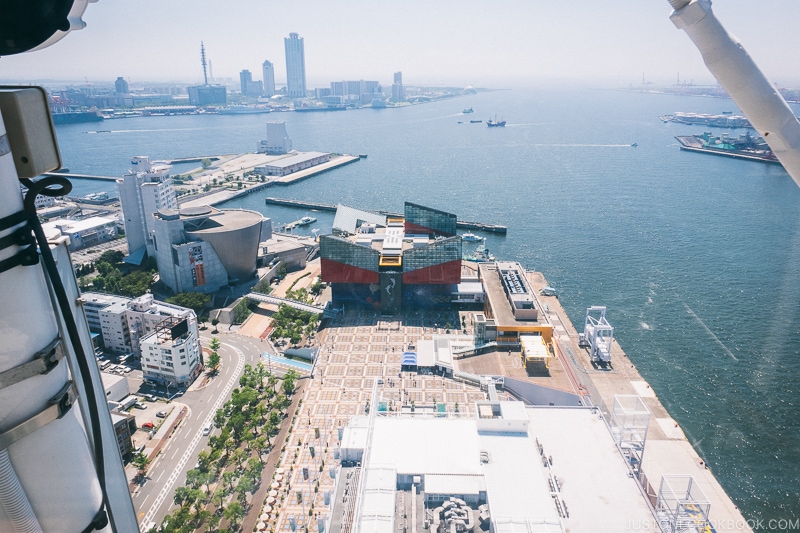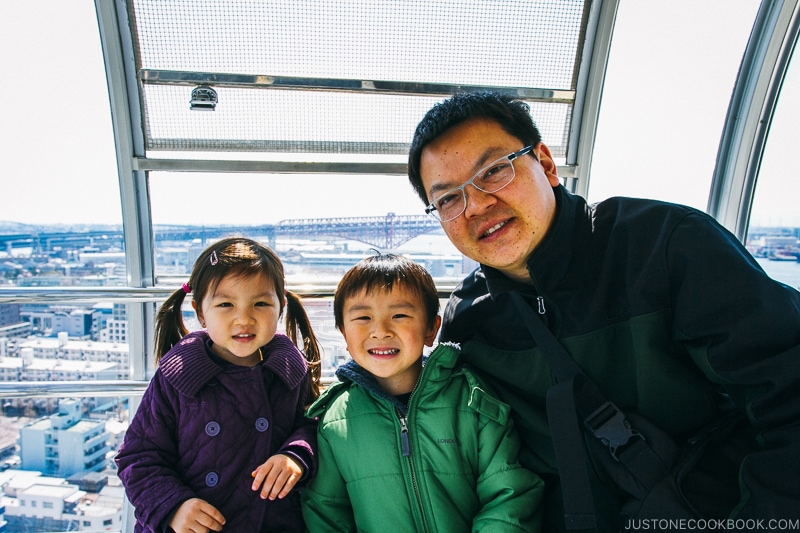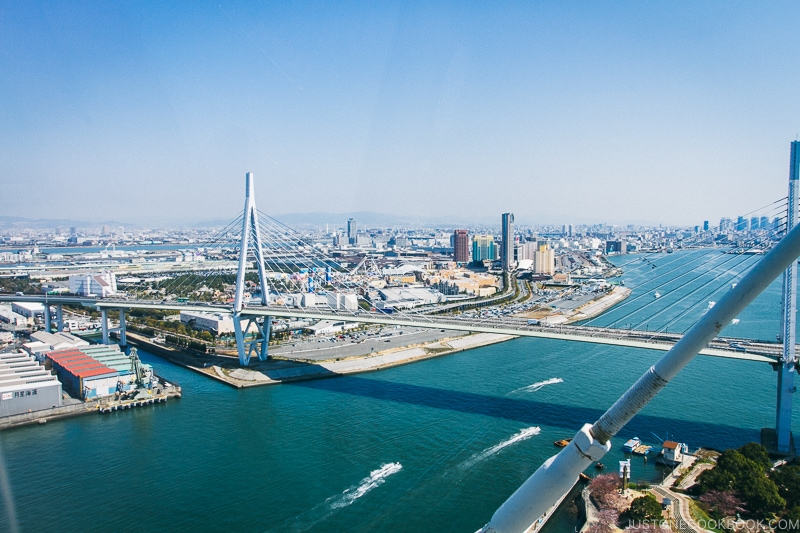 Cruise Ship Santa Maria
At the end of the village, you can take the cruise ship Santa Maria for a ride around the bay. The ride is either 45 min or 60 min depending on the day or night cruise. The ship is modeled after the ship Columbus sailed to America (however twice the actual size).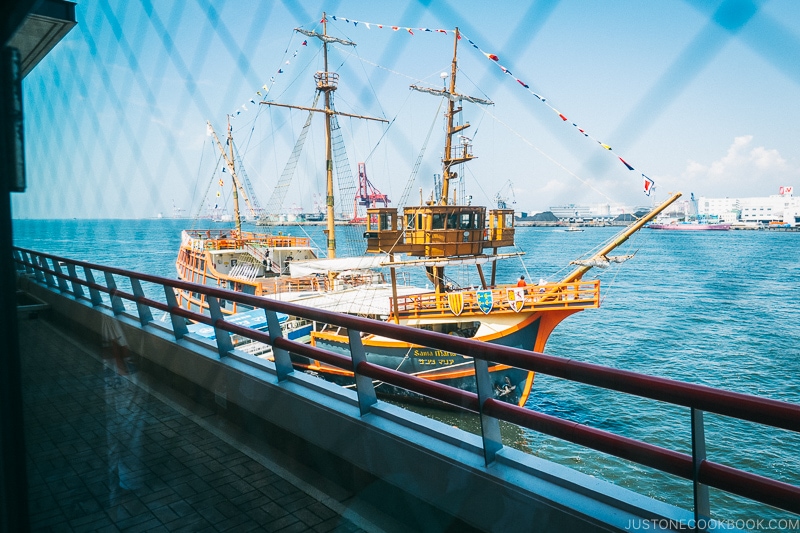 Tempozan Marketplace
Tempozan Marketplace is a mixed-use shopping mall, including everything from fashionable stores, restaurants, souvenir shops, a petting zoo, to LEGOLAND Discovery Center Osaka.
After enjoying the aquarium and riding on the giant Ferris wheel, head in and grab a bite inside. Our family especially enjoyed the retro Naniwa Kushinbo Yokocho.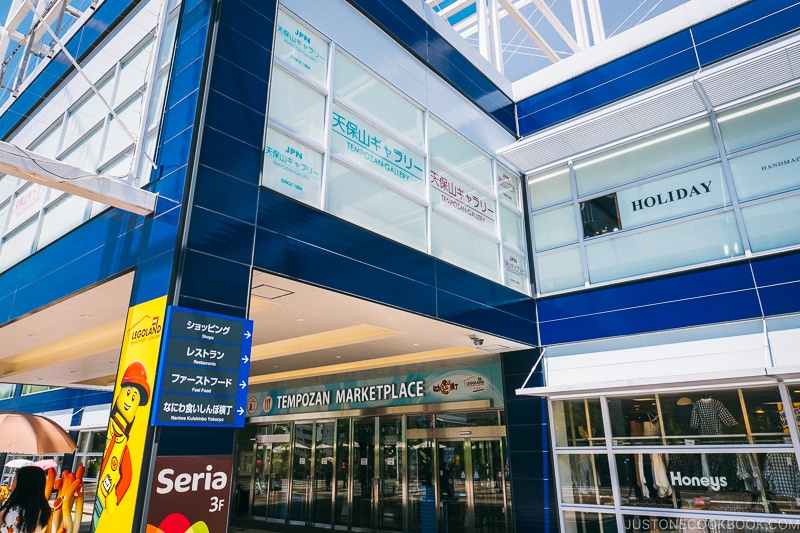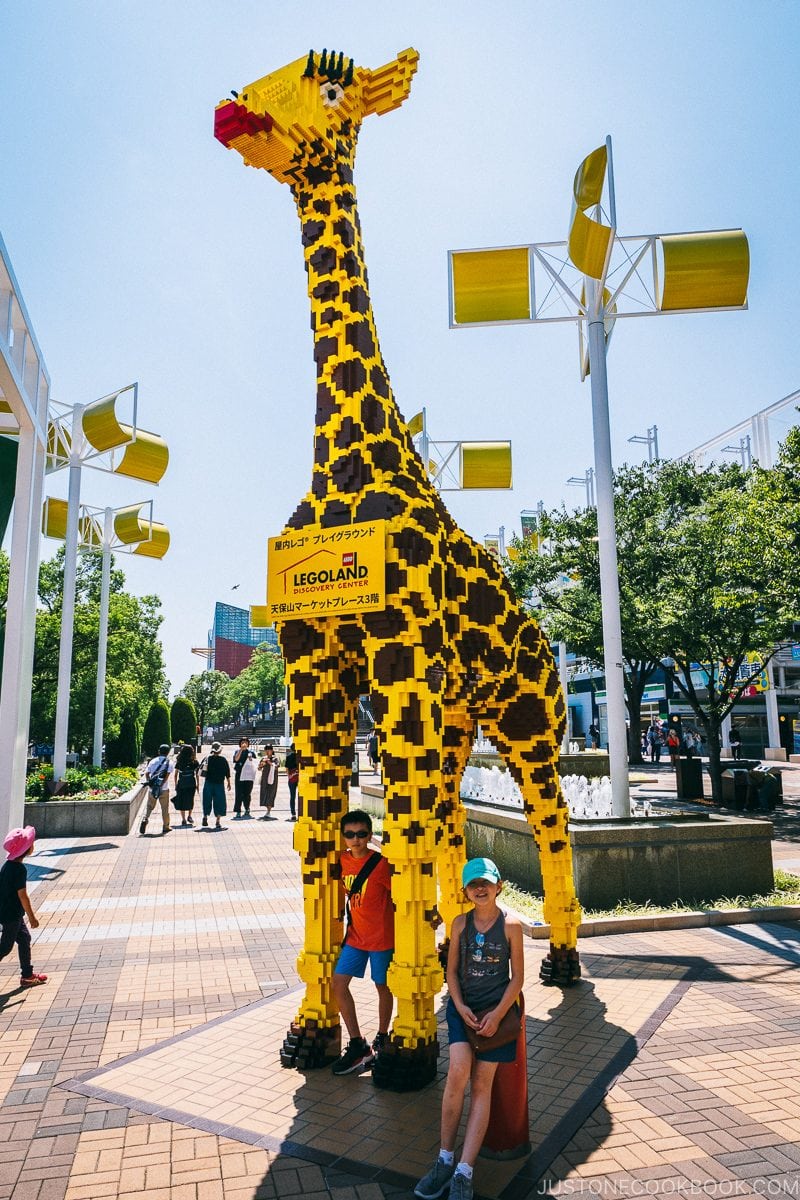 Naniwa Kushinbo Yokocho なにわ食いしんぼ横丁
Naniwa Kushinbo Yokocho is a retro-themed food hall with 20 restaurants based on 1960s Osaka. The restaurants offer classic Osaka foods like okonomiyaki, takoyaki, kushikatsu, omurice, and curry rice.
However, some of these restaurants aren't just your average tourist spots. They are actually branches of Osaka restaurants with a long history, such as Hokkyokusei (北極星), the first omurice restaurant in Japan. Or Aiduya (会津屋), the original inventor of takoyaki. Lastly, Momodani Ikayakiya (桃谷いかやき屋), which invented the Osaka regional specialty squid omelette.
The restaurants and the food hall are designed to look like Osaka's 1960s' neighborhood, complete with a train station, props, and decoration from the time period.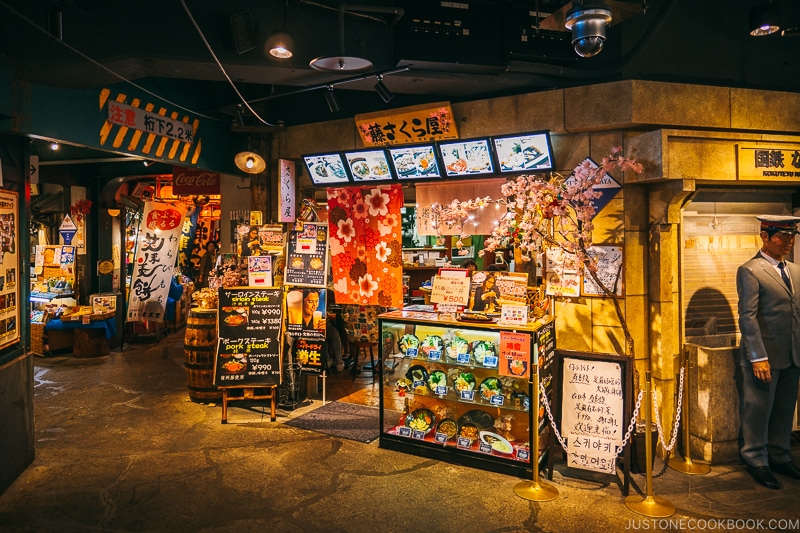 If you are not sure what each restaurant serves, don't worry, many of them have sampuru plastic food in the display cases or images of what their most popular items are.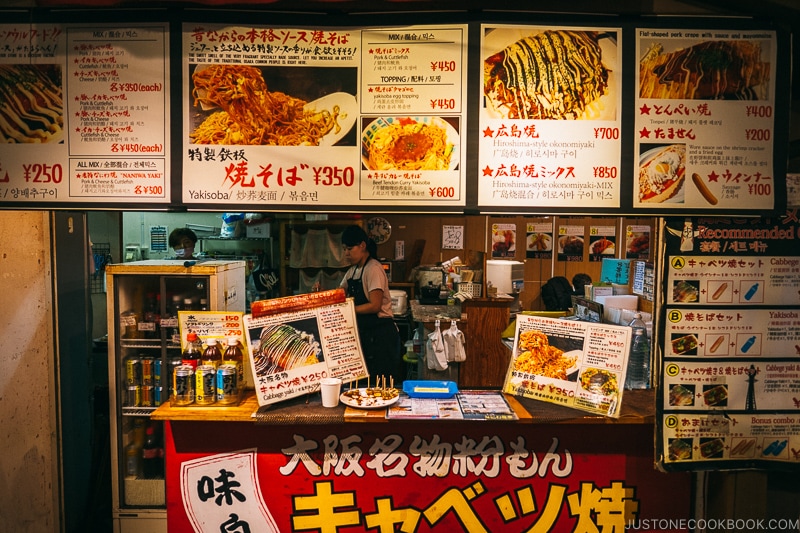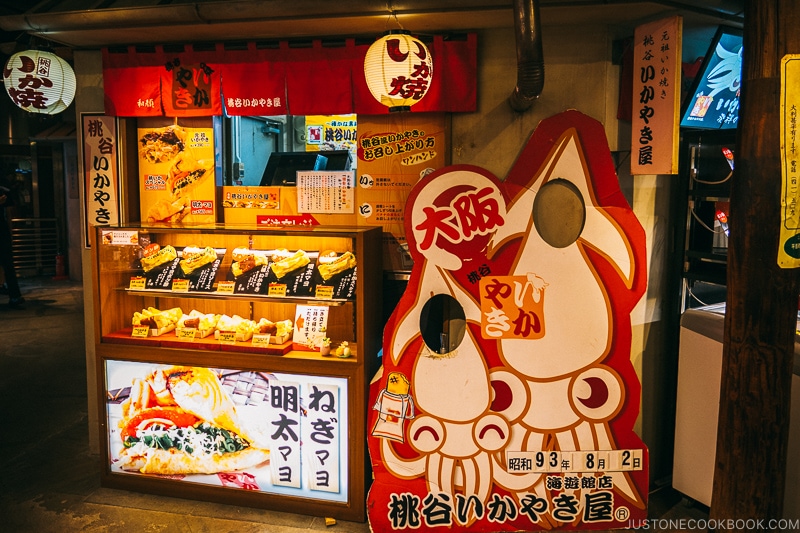 Jiyuken 自由軒
We tried the famous Osaka curry restaurant Jiyuken. Jiyuken has over 100 years of history and it was the first western (yoshoku) restaurant in Osaka. Unlike most Japanese curry restaurants today, the curry and rice are mixed together already and furthermore, has a raw egg on top when served.
Jiyuken only has 2 shops in the Osaka area and the original restaurant is in Namba. The curry for the Tempozan branch is made in the Namba store each day and brought to Tempozan to make sure the flavor is authentic.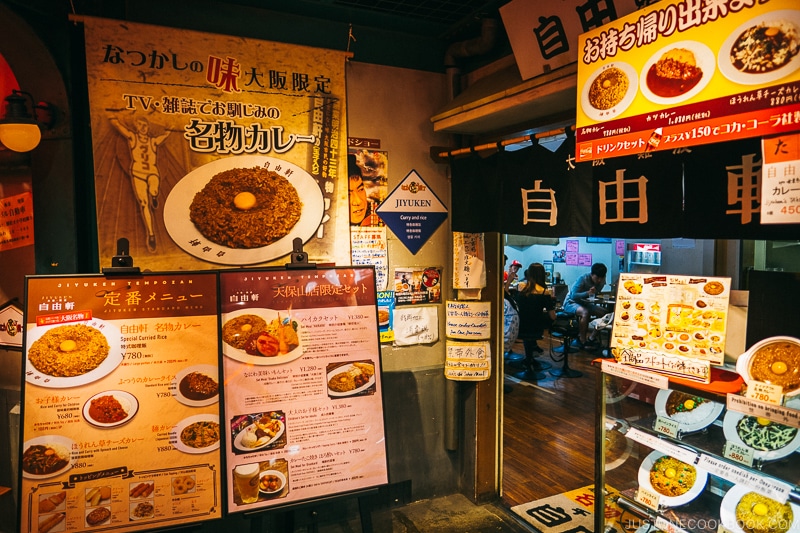 How was it? The curry was simple with just beef and onion but quite delicious. It is slightly more spicy than regular Japanese curry.
The way to eat it is to mix the raw egg inside the hot curry rice and enjoy. You can make it a deluxe meal along with kushikatsu and hambagu or just get the curry rice a la carte. Besides a variety of curry rice, they also have hayashi rice and omurice.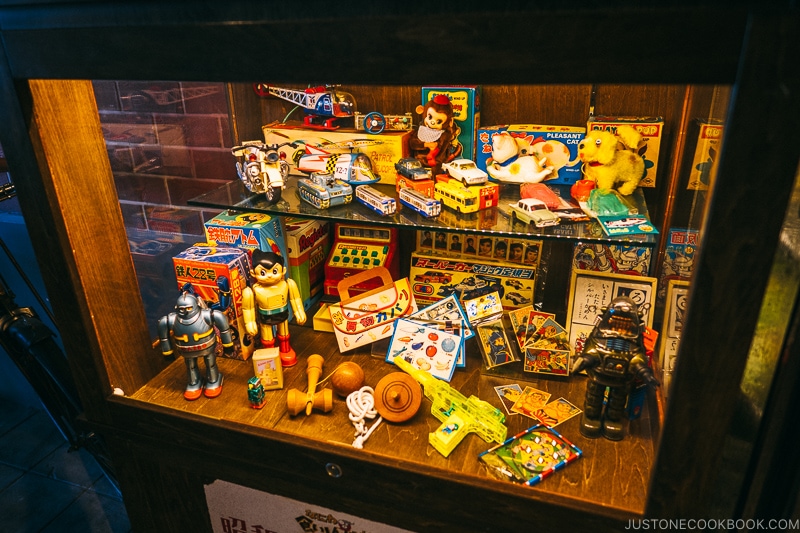 Thank you for reading the Tempozan guide and we hope it was helpful if you are planning a visit to Osaka. The aquarium takes about 2-3 hours to go through so plan your trip accordingly. Our children are a bit older now so we skipped the Legoland Discovery Center (appropriate for age 3-8). We'll see you soon in our next post, Universal Studios Japan.
Just One Cookbook Osaka Guides
If you're interested in our travel guides on Tokyo, Kyoto, Kanazawa, Kyushu, and more, please click here.