Osaka is a mecca for food lovers, and the spirit of "Kuidaore", eat until you're ruined, is best experienced at Dotonbori.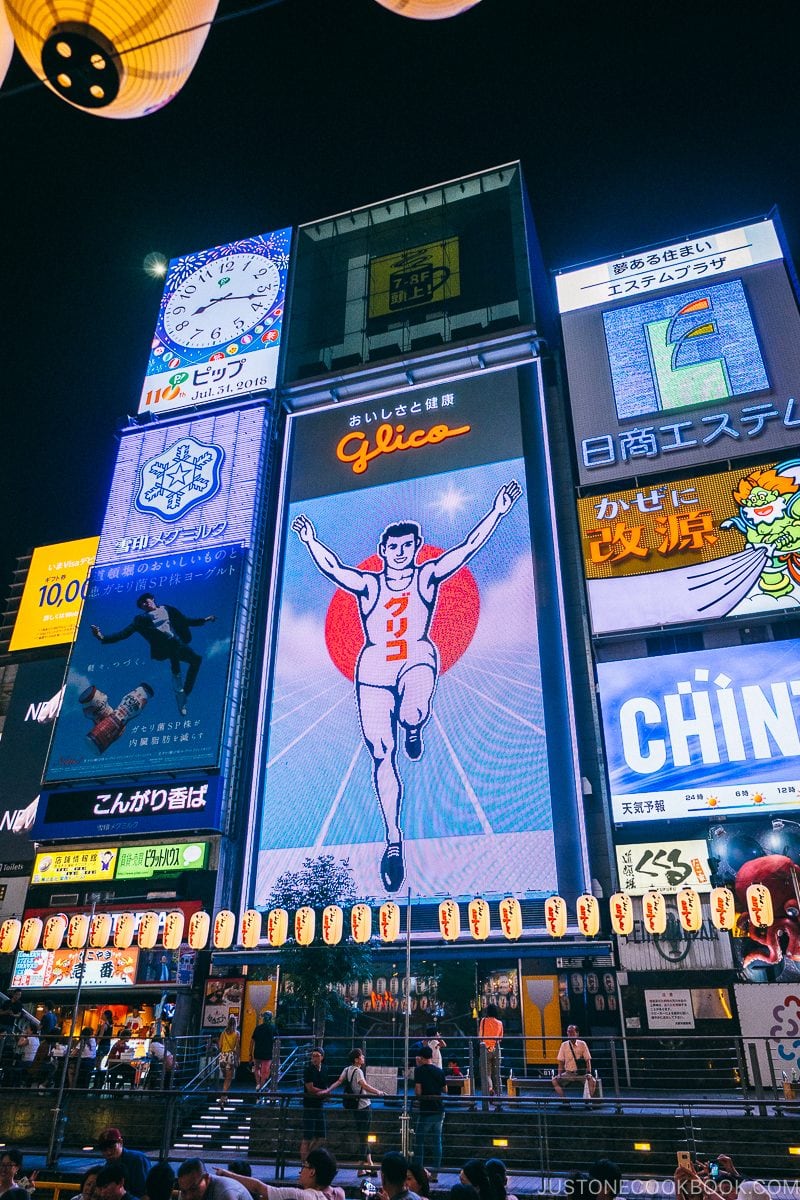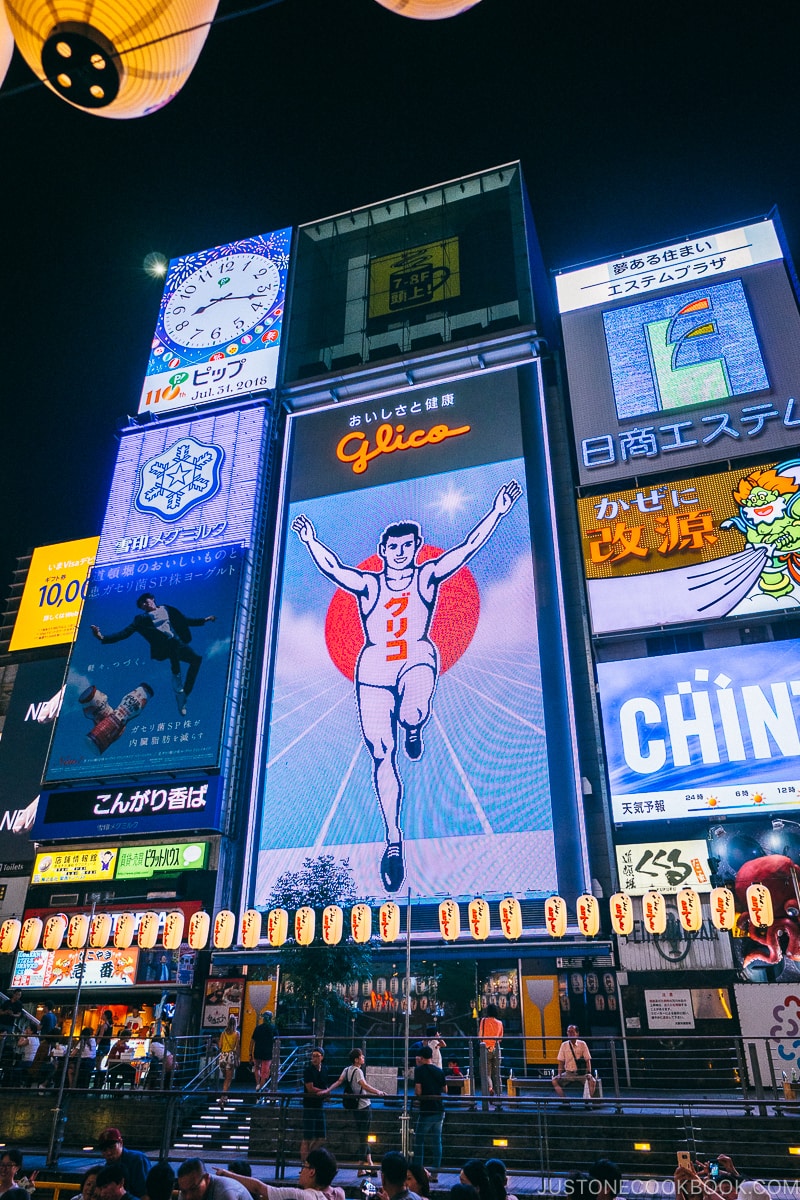 Osaka is the third largest city in Japan with a population of over 2.3 million people (19 million in the greater Keihanshin Metropolitan area). There are many activities to do and see in Osaka and we'll take you to the popular locations and share our experiences with you in our Osaka Travel Guides.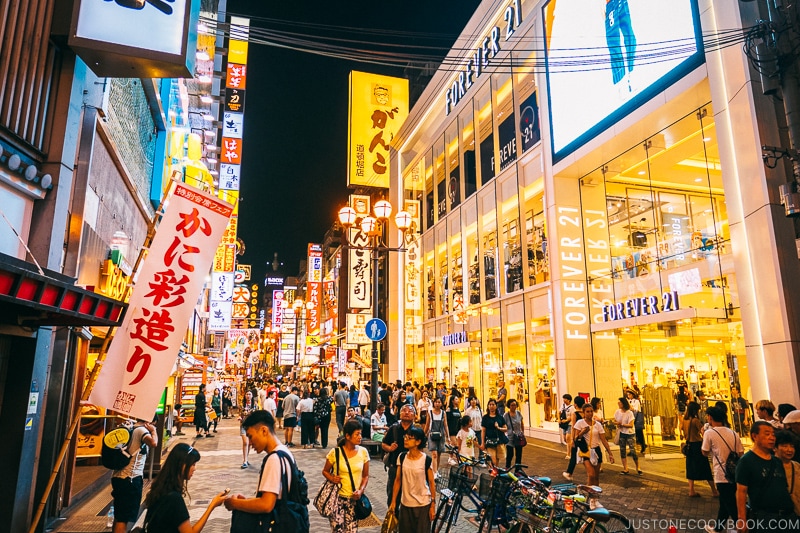 Just One Cookbook Osaka Guides
After taking in the beautiful view of Osaka from Tsutenakaku, it's now time to stuff our bellies full at Dotonbori. Get ready for a food coma, let's go!
What to Eat at Dontonbori
A visit to Osaka is not complete until you've stopped by Dotonbori (道頓堀). Many of Osaka's iconic restaurants have a branch there and you can't go to Osaka without posing next to the giant Glico running man. For our family, we look forward to trying different takoyaki from the street stands and checking out larger than life brightly lit signs.
With so many restaurants, bars, and food choices, what should you eat? We'll share our experiences with you to help you navigate the insane number of options.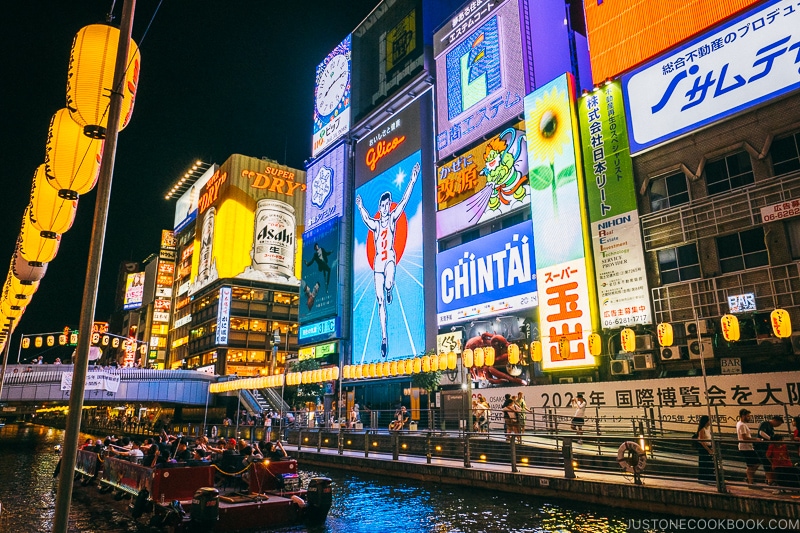 "Kuidaore" 食い倒れ – Eat Until You're Ruined
Before we discuss the restaurants, you'll see signs with "Kuidaore" around Dotonbori. What does it mean? It roughly translates to overindulge yourself with food until you're ruined. Osaka is known its passion for food and Dotonbori is the best place to experience Kuidaore with a plethora of restaurants.
Speaking of Kuidaore, don't miss one of the landmarks, Kuidaore Taro, which has been at Dotonbori since 1950. It's a drummer statue that was once the mascot for "Cui-Daore" restaurant on the strip.
On Dotonbori, you will find many local favorites including takoyaki stands and okonomiyaki. However, the choices don't stop there. As many popular Osaka restaurants have a branch there, there are many unique Japanese foods you can try. Here are a few:
Popular Restaurants around Dontonbori
Kani Doraku Dotombori Honten かに道楽 道頓堀本店 – Crab specialty restaurant with locations all over Japan, but the Dontonbori is their first location and main branch. Its also known for the giant crab with moving legs on the restaurant's exterior.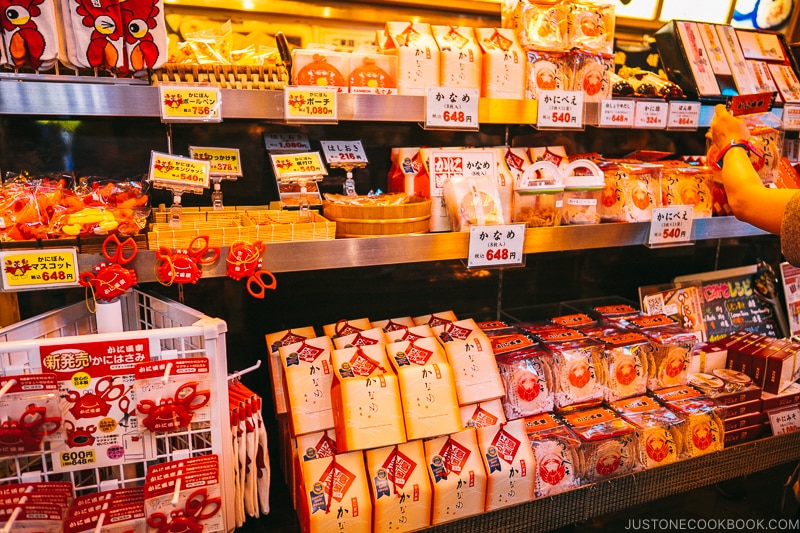 Zuboraya Dotombori づぼらや 道頓堀店 – If you've never tried puffer fish or fugu, it's a great choice for first-timers. Zuboraya has been around for decades and is an Osaka institution.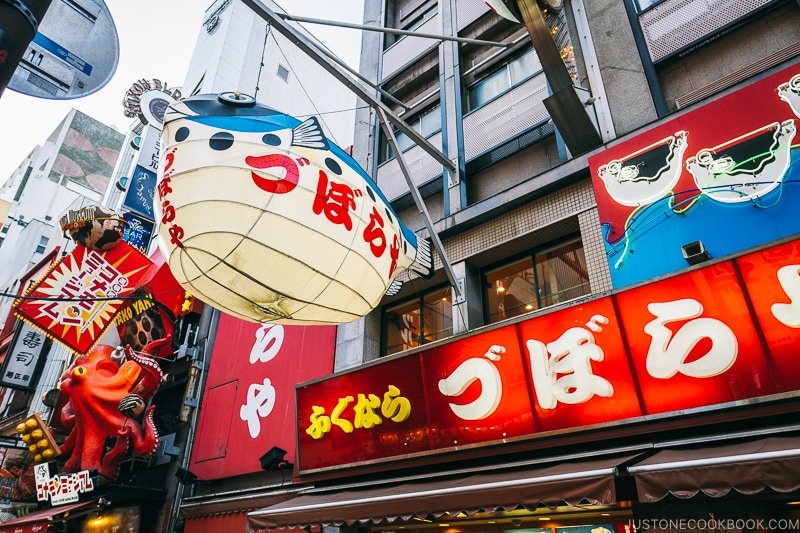 Genrokuzushi 元禄寿司 道頓堀店 – The Osaka sushi restaurant that invented conveyor belt sushi.
Osaka Ohsho 大阪王将 道頓堀本店 – Craving gyoza on your visit? You can't go wrong with Osaka Ohsho, it has over 700 stores in Japan and serves over 600 million gyozas a year.

Wanomiya Kobe Beef 神戸牛和ノ宮 道頓堀本店 – How about some melt in your mouth authentic Kobe beef steak? Prices range from US $50 – $300 depending on the cut and size of the steak. It's so good even Spider-man wants some.
Kinryu Ramen 金龍ラーメン 道頓堀店 – Open 24 hours, you can grab a bowl of ramen any time of the day from its 3 locations on Dotonbori. Besides Kinryu, the popular Ichiran Ramen also has a few locations at Dotonbori. You can't miss the giant dragon perched right above the stores.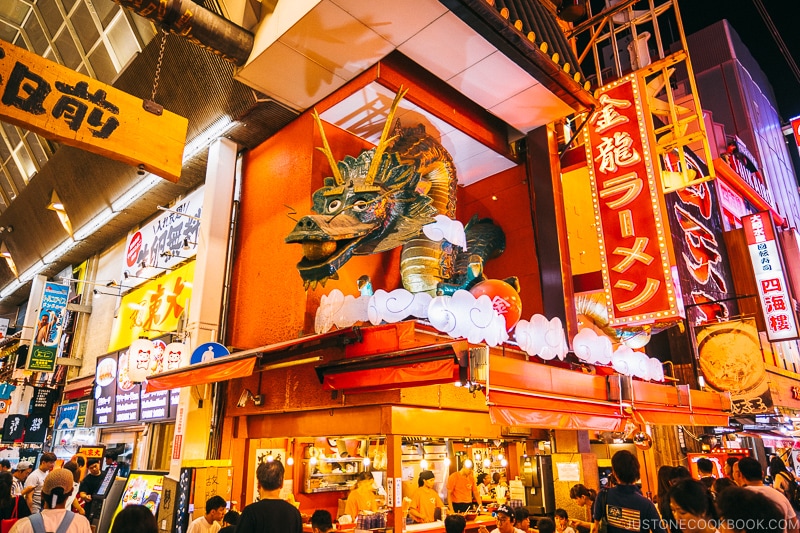 Kushikatsu Daruma 串かつ だるま 道頓堀店 – We prefer the kushikatsu (deep-fried skewers) at Yaekatsu, but if you are limited on time head into Katsukatsu Daruma for a quick fix. Remember, DO NOT DOUBLE DIP!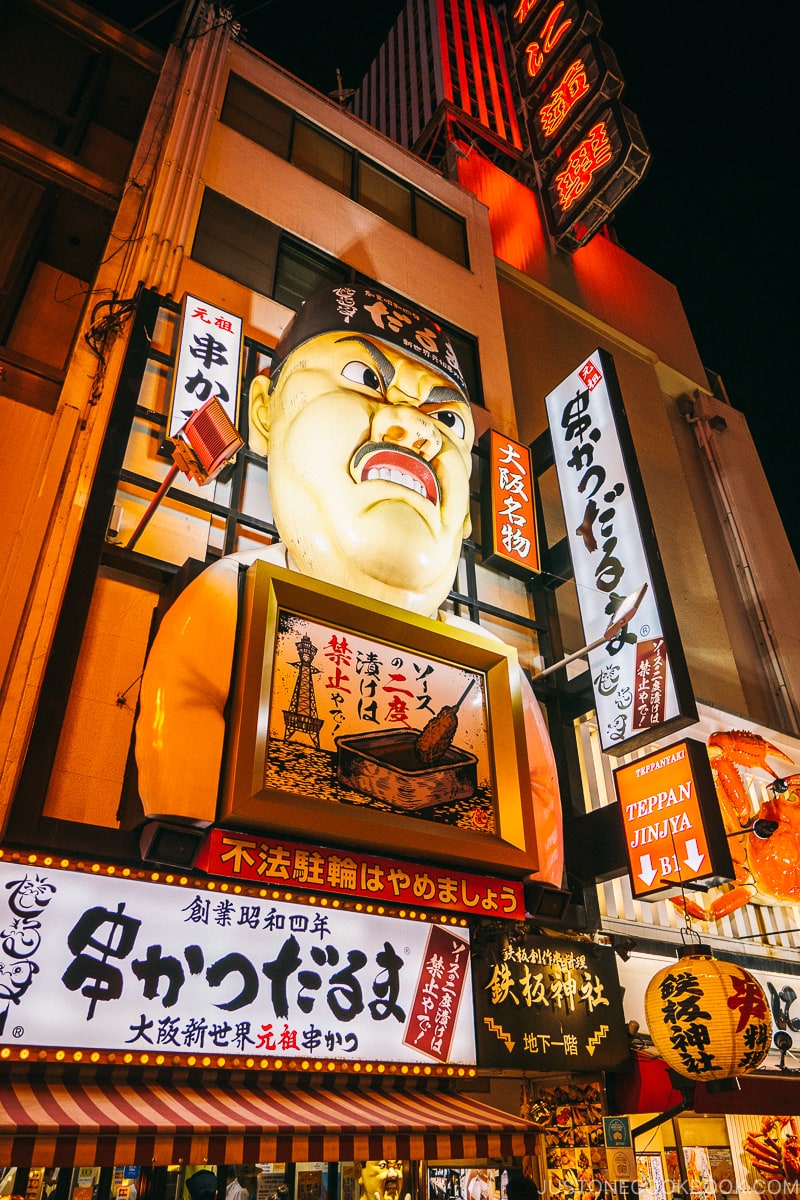 Showa Taishu Hormon Dotombori 昭和大衆ホルモン 道頓堀店 – See the cow that's hanging outside the restaurant? Sure it serves beef, but it's the best known for intestine and other organ meats from cow, beef, pigs, and other animals.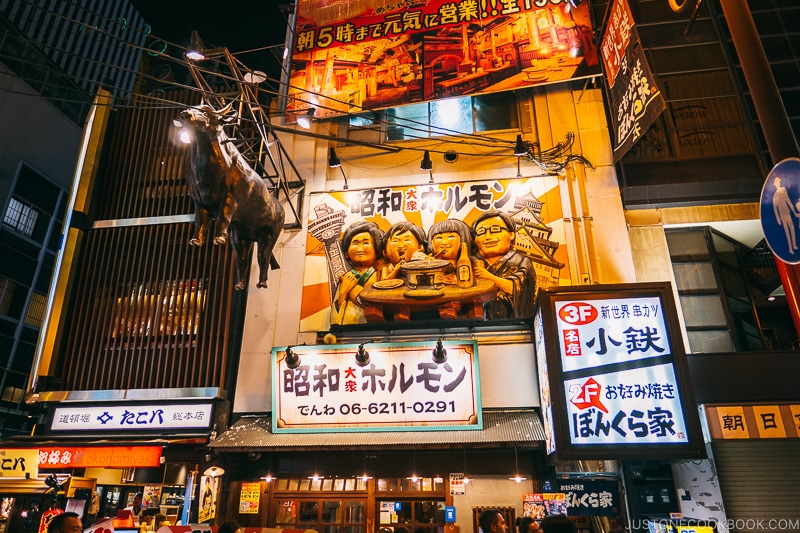 Lastly, the one dish that rules them all is takoyaki. There are many takoyaki stands on Dotonbori and we've tried quite a few. Even though it's all takoyaki, each stand has its own unique characteristics.
Takoyaki Stands on Dotonbori
Dotonbori Takohachi Sohonten たこ八 道頓堀総本店 – Unlike other takoyaki stands, Takohachi also serves okonomiyaki in addition to their delicious octopus balls.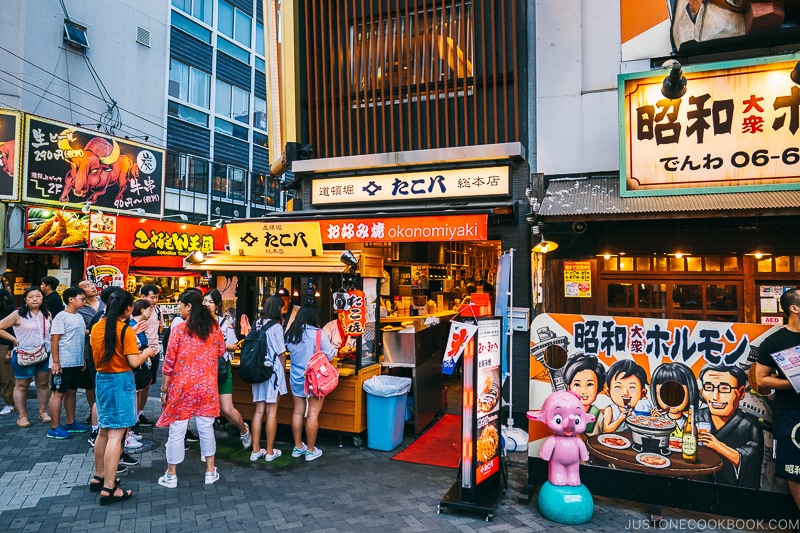 Otako 大たこ – Known and proud of their giant piece of octopus, taking up 80% of the ball.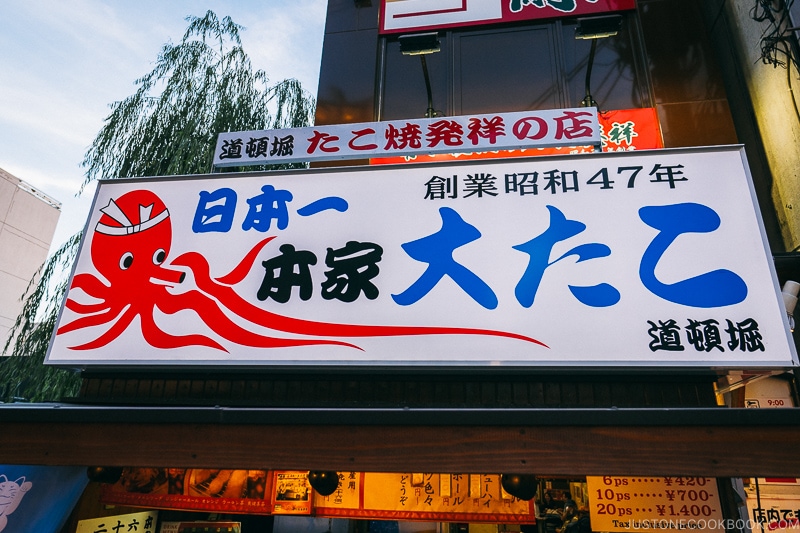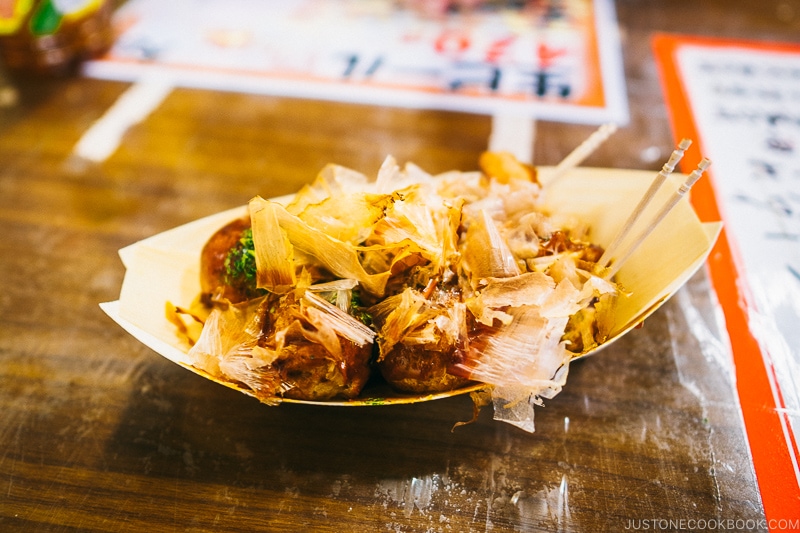 Takoyaki Juhachiban Dotonbori たこ焼き 十八番 道頓堀店 – Their takoyaki is surrounded by abundant tenkasu (tempura bits) and creamy with a blend of milk and dashi.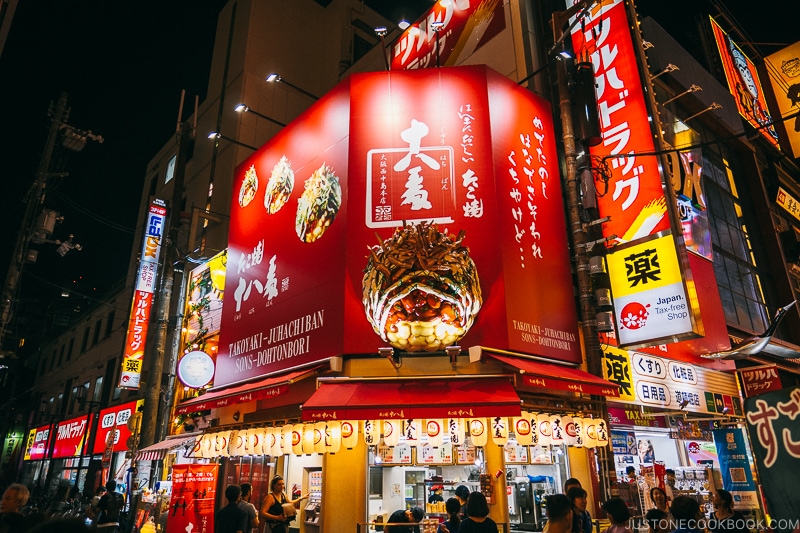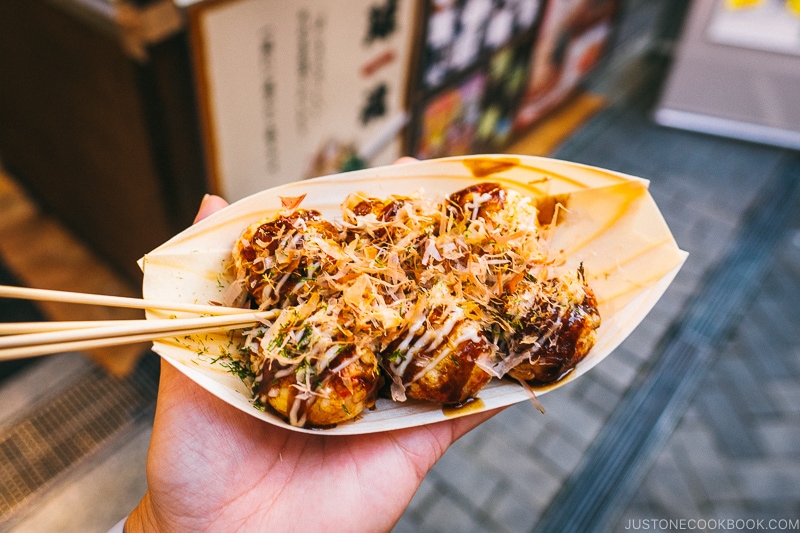 Dotombori Konamon Museum 道頓堀 コナモン ミュージアム – At this food museum, you can see experts making takoyaki, learn about the "flour food (粉もん)" history, and make wax takoyaki as a souvenir. Oh, and you can either eat takoyaki by Kukuru or make your own.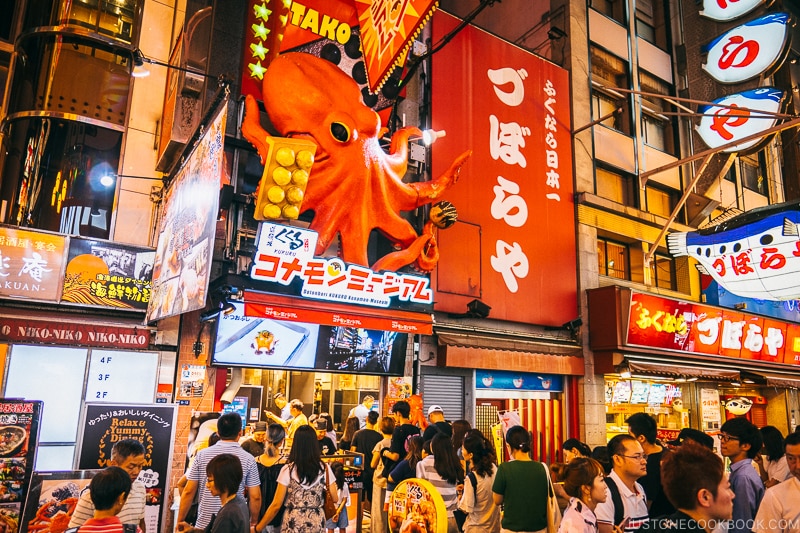 Takoyaki Wanaka たこ焼道楽わなか 道頓堀店 – Very popular takoyaki stand that originally started as a sweet shop. It has many flavors to pick from.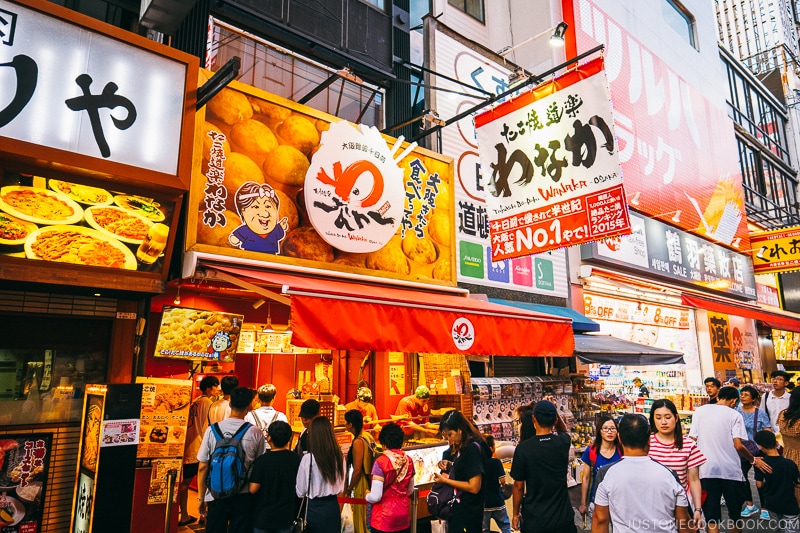 Besides the restaurants and bars on the main strip, the side alleys and arcades are filled with even more choices. If you are craving okonomiyaki, we have a highly recommended place for you to try.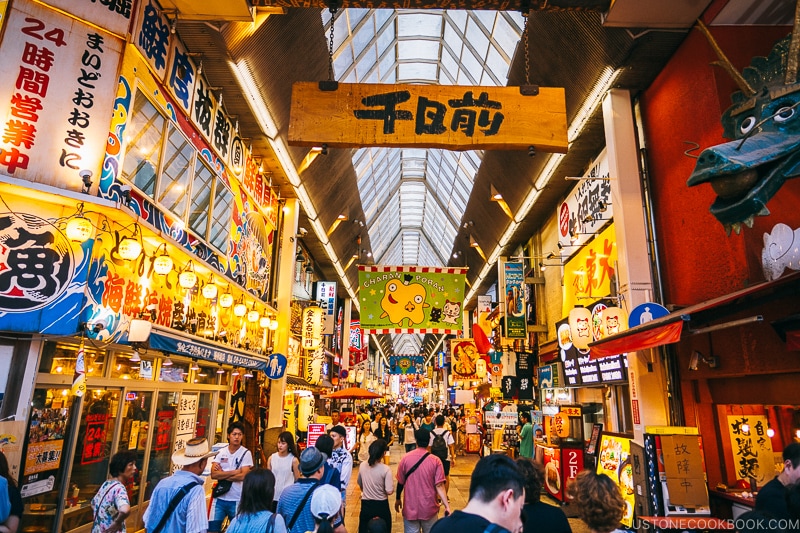 Okonomiyaki at Dontonbori
Besides takoyaki, the other food synonymous with Osaka is Okonomiyaki. Of the okonomiyaki restaurant in Dotonbori, popular ones include Mizuno, Okonomiyaki Tombe, and Ajinoya. We ate at Ajinoya as it has one of the most reviews as well as a high rating on Tabelog.
Ajinoya 味乃家
We make okonomiyaki at home and have tried many okonomiyaki restaurants throughout the years, and our family agrees Ajinoya is the best we've ever had. Ajinoya is located on a small alley one block away from Dotonbori.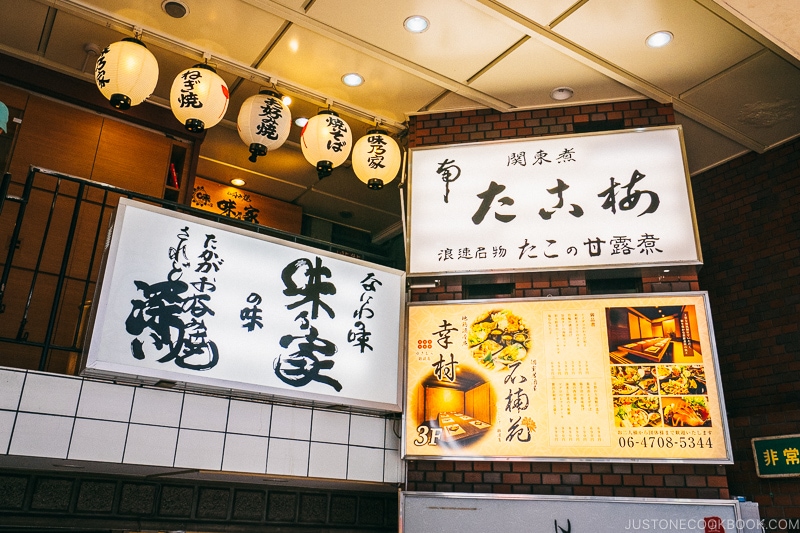 The restaurant is no frills, just the okonomiyaki tables and decorated with signed celebrity autographs on the wall.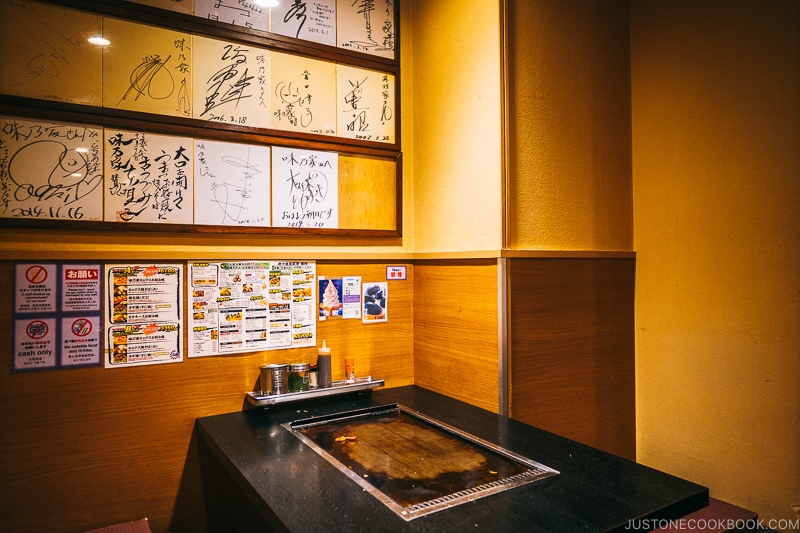 So what makes Ajinoya's okonomiyaki special? They use less flour to cabbage than traditional okonomiyaki so it's not as heavy. The resulting okonomiyaki is more fluffy, refreshing, and we taste the other ingredients more as there is less flour.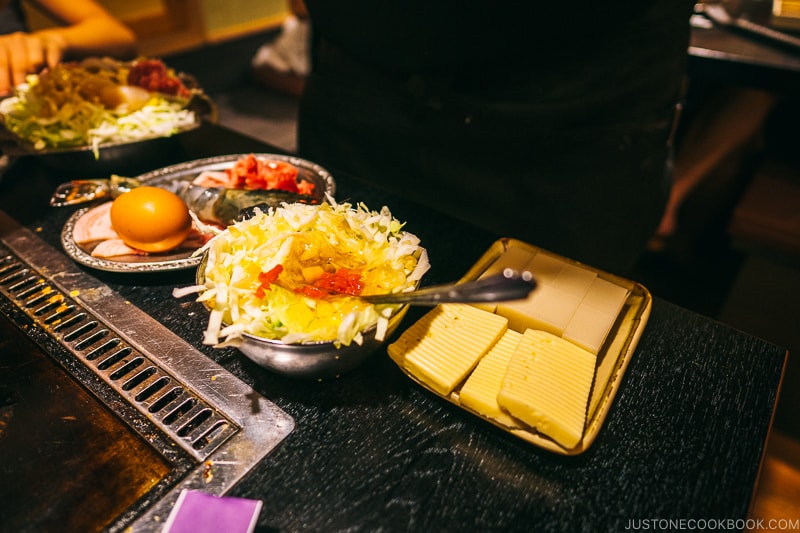 At most okonomiyaki restaurants, even though the hot griddle is on each individual table the server will cook your okonomiyaki for you. Be patient, each okonomiyaki takes at least 15-20 min to cook.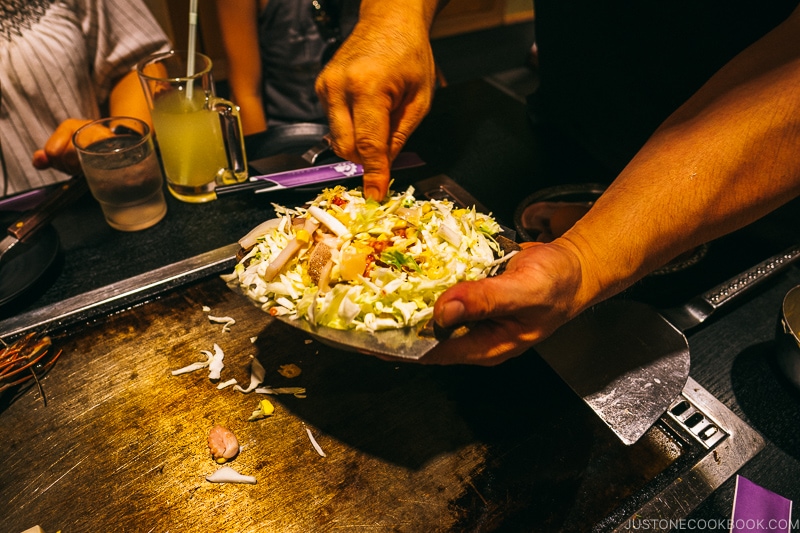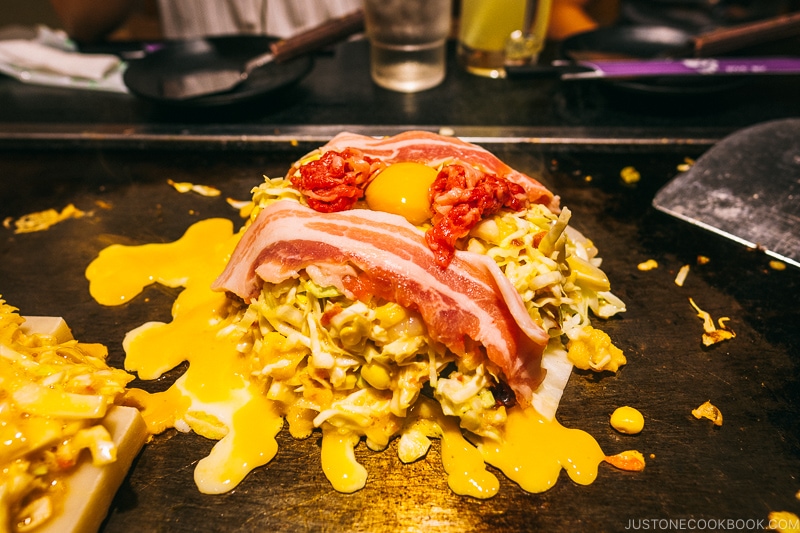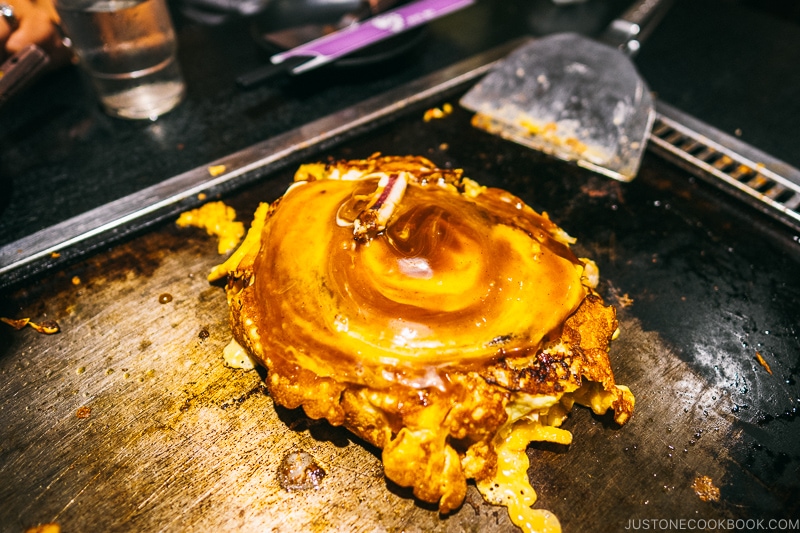 All the highly rated okonomiyaki restaurant will have a line so go early. We ate our dinner at Ajinoya at 5:30 pm and did not have to wait. By the time we left there were 20 people in line. If you're looking for desserts there is no shortage of sweets nearby.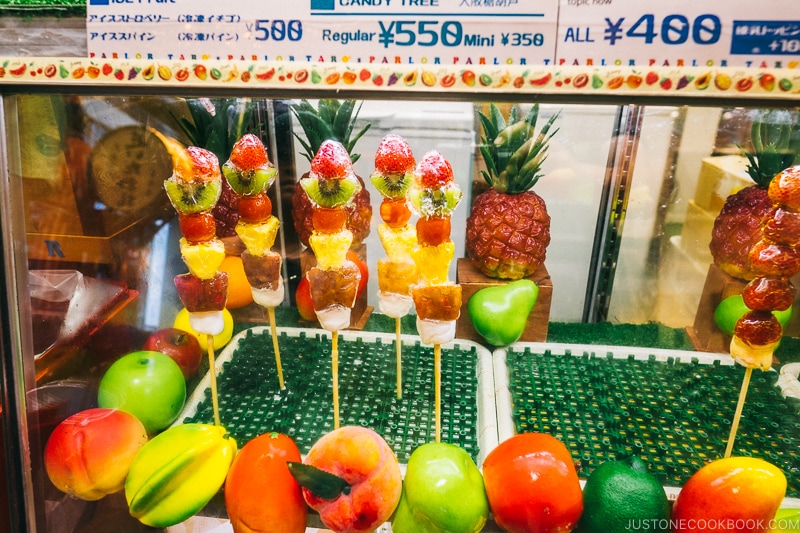 We enjoyed some candied fruits and sweets at Zero Cafe. Zero Cafe has crazy desserts perfect for Instagram. Unfortunately, the taste was disappointing.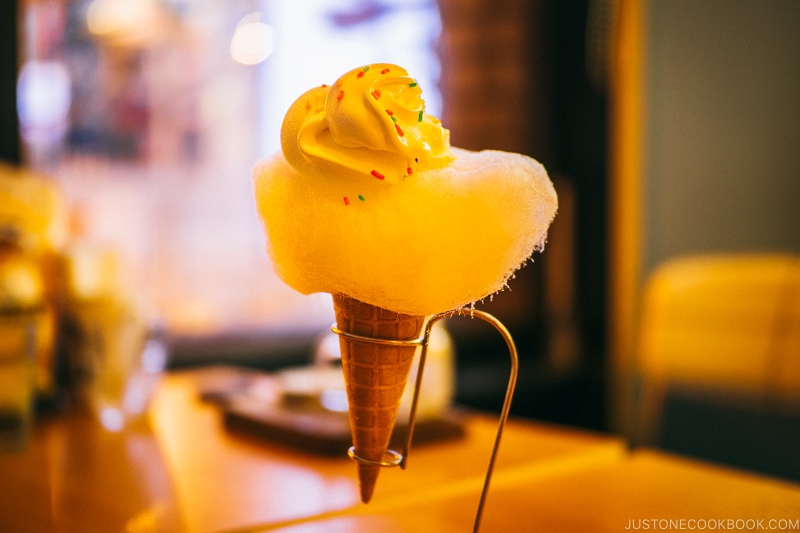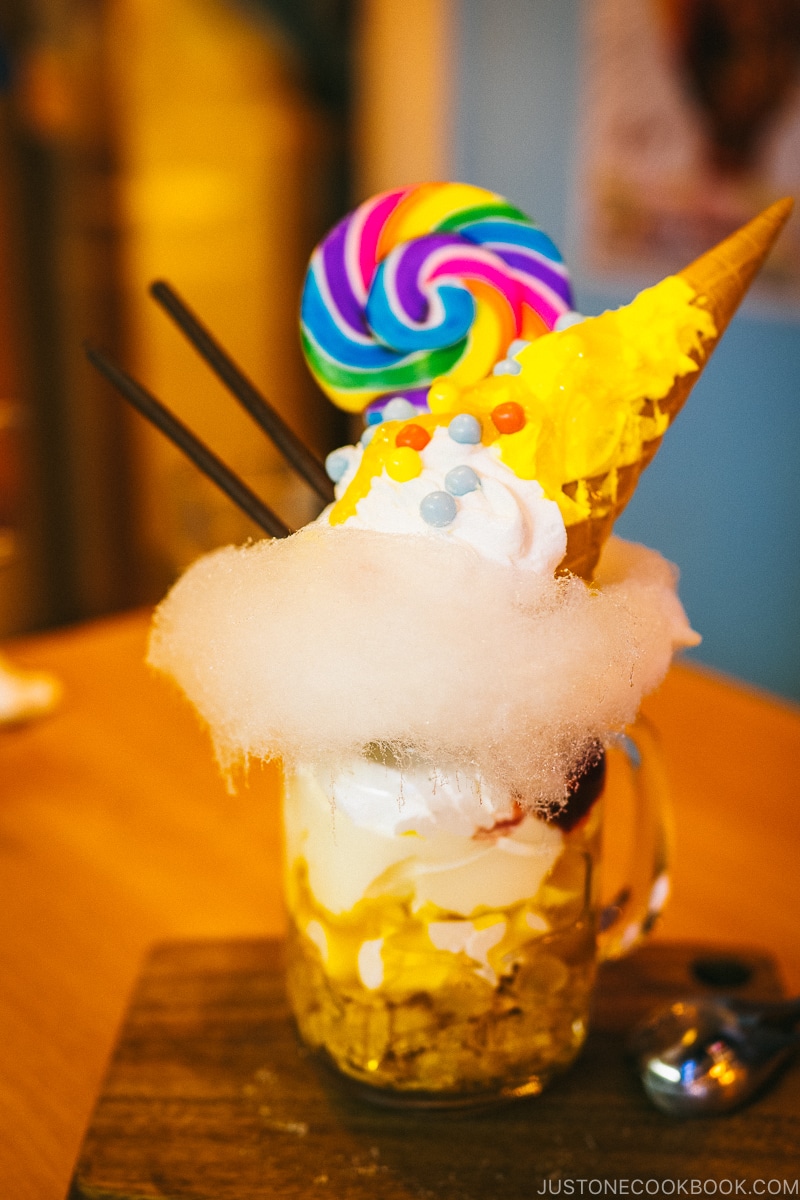 Besides the food, you can have a little fun on Dotonbori as well.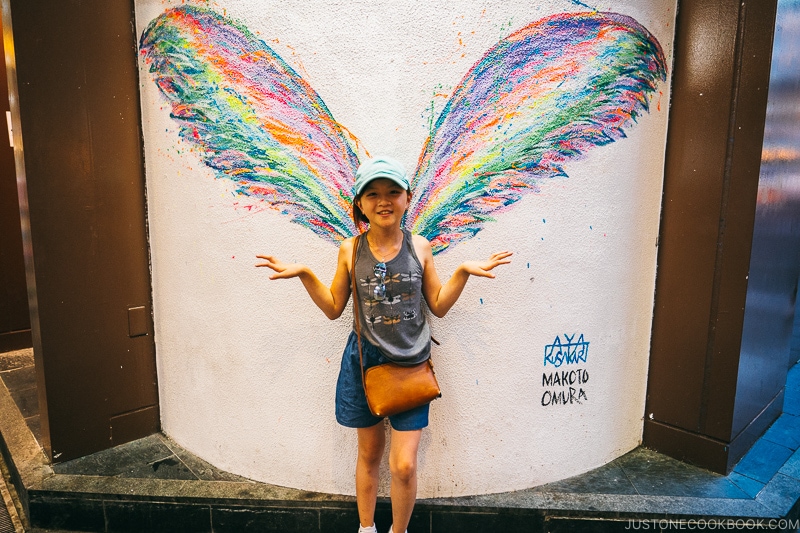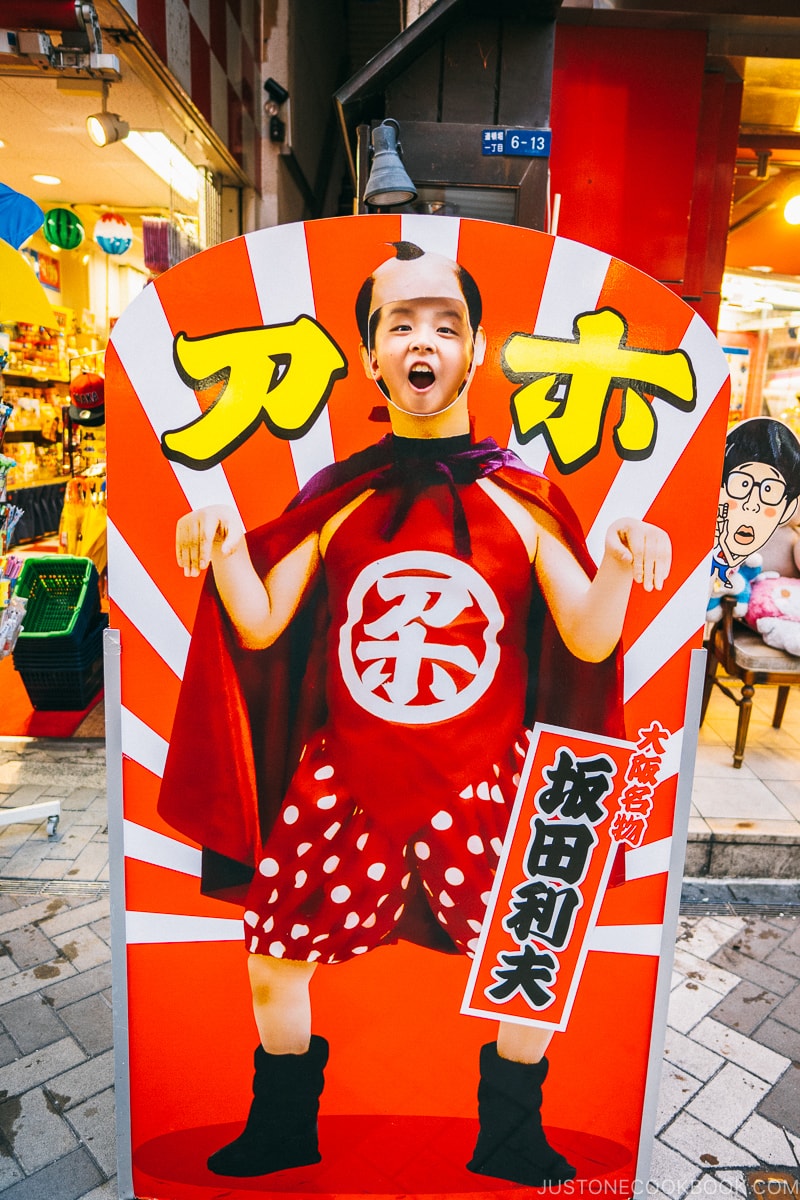 Namba なんば
Just a bit south of Dontonbori is Namba. This area is filled with covered arcades and more shops and food choices as well as the department store Takashimaya.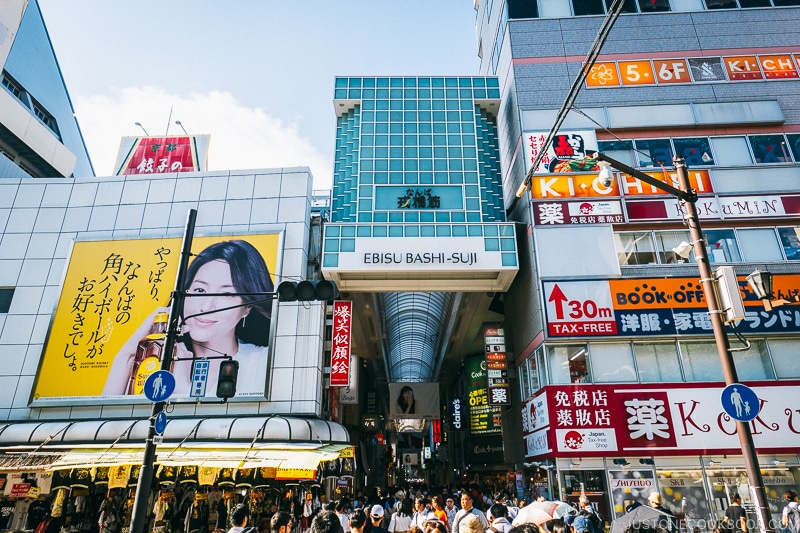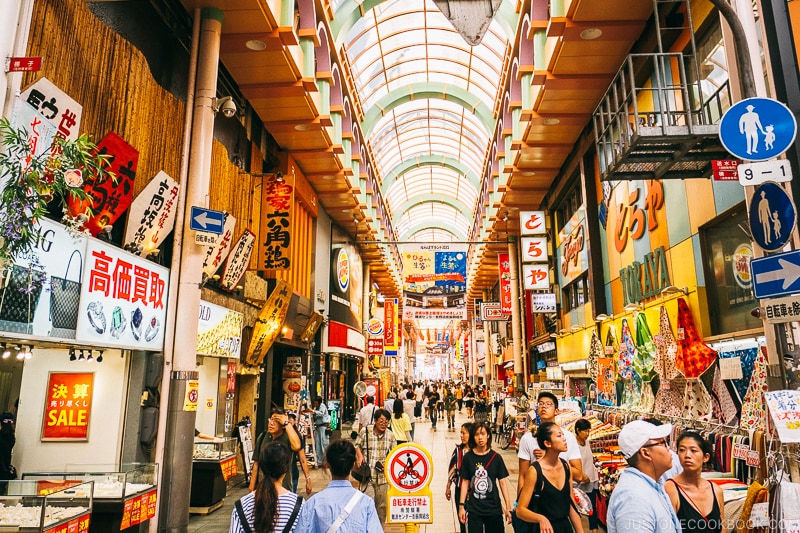 Rikuro-Ojisan No Mise りくろーおじさんの店
During our visit, we stopped by to give our feet a break at Rikuro Ojisan No Mise which translates to Uncle Rikuro's Store. We think a more appropriate name should be "fluffy souffle cheesecake to die for"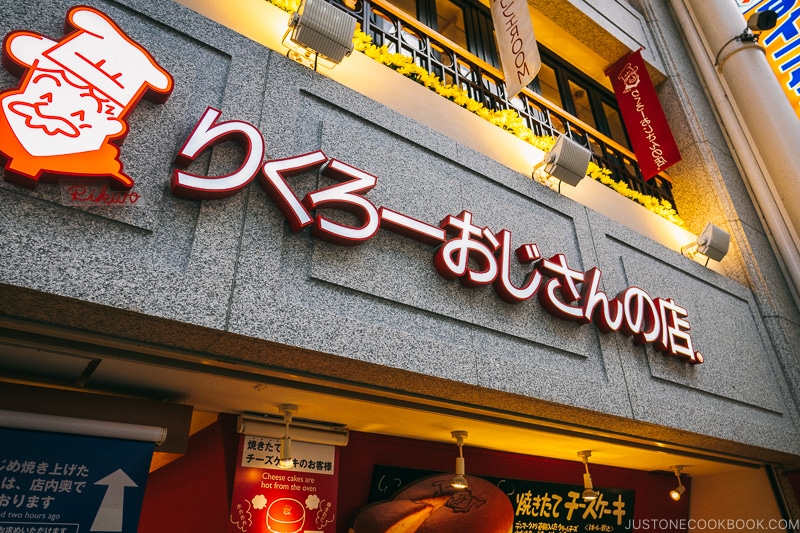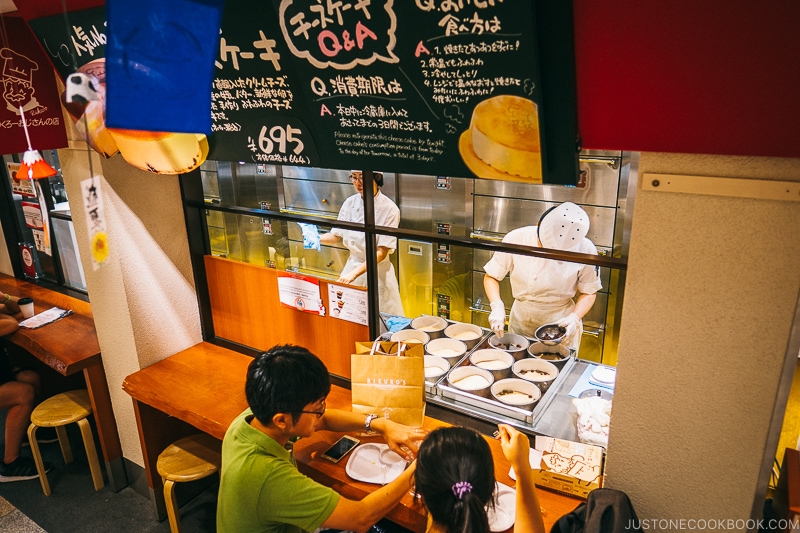 Their cheesecake was so good, the texture, flavor, and the airiness. We're drooling just thinking about it. There is a cafe upstairs from the bakery where you can get away from the crowd and enjoy your coffee and cheesecake in peace.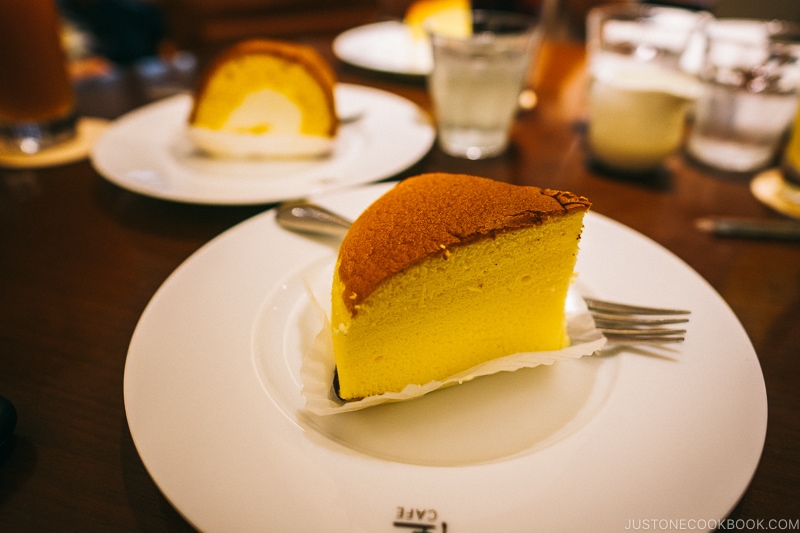 Another shop to try is the nikuman (pork bun) from 551 Horai. It's a very popular chain in the Kansai region. Their nikuman bun was fluffy and the meat inside was juicy and perfectly flavored.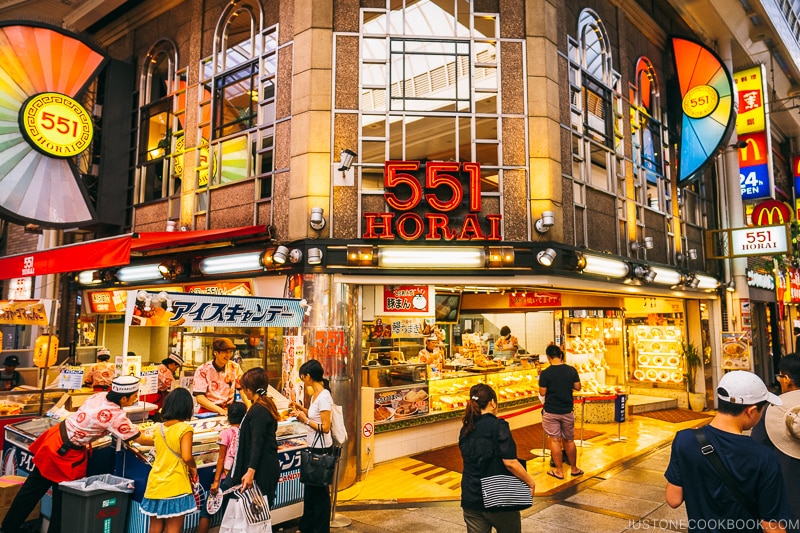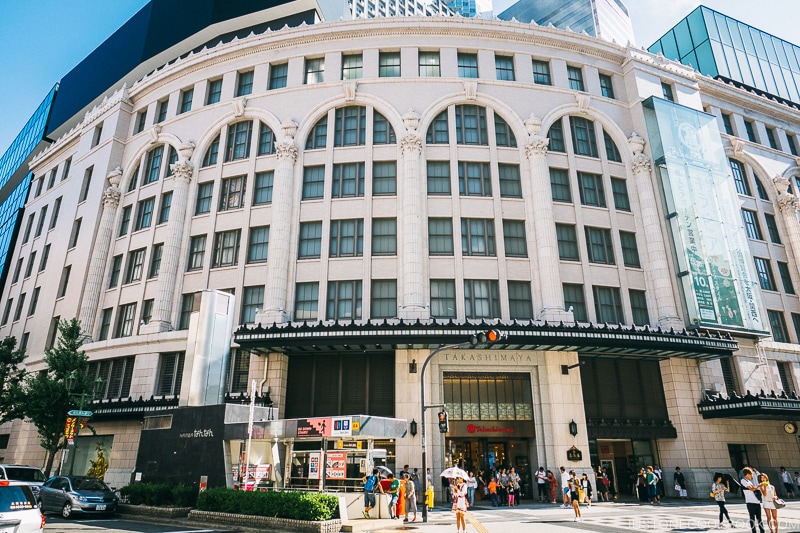 Namba Grand Kagetsu – よしもと なんばグランド花月 劇場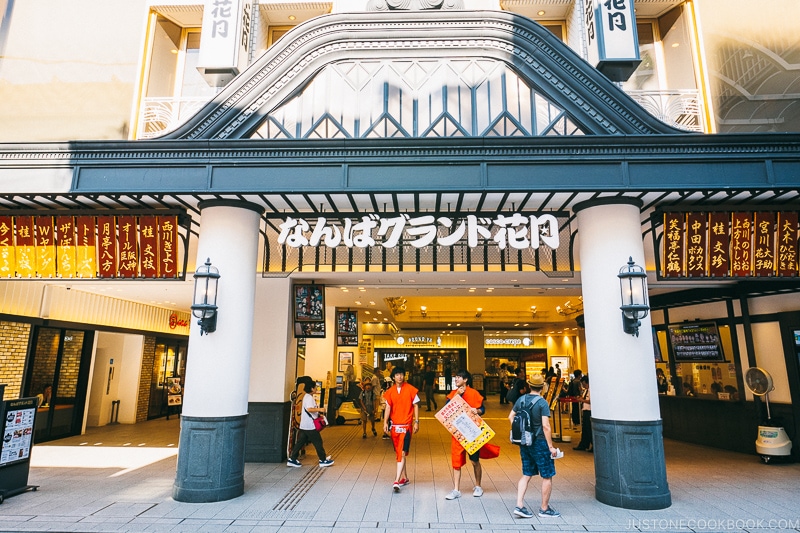 Another landmark in Namba is the Grand Kagetsu Theater. The people of Osaka love comedy and a variety of comedy shows and performances are played all year round at the theater.
Thank you for reading our guide on Dotonbori and we hope it'll be helpful for your visit. It's impossible to cover the hundreds of restaurants in the area so be adventurous and experience Kuidaore! We'll see you soon in our next post on Osaka's kitchenware street.
Just One Cookbook Osaka Guides
If you're interested in our travel guides on Tokyo, Kyoto, Kanazawa, Kyushu, and more, please click here.