Discover fresh seafood and produce in Kuromon Ichiba Market and find all the Japanese kitchen tools and tableware you need at Sennichimae kitchenware street in Osaka.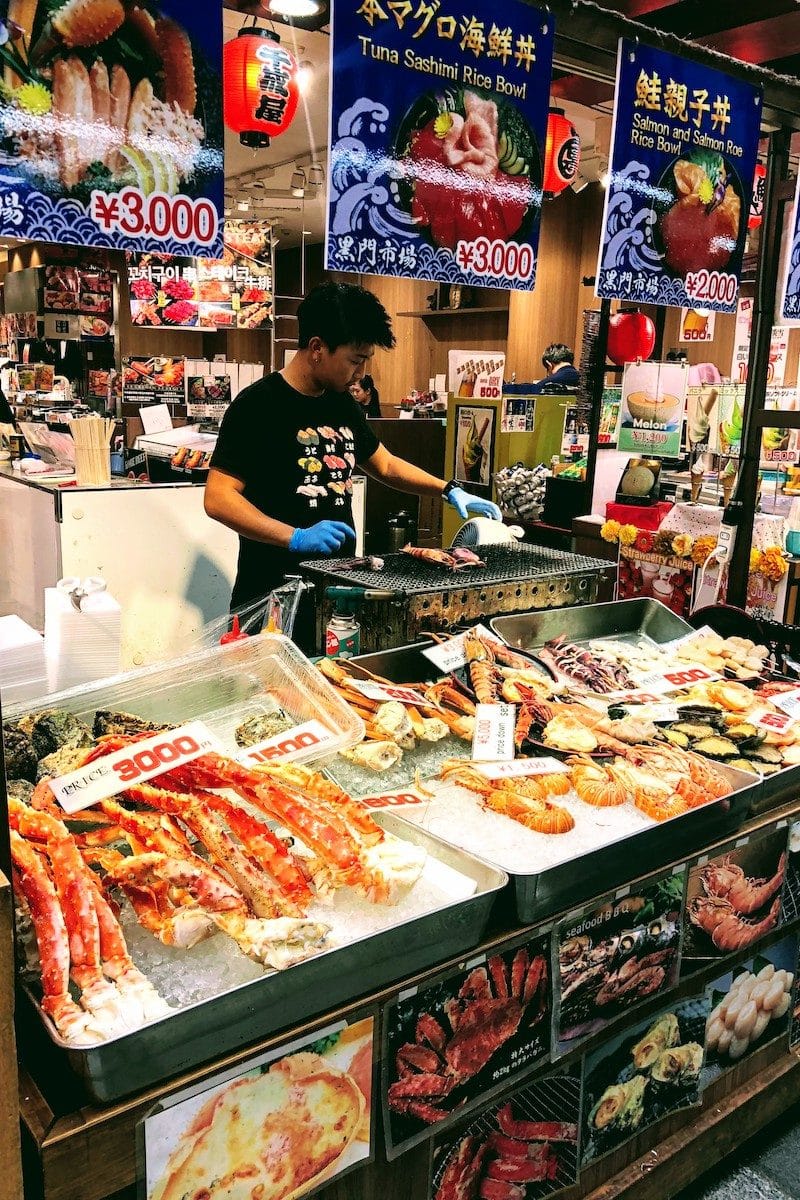 In this Osaka travel guide, we'll take you to Kuromon Ichiba Market to check out all the fresh seafood and produce Osakans has access to, and Sennichimae Kitchenware Street for all the Japanese kitchen tools and tableware you're looking for.
We love visiting fresh food markets when we travel in Japan, besides Tsukiji in Tokyo which everyone is aware, most large cities in Japan has thriving traditional food markets (vs. supermarket). We've been to the traditional markets in Kanazawa, Takayama, Sapporo, and Naha just to name a few.
Kuromon Ichiba Market 黒門市場
Known as Osaka's Kitchen, Kurmon Ichiba Market is conveniently located in the center of Osaka. It's just a few minutes walk from Nipponbashi Station and you can also get there via Osaka Metro's Namba Station. The JR Namba Station is quite a bit further so make sure you get off at the correct station.
You might wonder why we visit so many traditional markets when we travel around Japan. Frankly speaking, the seafood sections in the US supermarkets are quite tame and boring. We love learning about different seafood and the local or regional specialty ingredients that are in the markets and trying them as a family.
Japan is not a big country but each region has its own specialties and foods that are not easily accessible in other areas of Japan.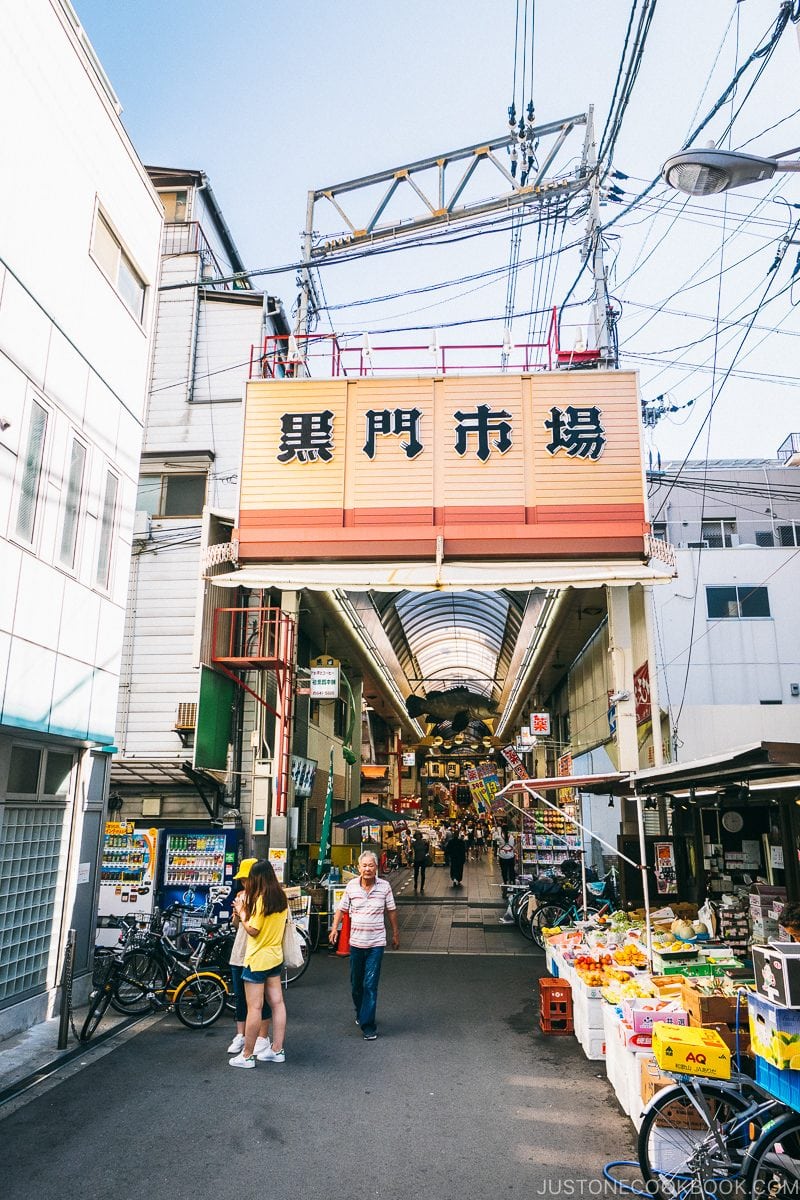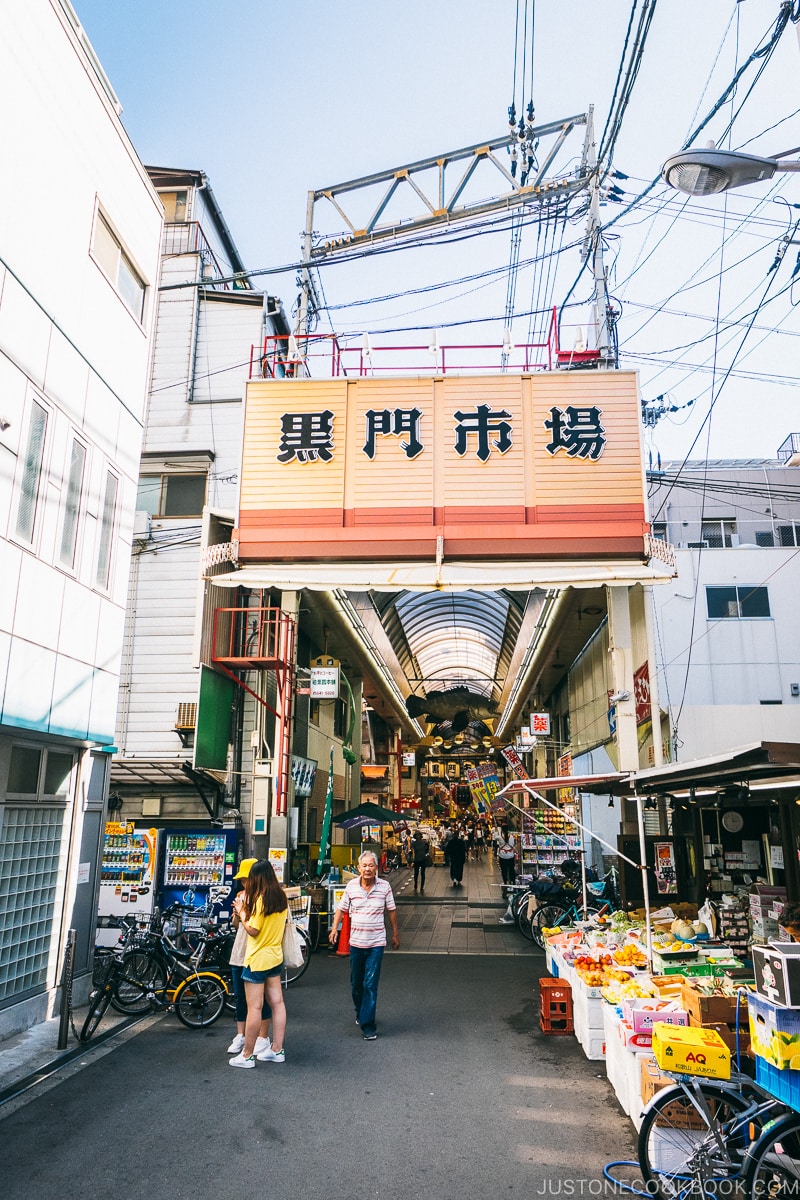 History of Kuromon Ichiba Market
The market has 190 years of history and there are over 150 stalls and stores to browse through. The market used to be called Enmeiji Market since it was near the Enmeiji Temple (destroyed in a fire). The temple had black gates (Kuromon in Japanese) and the market took on the nickname.
The market is where both Osakans and restaurants come to get their fresh seafood and produce, and only recently gainly popularity as a tourist hotspot. Ready to go check it out? Let's go.
Food and Fresh Produce at Kuromon Ichiba Market
The stores in Kuromon Ichiba Market carries everything from Japanese pickled vegetables to mochi, but its main focus is on seafood with almost 30 seafood vendors.
Another thing you might be surprised by is there are over 25 restaurants in the market, and many of the vendors will actually prepare and cook the food you purchased to be enjoyed right there. Can't get any fresher than that! If you get tired of eating Okonomiyaki and Takoyaki in Osaka, Kuromon is the perfect place to explore your palates.
Seafood at Kurmon Ichiba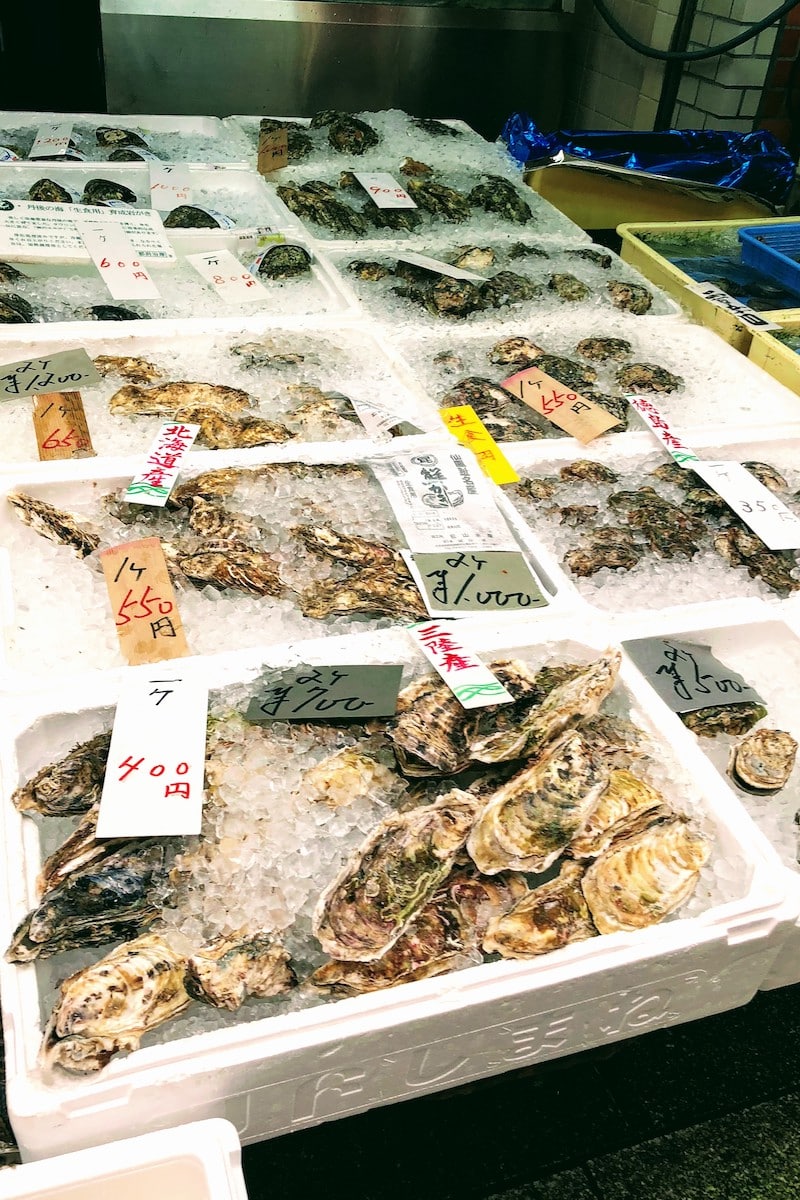 There is an abundant number of kinds of seafood to choose from, from freshly halved sea urchin and lobster to many types of sashimi.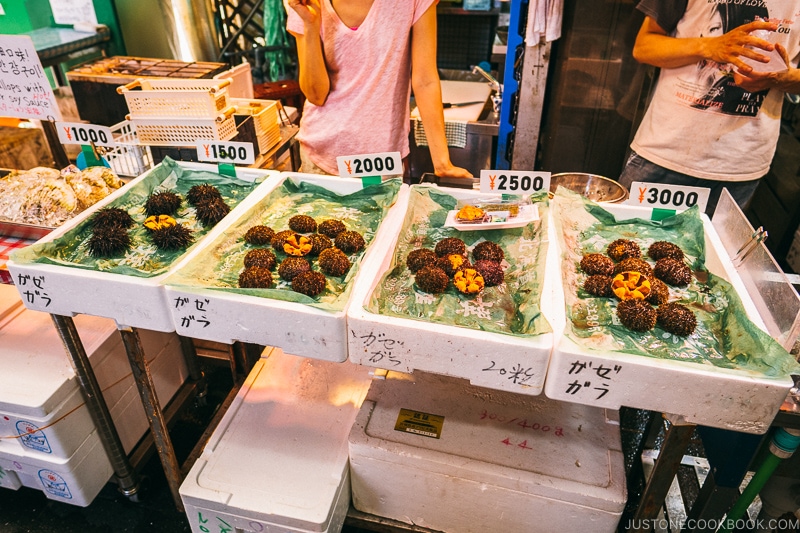 Too much food to consume on the spot? If you live in Japan, you can buy some of the seafood and have it delivered to your home or office.
One of the larger seafood stores is Kuromon Sanpei, they have a large section of goods and also sliced sashimi ready to go for customers. Kuromon Sanpei is one of those shops where you can buy the seafood and they'll cook it for you. Other popular stores include tuna specialty shop Kurogin Tuna Store.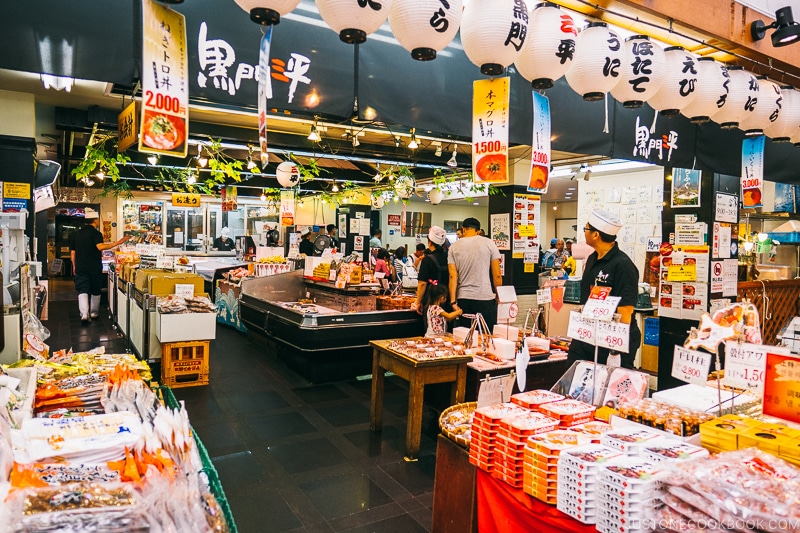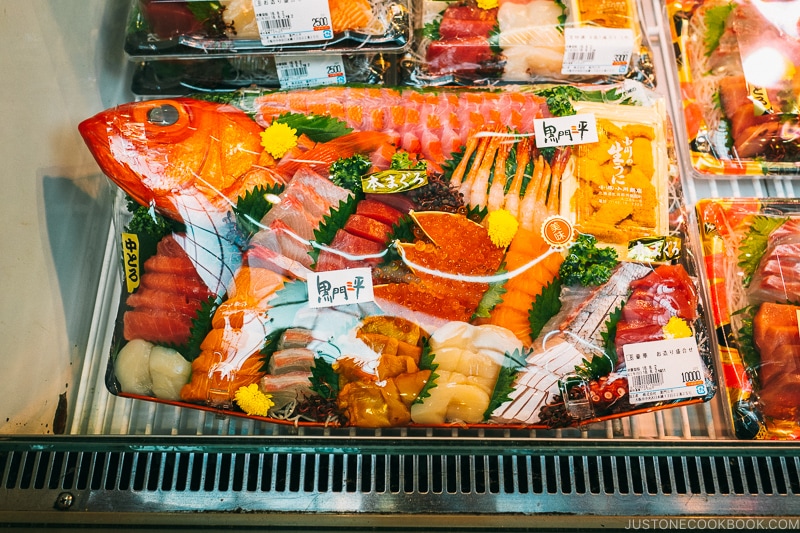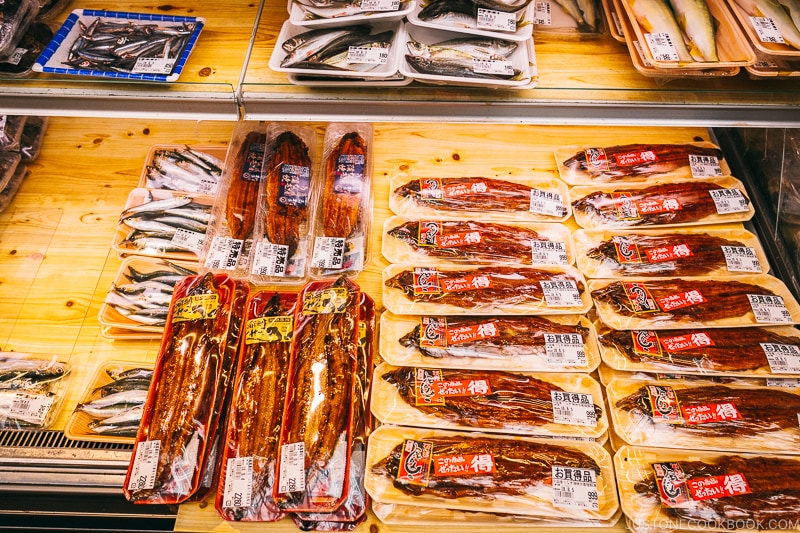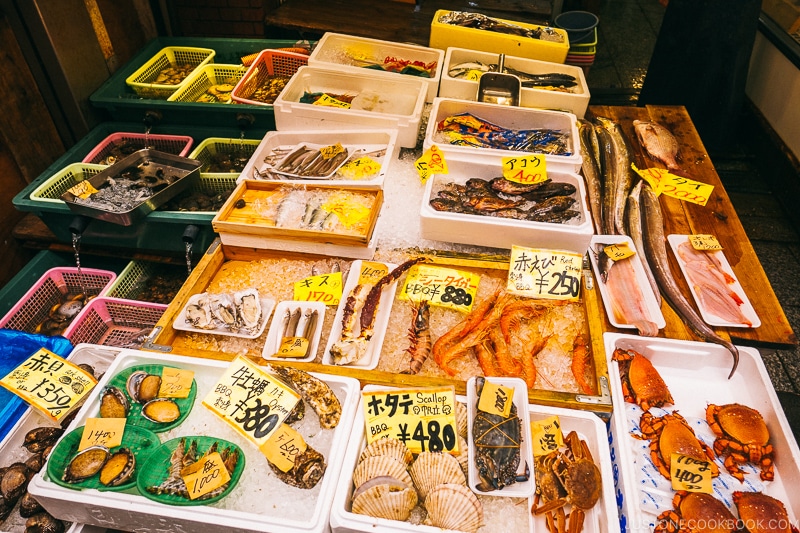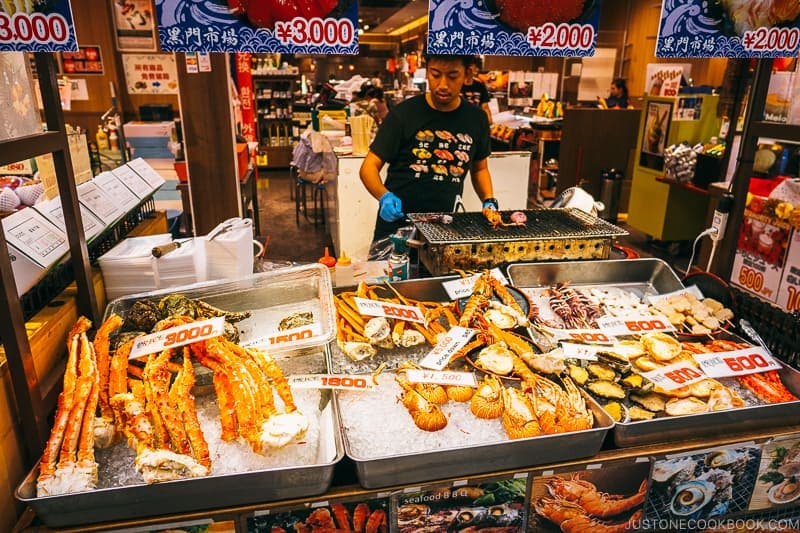 Meat and Fresh Produce at Kuromon
Seafood is the main featured product at Kuromon but there are about 8-9 meat and produce specialty stores each. Many of the shops at Kuromon has been there for decades and one of the meat shops with a long history is Manno.
If you are staying at an AirBnb, buy some Japanese beef and make Shabu Shabu for dinner. It'll be an amazing meal to remember and considerable saving compared to a restaurant.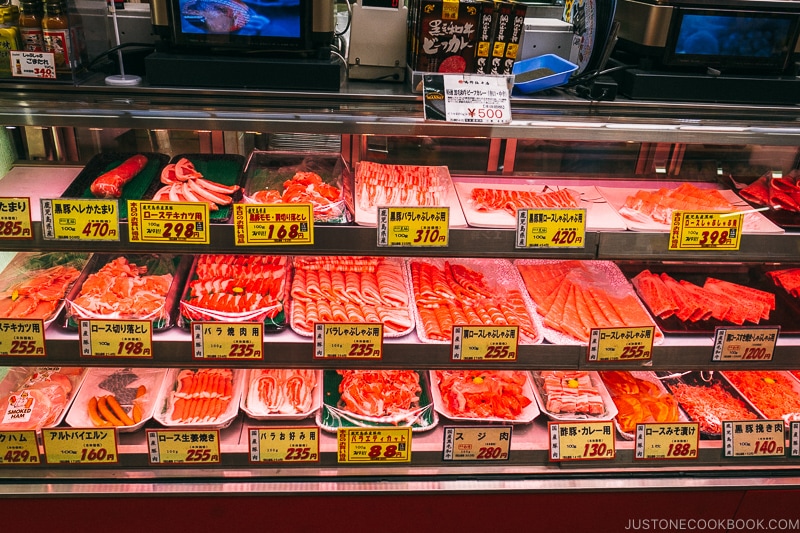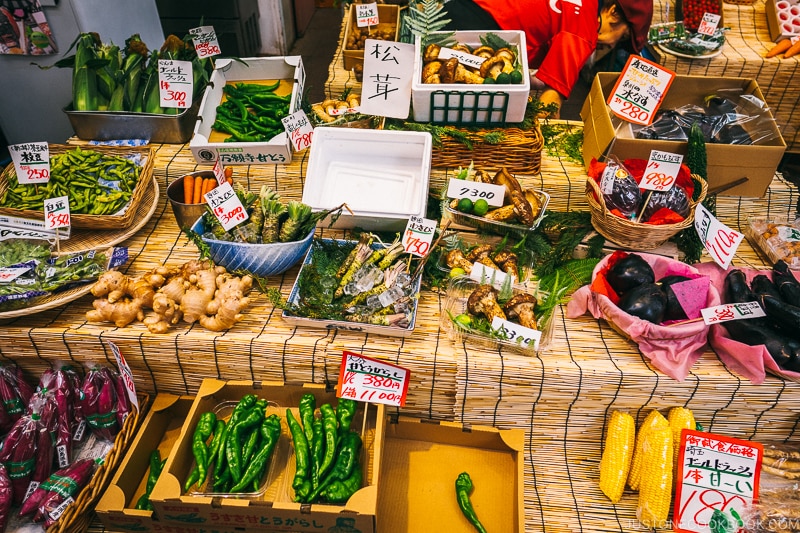 One of the regional dishes that varies a bit from region to region in Japan is Tsukemono – Japanese pickled vegetables (Read our Tsukemono Guide). If you like tsukemono, try the different varieties you don't normally see outside of Japan. Some of the vendors will have samples for you to try before buying.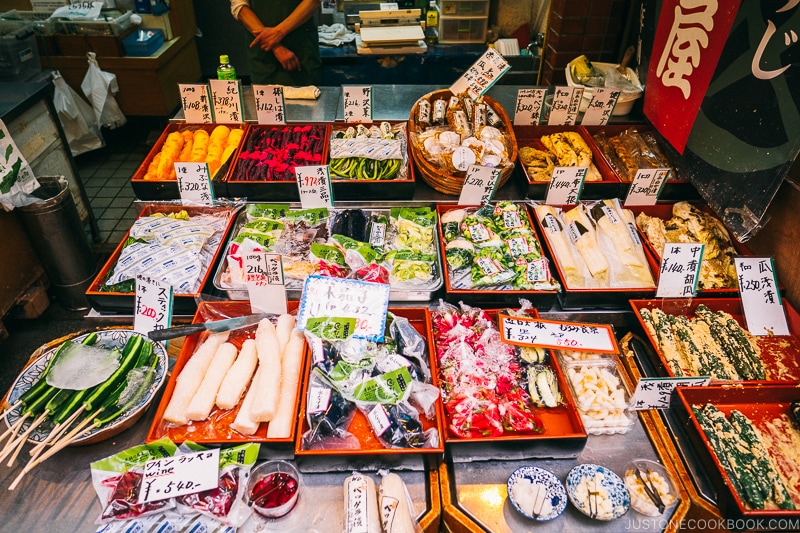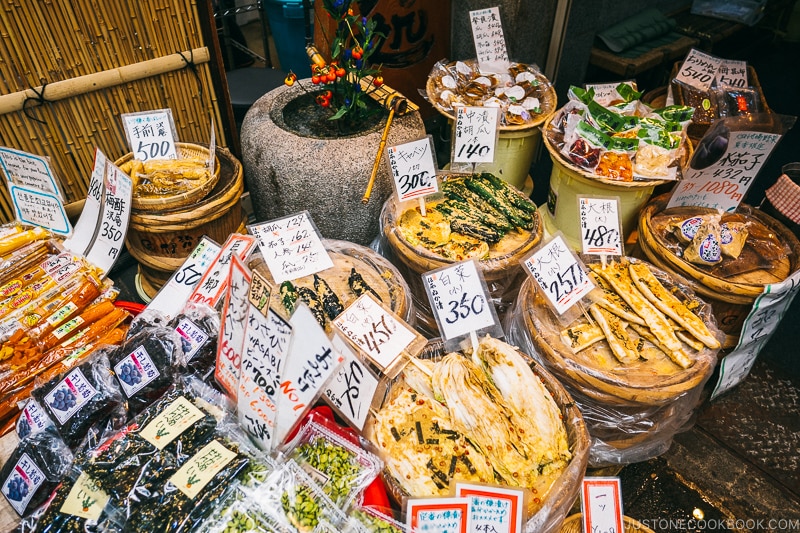 Other Shops at Kuromon
Besides fresh produce and seafood, Kuromon market also has shops that sell sweets/mochi, rice, clothing, and flower. If you love food, spend some time in Osaka's Kitchen and taste the fresh seafood it has to offer.
Sennichimae kitchenware Street 千日前道具屋筋
In Tokyo, you have Kappabashi for all the Japanese kitchen tool and tableware needs. If your travel only takes you to Osaka, don't worry, you can still go to Sennichimae Kitchenware Street in Osaka. The official name is actually Sennichimae Doguyasuji Shotengai but I will refer it to kitchenware street so it's easier for you to remember.
Where is Sennichimae Kitchenware Street?
Sennichimae Kitchenware Street is close to Osaka Metro Namba Station and Takashimaya Department store in Namba, however, it could be a bit tricky to find as the sign for the shopping arcade is not very obvious. Look for the street sign below on the metal pole if you're lost in the alley, or look for the giant red Doguyasuji "道" sign at the end of the arcade.
While Kappabashi located on a large busy street, Sennichimae kitchenware street is mostly a covered shopping arcade. The nice part is that it provides some relief from the sun in the hot Japan summers.
Stores on Sennichimae Kitchenware Street
Sennichimae Kitchenware Street not only offer all types of kitchen gadgets but restaurant supplies as well.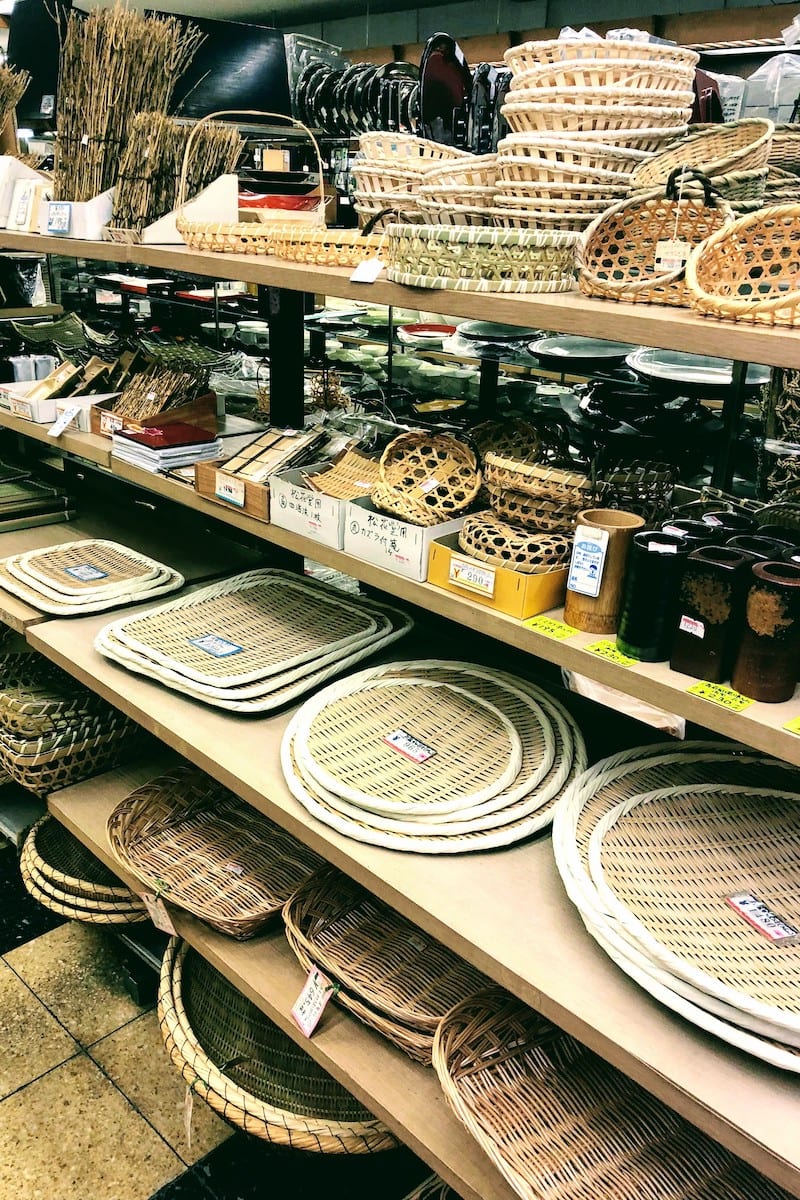 Whether you need the perfect seat cushion or bamboo basket, the selections are plentiful.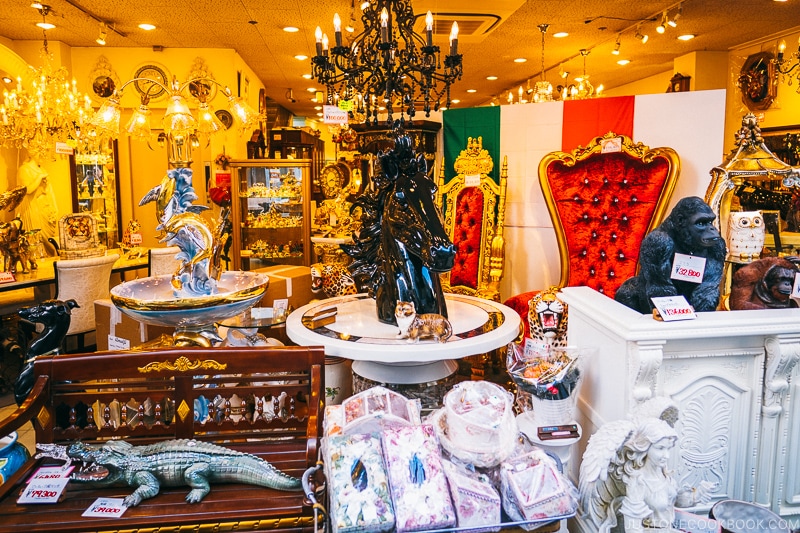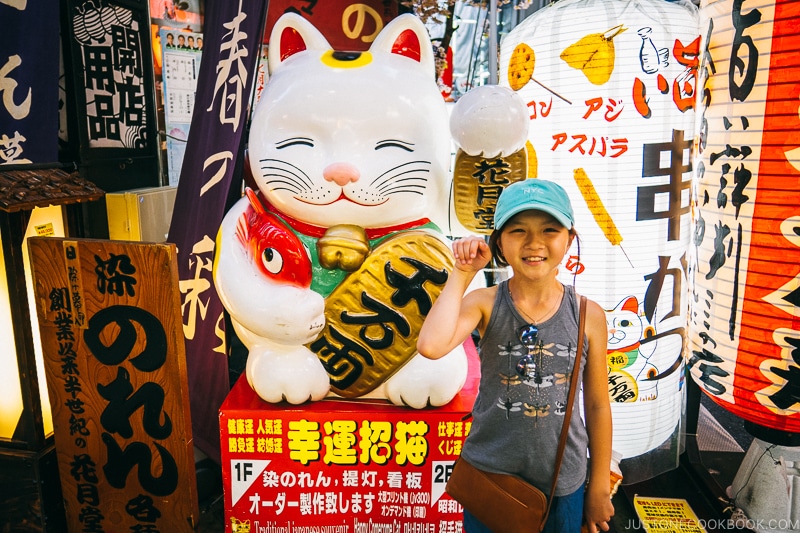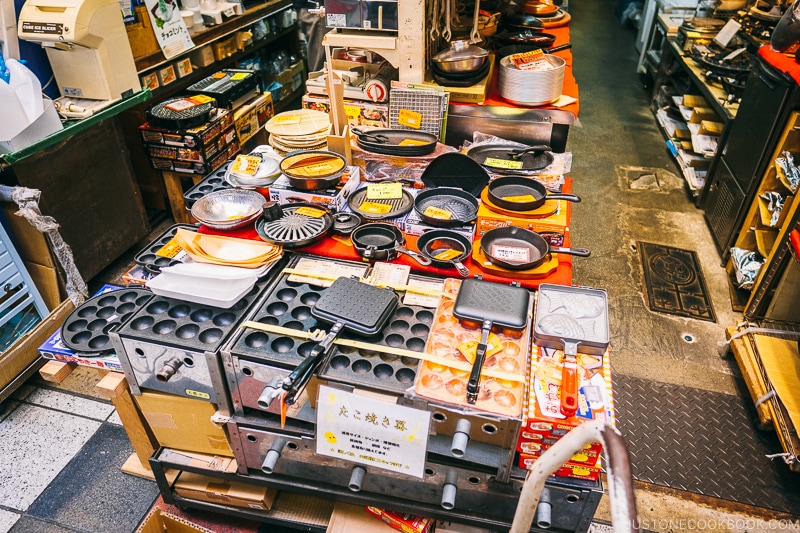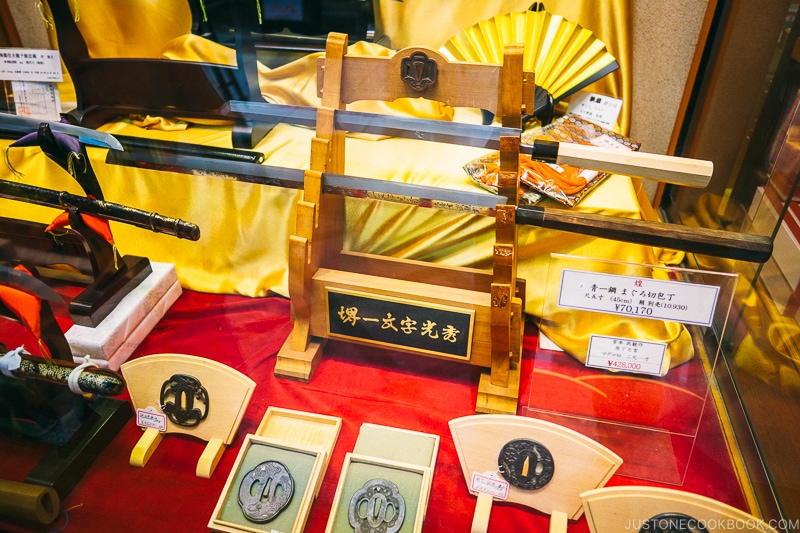 Lastly, there are some stores that carry sampuru (サンプル, fake plastic food). If you've always wanted ramen bowls with noodles displayed on your shelf, you don't want to miss them.
Thank you for reading our guide to Kuromon Ichiba Market and Sennichimae Kitchenware Street. It doesn't take too long to browse through these areas so stop by on your visit to Osaka. We'll see you soon America Village and Shinsaibashi to shop until you drop.
Just One Cookbook Osaka Guides
If you're interested in our travel guides on Tokyo, Kyoto, Kanazawa, Kyushu, and more, please click here.