Win a set of Japanese street food pantry essentials from Otafuku Foods today, and cook up the most delicious Okonomiyaki and Yakisoba at home. 
Hands up if you think Japan has some of the best street foods in the world! ✋ If you have missed chowing down giant plates of yakisoba and okonomiyaki dished out by the street vendors, you can make them at home today. To help you get started, we've partnered with Otafuku Foods to give away their street food pantry essentials to 3 lucky JOC readers.
The gift set includes okonomi sauce, yakisoba sauce, okonomiyaki flour, tenkasu, 1 set of spatulas, and apron. Ready to put on your chef hat and apron? Enter this giveaway now!
Win a Set of Japanese Street Food Pantry Essentials from Otafuku Foods
The bundle includes:
1. Okonomi Sauce:
Okonomi Sauce has been loved by Japanese people for many years. It is made by blending around 20 types of different spices with plenty of fruits and vegetables. Otafuku's Okonomi Sauce is characterized by a mellow sweetness and the rich flavor of carefully selected dates.
2. Yakisoba Sauce:
Yakisoba sauce has a rich sweet and savory flavor of vegetables, such as onions and garlic, which provides the Yakisoba with a pleasant aroma as if it had been cooked on a teppan (iron griddle).
3. Okonomiyaki Flour:
Otafuku's okonomiyaki flour is a wheat flour mix that uses kombu (dried kelp) to enhance the taste of the ingredients. Simply mix it with water and you will have the perfect okonomiyaki batter.
4. Premium Tenkasu:
Tenkasu is crunchy bits made from Tempura flour which adds extra crunchy texture. Widely used in okonomiyaki and as a topping for sushi rolls.
5. One set of Otafuku Spatulas
6. Otafuku Apron
How To Make Yakisoba & Okonomiyaki At Home

The classic Japanese stir fry noodles dish often includes pork and vegetables, but you can always choose your own proteins and favorite ingredients when making it at home. 
♥ Get Yakisoba recipe.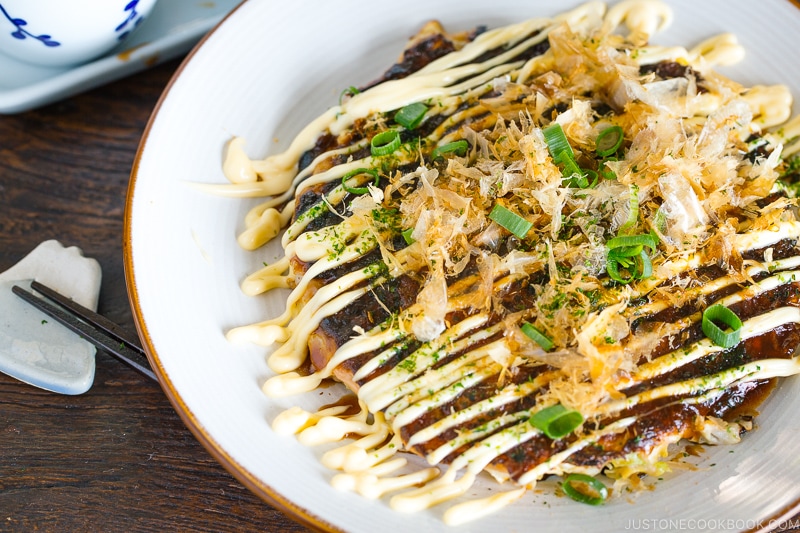 This Japanese 'grilled as you like' savory pancake is a must-try for any visitors to Japan. With Otafuku's  premix flour and tempura scraps (tenkasu), you can make these pancakes anytime your cravings strike. The set of spatula will help you flip the pancakes with ease and style.
♥ Get Okonomiyaki's recipe
♥ Get Hiroshima-style Okonomiyaki's recipe
About Otafuku
Otafuku is Japan's sauce masters since 1922. Otafuku has been proudly making Japan's favorite okonomiyaki sauce. Its name is synonymous with okonomiyaki since no okonomiyaki is complete without Otafuku's signature sauce.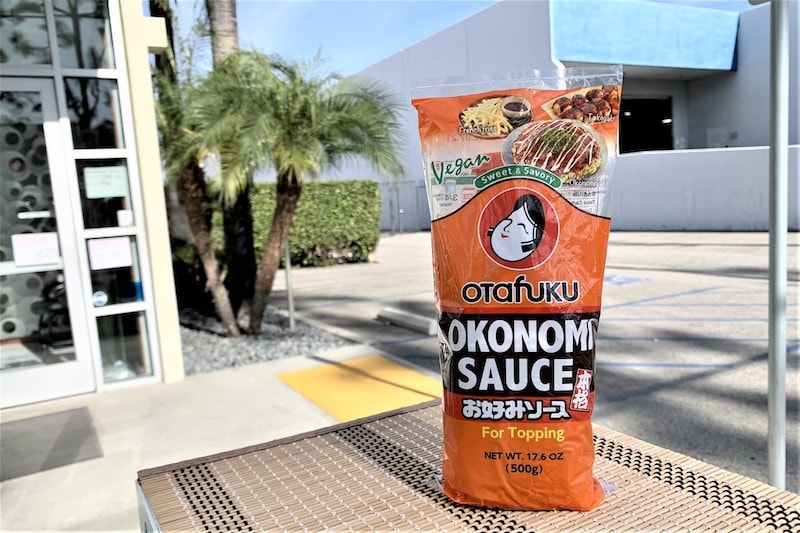 GIVEAWAY RULES:
Please Note: Your email for the comment entry has to match with your email address in my Email Newsletter Subscription mailing list.
This giveaway contest closes on Monday, Feb 8, 2021, at 12 p.m. PST and is open to the US Only. 
Three (3) winners will be selected via Random.org and contacted via email, so please include a valid email address in the email address entry box (please double check your spelling!).
The winners are required to respond within 36 hours to claim the prize.
How to Enter:
HOW TO ENTER:
The more tickets/comments left on this blog post will increase your odds of winning. Good luck!
Ticket 1 (Required): Follow Otafuku on Instagram and leave a separate comment below on this post.
Ticket 2 (Required): Subscribe to Just One Cookbook Email Newsletter if you haven't and leave a comment below on this post. 
Ticket 3 (Optional): Follow JOC Instagram and then leave a separate comment below on this post.
Ticket 4 (Optional): Follow JOC Facebook and then leave a separate comment below on this post.
You can also enter Instagram Giveaway!
***
The giveaway is now closed. The winners are …
Diana
Michael Perry
Sam W
Congratulations! We'll contact you shortly.