Let's make Pickled Sushi Ginger (or Gari ガリ) at home! Refreshing and slightly sweet, it's perfect for cleansing your palate as you enjoy delicious sushi.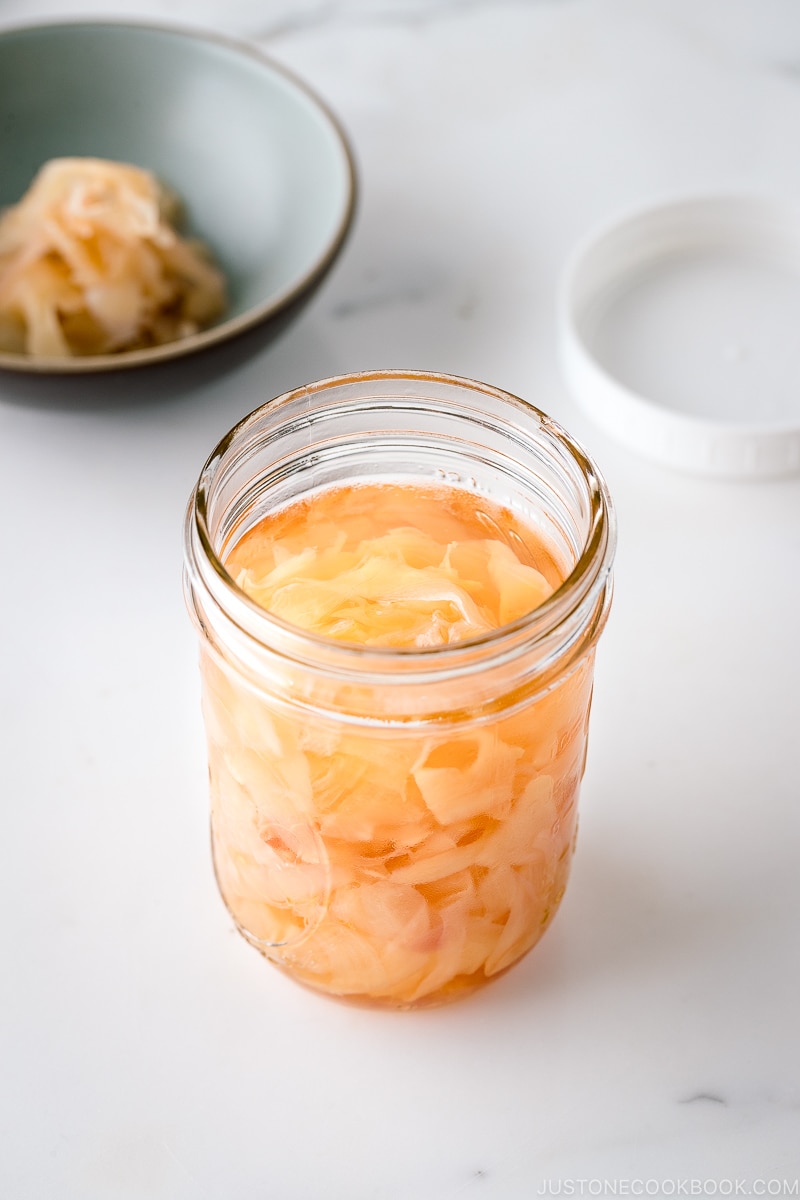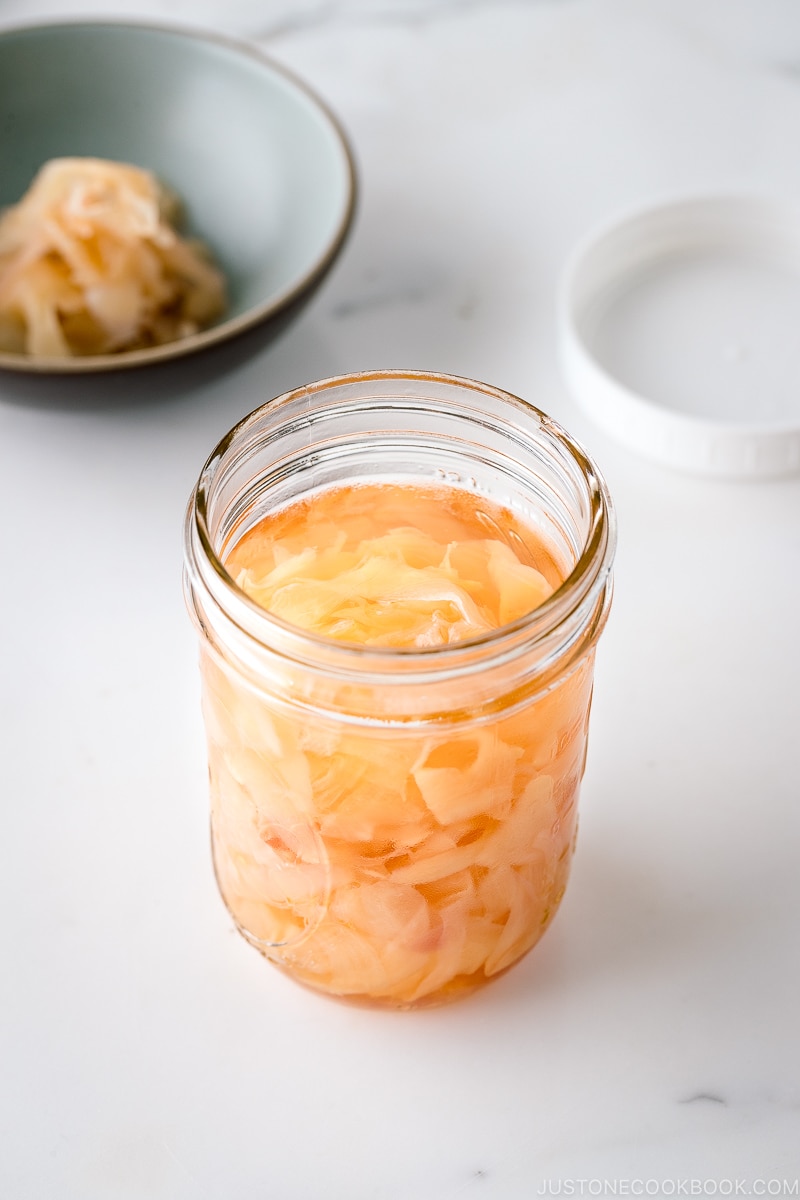 If you enjoy my sushi recipes like Hand Roll Sushi, California Roll, Dragon Roll, and Spicy Tuna Roll, there's one crucial complementary item you need to enjoy with the amazing sushi. And that's Pickled Sushi Ginger.
What is Pickled Sushi Ginger
In Japan, we call the pickled ginger Gari (ガリ) or Shin-shoga no Amazu-zuke (新生姜の甘酢漬け).
It's young pickled ginger that is soaked in sweet vinegar brine. It can have a blush pink color when made from young ginger or artificially colored, or beige if made with regular ginger.
We often serve and eat pickled sushi ginger while eating sushi and it's an essential part of a sushi meal. The spiciness and sweet vinegar flavor of the ginger helps cleanse the palate between eating, allowing you to enjoy different pieces of fish and rolls. The name Gari is from the onomatopoeia of the crunching noise or the sound of a knife thinly slice the ginger. At a sushi restaurant, you can ask more gari if you want extra.
Sweet Pickle – Amazuzuke
There are many types of pickles or what we call Tsukemono (漬け物) in Japan. We call the sweet and vinegar type Amazu-zuke (甘酢漬け).
All you need is just 3 ingredients for the pickling solution: rice vinegar, sugar, and salt. Put all the ingredients in a saucepan to meld and let cool completely. You can keep the finished Amazu for 2-3 months in the refrigerator, and use it in batches.
Do you need to use rice vinegar? Ideally, yes. The taste of rice vinegar is mellow, milder, and refreshing compared to the other types of vinegar, and because of that, you can use less sugar. If you use another type of vinegar, please adjust the amount of sugar. For authentic Japanese flavor, go with rice vinegar!
How to Make "Gari" – Pickled Sushi Ginger
Ingredients You'll Need
Young ginger (We'll talk more about this later)
Salt (Roughly 3-5% of the ginger weight. It helps remove moisture from the ginger and better absorb the pickling solution)
Sweet pickle solution – rice vinegar, sugar, and salt
*Note: If you use white granulated sugar (in my recipe, I used organic cane sugar), the pickle solution will be lighter in color and showcase the pink more visibly (see below).

Overview: Cooking Process
Thinly slice ginger and dehydrate with salt.
Blanch the sliced ginger to remove spiciness.
Let cool and squeeze the liquid out.
Combine ingredients in a pot to make sweet pickle solution.
Pour the hot solution to ginger and pickle for a few days.
It's simple and easy to make, and lasts for a long time! If you can get young ginger, make a lot and preserve!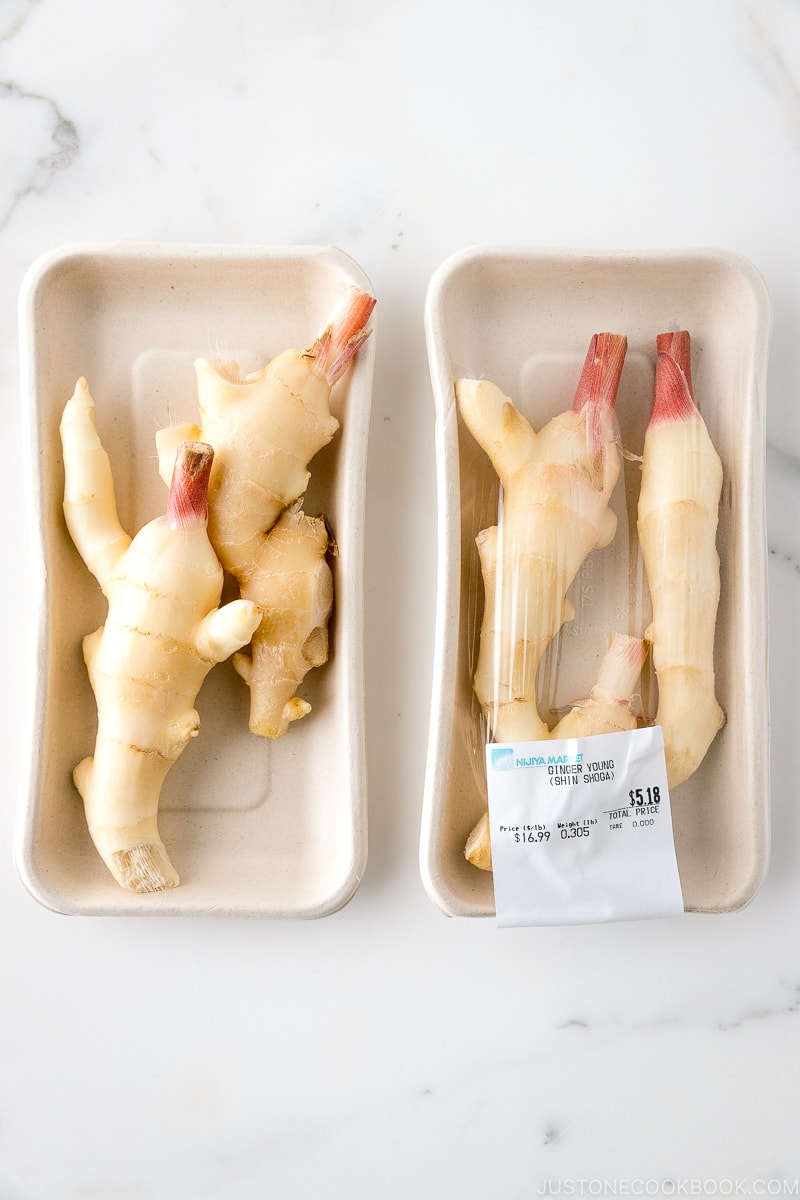 Why Do We Use Young Ginger?
Young ginger has a mild zesty flavor and a fine fleshy texture that is tender. Unlike matured ginger that's usually used for cooking, the young ginger's skin is very thin and easy to peel with fingers or a spoon.
To make sushi ginger, use only young ginger. Thinly slice and pickle it in a sugar and rice vinegar mixture. The sliced ginger will naturally become light pink from the tips of the young ginger (see the photo).
Many commercial producers artificially dye the pickled ginger pink. If you're purchasing pickled sushi ginger, you can find some brands that avoid artificial coloring.
Young ginger is harvested and sold in early summer around May/June!
You can find young ginger in Asian grocery stores but they sometimes do not have the pink tip (already cut off). You can still make pickled ginger with these, but they won't be naturally pink.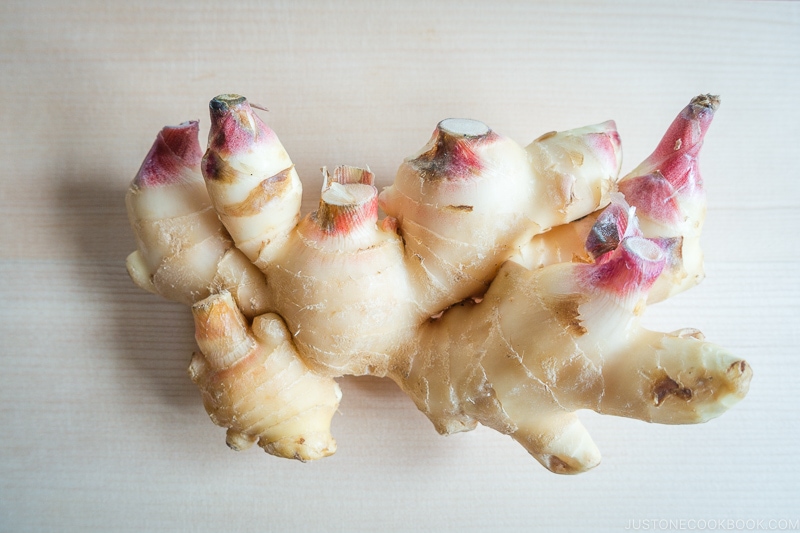 Where to Find Young Ginger
Japanese/Asian grocery stores
Farmers markets
Etsy (I've purchased young ginger from Hawaii before)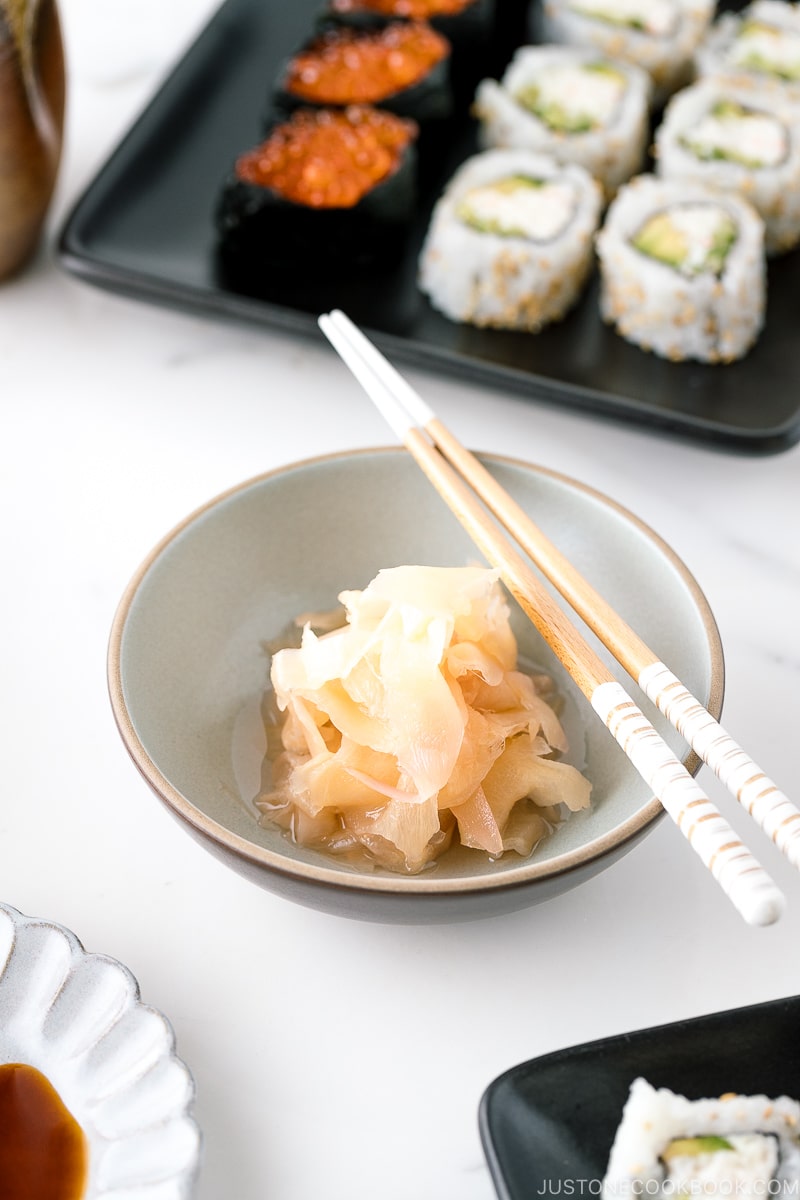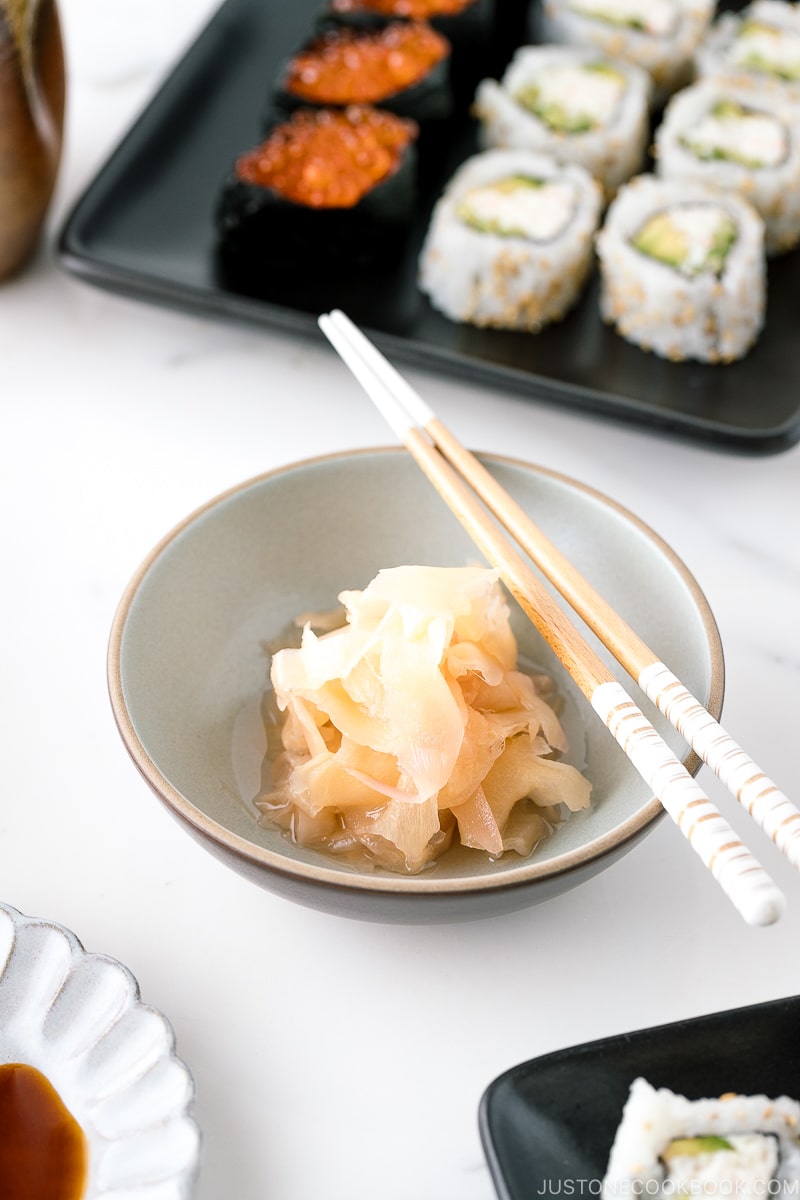 What to Serve with Pickled Sushi Ginger
When you find young ginger in the grocery store, you know what to do now! I hope you enjoy this homemade pickled ginger recipe.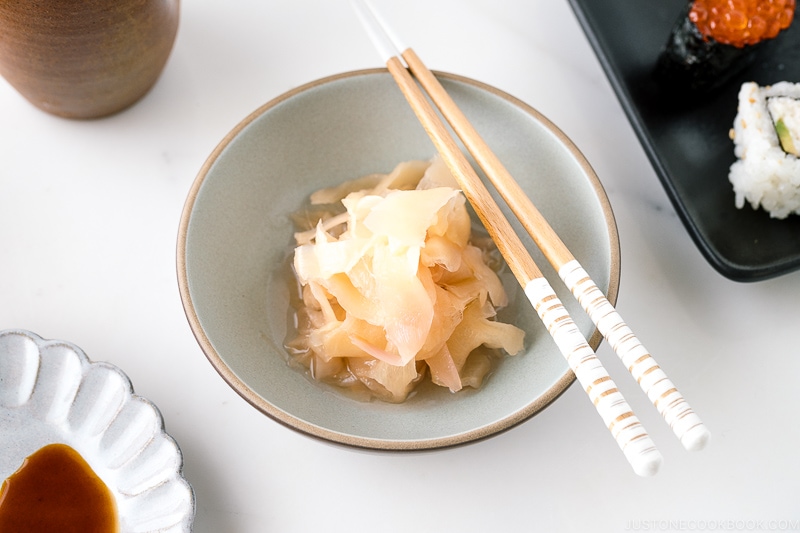 Sign up for the free Just One Cookbook newsletter delivered to your inbox! And stay in touch with me on Facebook, Pinterest, YouTube, and Instagram for all the latest updates.
Pickled Sushi Ginger (Gari)
Let's make Pickled Sushi Ginger (or Gari ガリ) at home! Refreshing and slightly sweet, it's perfect for cleansing your palate as you enjoy delicious sushi.
Video
Ingredients
8

oz

young ginger

(you can increase by up to 50% for this recipe; if you use regular ginger, it will be VERY spicy and you must boil it longer to reduce the spiciness)

2

tsp

Diamond Crystal kosher salt

(3–5% of the ginger's weight)
For the Sweet Vinegar (Amazu)
1

cup

rice vinegar (unseasoned) (rice vinegar is mild compared to other vinegars; if you use another type, add more sugar to taste)

½–¾

cup

sugar

(I use organic cane sugar; use white granulated sugar for a clear pickling solution that showcases the ginger's pink color; DO NOT USE LESS SUGAR than specified because the ginger will not preserve well)
Japanese Ingredient Substitution:
If you want substitutes for Japanese condiments and ingredients, click
here
.
Instructions
Gather all the ingredients.
To Prepare the Ginger
Using a knife (you can also use the back of the knife or a spoon), scrape off the brown spots and thin skin of

8 oz young ginger

.

Using a peeler, thinly slice the ginger. You can also use a mandoline. I prefer to use a peeler as it slices very thinly.

When you can't slice the ginger anymore with the peeler/mandoline, use the knife to slice the rest thinly.

Sprinkle

2 tsp Diamond Crystal kosher salt

on the ginger slices and set aside for 5 minutes. The salt helps remove the moisture from the ginger so it can better absorb the pickling solution.

Meanwhile, bring a medium pot of water to a boil. Once boiling, blanch the thinly sliced ginger for 1–2 minutes. If you want to keep it spicy, take it out after 1½ minutes. Tip: If you are using regular ginger (not young ginger), blanch it for 2–3 minutes to remove the extra spiciness.

Drain the ginger slices in a sieve. Let them cool slightly so you can handle them with your hands.

With your clean hands, spread out the slices in a single layer over a large Japanese bamboo sieve (called bonzaru 盆ざる) or paper towel/wire rack. Set aside until it's completely cooled and dried out a bit more.

Once cooled, squeeze the liquid from the ginger slices and put them in a sterilized airtight jar.
To Make the Sweet Vinegar (Amazu)
In a small saucepan, add

1 cup rice vinegar (unseasoned)

,

½–¾ cup sugar

, and

1 tsp Diamond Crystal kosher salt

. Tip: DO NOT USE LESS SUGAR than specified because the ginger will not preserve well. The least you can use is

½

cup of sugar, and it is still quite tangy. If you prefer the taste of store-bought sushi ginger, use the higher measurement of sugar indicated.

Mix and bring it to a boil on medium heat. Cook the vinegar mixture until the strong vinegar smell has evaporated and the sugar has completely dissolved.

Remove from the heat and let it cool slightly because the just-boiled liquid could break the glass jar. Pour the hot vinegar mixture into the jar with the ginger slices. Using clean chopsticks (or any utensil), mix it well together. Close the lid, let it cool completely, and refrigerate.

After 4 hours or so, the ginger will turn slightly pink (see the photo below). I recommend waiting until the following day or a few more days to enjoy.
To Store
Keep the pickled ginger in an airtight container and store in the refrigerator for up to one year. Always use clean utensils to remove the pickled ginger from the jar to avoid contamination and to help them keep for a long time.
Nutrition
Nutrition Facts
Pickled Sushi Ginger (Gari)
Amount per Serving
% Daily Value*
* Percent Daily Values are based on a 2000 calorie diet.
©JustOneCookbook.com Content and photographs are copyright protected. Sharing of this recipe is both encouraged and appreciated. Copying and/or pasting full recipes to any website or social media is strictly prohibited. Please view my photo use policy
here
.
Editor's Note: This post was originally published on August 11, 2015. The images and content have been updated and a new video is added in June 2021.
Our Recommendations for Buying Sashimi Online


When we have a sudden craving for sashimi we usually buy from our local Japanese supermarkets. If you don't have a reliable shop to purchase quality sashimi nearby, we would recommend buying from Catalina Offshore online.
They've been in business for over forty years and all the sashimi products we've tried from them are outstanding. Use J1COOK20 for 10% discount. Disclosure: We earn a small percentage commission from your purchase of products linked to Catalina Offshore.