Marinated in a sweet pickling solution with kombu (dried seaweed) and red chili, Semaizuke (literally thousand-sliced pickles) is a popular Kyoto-style pickled turnip. Serve the pickles as an accompaniment to any Japanese meal and enjoy them between dishes as a palate cleanser.
This is a sponsored post written by me on behalf of Mizkan™.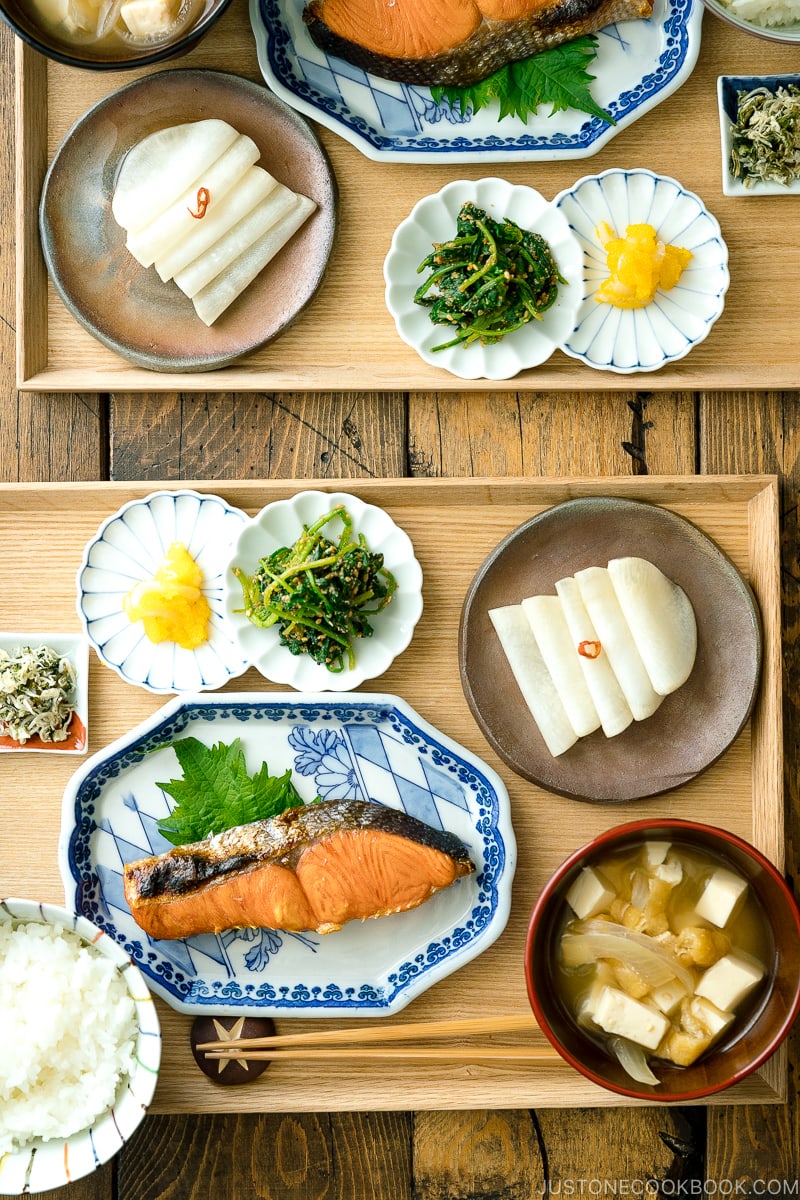 Crunchy vegetables are my favorite, and I love all kinds of root vegetables. Among them are turnips. Do you eat them? I love using turnips for miso soup, pickles, simmered dishes, and in just about everything!
Today I'm sharing a sweet and tangy Kyoto-style pickle known as Senmaizuke (千枚漬け) made of thinly sliced turnips.
What is Senmaizuke
Senmaizuke (千枚漬け) is one of Kyoto's the three most famous pickles along with Sugukizuke (すぐき漬け) and Shibazuke (しば漬け), and it's made of thinly sliced pickled turnip or daikon radish.
Originally, the yellow-white Semaizuke pickle was made by lactic-acid fermentation of sliced turnips. However, in modern times, turnips are pickled in sweet vinegar called Amazu.
In Japan, a special type of white, globe-shaped turnip called Shogoin Kabu (聖護院かぶ) is commonly used to make Senmaizuke. Since it is only available from November through February, we consider the pickle a seasonal dish.
A Little History of Senmaizuke
The origin of Senmaizuke can be traced back to the Tenpo-era in the latter half of the Edo period. Originally, it was a simple salted Shogoin Kabu. It wasn't until the end of the Tokugawa shogunate (the military government of Japan during the Edo period from 1603 to 1868) that Senmaizuke became thinly sliced pickles, which were invented by a chef at the Imperial Palace, Daikokuya Fujisaburo.
In the middle of the Meiji era, several pickle shops added their own ideas to the taste, flavor, and technique, and thus, Senmaizuke took on different flavor dimensions from each unique shop.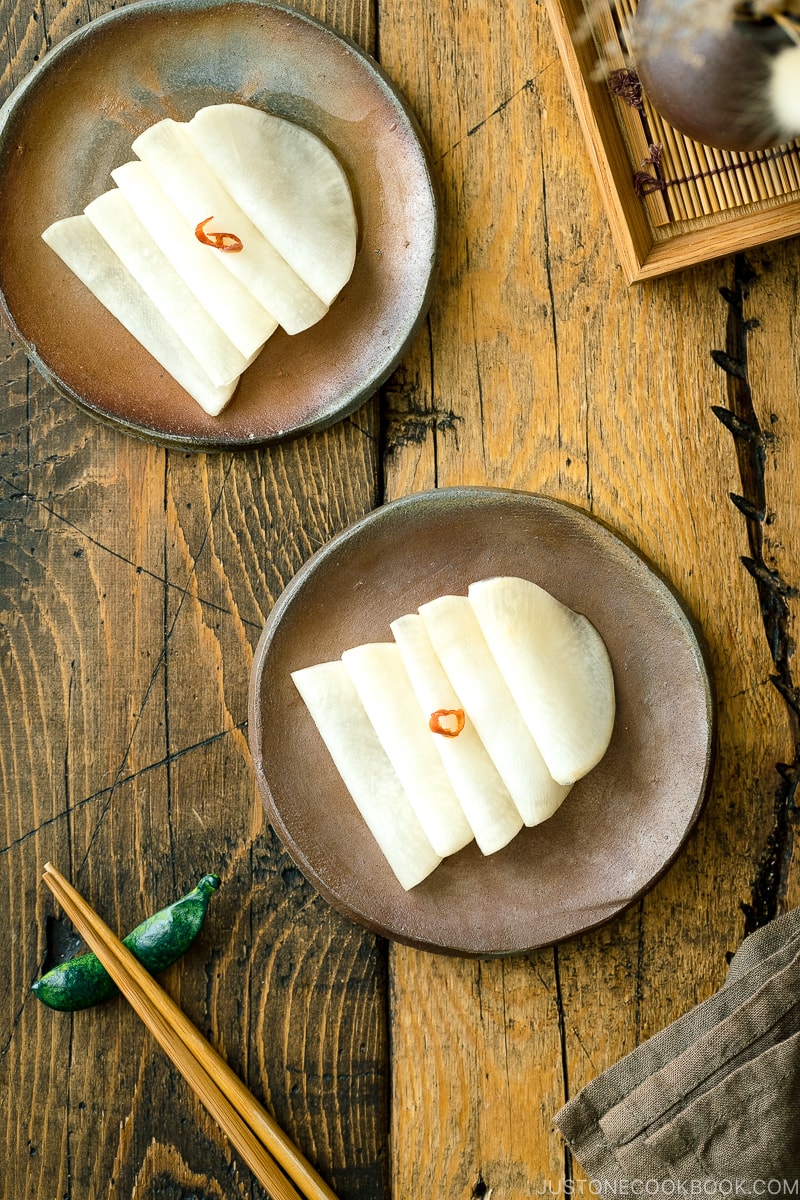 Types of Turnip
As mentioned previously, Shogoin Kabu (聖護院かぶ) is used to make Senmaizuke. This variety of turnips is sweet and large, roughly 7 inches (18 cm) in diameter, and has a fine texture.
For those who like to grow Shogoin Kabu, you can purchase the seeds here.
I can't find Shogoin Kabu at my local stores in the US, but you can use regular turnips or Japanese turnips (also known as Tokyo Turnip or Tokyo Kabu).
One of the signature looks of Senmaizuke is its large round slices that are layered neatly on the plate. Here, I decided to use the regular turnip instead of the Tokyo turnip. Visually, regular turnips are larger in size and would give the best presentation for Senmaizuke. The only caveat is some can have a strong bitter taste.
On the other hand, Tokyo Kabu is milder with a slight hint of sweetness, but it is a lot smaller size-wise compared to Shogoin Kabu. You would not be able to present them as I did in this recipe.
At home, I use both varieties to make Senmaizuke and each has subtle differences. I'd avoid using any turnips that have a pronounced bitter edge. From my experience, some turnips are less bitter than the others. So you might want to try it out for yourself first.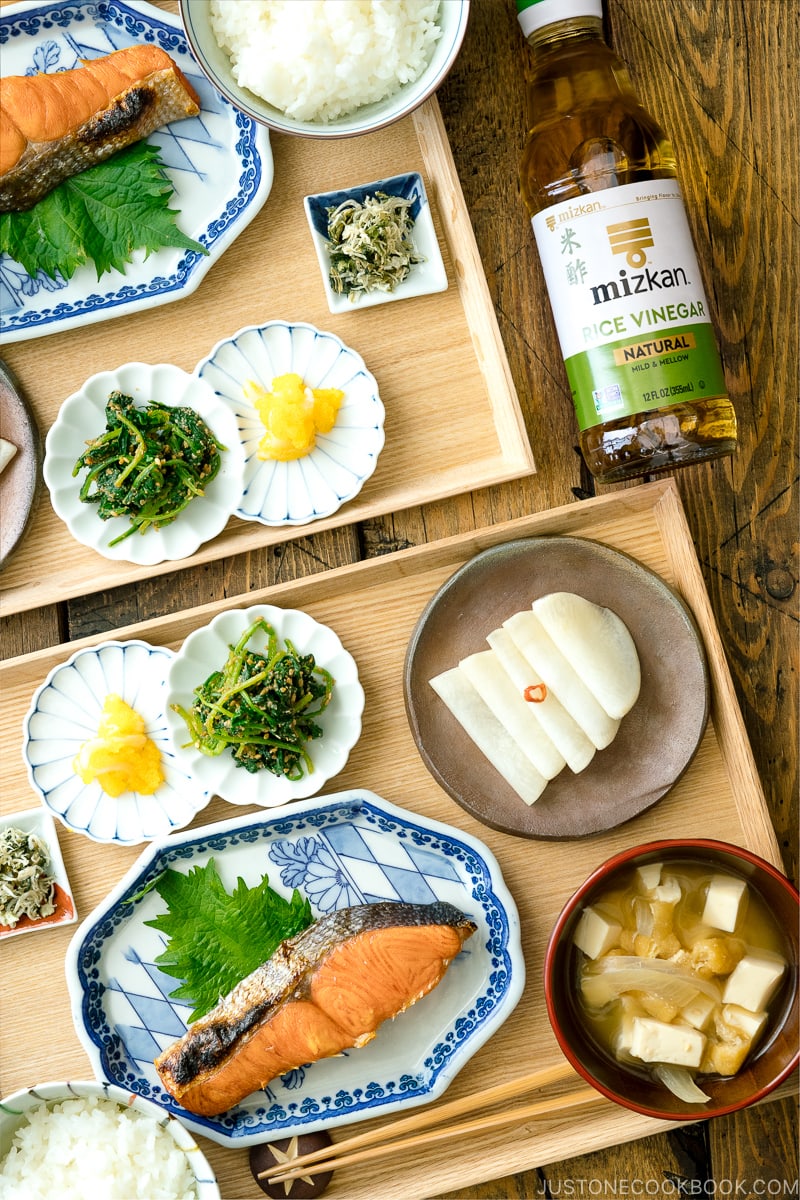 How to Make Senmaizuke
Ingredients You'll Need
Turnips – Depending on your preference, you can use either regular turnips or Tokyo turnips.
Kombu (dried kelp/seaweed) – According to many Japanese websites, Rishiri Kombu (利尻昆布), Rausu Kombu (羅臼昆布), or Hidaka Kombu (日高昆布) are used to make Senmaizuke . If you wish to learn more about these different types of kombu, please read this post. If you're looking for an accessible alternative, grab dried seaweed from the international aisle of your grocery store.
Dried red chili – Just a little to give a slight heat.
Pickling solution (Amazu) – rice vinegar, sugar, and salt
Overview: Quick Steps
Make pickling solution (Amazu).
Drawing moisture out from turnips with salt.
Marinate the turnips in the pickling solution overnight. Ready to serve!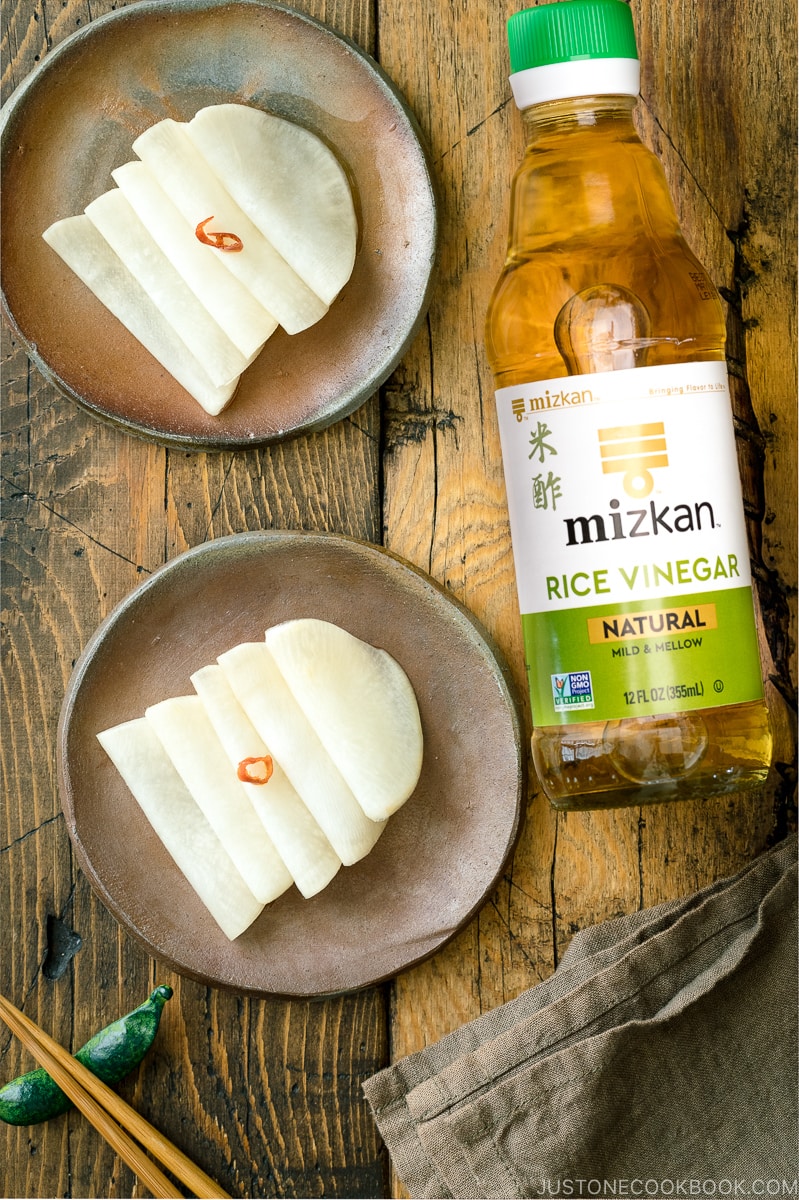 The Pickling Solution – Amazu
This sweet and sour pickling solution is called Amazu (甘酢), literally sweet vinegar. You will need only three ingredients: rice vinegar, sugar, and salt.
I can't emphasize enough that it's important to use rice vinegar, not other types of vinegar you may have in the pantry. Rice vinegar is much milder than the other kinds of vinegar. The only brand I've been using ever since I started cooking is Mizkan Natural Rice Vinegar.
I personally use many types of Mizkan sauces and condiments for my home cooking. As a leading brand in Japan for over 215 years, I trust Mizkan for bringing authentic Japanese flavors to our dinner table.
For Japanese-inspired recipes and other quick and delicious usage ideas, you can follow Mizkan on Facebook, Instagram, Twitter, and Pinterest.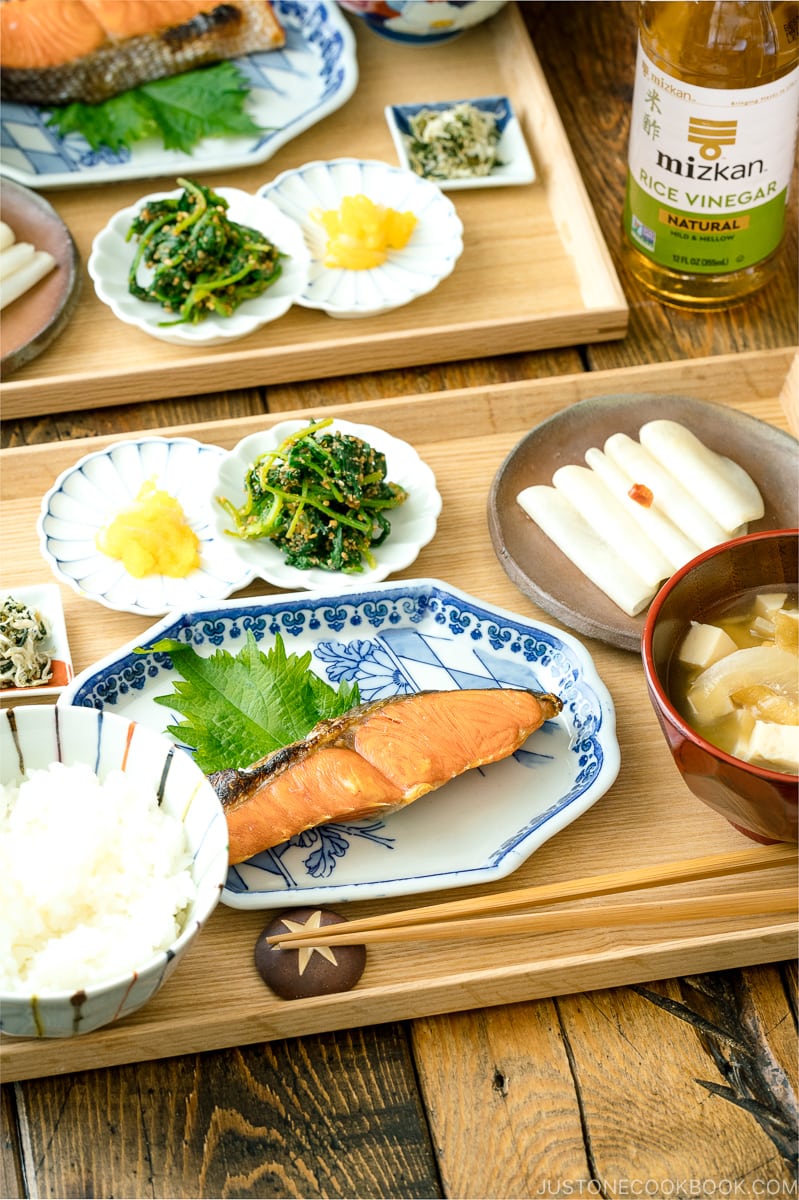 Five Helpful Tips
Tip #1: Salt the turnips
It's important to withdraw moisture from the turnip before pickling it. The salting process is called Tsukemono–Shiozuke (塩漬け) in Japanese and it's the common approach before we proceed to pickle the vegetables. The amount of salt for Shiozuke is 3-5% of the total vegetable weight, so for this recipe, I used about 5 teaspoons. After Shiozuke, the dense vegetables will become tender. At this point, quickly rinse off the salt and salt water on the vegetables and squeeze them tightly to remove any excess moisture.
Tip #2: Bring the pickling solution to a simmer
Not only will it help dissolve the sugar faster, but it also mellows the vinegar flavors and lessens any vinegar odor.
Tip #3: Use of kombu and red chili pepper
Amazu (sweet vinegar) or the pickling solution does not always require kombu and red chili pepper, but Senmaizuke does. It's optional, but a tinge of spicy kick from the chili and natural umami from the seaweed add a nice layer of flavor.
Just remember that kombu will get slimy after soaking in the liquid overnight, making the pickling solution slightly slimy/thick. However, this is part of the feature for Senmaizuke and you do not need to worry.
Tip #4: Use pickle weights
Traditionally, pickle weights are used to keep the vegetables below the surface of the pickling solution to avoid exposure to oxygen which is the main cause of spoilage and mold. If you don't own pickle weights, you can use any clean utensil to ensure the pickles sit below the surface of the solution.
Tip #5: Enjoy the pickle soon
These pickles are considered quick pickles or what we call Asazuke (浅漬け) and they are not meant to be stored for months. Once pickled and refrigerated, you can enjoy them for 4 days. You can keep the pickling solution in the refrigerator for several months so you can make fresh pickles any time you're ready to enjoy!
What to Serve with Senmaizuke
Not only does Senmaizuke bring a taste of Kyoto to the table, but it's also delightful as a part of any Japanese meal. To give you an example of Ichiju Sansai, here's what I serve the pickle with:
Steamed Rice
Salted Salmon
Soup
You can also keep things simple by serving it with your breakfast porridge. There are really no limitations!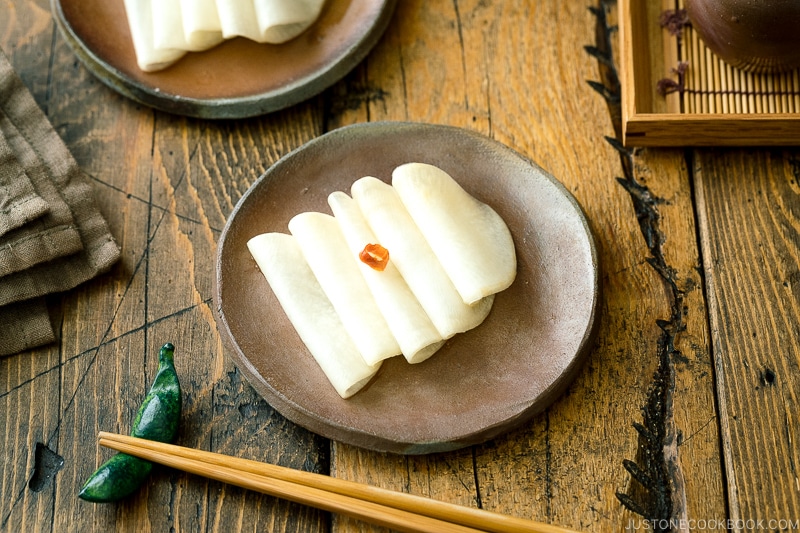 Sign up for the free Just One Cookbook newsletter delivered to your inbox! And stay in touch with me on Facebook, Pinterest, YouTube, and Instagram for all the latest updates.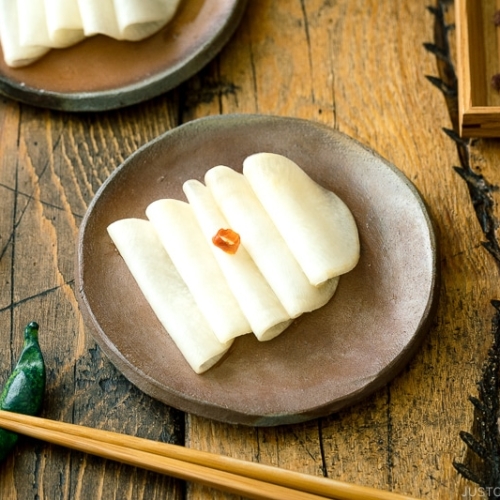 Senmaizuke (Japanese Pickled Turnip)
Marinated in a sweet pickling solution with kombu (dried seaweed) and red chili, Semaizuke (literally thousand-sliced pickles) is a popular Kyoto-style pickled turnip. Serve the pickles as an accompaniment to any Japanese meal and enjoy them between dishes as a palate cleanser.
Ingredients
For Amazu (Sweet Pickling Solution)
Japanese Ingredient Substitution:
If you want substitutes for Japanese condiments and ingredients, click
here
.
Instructions
Gather all the ingredients.
To Make the Sweet Pickling Solution
In a small saucepan, combine rice vinegar, sugar, and salt.

Bring the liquid to a gentle simmer over medium heat. While mixing the liquid, let it simmer for a minute until the sugar dissolves and the vinegar smell is removed. Turn off the heat and set it aside to cool.
To Prep the Turnips
Peel the turnip using a vegetable peeler or a knife.

Cut turnips into 1⁄16 inch (2 mm) slices. Here I use this mandoline slicer to achieve uniformed thickness.

Sprinkle the salt all over the turnip slices and rub/knead/massage the turnip well with salt. Set aside for 30 minutes. Turnip will start to sweat, releasing moisture and this helps removing bitterness too.

After 30 minutes, transfer to a sieve and rinse the turnip under running water to get rid of salt and sliminess.

Squeeze the turnip slices to remove excess water and stack the slices.
To Pickle the Turnips
Cut the kombu into smaller pieces (because I use three different size jars) and remove seeds from the dried red chili.

Prepare clean jars or airtight containers.

Put some turnip slices, a piece of kombu, and red chili in each jar, and pour the sweet pickling solution over to cover the turnip.

Place the pickling weight (or utensil) on top of the turnip and put the lid on. Keep the jars in the refrigerator overnight.
To Serve
The following day: the pickled turnips are now ready. You can remove the pickling weight. Kombu gets slimy after soaking in the liquid overnight, making the pickling solution slightly slimy/thick. However, this is a part of the Semaizuke feature and you do not need to worry.

Transfer the turnip slices onto a plate. I like serving each slice of turnip folded as you see in the picture. Enjoy!
To Store
You can keep the pickles in the marinade for up to 4 days in the refrigerator. Use clean utensils to pick up the turnip to serve from the jar.
Nutrition
Nutrition Facts
Senmaizuke (Japanese Pickled Turnip)
Amount per Serving
% Daily Value*
* Percent Daily Values are based on a 2000 calorie diet.
©JustOneCookbook.com Content and photographs are copyright protected. Sharing of this recipe is both encouraged and appreciated. Copying and/or pasting full recipes to any website or social media is strictly prohibited. Please view my photo use policy
here
.