Yosemite is one of the 3 National Parks that offers skiing. Enjoy the slopes with your family at this beautiful national park.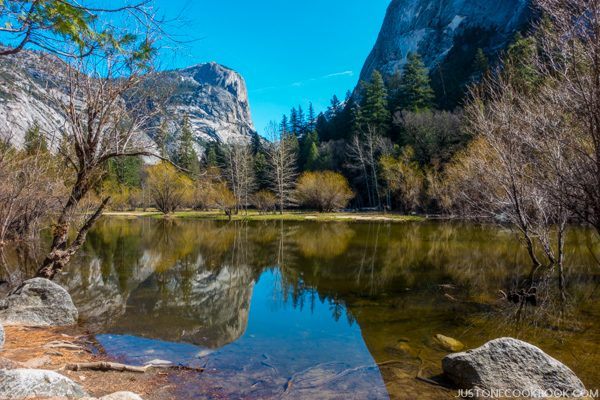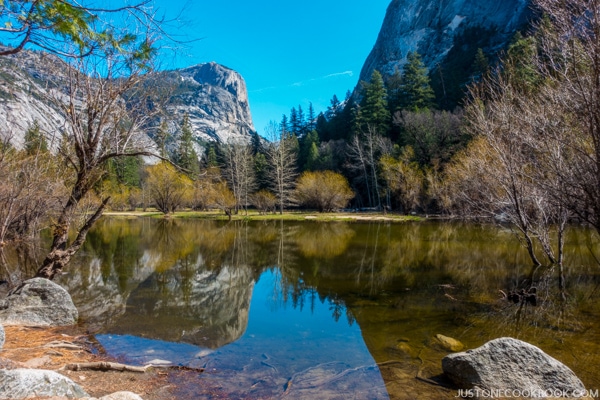 This year is a significant milestone for the US National Park Service as it turns 100 years old. As I mentioned previously in my posts (part 1 and part 2), the National Parks are a big reason why I wanted to come to the US to study for college. I love mountain scenery and hiking, and the majestic parks are simply one of the greatest gifts from mother nature.
This week is National Park week (Apr 16 – 24, 2016) and you can visit all the national parks that usually charge a fee for free (entrance fees, commercial tour fees, and transportation entrance fees)!
A few weeks ago, we visited my favorite Yosemite Park during my children's spring break, and we wanted to do something different from last year. Before I share our activities, I want to cover the name changes for the staying accommodations at Yosemite.
Yosemite Property Name Changes
If you are looking for staying accommodations in Yosemite Park and not familiar with the options, it might be a bit confusing looking up the reviews as the names changed March of this year (2016). Yosemite properties and concessions were previously managed by Delaware North Company since 1993 and replaced by Aramark recently. Here are the name changes:
Yosemite Lodge at the Falls –>  Yosemite Valley Lodge
The Ahwahnee –> The Majestic Yosemite Hotel
Curry Village –> Half Dome Village
Wawona Hotel –> Big Trees Lodge
Badger Pass Ski Area –> Yosemite Ski & Snowboard Area
There are several lawsuits related to the park that's currently ongoing, and I am not sure who's right or wrong. However it's a shame these historic sites have to change their names because of corporate greed.
On to our activities.
Skiing at Yosemite Ski and Snowboard Area
We explored most of the Yosemite Valley last year as well as hiked the misty trail to Vernal Falls. What activities can we do that will be different this year? Skiing! We skied at the Yosemite Ski and Snowboard Area on one of the days we were there.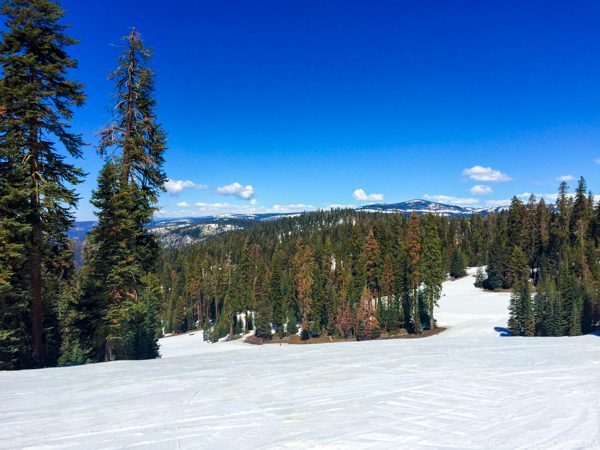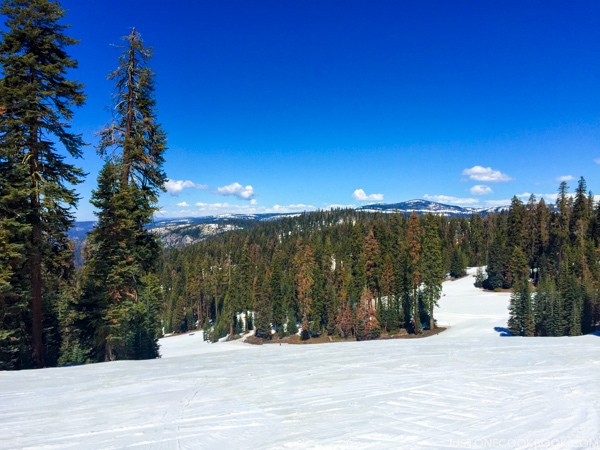 Interesting Fact: Yosemite Ski & Snowboard Area is the oldest ski resort in California and the first slalom race in California was held there. More facts about Yosemite Ski and Snowboard Area here.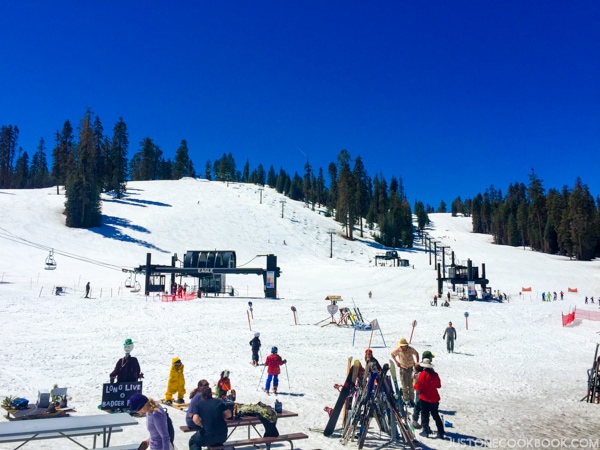 It didn't take too long to get to the ski area from the valley, about a 35-min drive. You take the same road as heading to Glacier Point. Since it was April, all of the snow has melted in the valley, and we didn't see any for the first part of the trip. About 3/4 of the way there we slowly saw more and more snow along the road, all of a sudden the road comes to a stop with a pile of snow and dirt blocking it. We then made a right into the ski area's parking lot.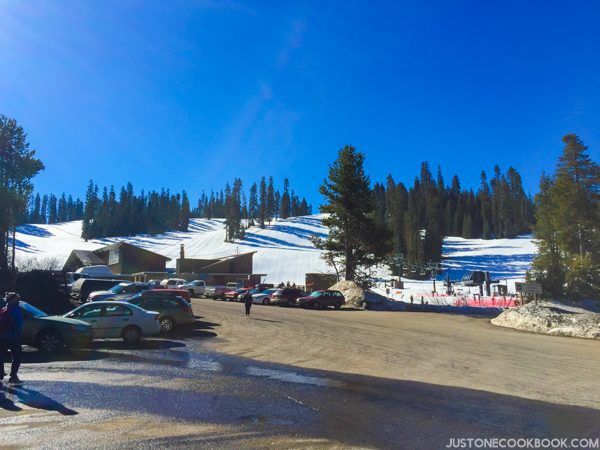 Skiing is a new activity for my family this year, and this is the first year for my children and myself to try skiing, and we absolutely love it. Since we are all beginners, we get to spend time together as a family on the slopes. Poor Mr. JOC can snowboard quite well but has been patient enough to spend most of his time with us on beginner runs this year.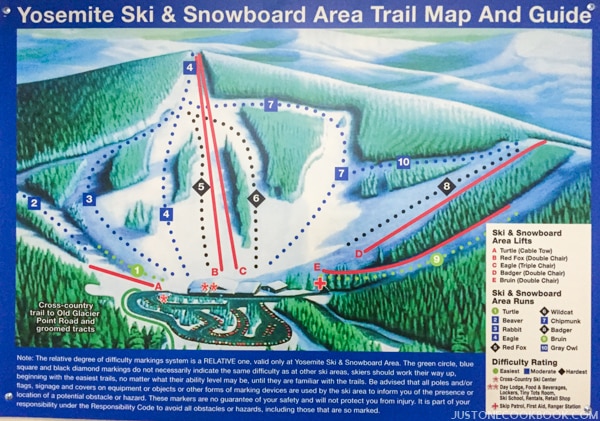 Even though Yosemite Ski and Snowboard Area is quite small compared to the many ski resorts in Lake Tahoe, we decided to take advantage of warm weather spring skiing. The information about the ski resort is almost none existent, so I thought I would share in case you or your family would be interested in going in the future.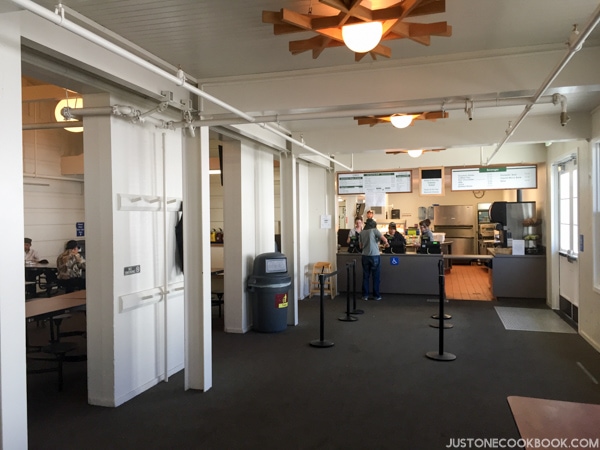 So the ski area quite small, with 10 runs total and 4 chair lifts. I would classify most of the runs as advanced beginner or intermediate. There were very few people there that day as it was second to the last day of the ski season at Yosemite. Many times when we were on the slopes, we were the only ones and there was no one else around. It's nice compared to the crowded hills where we constantly have to watch out for other skiers who might cut us off. The main lodge is quite old and not handicap accessible in case you have such needs.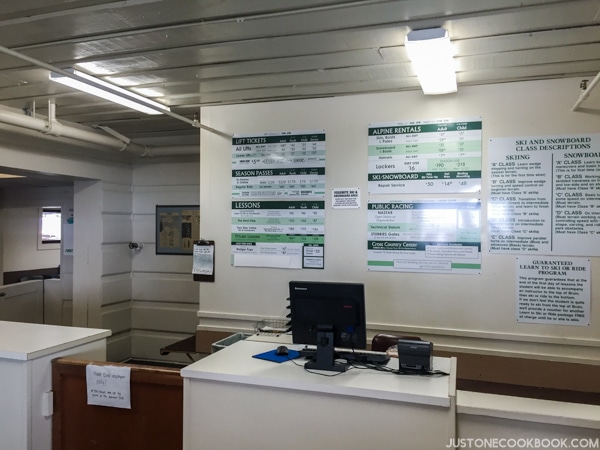 There is a cafe where you can buy food, and two registers inside where you can purchase lift tickets, lessons, and rent equipment. On the other side of the building is a store where you can buy ski goggles, gloves, and other ski goods. Our family had a fantastic time, and this small resort will be forever cherished in our memory.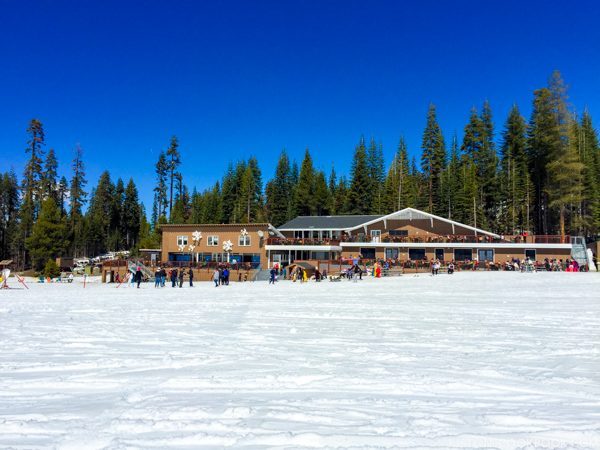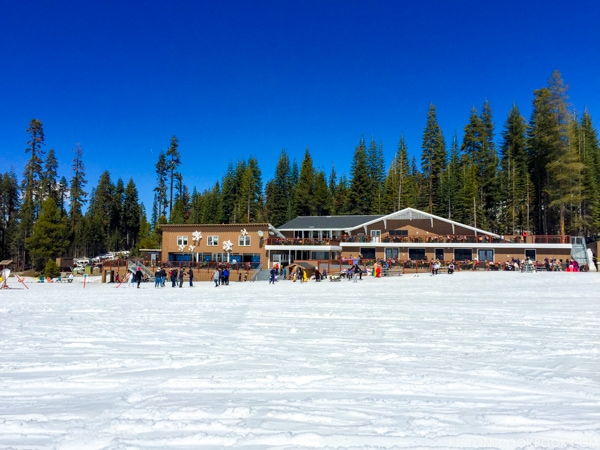 Mirror Lake at Yosemite Park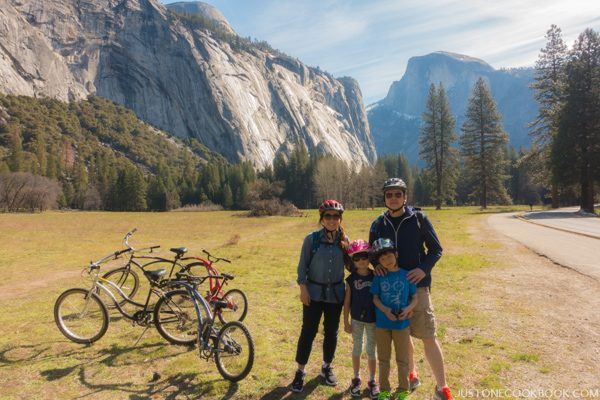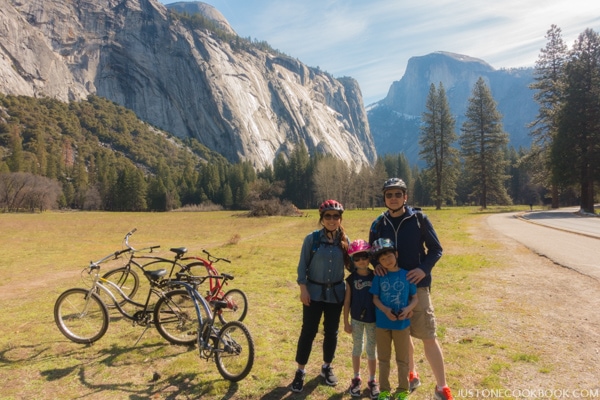 We had such a fun time riding tandem bikes last year so we decided to do it again this year. If you want to rent bikes in Yosemite Park, you can do it near Yosemite Valley Lodge and Half Dome Village. Of all the scenic spots along the 12-mile bike path in the valley, one of the few places we didn't stop at last year was Mirror Lake. After seeing many gorgeous photos that were taken at the lake, we decided to bike there on this trip.
It's a fun ride to the lake as the bike path is paved all the way. If you have your own multi-gear bike, you can ride all the up to the lake itself. If you rent your bike at Yosemite Valley, there's a sign 1/2 mile from the lake that asks to you park the bike. The reason is that last 1/2 mile has the most elevation along the trail, and it'll be difficult for the rental bikes as they are made for casual riding.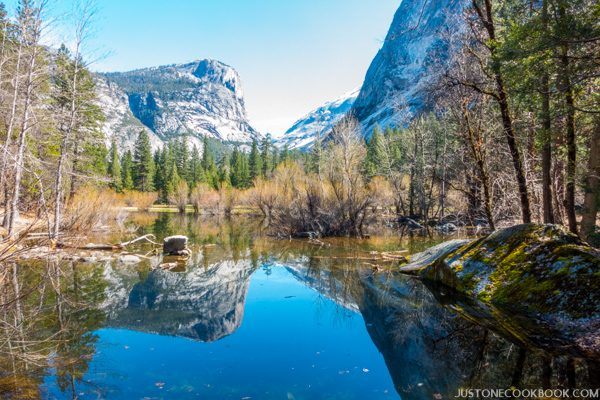 There are 2 parts to the lake; the first part has a beautiful river with small falls and the second part has the legendary Mirror Lake. There are a few activities you can do at the lake. Besides viewing the beautiful scenery, you can also take a 5-mile loop around the area. In the summer time, the water is shallow enough to play in the lake itself.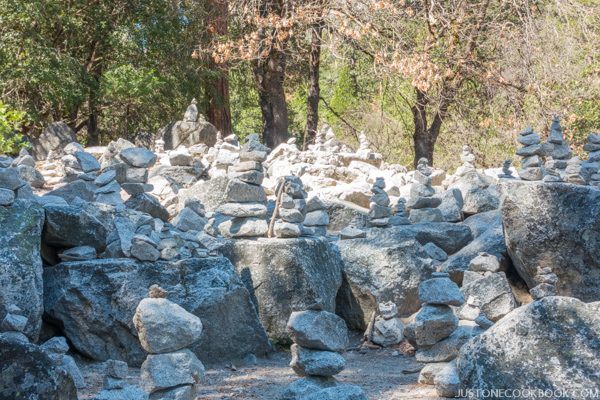 The lake is at its fullest with snowmelt during spring and early summer. If you visit during the other times, the water could be really shallow or nonexistent. It is also referred to Mirror Meadow when the water is dry, and in its place green grassy meadows.
Hetch Hetchy Reservoir

With the severe drought we've been experiencing in California over the past 5 years, we wanted to educate our children about where our precious water comes from. The Hetch Hetchy Reservoir provides really good quality water to 2.4 million people around the San Francisco area, including where we live.
Since we were so close by, it was a perfect opportunity for them to visit Hetch Hetchy Reservoir so they can learn more about natural resources. The road to the reservoir is right outside of the Big Oak Flat Entrance to the park and takes about 40 minutes (18 miles) each way.
Since the reservoir and O'Shaughnessy Dam are inside Yosemite Park, you will stop at a ranger station on the way to the dam and get a day parking pass.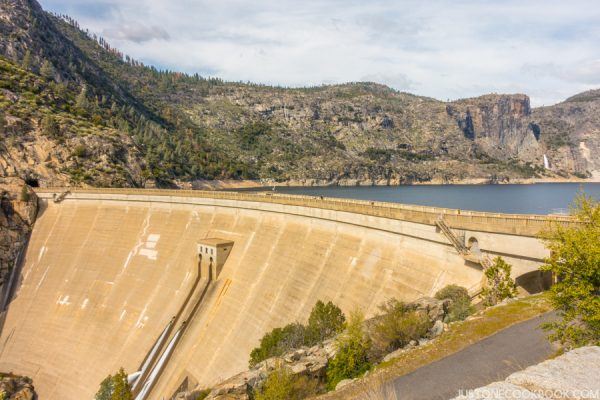 When you arrive at the dam, it's shocking how large the reservoir is. Visitors are allowed to walk across the dam, and it was a new experience for my children, and they loved it.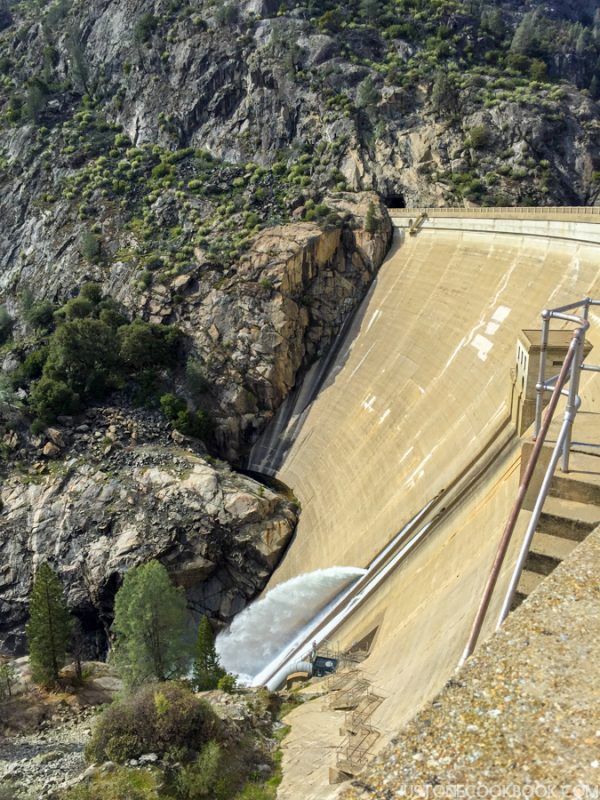 After crossing the dam, there is a tunnel that leads to a few trails and waterfalls you can visit. We skipped the trails after other visitors told us a black bear was spotted not too far away.
Our family loves the National Parks and we are trying to decide on which ones to visit next year. Do you have any suggestions?
Don't want to miss a post? Sign up for the FREE Just One Cookbook newsletter delivered to your inbox! And stay in touch on Facebook, Google+, Pinterest, and Instagram for all the latest updates.