Step into the colorful and imaginative world of teamLab Borderless exhibition in Odaiba at MORI Building DIGITAL ART MUSEUM.
Tokyo is a city that never stops inventing itself, and there's always something new happening somewhere in the megacity. One of the latest hot spots opened in June of 2018 is a digital art experience by the folks at teamLab called Borderless. Unlike many of other teamLab's exhibitions, this one is permanently at MORI Building DIGITAL ART MUSEUM in Odaiba, Tokyo.
teamLab Borderless
Why do we call it experience at a museum rather than just a visit or a viewing? Well, it's because visitors get to interact with the digital arts in many ways. Come join us as we take a quick tour of the museum. It's an encounter unlike any other, so if you are traveling to Tokyo, definitely stop by if your time allows.
How to Get to teamLab Borderless
teamLab Borderless is located in Odaiba at MORI Building DIGITAL ART MUSEUM. We arrived via the Tokyo Teleport Station but you can also get there by Aomi Station. At the Tokyo Teleport Station, there is a large sign letting you know the exhibition is just 5 min walk away.
If you are not sure where to go, walk towards the giant Ferris wheel as it's located right below.
How to Purchase Tickets for teamLab Borderless
We went during the summer break and the tickets were sold out for weeks in advance. If you are planning to go, we highly recommend buying the tickets online beforehand. You can purchase the tickets via teamLab's website, Lawson's, or 7-eleven in Japan. The ticket prices is 3,200 yen per adult and 1,000 per child (as of Jan 2019). The tickets are sold by date and do not have a specified time so you can go anytime during the day. However, we do recommend going earlier to avoid the crowd.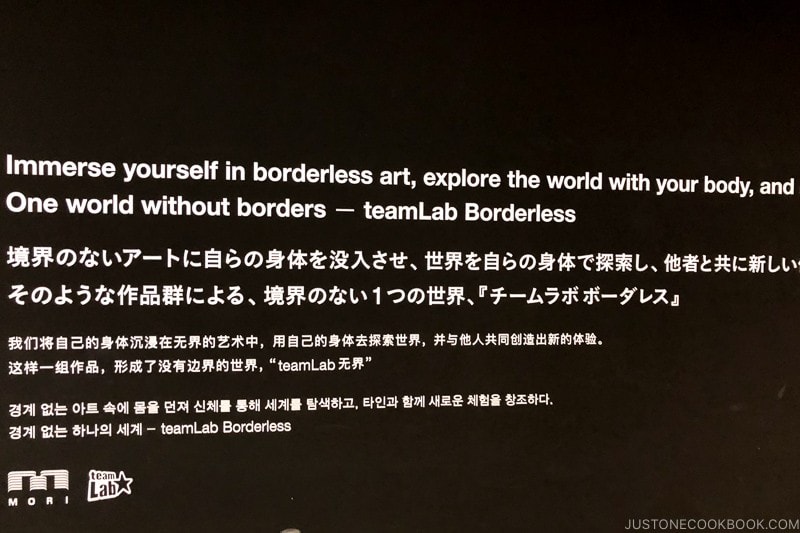 teamLab Borderless at Odaiba
We got to Borderless around 9:30 am in the morning and there was already a line. Unlike most museums, there isn't a map or guide. The Borderless concept is created to explore your mind and not have boundaries on where visitors can go and discover. We don't want to give too much away since it's more fun for you to figure out when you're there yourself.
Who is teamLab?
In case you wonder who is teamLab, it's an art collective made up of specialists in the field of engineering, computer graphics, engineers, and architects. Their goal is to explore a new relationship between human and nature and breaking the boundaries in between through art.
The Borderless exhibition at MORI Building DIGITAL ART MUSEUM is set up as four separate areas, with a large portion of it dedicated to Borderless World. The rest of the areas are Athletics Forest, Future Park, and EN TEA HOUSE. Keep in mind this is a very large space, the museum is 100,000 sq ft (10,000 sq meter). We did not stop by En Tea House as it was completely packed during our visit.
Borderless World
When you first enter the museum, you enter the Borderless World zone. There are no directions on where to so you have to explore various rooms and hallways. It's pretty dark inside so it took some effort to orient ourselves and figure out which doors we've passed through already. The spaces feature digital imageries from hundreds of projectors animating and changing nonstop. Many of the animations interact with human touches or interferences.
Among the works, one of the most memorable is the Universe of Water Particles on a Rock where People Gather. In a very large room, there are digital waterfalls streaming down onto a rock, visitors can climb on the rock and as they touch the digital waterfall it flows away like real water.
Another memorable exhibit is the Crystal World. You can interact with the work using a smartphone and select which designs to appear.
The led lights in hundreds if not thousands of plastic strings make you feel like you are in a world made of crystals.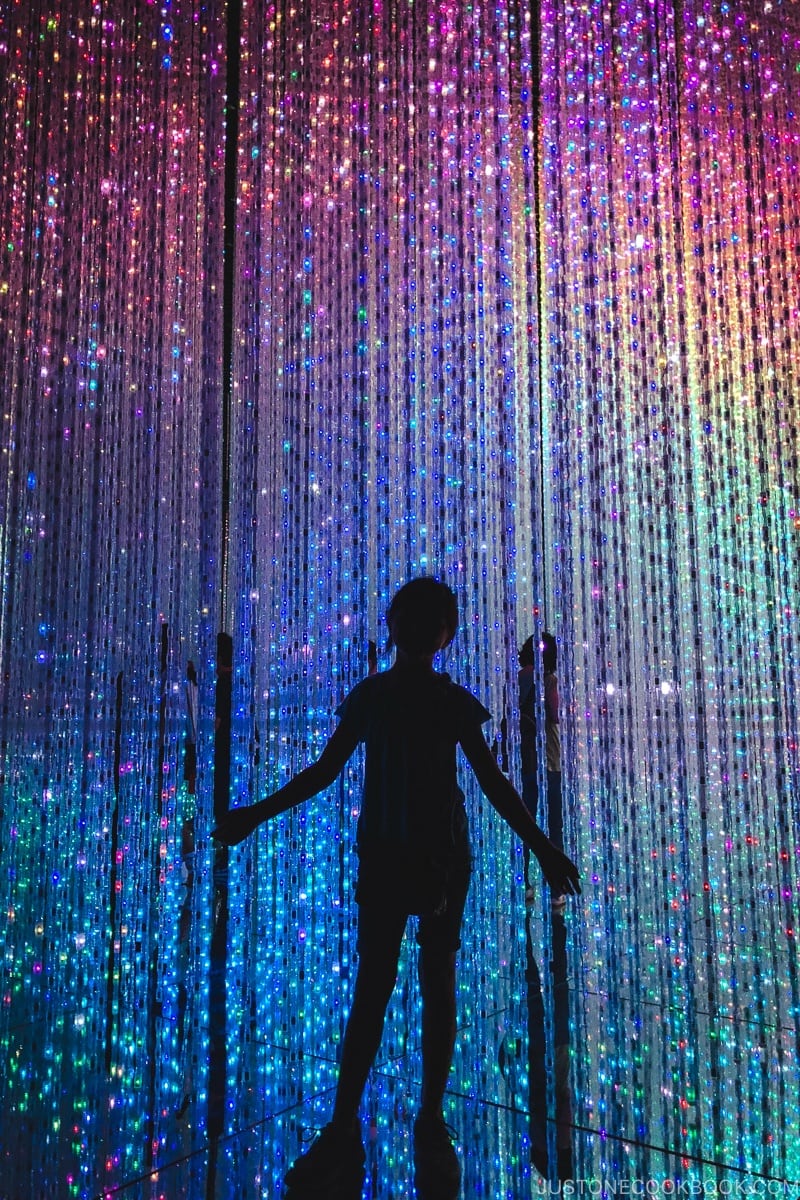 Another one of our favorite rooms is People walking in Memory of Topography. There are plastic plants with large leaves for projection, as you walk through the projection change from butterflies to fall foliage and other mind blowing images. It was breathtaking.
As I mentioned earlier, Borderless World is like a maze in there so we did spend a lot of time going through the same doors or hallways, and took us some time to find the secret entrance or doors. However, that's all part of the fun.
In one of the rooms, the artwork consists of spotlights which synchronized and changes directions to create different patterns. As the floor in the room is made of mirrors, it was a mesmerizing experience.
After we finished exploring Borderless World, we moved on to Athletics Forest.
Athletics Forest
The Athletics Forest is another large area comprised of a few activities visitors can participate in. There's bouncy room, large balloons to run through, aerial climbing, and Three-dimensional Bouldering. There are artistic animal patterns projected on the walls and you also see various creators projected on the floor.
The wall arts are done by teamLab but the creatures on the floor are actually done by visitors. You can draw and have the images scanned by the staff, after scanning the creature comes alive and you can interact with it on the floor.
After drawing, simply hand it to a staff member by the scanner and your drawing comes alive.
Our children had a fun time chasing their creatures all over the room.
The Light Forest Three-dimensional Bouldering is for children only and they can climb on poles going from one end to the other. They are supposed to only use the same color lights for climbing to make it a challenging path. Our children had fun going through the 3D boulders.
Future Park
The last area we stopped by was Future Park, similar to Athletics Forest visitors can draw ocean creatures and see it come alive on the wall projection. Besides the digital aquarium, there's also a slide when visitors go down crashing into digital patterns that collide and create intricate patterns.
It took about 3 hours for us to finished all the exhibits. Our family had so much fun exploring the different rooms, watching the various movies and animation. As the spaces are created for imagination, it's really hard to describe what an awesome experience it was unless you're there. Thank you for reading our short guide on teamLab Borderless and head over to our travel section if you are interested in our other Tokyo and Japan travel posts.