Win a set of this mouthwatering Yamachan Ramen Winter Care Package and get your ramen fix at home today! 5 winners will be selected.
Do you crave hot steaming bowls of ramen during this time of year? Us too! We're so excited to partner with Yamachan Ramen to give away their delicious Ramen Winter Care Package to 5 lucky readers. The bundle includes 3 Yamachan Noukou Gourmet series, a packet of Yamachan Seasoned bamboo shoots, iwanori ramen seaweed, a pair of chopsticks, a chopstick holder, and a small tote bag.
Yamachan ramen is easily one of the highest quality ramen you could find in the US. We enjoy their ramen so much that we often have them in stock in the pantry. So don't forget to enter this giveaway now!
Win a Set of Yamachan Ramen Winter Care Package
What it comes with:
Tokyo Shoyu Ramen
Yamachan's Tokyo-style Shoyu ramen is a favorite among the busy people after a long day of work, in Tokyo. Paired with wavy thin noodles, allowing the soup and the fat to cling on the noodles, experiencing an explosion of umami in every slurp. Common toppings found on Tokyo ramen are chopped green onions, chashu, and usually a thin slice of fishcake called narutomaki.
Sapporo Miso Ramen
In Hokkaido, the northern island of Japan, winters can be brutal. One of the most famous dishes to consume is the miso ramen. Yamachan's miso ramen reflects on Sapporo's style of ramen, mixed with red and white miso paste, developing a hearty and nutty meal. Common toppings found on Sapporo Miso ramen are corn, chashu, and a slice of butter.
Yokohama Tonkotsu-Shoyu Ramen
Yokohama was the birthplace of the iekei-style ramen, originating from a ramen shop called Yoshimura-ya in 1974. Tonkotsu-Shoyu ramen is comprised of pork bone broth, brewed for up to eight to twelve hours, mixed with classic shoyu soup base, also known as shoyu tare. Yamachan's tonkotsu-shoyu ramen pays homage to this local favorite by bringing the flavors to the United States.
Yamachan Seasoned Bamboo Shoots
Seasoned bamboo shoots, or menma, are one of the most common toppings you will find in traditional Japanese ramen.
Yamachan Iwanori Seaweed
Iwanori seaweed is a type of seaweed harvested on rocks in water, literally translated as "rock seaweed". The tangy yet marine-like flavor pairs well with any ramen without overpowering other flavors.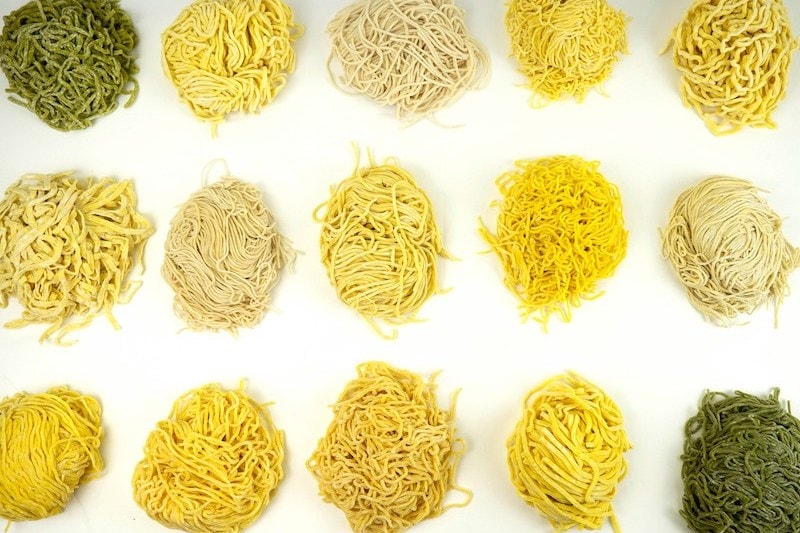 About Yamachan Ramen
Yamachan Ramen is a family-owned company, established by Hideyuki Yamashita in 2000. Located in the heart of Silicon Valley in San Jose, California, Yamachan Ramen manufactures Japanese ramen noodles, udon, and Japanese-style gyoza for 20 years.
The company began as the main supplier for a Japanese restaurant called Ringer Hut Co. In 1989. After 11 years of commercial success, Hideyuki decided to revitalize the company as an open supplier for numerous Japanese restaurants in California. Thus, establishing a new facility with a new name called Yamachan Ramen.
They offer many kinds of styles and recipes of noodles, by using the most technologically advanced machinery found only in Japan, and hand-picked ingredients with the highest quality.
GIVEAWAY RULES:
Please Note: Your email for the comment entry has to match with your email address in my Email Newsletter Subscription mailing list.
This giveaway contest closes on Monday, January 11, 2020, at 12 p.m. PST and is open to the US Only. 
Five (5) winners will be selected via Random.org and contacted via email, so please include a valid email address in the email address entry box (please double check your spelling!).
The winners are required to respond within 36 hours to claim the prize.
HOW TO ENTER:
The more tickets/comments left on this blog post will increase your odds of winning. Good luck!
Ticket 1 (Required): Follow Yamachan on Instagram and leave a separate comment below on this post.
Ticket 2 (Required): Subscribe to Just One Cookbook Email Newsletter if you haven't and leave a comment below on this post. 
Ticket 3 (Optional): Follow JOC Instagram and then leave a separate comment below on this post.
Ticket 4 (Optional): Follow Yamachan Facebook and then leave a separate comment below on this post.
Ticket 5 (Optional): Follow JOC Facebook and then leave a separate comment below on this post.
***
The giveaway is now closed. The winners are:
Ben Ma
Rae
Christine
Celeste
Frances Ryan
Congratulations! We'll contact you shortly…