Print Recipe
Jump To Recipe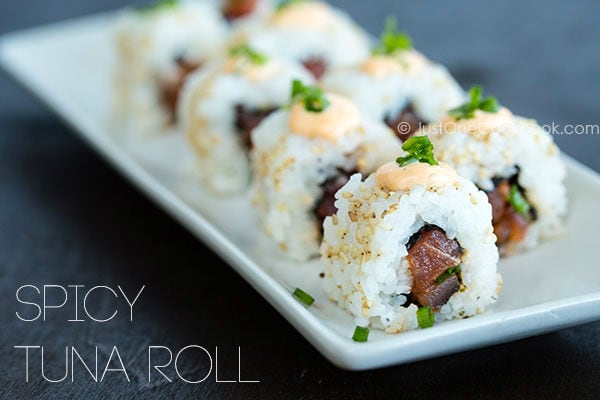 Can you guess what is the most requested sushi roll recipes requested by Just One Cookbook readers?  Right, it's Spicy Tuna Roll, and today I'm sharing this really quick and easy recipe.  If you are not familiar with the sushi rolling skills, I'd say this roll is an easy one to start because you only have one ingredient to roll unlike another one of my sushi roll recipes, California Roll.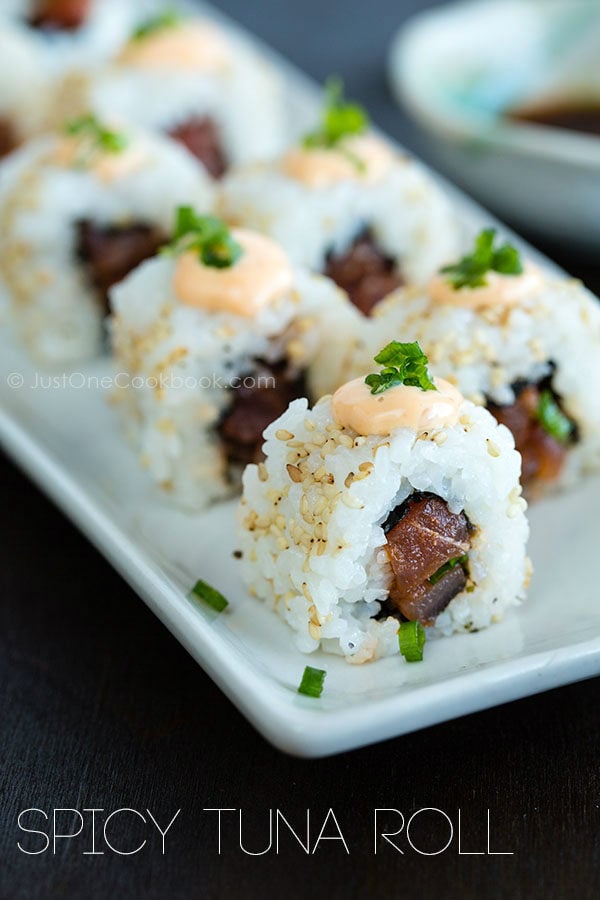 Since I grew up in a country where mayonnaise is loved as a condiment (Japanese use mayo a lot, in pizza, rice ball, sushi, pasta, and salad, just to name a few), it was a little shocking to find out there are some people who actually don't like mayonnaise.  In my defense, Japanese mayo is a bit different from "regular" mayo and tastes really good.  Rachael from La Fuji Mama talks about the differences in more detail if you are interested.  So for this recipe, I didn't add any mayonnaise in the tuna mixture.  It looks like some restaurants add mayo and some don't, so it's really up to your preference.
I personally think a little bit of mayo goes well with Sriracha sauce so I put the Spicy Mayo on top of the roll (my easy Spicy Mayo recipe here).  It's cute to put Spicy Mayo on top of the rolls like this with chopped green onion.  Hope you will try making this easy roll at home!
Other sushi recipes:
Don't want to miss a recipe? Sign up for the FREE Just One Cookbook newsletter delivered to your inbox! And stay in touch on Facebook, Google+, Pinterest, and Instagram for all the latest updates. Thank you so much for reading, and till next time!
Spicy Tuna Roll
Ingredients
1½ cups prepared sushi rice
4 oz. (113 g) sashimi-grade tuna (available at FishforSushi.com)
3 tsp. Sriracha sauce
2 tsp. chopped green onion/scallion
½ tsp. sesame oil
1 sheet nori, cut in half crosswise
2 Tbsp. white roasted sesame seeds
Spicy mayo for garnish (optional) (click HERE for the recipe)
Bamboo mat, covered with plastic wrap
Tezu (vinegared hand-dipping water): ¼ cup water + 2 tsp. rice vinegar

Instructions
Cut the tuna into ¼" (0.5 cm) cubes (or you can mince the tuna).

In a medium bowl, combine the tuna, Sriracha sauce, 1 tsp. green onion and sesame oil.

Lay a sheet of nori, shiny side down, on the bamboo mat. Wet your fingers in tezu and spread ¾ cup of the rice evenly onto nori sheet. Sprinkle the rice with sesame seeds.

Turn the sheet of nori over so that the rice side is facing down. Line the edge of nori sheet at the bottom end of the bamboo mat. Place half of the tuna mixture at the bottom end of the nori sheet.

Grab teh bottom edge of the bamboo mat while keeping the fillings sin place with your fingers, roll into a tight cylinder. Lift the edge of the bamboo mat and continue to roll it forward while keeping gentle pressure on the mat.

With a very sharp knife, cut the roll in half and then cut each half into 3 pieces. Clean the knife with a damp cloth every few cuts. (When you wrap the roll with a plastic wrap, rice won't stick to your hands.)

Put a dollop of spicy mayo on top of each sushi and garnish with the remaining green onion.
Notes
Cover the sushi rice and the completed rolls with a damp cloth at all times to prevent from drying.
Recipe by Namiko Chen of Just One Cookbook. All images and content on this site are copyright protected. Please do not use my images without my permission. If you'd like to share this recipe on your site, please re-write the recipe in your own words and link to this post as the original source. Thank you.