Arima Onsen (有馬温泉) is one of the oldest hot spring towns in Japan. It's known for the unique golden hot spring and beautiful mountain scenery.
During our visit to the Kansai area, we took a day to relax in the golden hot springs of Arima Onsen (有馬温泉). I've been to Arima Onsen with my family several times growing up, and Mr. JOC and I visited many years ago during cherry blossom season and we had many wonderful memories. We were excited to bring our children back to the area and enjoy the unique golden hot springs in the area.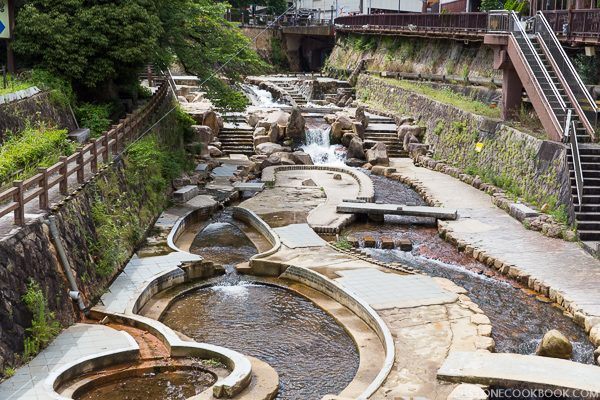 Compared to Hakone in the Kanto area, the hot springs of Arima in Kansai is not as well known to foreigners. However, this small hot springs town located near the Rokko Mountain is one of the oldest hot springs in Japan, discovered nearly 1300 years ago. Another unique trait about the Arima hot spring is that it's not volcanic.
There are 2 types of hot springs (Kinsen & Ginsen) that rises from active Earth's mantle here. As the spring rises of bedrock carrying salt and iron, it oxidizes and results in a golden color – Kinsen (金泉). There is also clear type of hot spring Ginsen (銀泉), that contains carbonate and radon elements. Both types of hot springs are good for skin and health.
How To Get To Arima Onsen
It's a quick 1 hour car ride from Osaka or just 30 minutes from Kobe. If you are going to Arima Onsen from Kobe, do not follow Google Map's instruction for public transportation. Go the Sannomiya Bus Terminal and you can purchase the JR Kousoku bus (高速バス) ticket that goes directly to Arima. You can also take the express bus from Shin Osaka (新大阪) and Shin Kobe (新神戸) bus terminals.
The bus terminal and ticket counter is located inside the Mint Kobe building.
The bus to Arima boards at M4 (Click the map to enlarge).
You will need to purchase a ticket prior to boarding the bus.
At the bus terminal, you can check the departure times or visit this link (in Japanese).
The JR Kousoku bus stop at Arima city center.
The hotel we stayed at (Arima Grand Hotel) has a shuttle that pick up passengers at the JR Kousoku bus stop. Call the hotel to make pickup arrangement prior to arrival or at the bus stop. They will come to pick you up in less than 10 minutes.
What to do in

Arima Onsen
Arima City Center
We hopped on the hotel shuttle bus right away after we arrived in Arima and checked into our room. After we enjoyed the light afternoon snack, we then explored the downtown Arima and other areas. However for this post I'll talk about the excursions first, then the hotel experience after.
The hotel shuttle goes to the city center and picks you up at specified time.
Downtown Arima has a beautiful Arima River that flows right through it.
Nene Bridge (ねね橋)
There are walkways in the middle of the river that allows you to stroll around.
Taikoubashi (太閤橋)
Yukemuri Hiroba (湯けむり広場) near Taikoubashi (太閤橋).
Statue of Taikou Hideyoshi (太閤秀吉)


The small city center has a sake store, gift shops, oden shop , and local soda cracker tansan senbei shop.
Arima's famous Tansan Senbei (炭酸せんべい) being made. The batter drips down into a press.
The batter is heated and turns into crackers.
The workers remove the extra flakes before packaging the crackers.
Assortment of Tansan Senbei for visitors to take home and enjoy!
Mt. Rokko (六甲山)
Besides the city center area, another quick excursion around the area is Mt. Rokko (六甲山). The hotel also offered a shuttle bus that dropped us off at the Arima Onsen Ropeway station. The view from top of Mt. Rokko along with Hakodate and Nagasaki is considered the three great night views in Japan (日本三大夜景).
Can you guess why the trees do not have tree limbs? The answer at the end of the post.
You walk up a little hill and there is a restaurant and gift shop at the top of the mountain along with a balcony where you can see amazing harbor and city views.
Unfortunately, it was cloudy and overcast on the day we visited so it was difficult to see Kobe and Osaka.
More clouds were coming in, so we decided to go down.
Different ropes used for the ropeway.
Arima Grand Hotel 有馬グランドホテル
There are many choices to stay in Arima, based on the reviews of the hotels and more importantly the food, we decided on Arima Grand Hotel. It is located on a hilltop so not easy to get in and out of without a car. Luckily the hotel had shuttles that will pick you up from the bus station, take you to city center (5 min away), and ropeway.
The hotel lobby
The hotel had a lush beautiful garden in the back.
Arima Grand Hotel – Room
The standard room was typical of most Japanese hotel and ryokan setup with Japanese style tatami room. With a sitting/sleeping area near the entry and sitting area by the windows.
Snacks and green tea were served when we first checked in. The white peach jelly was amazing and we purchased a box of these jelly at the souvenir shop in the hotel.
A little outdated, but it's clean and functional.
View from our balcony.
The swimming pool (on the right) is open during the summer months (July-August).
The sleeping arrangement set up by the staff after dinner in the room.
Arima Grand Hotel – Dinner
One of highlights when staying in Japanese hotels is the kaiseki meal they serve. If we use JTB to book our hotels, we always pay attention to the food score. If you plan on eating at the hotel, try to book one with at least 85 points.
Depends on hotel/ryokan, dinner can be in your own room, another private room, or big dining area. Here at Arima Grand Hotel, dinner was served in our room.
Plum wine (梅酒炭酸割り), Ayu fish with sansho pepper (鮎山椒オイルサーディン風), simmered Awaji octopus (淡路蛸の柔らか煮), Chinese lantern egg yolk (ほおずき玉子), chilled nagaimo (長芋冷製寄せ), eggplant agebitashi (茄子揚げ浸し), corn soup (玉蜀黍のすり流し), junsai (順菜), winter melon and chicken soboro with ankake sauce (冬瓜の鶏そぼろ餡かけ).
The local craft beer Rokko Beer was quite good. My dear friend Yukako and her husband who live in Kobe sent us a bottle of delicious sake to our room to enjoy with dinner.
5 kinds of sashimi (お造り五種盛り): Awaji pike eel, tai/sea bream, squid, grilled scallop (淡路産活け鱧、鯛、鮪、剣先烏賊、焼き帆立).
Clear soup with pike eel ball (珠玉のお吸い物 鱧真丈 (はもしんじょう))
Japanese sea bass and summer vegetable tomato stew in cocotte (鱸 (スズキ)と夏野菜のトマト蒸し).
Kuroge Wagyu Beef Hari Hari Nabe (黒毛和牛はりはり鍋) and Chawanmushi (茶碗蒸し).
We enjoyed the meat with rice, pickles, and miso soup.
For dessert, we had green plum poached in wine and seasonal fruits (青梅のワイン煮と季節のフルーツ).
Kids course meal:
Kids meal – Japanese style with sukiyaki, lobster, and sashimi.
Kids meal – western style with lobster, Chicken Karaage, Ebi Fry, and sushi.
Arima Grand Hotel – Breakfast Buffet
The room package we booked included breakfast buffet. The quality of the buffet was pretty good and had lots of food selections. Usually, Japanese hotel buffet will include both western and Japanese dishes, as well as featuring local specialties.
One side is Japanese, other side is western.
Japanese main dishes with 2 kinds of fish, simmered vegetables, etc.
Japanese side dishes.
Appetizers, housemade regular and black sesame tofu.
Western food choices.
Bread and pastries.
Cold cuts, yogurt, fruits, and salad section.
My first round is Japanese meal and here's what I got. Have you mastered in making Onsen Tamago (hot spring egg) using my recipe yet?
Hotel Onsen Area
Arima Grand Hotel had hot springs both on the top of the hotel as well as the basement floor, the facilities were really clean and very nice. On the top floor, you get to enjoy the view of Arima without obstruction. At the basement floor, the outdoor bath is set in a forest setting, very relaxing and peaceful while you soak in amazing baths. Both men and women's bath area had gold hot spring and silver hot spring, so you can relax in either one, or both. As we are not allowed to take photos of the baths, please see the hotel's website for more info.
Sitting area outside of the baths on the top floor.
View from the window by the bath area.
Entrance to the bath area at the basement floor.
Japanese bath changing room.
Hotel Game Room
Hotel Gift Shop
We really enjoyed our visit to Arima Onsen. Although it's not touristy as Hakone, the unique golden hot spring and charming elements are more than enough reasons to visit. It's also just a short car ride away from Osaka and Kobe so I highly recommend stopping by and relaxing if you have time to visit!
Lastly, the answer to my tree question earlier. The tree limbs are pruned so when they are cut into lumbers, the wood is knot-free. This increases the value of the wood as knots are the primary reason for reduction in lumber value.
Other Travel Posts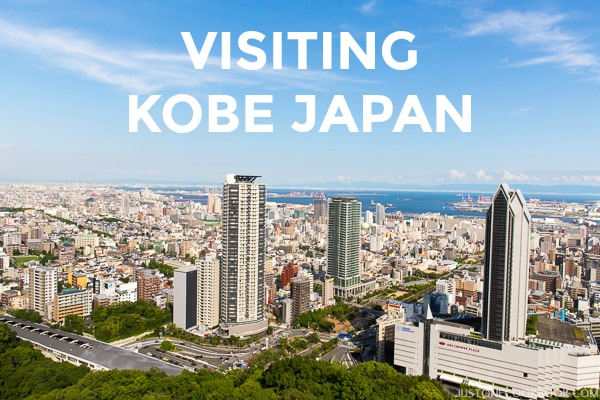 Don't want to miss a post? Sign up for the FREE Just One Cookbook newsletter delivered to your inbox! And stay in touch on Facebook, Google+, Pinterest, and Instagram for all the latest updates.