The best way to keep your broccoli fresh and tasty is to blanch it with salted water and sesame oil. It's easy, healthy and so versatile. The blanched broccoli keeps well for up to 3-4 days in the fridge and is ready to enjoy any time!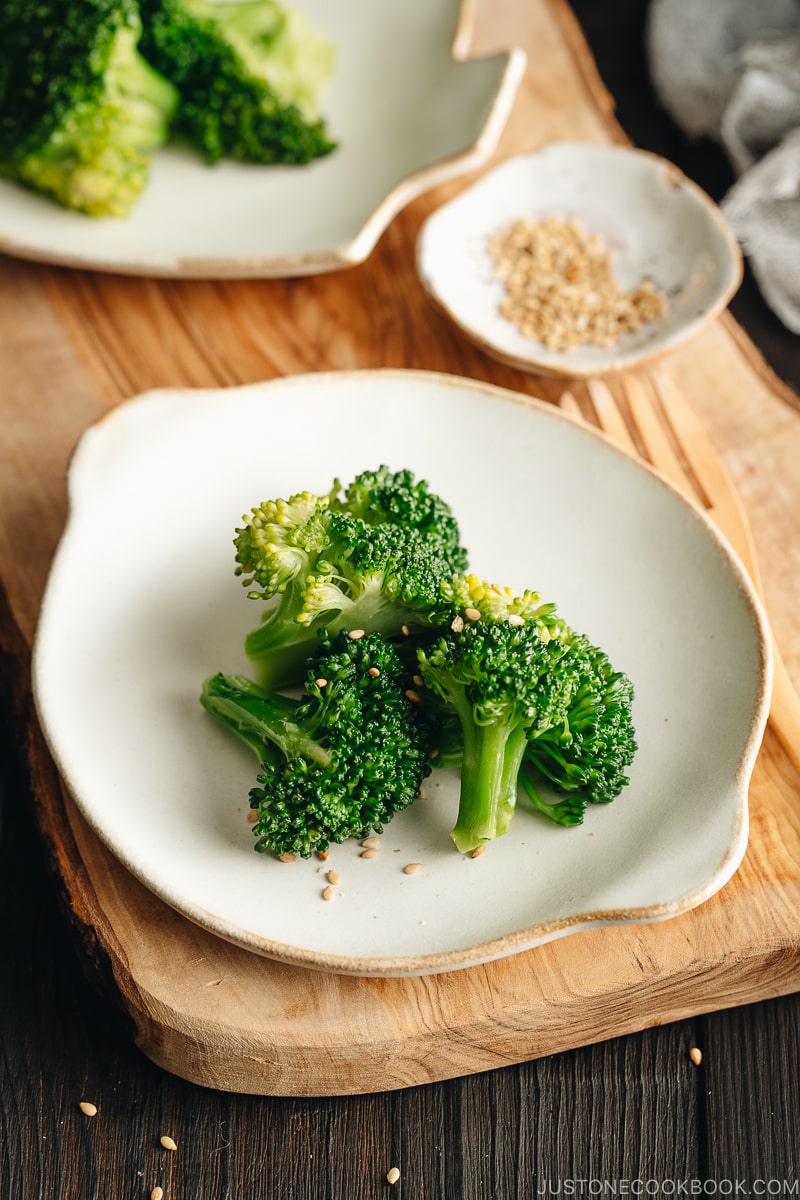 Every summer when I go back to Japan, my mom and I spend a lot of time in the kitchen. She would share with me all the recent cooking techniques and tips that she learned from her friends and TV shows.
This Broccoli Blanched with Sesame Oil (ブロッコリーの塩ごま油茹で) is one I learned from her a few summers ago and I use it a lot for my meal prep. It's easy and healthy, which is exactly what we need for weeknight dinners.
The Trick – Blanch Fresh Vegetables with Salt and Sesame Oil
Blanching vegetables with salted water is pretty common, but with sesame oil? This technique is not only for seasoning the broccoli but also preserving the flavor of the fresh ingredient you are blanching. The vegetable will be well-coated with sesame oil, which results in keeping the flavor for a longer time.
It is seemingly a simple trick, but makes a big difference with the vegetables. I used to keep broccoli in my refrigerator, not knowing when I will be using it. Ever since I learned this magic formula from my mom, I've been cooking broccoli that I store fresh from the market every so often.
I stopped seeing wilted, sad-looking broccoli in the fridge anymore. Since it holds up well in the refrigerator, I could serve the delicious blanched broccoli with a meal right away while it's fresh and tasty!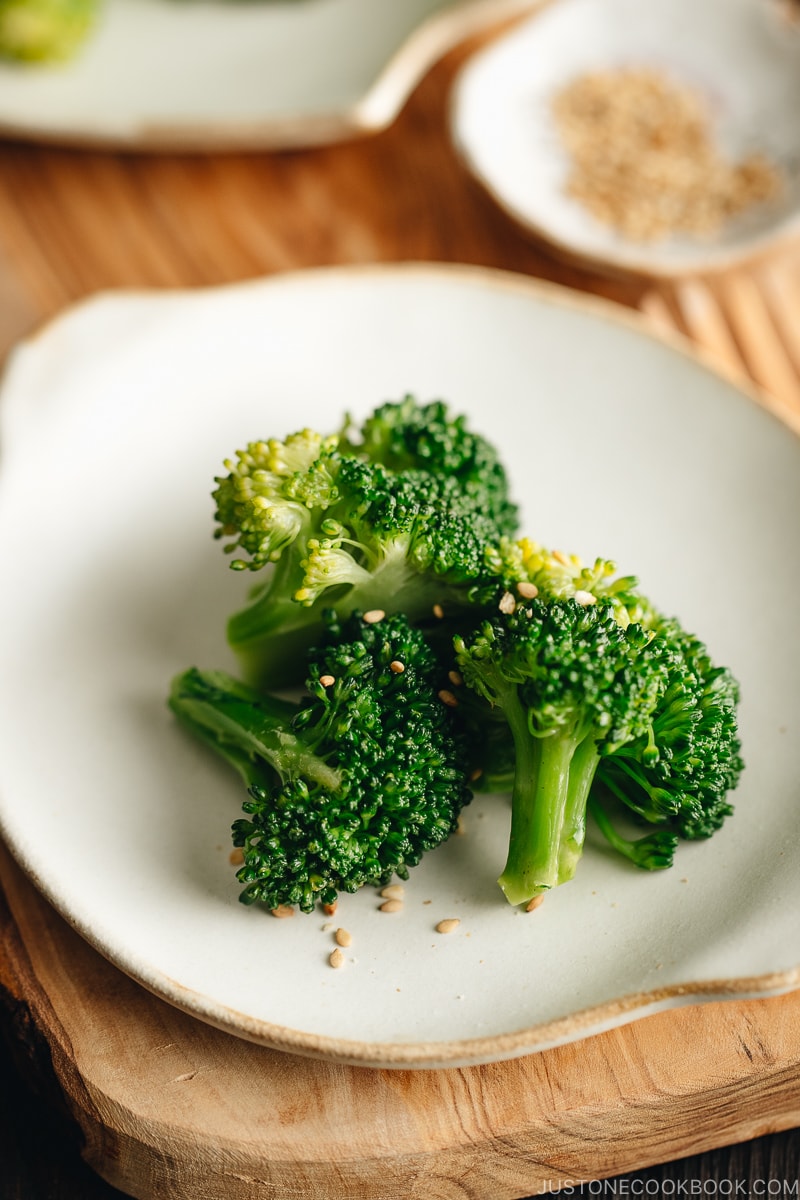 Other Vegetables You Can Blanch with Sesame Oil
Well, in opinion, any vegetables would work. But here are the vegetables that I have blanched with sesame oil and turned out fabulous:
Asparagus
Bean Sprouts
Bok choy
Cabbage
Napa cabbage
Spinach
Besides cabbage and napa cabbage, the above vegetables would not last too long, so this blanching with sesame oil technique comes in really handy!
Does Sesame Oil Taste Too Strong?
It's not too strong so I actually use this blanched broccoli in other dishes, such my Cream Stew recipe. If you like a stronger flavor, feel free to drizzle in additional sesame oil.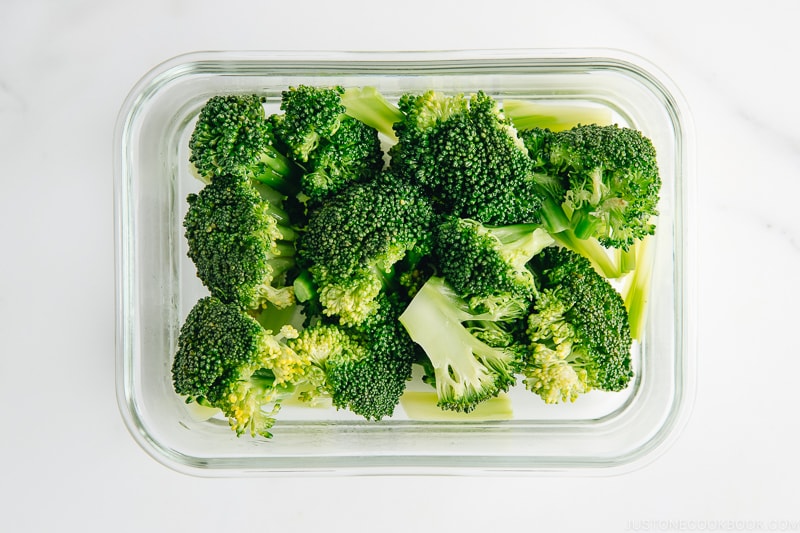 Tips on How to Blanch Broccoli
Do you eat the stems (or stalks) when cooking with broccoli? It seems pretty basic, but I want to go over how best to blanch the broccoli and not to waste any bit of the vegetable.
Broccoli is one of the most commonly eaten vegetables, but many people still don't usually eat the stems. Maybe they look tough and fibrous? Or maybe they look harder to cook with?
I learned not to throw away broccoli stems when I started to help my mom in the kitchen at a young age, and it's funny how I still remember it. Under the tough skin, the stems are not only edible, they actually contain more nutrients! Yes, they are very good for you. I also love that slightly crunchy crisp texture and I always buy the whole head of broccoli. When broccoli is attached with the stems, they keep fresh longer.
Because the stems are harder than the broccoli florets, you have to cook the stems first. If you blanch stems and florets together, the florets would be overcooked.
The easiest way is to add the stems into a pot of boiling salted water first, let them cook for 2 minutes until they are turning tender. Then add in the florets and cook for another 2.5 to 3 minutes. You can take them out together once the florets are just about getting tender. The color should look fresh green. Use a fork to test the florets for your desired texture. For maximum nutrients, I recommend not to overcook.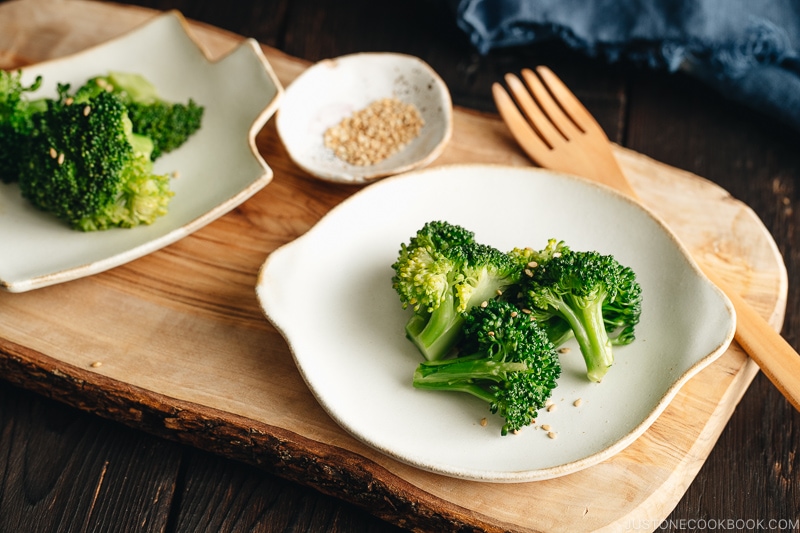 Blanched Broccoli – A Healthy Vegetable Side Dish For Meal Prep
This blanched broccoli with sesame oil makes a healthy side dish that pairs with every single meal. It is very ideal for people who are on a low-sodium diet too. If you're into meal-prepping, you could easily double the batch and serve the vegetable in your bento lunch box and dinner throughout the week. You could also change up the flavor by drizzling in some hot sesame oil or top it with some of your favorite sauce the next day. Because it's so easy, you'll never have to look at the recipe again once you've made it.
Japanese Ingredient Substitution: If you want to look for substitutes for Japanese condiments and ingredients, click here.
Wish to learn more about Japanese cooking? Sign up for our free newsletter to receive cooking tips & recipe updates! And stay in touch with me on Facebook, Pinterest, YouTube, and Instagram.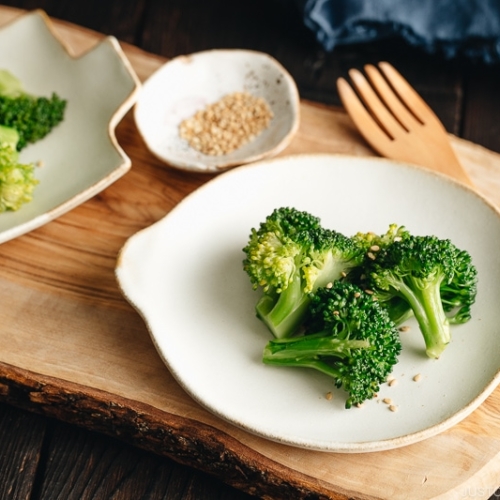 Broccoli Blanched with Sesame Oil
The best way to keep your broccoli fresh and tasty is to blanch it with salt and sesame oil. It's easy, healthy and so versatile. The blanched broccoli keeps well for up to 3-4 days in the fridge and is ready to enjoy any time! 
Japanese Ingredient Substitution:
If you want substitutes for Japanese condiments and ingredients, click
here
.
Instructions
Gather all the ingredients.

Separate the stems and florets. Cut off the tough skin on the stems.

Bring 4 cups of water to a boil and add salt and stems. Cook for 2 minutes.

Once the stems are getting tender (not tender yet), add the florets.

Add the sesame oil and continue to cook until florets are almost tender, about 2.5 to 3 minutes. Since we will not transfer the broccoli to iced water to stop cooking further, we have to take it out before it's completely done. The remaining heat will continue to cook broccoli.

Drain water. If you like, drizzle additional sesame oil over the broccoli. Let cool completely and put them in the glass container for storing.
To Store and Serve
Keep in the refrigerator for up to 3-4 days or freezer for up to a month. Serve as it is or use in other recipes (add to Cream Stew, etc). I sprinkle sesame seeds when serving as it is.
Nutrition
Calories:
53
kcal
·
Carbohydrates:
4
g
·
Protein:
2
g
·
Fat:
4
g
·
Saturated Fat:
1
g
·
Sodium:
37
mg
·
Potassium:
202
mg
·
Fiber:
2
g
·
Sugar:
1
g
·
Vitamin A:
397
IU
·
Vitamin C:
57
mg
·
Calcium:
63
mg
·
Iron:
1
mg
©JustOneCookbook.com Content and photographs are copyright protected. Sharing of this recipe is both encouraged and appreciated. Copying and/or pasting full recipes to any website or social media is strictly prohibited. Please view my photo use policy
here
.