Join us on Bryce Canyon National Park Travel Guide as we took in the awe-inspiring views of Bryce Canyon Amphitheater, hiked the switchbacks on Navajo Loop Trail, and gazed at the towering hoodoos.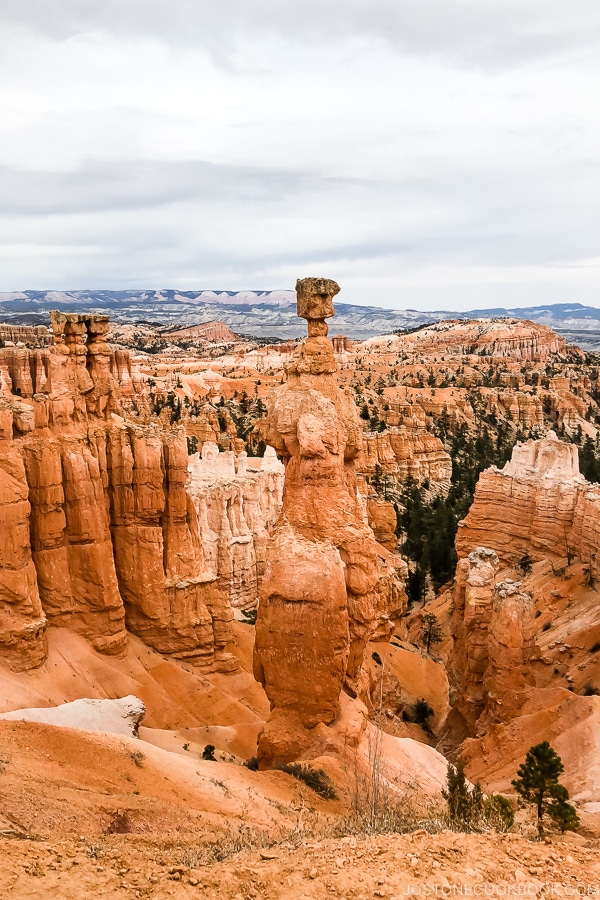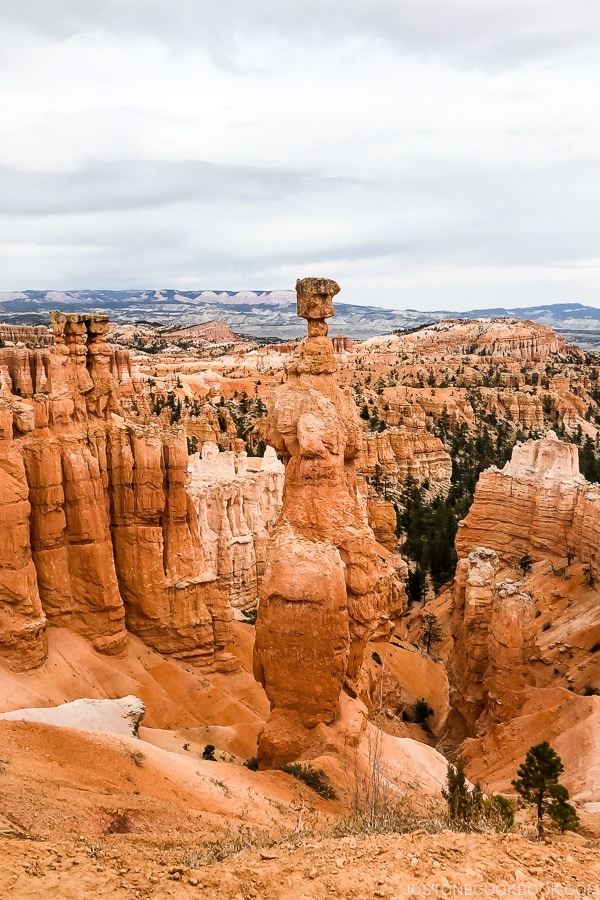 Our family took a trip to Utah and Arizona during children's spring break to visit the National Parks and other nearby wonders. It's been a dream of Nami's to visit Zion and Bryce Canyon National Park for a long time. In case you're not aware, Nami's dream job when she first came to the US was to be US National Park ranger. You can read about it in our Yosemite National Park Travel Guide post.
For this travel series, we'll share the following posts.
Ready to go explore mind-boggling landscapes with us? Let's go!
Watch Bryce Canyon National Park (Utah) Travel Highlights
Join us on Bryce Canyon National Park Travel Guide as we took in the awe-inspiring views of Bryce Canyon Amphitheater, hiked the switchbacks on Navajo Loop Trail, and gazed at the towering hoodoos.
Getting to Bryce Canyon National Park
Bryce Canyon National Park is about a 4-hour drive from either Las Vegas or Salt Lake City. It is about 1.5 hours from the east entrance of Zion National Park and a similar travel time from Kanab, UT where our Airbnb was located. The scenery while driving on US-89 to Bryce Canyon from Kanab was really beautiful. The drive itself was nice and smooth with a well-paved road.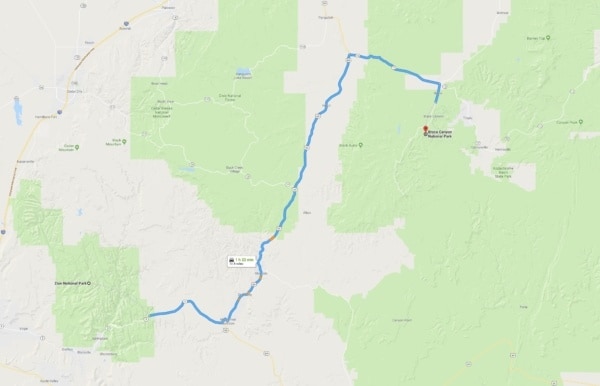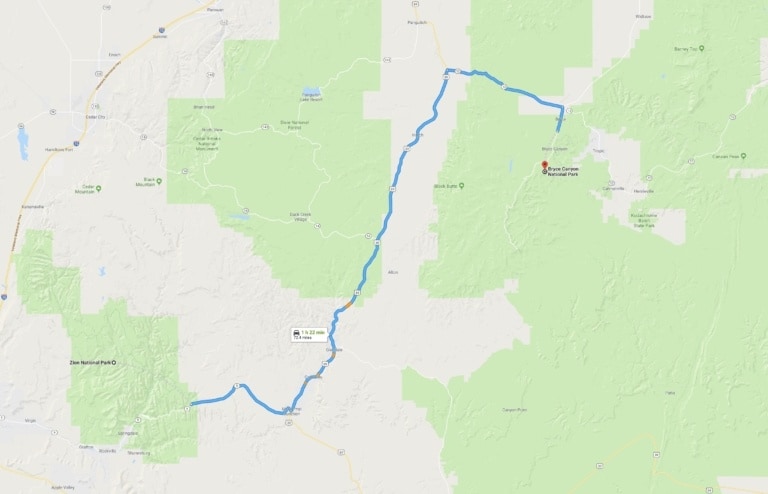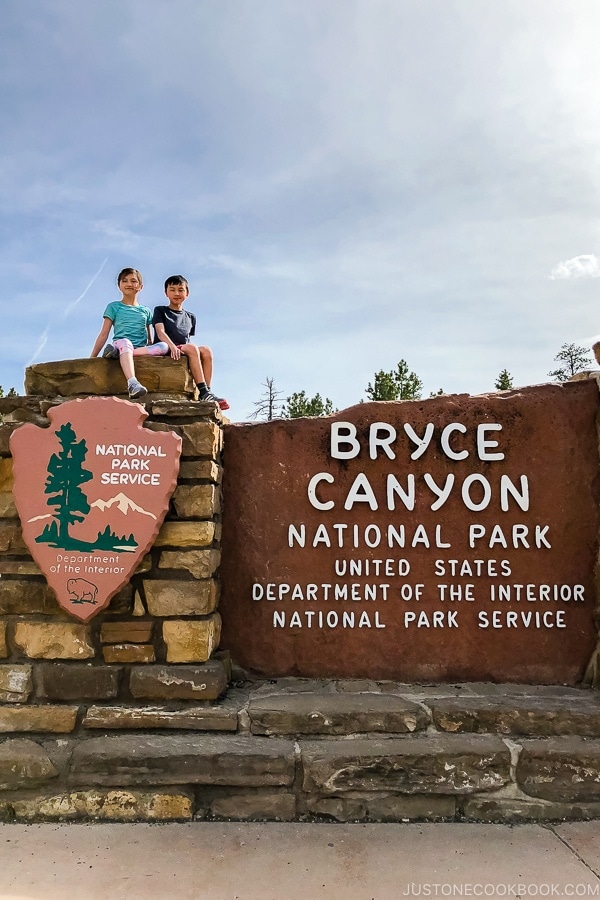 Bryce Canyon National Park Highlights – Bryce Canyon National Park Travel Guide
12th most visited US National Park (2.5 million visitors in 2017)
Easy to get to by car
Breathtaking sceneries throughout the park
Many hiking trails to enjoy
Unique geographic features – the Hoodoos
Bryce Canyon National Park – Travel Tips
Before we share the details of the Bryce Canyon National Park Travel Guide, here are our tips in case you plan on visiting.
Get to the park early and drive into the park. From the entrance station to the highest point (Rainbow Point) is 18 miles and the park shuttle doesn't stop there. Get in the park before everyone else so you don't have to struggle to find a parking spot to take in the views.
Dress appropriately, the altitude is high and there was still snow on the ground when we visited in mid-April. It was also quite windy.
Wear hiking shoes; do not wear tennis shoes as many trails are rocky, sandy, and unpaved. You need a good grip to hike safely.
Bring a Camelbak if you plan on hiking. Water bottles are fine as well but won't be comfortable on long hikes.
Bryce Canyon National Park – Detailed Guide
We spent only one day in Bryce Canyon. If you choose not to do any hikes and just want to check out the scenery, we think one day would be enough. We stopped by all the view areas but only hiked part of one trail during our visit. Our time in the park was from 10:30 am to 5 pm.
There are quite a few interesting hiking trails inside the park and amazing vistas from the trails. If your time allows, plan for two days – one day of driving and one day of hiking on the trails. There is also horseback riding offered in the park but we did not experience it. We did ride horses at Zion National Park (read here) but we would have preferred it at Bryce Canyon as it's more unique.
If the park is overcrowded, Bryce Canyon does offer a free shuttle service, but it gets you to limited locations within the park.
Disclaimer: This post is not a scientific guide to Bryce Canyon, it's formation, history, etc. We just want to share our experience so when you visit you can plan ahead on how you want to spend your time there.
I'll break down the Bryce Canyon National Park Travel Guide into 2 parts:
Part 1 covers the vistas south of Inspiration Point where you need your own vehicle to visit (or optionally you can hike). I'll start from the southernmost Rainbow and Yovimpa Point which are the highest points in the park (9115 ft/2778 m) and make our way north towards the amphitheater.
Part 2 will cover the Bryce Amphitheater region and the brief hike we took on Navajo Loop trail.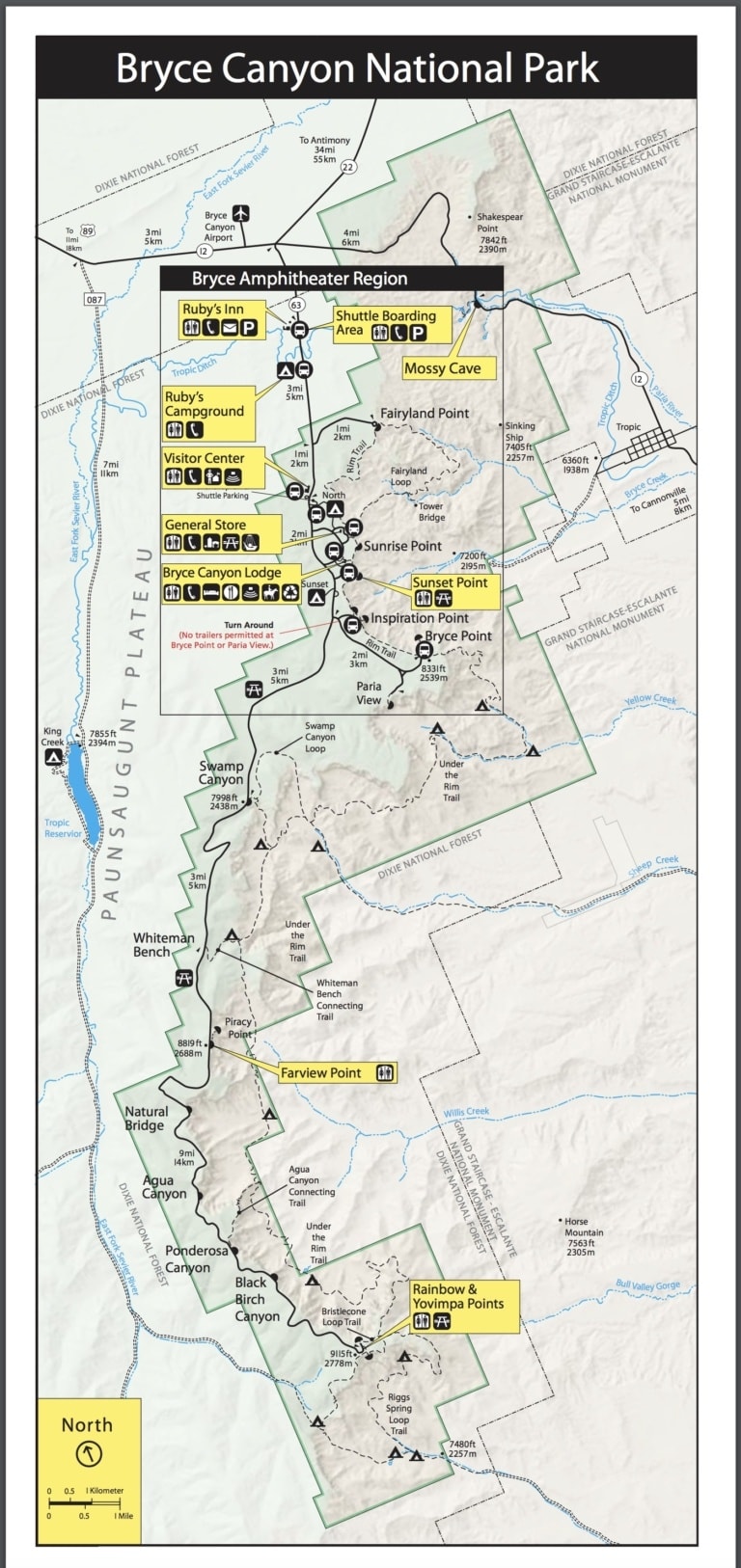 Rainbow & Yovimpa Points
Rainbow and Yovimpa Points are the highest points and they're about 22 miles from the entrance of the park. It takes about 35 min to get there from the park entrance without traffic. We got to Rainbow Point around 10:30 am and was able to find parking easily.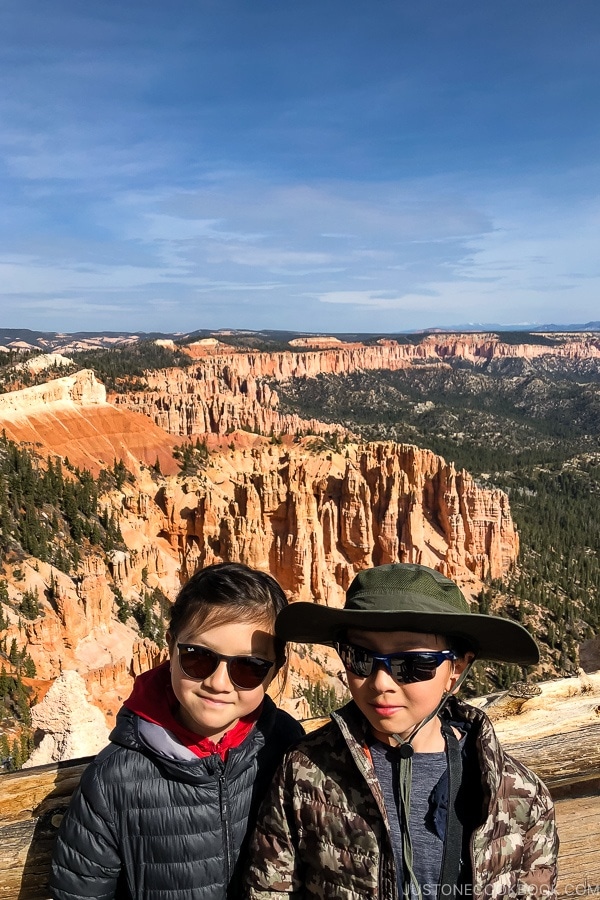 It's quite difficult to share how grand the views are at Bryce Canyon as even with a wide-angle lens. We highly recommend adding this national park to your bucket list if you've never visited. The scenery is unlike anywhere else we've been.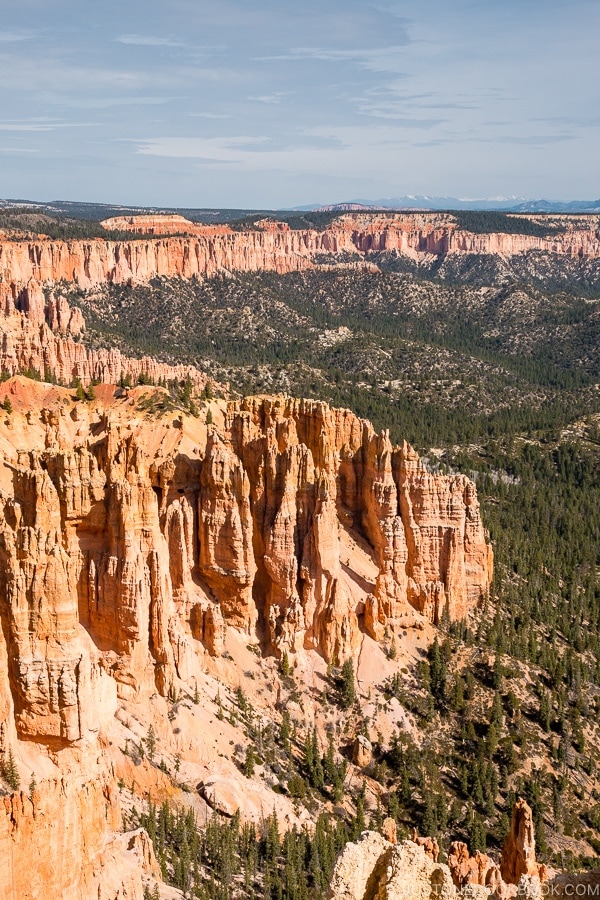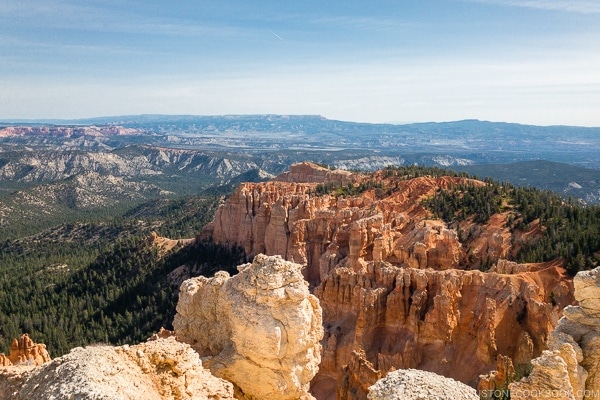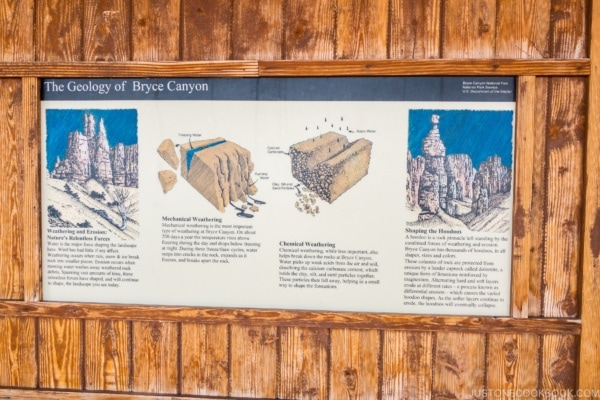 Rainbow Point and Yovimpa Point share the same parking lot. From Rainbow Point, the views are to the north and Yovimpa Point views are to the south.
From Yovimpa Point, due to the unique high vantage point, it's one of the few places where visitors see the rock layers of the Grand Staircase.

Black Birch Canyon
After taking in the views from Rainbow and Yovimpa Points, our first stop heading down the mountain is Black Birch Canyon. There are only 5 parking spots for this overlook and could be hard to find a place to park. If the parking spots are all full proceed to the next view point. There are plenty of beautiful spectacles waiting.




Ponderosa Canyon
The second stop we'll make is Ponderosa Canyon. The parking lot for Ponderosa Canyon is bigger with 9 spots. This stop is named after the large Ponderosa Pines on the canyon floor.



Agua Canyon
As we continue down the mountain, the next scenic overlook is Agua Canyon. Agua Canyon is known for 2 distinct hoodoos, The Hunter and Rabbit. There are 6 parking spots at Agua Canyon.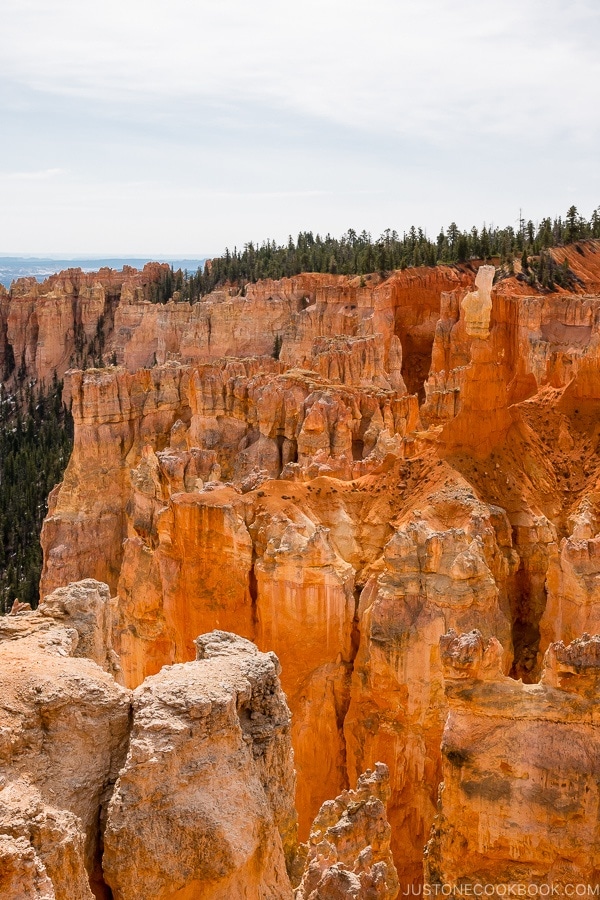 Bryce Natural Bridge
The fourth stop is Bryce Natural Bridge. This scenic natural arch was formed with the erosion of rock by water and streams. Click here to read more.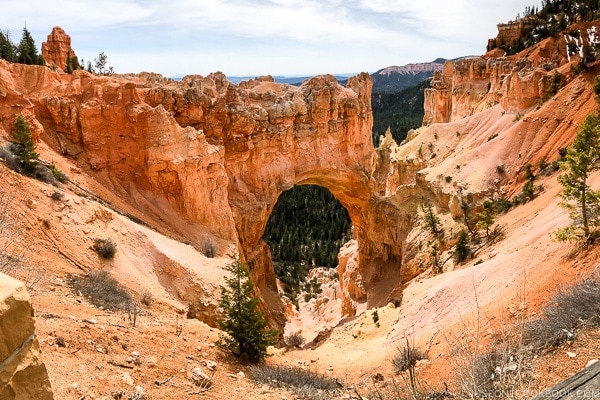 Farview Point
The next stop is Farview Point. From the viewing area you can see for almost 100 miles.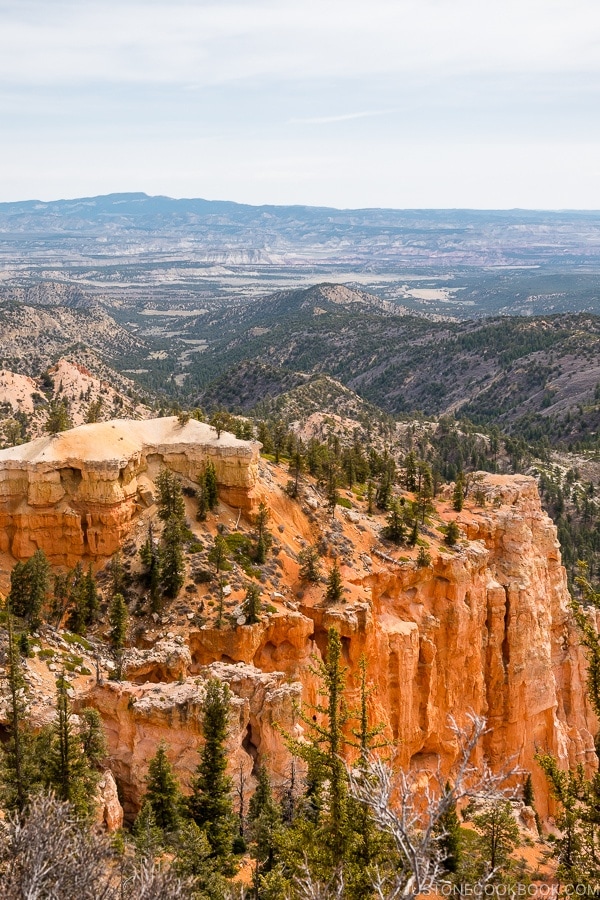 Swamp Canyon
The last stop before Bryce Amphitheater Region is Swamp Canyon. This unusual canyon is surrounded by fins and hoodoos on both sides.
We hope you have enjoyed the views so far. For us, each stop down the mountain is worthy of their view. I want to note the above viewpoints are spread out over 13 miles of driving.
Bryce Amphitheater Region
Now the main event! As we were driving down the hill, we were mesmerized by the views at each stop. However, they're not nearly as exciting as what you'll see in the amphitheater.
Bryce Point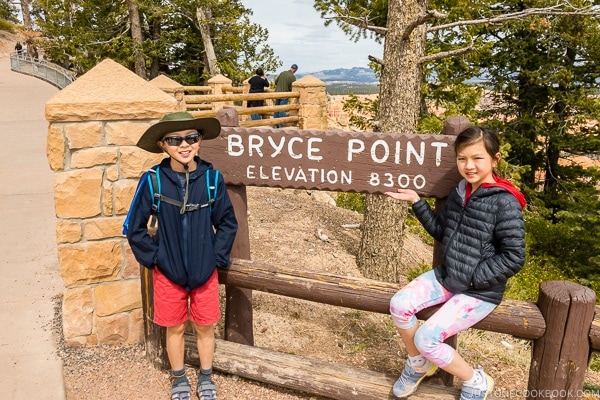 The first stop inside the amphitheater will be Bryce Point. Bryce Point is about 2 miles east from the main road. From the Bryce Point parking lot you take a short hike to the observation point. The view at the observation point simply left us speechless. You get an unobstructed panoramic view of Bryce Canyon.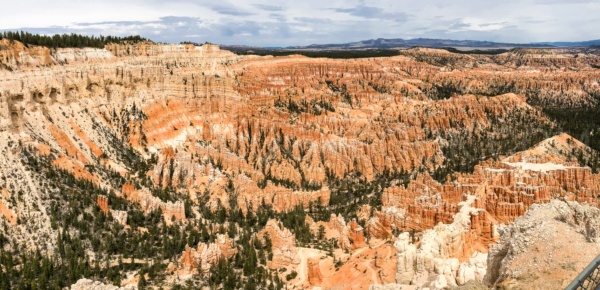 Inspiration Point
From Bryce Point, drive towards the main road and stop by Inspiration Point. The unbelievable landscape continues but from a different perspective.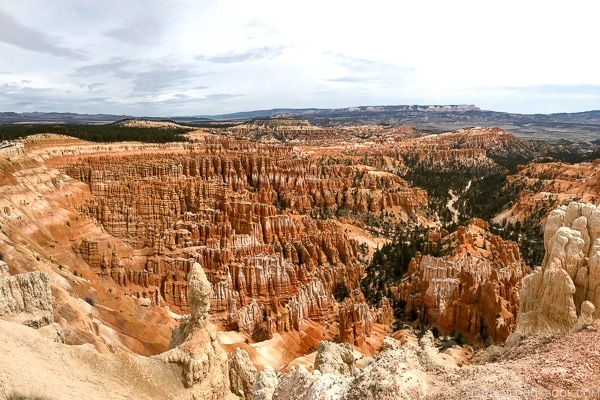 Bryce Canyon Lodge
After visiting Bryce and Inspiration Point, we stopped by Bryce Canyon Lodge for a quick lunch and to catch our breath a bit. To be honest, we were a bit stunned by the scenery and how incredible they were.
At Bryce Canyon Lodge, besides meals you can also book a room to stay. Please check when the various types of rooms are open for the season.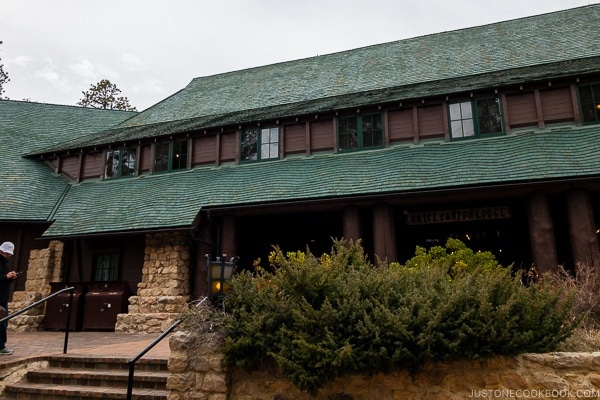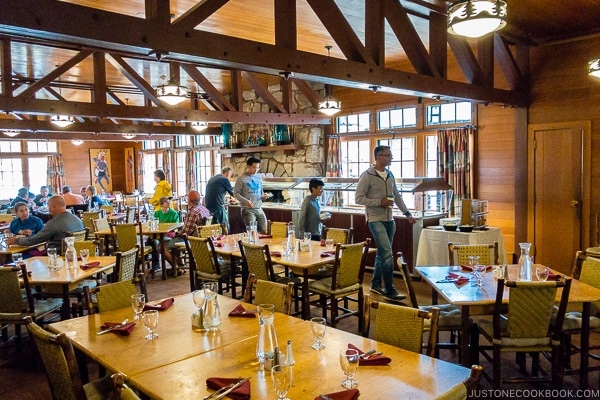 The food was actually pretty good and decently priced for a national park. After lunch, we took the short path from Bryce Canyon Lodge to the Rim Trail. At the end of the path, you can either go right to Sunset Point or go left to Sunrise Point. We headed towards Sunset Point and Navajo Loop Trail. You can also hike from Inspiration Point to Sunset Point via the Rim Trail. The distance is roughly 1 mile.
Sunset Point
In our opinion, starting this point is the highlight of our visit to Bryce Canyon National Park. Around Sunset Point, visitors can enjoy the best sights and see the hoodoos up close.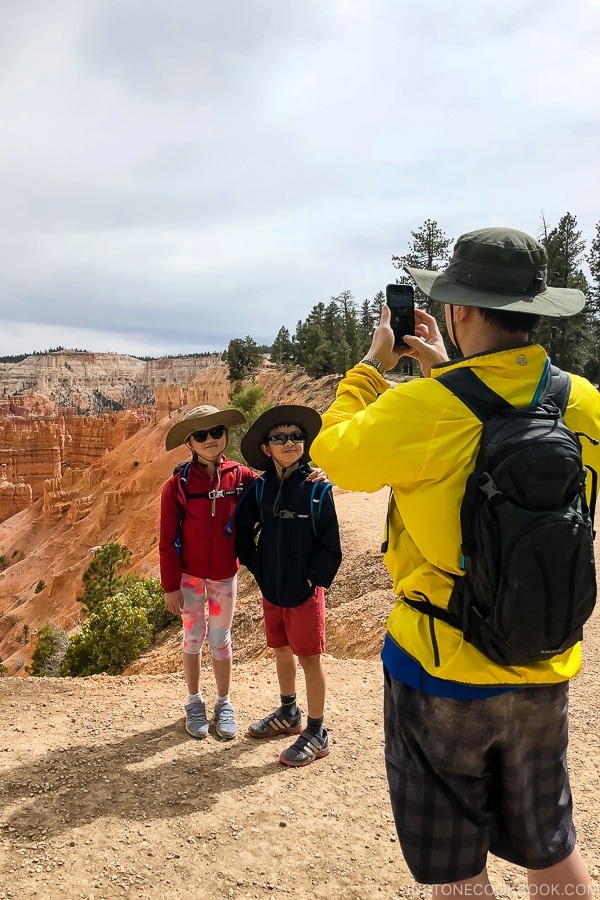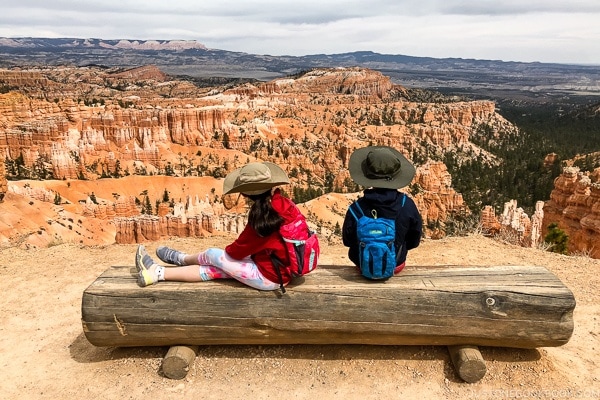 Navajo Loop Trail
From the Sunset Point, we took the Navajo Loop Trail. One of the most popular hikes at Bryce Canyon National Park is taking Navajo Trail and connecting to Queens Garden Trail. This hike will take you all the way to Sunrise Point (2.3 miles).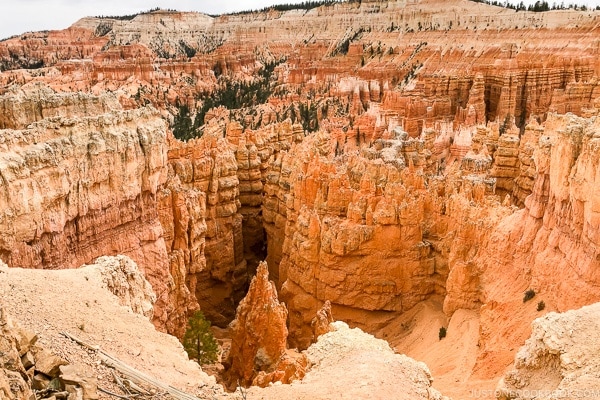 The walkway on Navajo trail is pretty wide (3-4 feet), but could be a bit scary for those who are scared of heights. The cliff side of the trail is usually a steep drop down as you can see in the image below.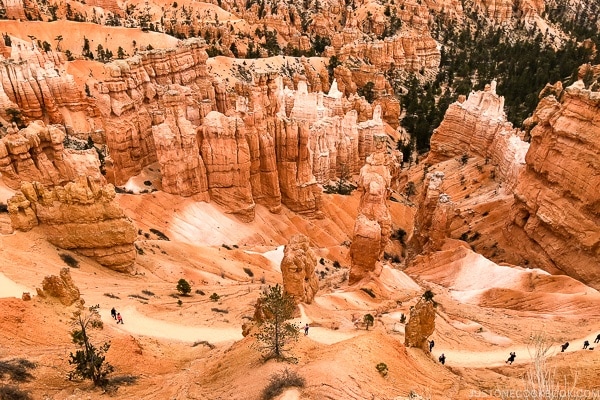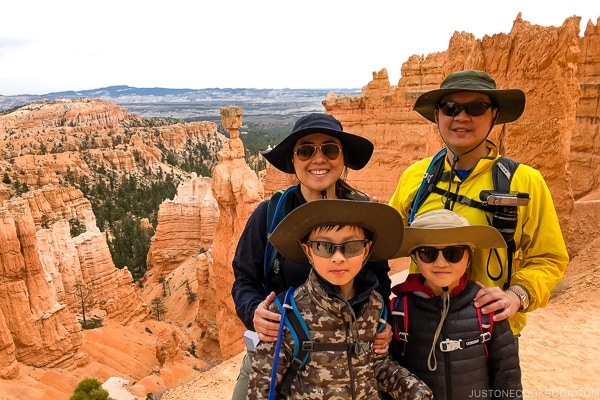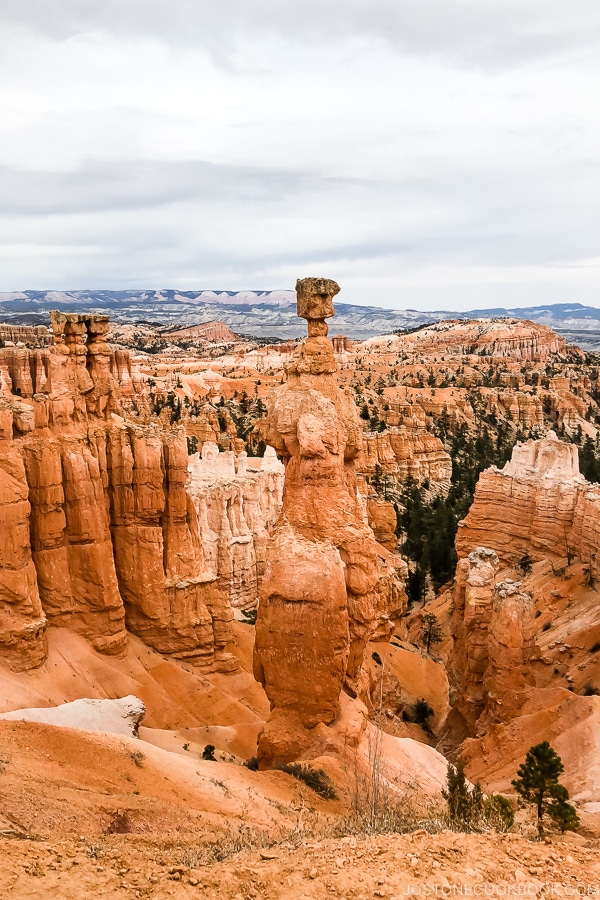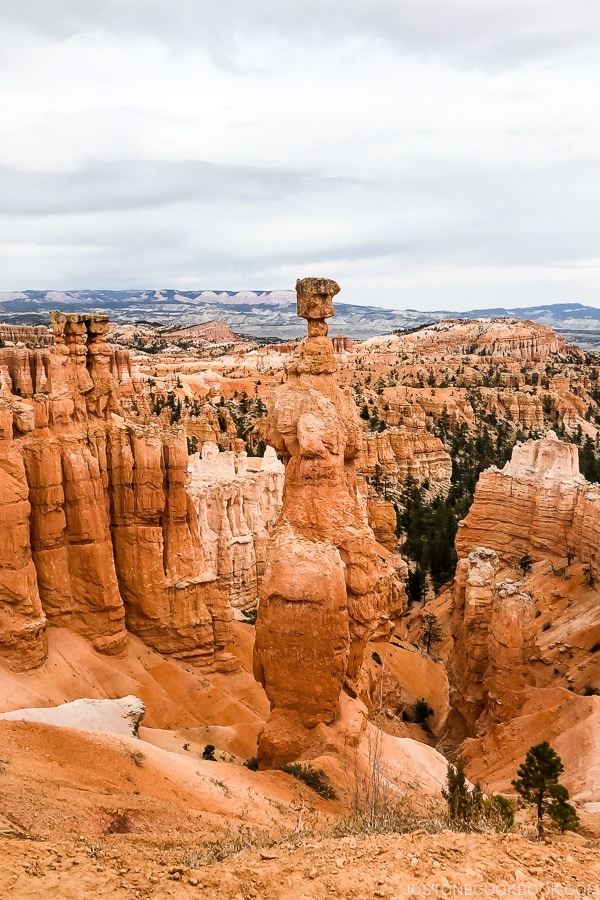 On the trails, you can walk up right next to the hoodoos and view the erosion up close.
The Navajo Loop trail has a steep switchback that sits between two canyons. Both canyon walls are hundreds of feet high.
We made it to Two Bridges which is only a quarter of the Navajo Loop Trail. The sky was changing from sunny to cloudy and we did not want to be on the trail while it was raining so we headed back up. Keep in mind it's 550 feet of descending and climbing from top of Navajo Loop trail to bottom.
The way back up took us much longer than coming down.
Sunrise Point
From Sunset Point, you can hike 1 mile north along the Rim Trail to Sunrise Point.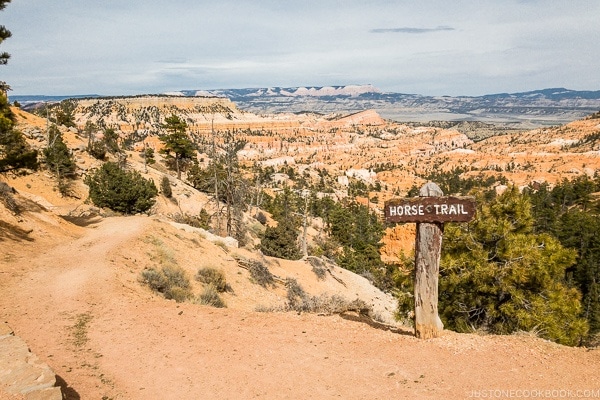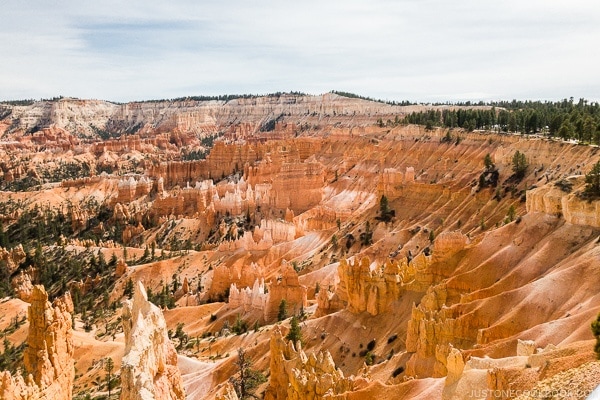 We hope you enjoyed the scenic Bryce Canyon National Park travel guide. Even though it's close to Zion National Park, the two parks couldn't be anymore different. The unbelievable hoodoos and the erosion that's still happening today transformed Bryce Canyon into a magical place unlike any other. We highly recommend visiting Bryce Canyon if you haven't had a chance.
Next up is Antelope Canyon in Arizona!
Don't want to miss a recipe? Sign up for the FREE Just One Cookbook newsletter delivered to your inbox! And stay in touch on Facebook, Pinterest, and Instagram for all the latest updates.